Big ideas.
Once a week.
Subscribe to our weekly newsletter.
616 - All Quiet on the Illinois Front
23 July, 2013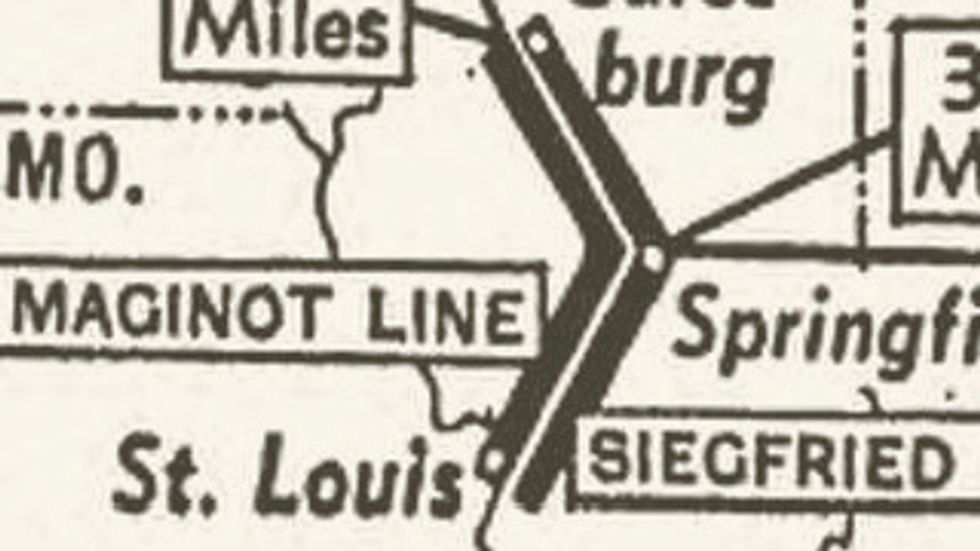 It's the morning of Wednesday, 13 September 1939. In an America supremely at peace, newspapers hit front lawns with headlines screaming of war. The horrific conflict splashed across the front pages of thousands of dailies is happening an ocean away, in Europe.  
---
Two weeks earlier, Nazi Germany had invaded Poland, thus ending all pretense that Hitler's goal was 'peace in our time' [1]. Poland's main allies, Britain and France, have promptly declared war on Germany. Although the Nazis are focused for now on winning the Polish campaign, it's clear that this is the beginning of a 'Second World War' - a term first used widely in these terrifying days [2].  
The front page of the Panama City News Herald, published in Florida, is representative of most other US newspapers during these weeks. Very little local news on the page, which is dominated by articles on the war - both from an American and a European perspective.
One headline wired in from London by the Associated Press reads: British-French Resolve To Fight Until Naziism (sic) Gone, Says Chamberlain. The caption for the page's main photo says: At German general staff headquarters "somewhere in Poland", Fuehrer Adolf Hitler, "first soldier of the Reich" looks over map of battle area. His ace military leader, Gen. Walther von Brauchitsch, stands at his shoulder. Picture was radioed to New York from the German capital. 
A short message datelined London reads: Duke of Windsor is Ready for Service. Below, an article datelined Boston states, in similar wording: Negroes Ready For Military Service. From Washington DC, the news is: [General] Pershing Urges Bigger Defense Power for U.S., and Neutrality Act Change Sought by President [Roosevelt].  
Somewhat prematurely, an article at the bottom of the page predicts the final outcome of the conflict: Poor Gasoline Said to Cause Reich Defeat, while from the North Atlantic come terrible tales of the incipient sea war: Athenia Survivors Tell Horrors of Days in Fear of U-Boats In Atlantic.  
But the most remarkable item on the page - at least from the perspective of this blog - is a small graphic at the top of the page. Titled If Illinois Were Western Front, it is a map of the US Midwest, and it 'brings the war home' for the American readership. By grafting the theatre of hostilities in Europe onto the geography of the American heartland, the aim is to make the conflict that is raging on another continent relatable to Joe Q. Public.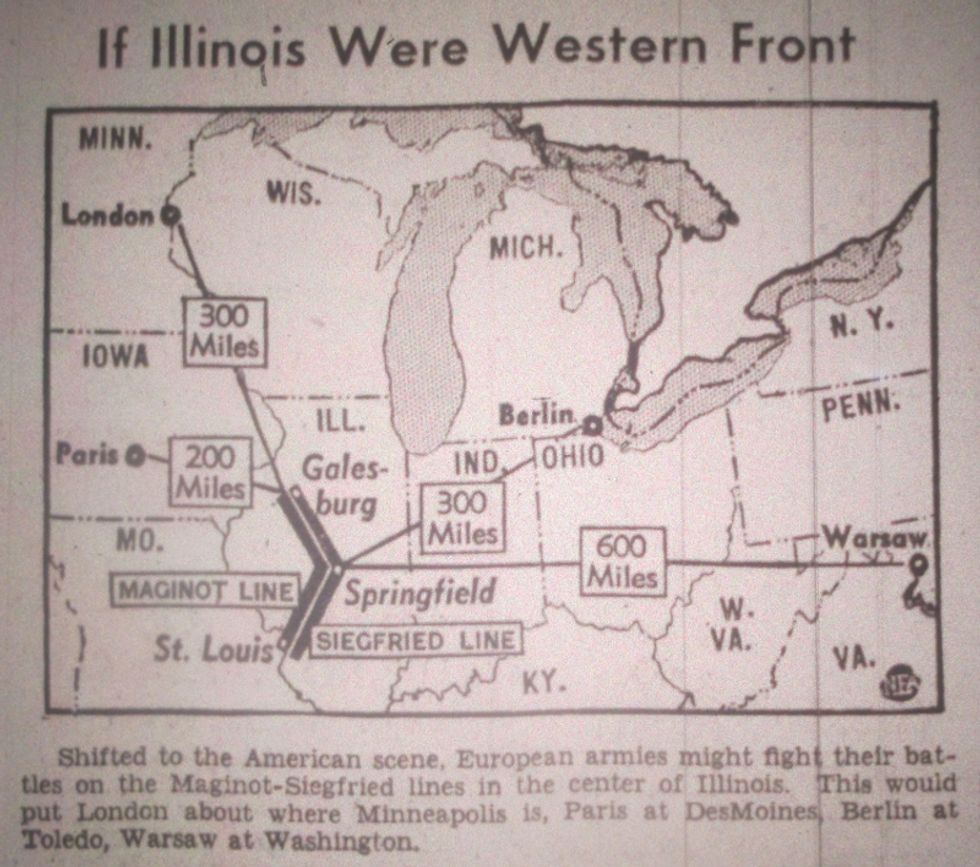 The caption reads:
All this talk about history-making battles waged, armies on the march and territory taken sounds big in the day's war news, but how small it is in American terms may be seen from the map above. Shifted to the American scene, European armies might fight their battles on the Maginot-Siegfried [3] lines in the center of Illinois. This would put London about where Minneapolis is, Paris at Des Moines, Berlin at Toledo, Warsaw at Washington.
 Curiously, it seems the way to translate the enormity of the European war to the American public is to scale it down to its 'true proportions': folks might have started calling it a World War, but in reality, it could be contained between Minneapolis and Washington... 
Many thanks to Dan Anderson for sending in a scan of this map, taken from the Marinette Eagle (published in Marinette, Wisconsin), of 18 September 1939. He notes: "They should have put Paris further west - maybe in Colorado, so that Moscow could be represented". A slightly sharper image can be found here at the Newspaper Archive, on the aforementioned front page of the Panama City News Herald [4] . 
________
[1] The actual phrase used by Neville Chamberlain on 30 September 1938 hailing the Munich Agreement was "peace for our time". Perhaps the misquote stems from the fact that the then British PM was paraphrasing one of his predecessors, in similar circumstances. Following the Congress of Berlin in 1878, Benjamin Disraeli said: "I have returned from Germany with peace in our time". Chamberlain's statement is remembered as the epitome of appeasement, the policy born of the misguided hope that agreeing to Hitler's territorial demands would avoid war. Less than a year after the German occupation of the Sudetenland (as agreed by France and the UK at Munich), Nazi Germany had occupied Bohemia and Moravia, and invaded Poland.↩
[2] The coming conflict had been dubbed the 'Second World War' as early as 1920, but mainly in speculative fiction, and hardly ever in the mainstream press. ↩
[3] The Maginot Line is the name for the French fortifications constructed in the 1930s along the German border. The so-called Siegfried Line was the mirror version on the German side of the border. The Germans called it the Westwall. The Siegfried Line was the name for a similar defensive wall built during the First World War; the name was retained by the Allies for the 1930s construction.↩
[4] The logo in the lower right hand corner, spelling NEA, reveals the common source of both: Newspaper Enterprise Association, a syndication service specialising in both images (comics and pictures) and features, supplying content to over 700 newspapers in the 1930s.↩
The finding is remarkably similar to the Dunning-Kruger effect, which describes how incompetent people tend to overestimate their own competency.
Sex & Relationships
Recent studies asked participants to rate the attractiveness of themselves and other participants, who were strangers.
The studies kept yielding the same finding: unattractive people overestimate their attractiveness, while attractive people underrate their looks.
Why this happens is unclear, but it doesn't seem to be due to a general inability to judge attractiveness.
There's no shortage of disparities between attractive and unattractive people. Studies show that the best-looking among us tend to have an easier time making money, receiving help, avoiding punishment, and being perceived as competent. (Sure, research also suggests beautiful people have shorter relationships, but they also have more sexual partners, and more options for romantic relationships. So call it a wash.)
Now, new research reveals another disparity: Unattractive people seem less able to accurately judge their own attractiveness, and they tend to overestimate their looks. In contrast, beautiful people tend to rate themselves more accurately. If anything, they underestimate their attractiveness.
The research, published in the Scandinavian Journal of Psychology, involved six studies that asked participants to rate the attractiveness of themselves and other participants, who were strangers. The studies also asked participants to predict how others might rate them.
In the first study, lead author Tobias Greitemeyer found that the participants who were most likely to overestimate their attractiveness were among the least attractive people in the study, based on average ratings.
Ratings of subjective attractiveness as a function of the participant's objective attractiveness (Study 1)
Greitemeyer
"Overall, unattractive participants judged themselves to be of about average attractiveness and they showed very little awareness that strangers do not share this view. In contrast, attractive participants had more insights into how attractive they actually are. [...] It thus appears that unattractive people maintain illusory self‐perceptions of their attractiveness, whereas attractive people's self‐views are more grounded in reality."
Why do unattractive people overestimate their attractiveness? Could it be because they want to maintain a positive self-image, so they delude themselves? After all, previous research has shown that people tend to discredit or "forget" negative social feedback, which seems to help protect a sense of self-worth.
NBC
To find out, Greitemeyer conducted a study that aimed to put participants in a positive, non-defensive mindset before rating attractiveness. He did that by asking participants questions that affirmed parts of their personality that had nothing to do with physical appearance, such as: "Have you ever been generous and selfless to another person?" Yet, this didn't change how participants rated themselves, suggesting that unattractive people aren't overestimating their looks out of defensiveness.
The studies kept yielding the same finding: unattractive people overestimate their attractiveness. Does that bias sound familiar? If so, you might be thinking of the Dunning-Kruger effect, which describes how incompetent people tend to overestimate their own competency. Why? Because they lack the metacognitive skills needed to discern their own shortcomings.
Greitemeyer found that unattractive people were worse at differentiating between attractive and unattractive people. But the finding that unattractive people may have different beauty ideals (or, more plainly, weaker ability to judge attractiveness) did "not have an impact on how they perceive themselves."
In short, it remains a mystery exactly why unattractive people overestimate their looks. Greitemeyer concluded that, while most people are decent at judging the attractiveness of others, "it appears that those who are unattractive do not know that they are unattractive."
Unattractive people aren't completely unaware
The results of one study suggested that unattractive people aren't completely in the dark about their looks. In the study, unattractive people were shown a set of photos of highly attractive and unattractive people, and they were asked to select photos of people with comparable attractiveness. Most unattractive people chose to compare themselves with similarly unattractive people.

"The finding that unattractive participants selected unattractive stimulus persons with whom they would compare their attractiveness to suggests that they may have an inkling that they are less attractive than they want it to be," Greitemeyer wrote.
Every star we can see, including our sun, was born in one of these violent clouds.
Credit
: NASA / ESA via Getty Images
Surprising Science
This article was originally published on our sister site, Freethink.
An international team of astronomers has conducted the biggest survey of stellar nurseries to date, charting more than 100,000 star-birthing regions across our corner of the universe.
Stellar nurseries: Outer space is filled with clouds of dust and gas called nebulae. In some of these nebulae, gravity will pull the dust and gas into clumps that eventually get so big, they collapse on themselves — and a star is born.
These star-birthing nebulae are known as stellar nurseries.
The challenge: Stars are a key part of the universe — they lead to the formation of planets and produce the elements needed to create life as we know it. A better understanding of stars, then, means a better understanding of the universe — but there's still a lot we don't know about star formation.
This is partly because it's hard to see what's going on in stellar nurseries — the clouds of dust obscure optical telescopes' view — and also because there are just so many of them that it's hard to know what the average nursery is like.
The survey: The astronomers conducted their survey of stellar nurseries using the massive ALMA telescope array in Chile. Because ALMA is a radio telescope, it captures the radio waves emanating from celestial objects, rather than the light.
"The new thing ... is that we can use ALMA to take pictures of many galaxies, and these pictures are as sharp and detailed as those taken by optical telescopes," Jiayi Sun, an Ohio State University (OSU) researcher, said in a press release.
"This just hasn't been possible before."
Over the course of the five-year survey, the group was able to chart more than 100,000 stellar nurseries across more than 90 nearby galaxies, expanding the amount of available data on the celestial objects tenfold, according to OSU researcher Adam Leroy.
New insights: The survey is already yielding new insights into stellar nurseries, including the fact that they appear to be more diverse than previously thought.
"For a long time, conventional wisdom among astronomers was that all stellar nurseries looked more or less the same," Sun said. "But with this survey we can see that this is really not the case."
"While there are some similarities, the nature and appearance of these nurseries change within and among galaxies," he continued, "just like cities or trees may vary in important ways as you go from place to place across the world."
Astronomers have also learned from the survey that stellar nurseries aren't particularly efficient at producing stars and tend to live for only 10 to 30 million years, which isn't very long on a universal scale.
Looking ahead: Data from the survey is now publicly available, so expect to see other researchers using it to make their own observations about stellar nurseries in the future.
"We have an incredible dataset here that will continue to be useful," Leroy said. "This is really a new view of galaxies and we expect to be learning from it for years to come."
Tiny specks of space debris can move faster than bullets and cause way more damage. Cleaning it up is imperative.
Videos
NASA estimates that more than 500,000 pieces of space trash larger than a marble are currently in orbit. Estimates exceed 128 million pieces when factoring in smaller pieces from collisions. At 17,500 MPH, even a paint chip can cause serious damage.
To prevent this untrackable space debris from taking out satellites and putting astronauts in danger, scientists have been working on ways to retrieve large objects before they collide and create more problems.
The team at Clearspace, in collaboration with the European Space Agency, is on a mission to capture one such object using an autonomous spacecraft with claw-like arms. It's an expensive and very tricky mission, but one that could have a major impact on the future of space exploration.
This is the first episode of Just Might Work, an original series by Freethink, focused on surprising solutions to our biggest problems.

Catch more Just Might Work episodes on their channel: https://www.freethink.com/shows/just-might-work
Personal Growth
Metal-like materials have been discovered in a very strange place.
Scroll down to load more…