Big ideas.
Once a week.
Subscribe to our weekly newsletter.
Who Stole Oswald's Stone, the Magic Middlesex Monolith?
It disappeared from central London in 1869, after an archeological magazine praised its historical value
23 April, 2013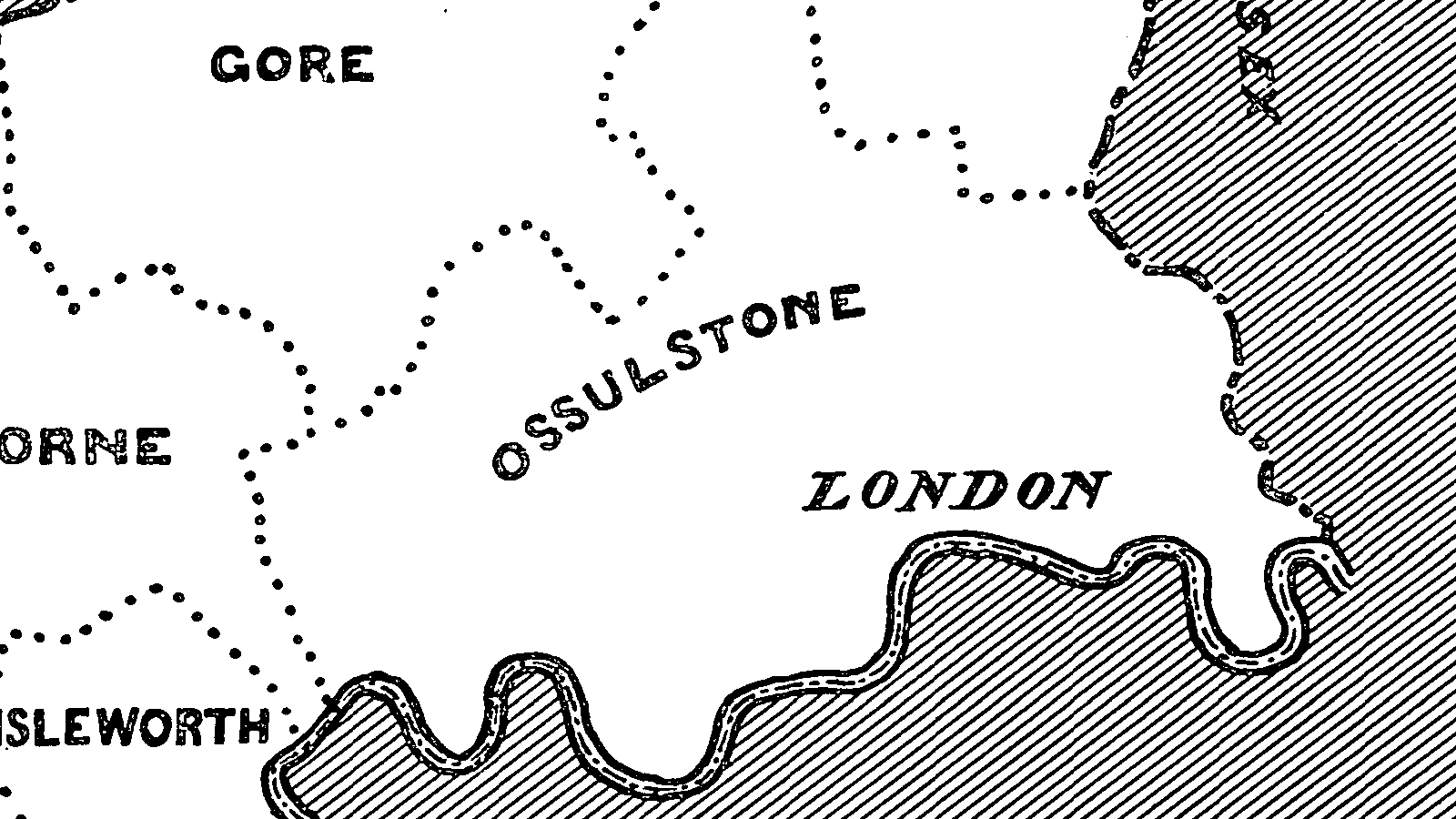 Millions live in or near Ossulstone, but only a handful have ever heard of it. Why and how has this place disappeared from common memory? Perhaps the when is easier to trace - to 1869, the year in which the mysterious object that lent its name to the area was stolen. 
---
Marking the intersection of two ancient London roads [1], at a place formerly called Tyburn but now known as Marble Arch, a monolith called Oswald's Stone once stood. Until 1783, Tyburn was the place for public executions in London [2]; undoubtedly in part to erase that location's lurid reputation, it was chosen as the relocation site for a large monument that was deemed out of place in front of Buckingham Palace [3].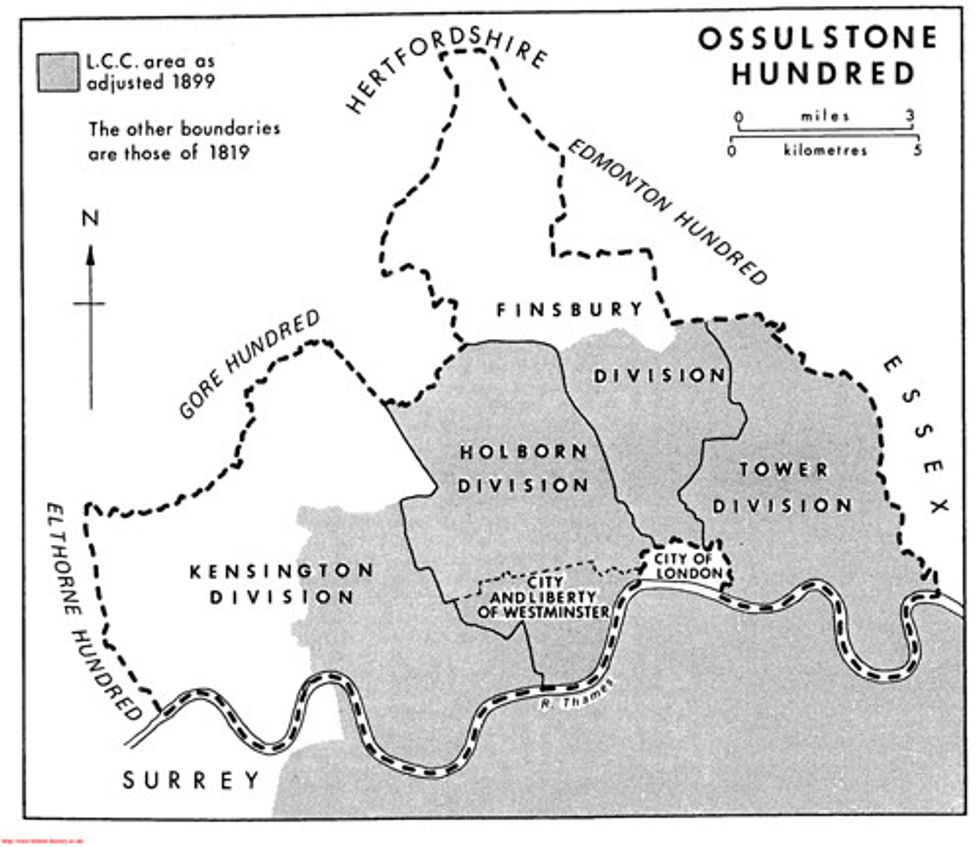 Ossulstone, with its 4 constituent districts (Kensington, Holborn, Finsbury and Tower divisions), 2 territorial exceptions (the City of London and the City and Liberty of Westminster), and the area annexed by London in 1889 (in grey). [Image taken here at a website for the Oliver-Paull family tree]
Nobody remembered what the stone was meant to mark [4] or even who Oswald was. Indeed, the rock was also called Oswulf's Stone. Unsure about what to do with the ancient monolith, the authorities interred it in 1819 - only to dig it up again in 1822. In later years, it was found leaning against Marble Arch. After an archeological journal highlighted its historical importance, Oswald's Stone disappeared. It has never been seen since that fateful day in 1869.
Presuming that the stone was removed by someone alerted to its value by the archeological article, it is not unthinkable that someone somewhere, perhaps a descendant of that 19th-century thief, is still holding Oswald's Stone. Although, judging by the facility with which the last remnants of ancient names and meanings vanish from knowledge, perhaps he or she no longer knows why that stone was so important to great-grandpa.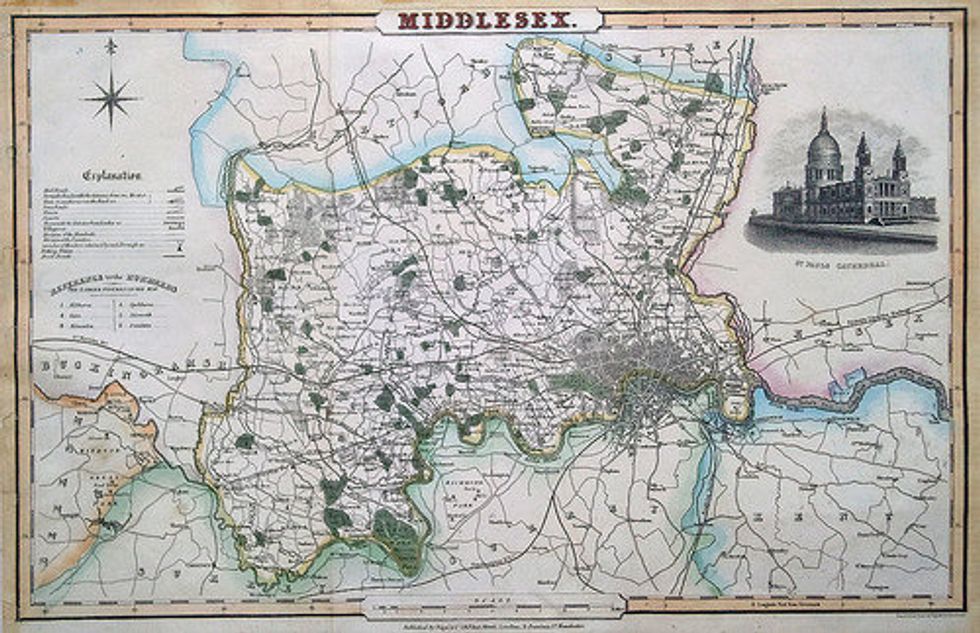 The historical County of Middlesex, bounded by three rivers, and the Grimsdyke. [Image taken here from Antique Maps Online]
I accidentally stumbled across Oswald's Stone - figuratively speaking of course - while looking for an answer to a question that had bothered me for some time: Where is Middlesex? Half a dozen Middlesexes survive as place-names in the US, Canada and Jamaica. But the original Middlesex [5], once one of England's counties is defunct: small enough to begin with, it had the additional bad fortune to be encroached upon by London, and in the end be gobbled up piecemeal by the metropolis. The last vestiges of the county, whose name was first attested in 704 AD, were abolished on 1 April 1965, when nearly all that remained of Middlesex became part of Greater London [6].   
Middlesex may be dead, but it is not entirely forgotten: it leads a phantom existence in the names of Middlesex University, the Middlesex County Cricket Board, and the Middlesex County Football Cup. There's even a Middlesex County Day (May 16th [7]) and a Middlesex County Flower (the wood anemone). You can still address letters to a number of postal towns [9] by adding Middlesex to the address, but adding the county is no longer required by Royal Mail. 
At its greatest extent, Middlesex, its southern border being the Thames,  stretched from the river Lea in the east [10] to the river Colne in the west [11]. Middlesex's only land border was to the north, and followed a ridge of hills [12], including Oxhey Hill (438 ft.), Harrow Weald Common (475 ft.), Bushey Heath (504 ft.), Deacons Hill, Edgware (478 ft.), and Highwood Hill (443 ft.).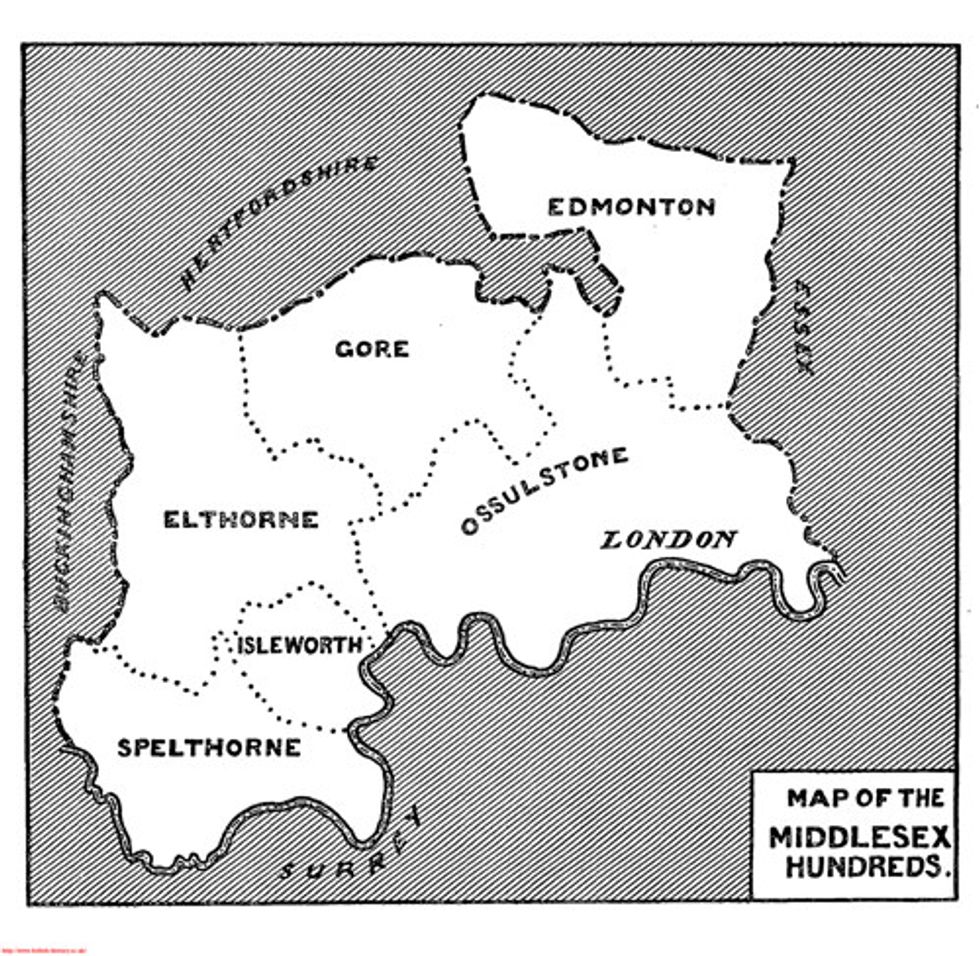 Middlesex and its six hundreds. [Image taken here from British History Online]
Like the other 38 historic counties of England, Middlesex was divided into hundreds. In Saxon times, a hundred defined an area large enough to sustain 100 households. Until they were replaced by districts in 1894, hundreds were the only administrative unit between counties and parishes, and were the essential locus for dispensing justice, raising soldiers and discussing the affairs of the day. They were usually named after the place where the men of the area gathered to witness the dispensing of justice, the raising of armies, and the debating of matters of state.
One such place was Oswald's Stone, the other five Middlesex Hundreds being Edmonton, Elthorne, Gore, Hounslow and Spelthorne. The City of London, nominally part of Ossulstone, became a self-governing county in the 13th century.  From 1585, the City and Liberty of Westminster also attained a degree of autonomy from Middlesex.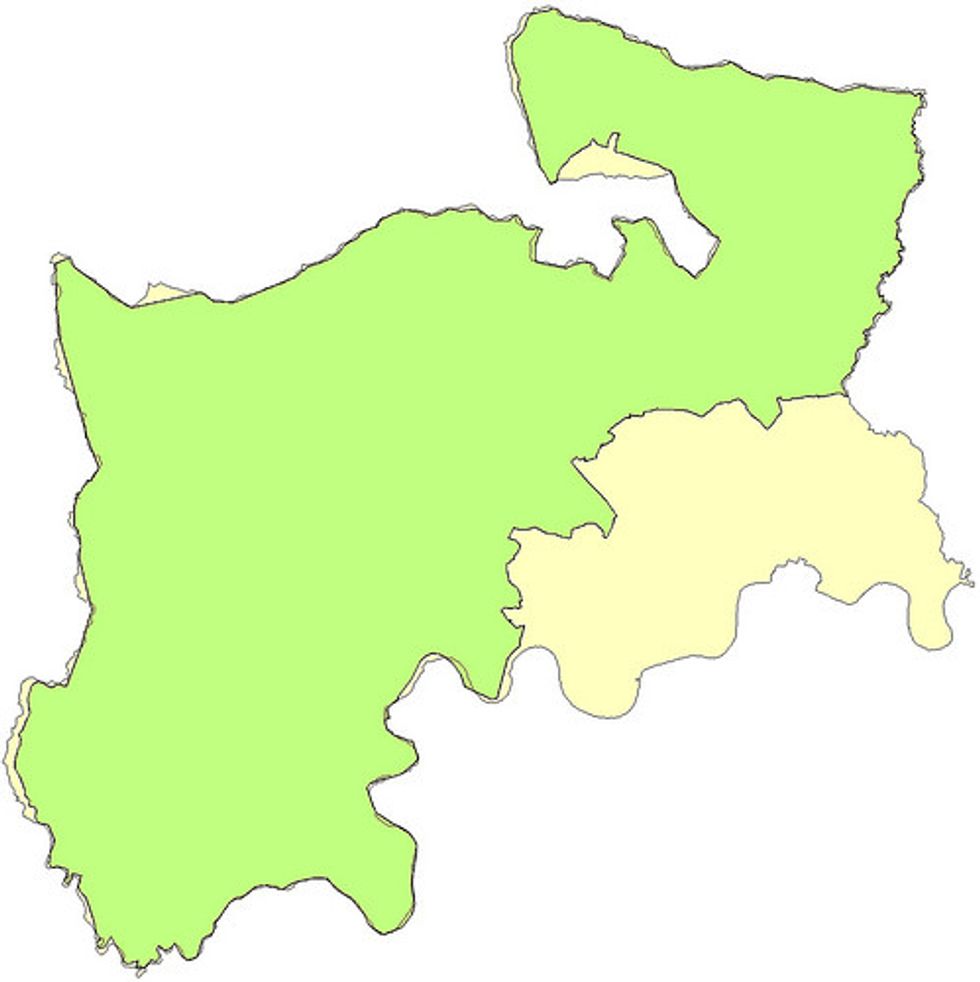 Middlesex County Council (in green), and the territory lost at its establishment (in yellow) in 1889. [image taken here at Wikimedia]
London, and to a lesser extent Westminster, would become the names attached to the capital of England, and later of Britain, and of the urban growth that this position allowed. Middlesex was merely the canvas over which this expansion was poured - its only option to absorb the growing metropolis, and retreat from it. 
In 1889, county councils were introduced in England. About 20% of the area, and 33% of the population of Middlesex - taken from Ossulstone, the most densely populated hundred - was transferred to the new County of London. Ironically, the new Middlesex County Council met in the Middlesex Guildhall, located in… the County of London [13].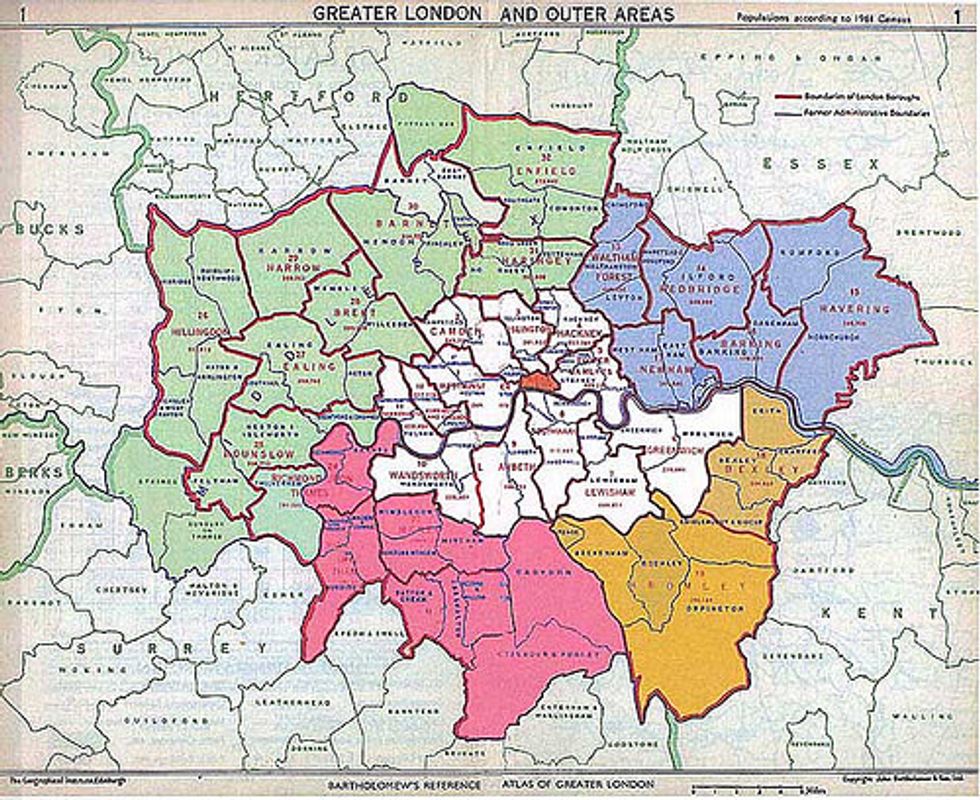 London County Council (in white) and Middlesex County Council (in green), both succeeded by Greater London (thick red line) in 1965. [image taken here from the City of London homepage]
London's expansion proved unstoppable, due to better transport links, especially the extension of the Metropolitan Tube line to the northwest of London into a rapidly suburbanising area known as Metroland. This cut right into what remained of Middlesex exceptionalism - which in the context of the expanding city meant: a rapidly rarefying ruralism. The death blow came in 1965. 
Middlesex nevertheless lives on. Some even dream of a Greater Middlesex, encompassing not just the historical County of Middlesex (which preceded the much smaller Middlesex County Council), but also 'tribal areas' from the Chiltern Hills in the west, to "somewhere near Luton" in the north.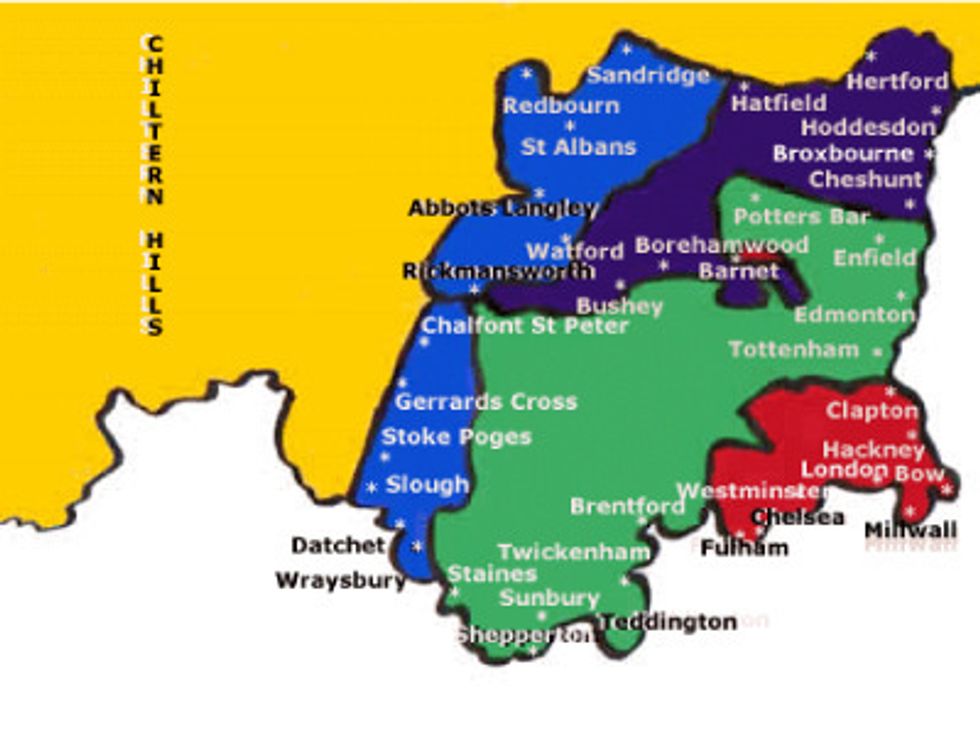 Putting the Great back into Middlesex: from the tiny County Council (green) to the Tribal Lands (all colours). [image taken here from the Middlesex Federation website]
"The current Government are keen to bring in regional government for England. This will almost certainly mean the abolition of all County Councils, so from Herts to Surrey everyone will end up in the same boat as Berks and Middlesex. It is possible that with the current review the regions of England will be based on the kingdoms and provinces of the Anglo-Saxons." 
Well, why not? But something tells us they'd have to find Middlesex's 'palladium' first. As yet, however, the only tangible remnant of the missing monolith is Ossulston Street, leading off the Euston Road past the British Library.
So if you have an antique stone in your basement that emits a strange glow at night and low moans at full moon, let us know: it might be Oswald's Stone, pining for Tyburn.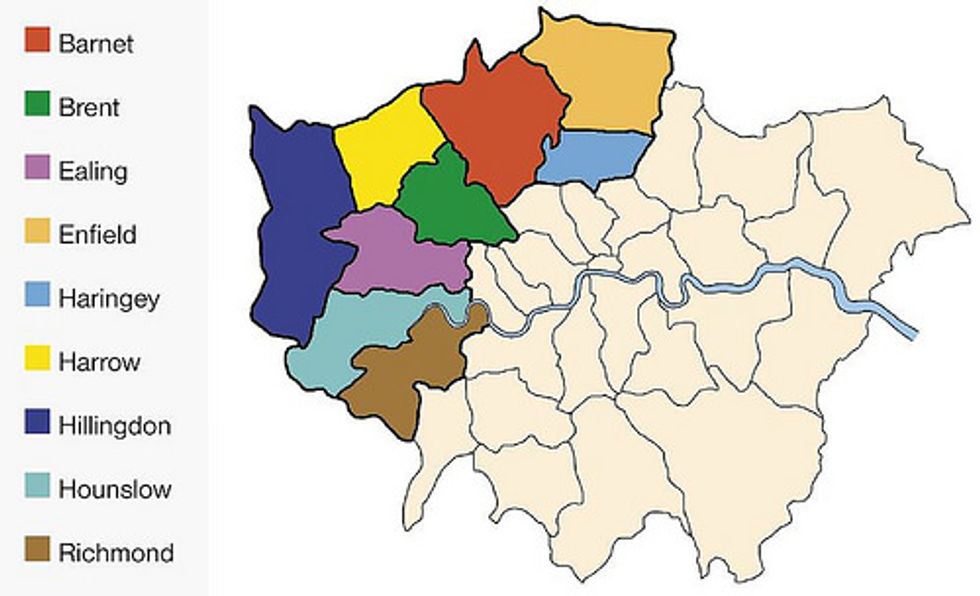 A modern, practical interpretation of ancient county: the catchment area of the Middlesex Association for the Blind. 
Strange Maps #605
Got a strange map? Let me know at strangemaps@gmail.com.
[1] The prehistoric names of these pathways are lost. They were renamed and upgraded by the Romans. The north-south road was labeled Iter III (Road Number Three) in the Antonine Itinerary, later called Watling Street by the Anglo-Saxons and locally known as Edgware Road (to the north of Marble Arch) and Park Lane (to the south of it). The east-west one was called Via Trinobantina, connecting  Colchester with Hampshire, now better known around these parts as Oxford Street (east of the Arch) and Bayswater Road (west of it).↩
[2] Traditionally by hanging, from a gallows often called 'the Tyburn Tree'. The prisoner(s) would be led from Newgate Prison (or the Tower, if they were nobility) through the city, enjoying a last ale at St Giles in the Fields (or, again if they were nobs, a glass of sherry at the George and Blue Boar, a now defunct pub in Holborn). The prisoners' option of saying a few uncensored last words gave rise to Speakers' Corner, now in the part of Hyde Park closest to Marble Arch. It is estimated that throughout the centuries, as many as 50.000 people were put to death at Tyburn. The highwayman John Austin was the last person to be executed at Tyburn. Later executions took place outside Newgate Prison. The last person to be executed in public in Britain was a Fenian bomber, Michael Barrett, in 1886, after which executions moved indoors to Newgate Prison itself. Curiously, no single person was the last person hanged in Britain; that dubious honour goes to two men, both convicted for the murder of the same man, and hanged at the same time: Peter Anthony Allen at Walton Prison in Liverpool, and Gwynne Owen Evans at Strangeways Prison in Manchester, both hanged at 8.00am on 13 August 1964. The death penalty for murder was abolished in 1965 in Great Britain (only in 1973 in Northern Ireland), and for all other offences (notably treason) in 1998. ↩
[3] The arch, in white Carrara marble and based in part on the Arc de Triomphe in Paris, was designed in the 1825 as the ceremonial front gate to Buckingham Palace. Construction was completed in 1833, but the gate was considered a less than perfect addition to the Palace - soon losing much of its whiteness due to pollution by the famous (and then still quite vicious) London smog. In 1851, it was moved to its present location.  The arch contains three rooms which were used as a police station from 1851 to at least 1968. Passage through the arch is limited to members of the Royal Family and the King's Troop; in 1953, on her way to coronation, princess Elizabeth drove through the arch in the gold state coach. ↩
[4] Oswald's Stone is not the only mysterious marker of great antiquity in London. The London Stone has been associated with King Arthur, who according to some pulled Excalibur from this rock, and/or with Brutus, the mythical founder of London. Some consider it London's ultimate safeguard ('So long as the Stone of Brutus is safe, so long shall London flourish') - in other stories, the Raven of the Tower are London's 'palladium' (i.e. magical protection). Other myths, of London Stone's Roman or Druidic origin and use, abound, but the truth is that, like Oswald's Stone, nobody knows what it stood for. But unlike Oswald's Stone, the London Stone, although probably greatly reduced from its ancient size, has not been lost, and is still on public display. It is visible in a niche at a front of 111 Cannon Street. ↩
[5] As in: land of the Middle Saxons, between the lands of the East Saxons (i.e. Essex), South Saxons (Sussex) and West Saxons (Wessex). The latter geographic entity has also has disappeared off the map, although Thomas Hardy used a (fictionalised) version for his novels, and a regionalist movement exists with the aim of reviving Wessex as a political entity. One of their many problems: defining the boundaries of that entity. We'll keep the question Where is Wessex for a later post, shall we? ↩
[6] Small parts were transferred to Hertfordshire (Potter's Bar), Surrey (Staines, Sunbury-on-Thames). ↩
[7] The anniversary of the Battle of Albuera (1811) during the Peninsular Campaign, at which the Middlesex Regiment (the 'Die-Hards') fought valiantly against the Napoleonic Armée du Midi. The Regiment got its nickname at Albuera when their commander, severely wounded and his horse shot from under him, urged his outnumbered soldiers to "Die hard, 57th, die hard!" In a evolution typical of all things Middlesex [8], the regiment lost its name when it was amalgamated in 1966 into the Queen's Regiment. ↩
[8] Middlesex just doesn't seem a viable proposition, not even as a noble title. The Earldom of Middlesex was created twice, in 1622 and 1677, but died out on both occasions. ↩
[9] At least some of the area covered by the post codes beginning with EN (for Enfield), HA (Harrow and environs), TW (Twickenham and surroundings) and UB (Uxbridge &c.) ↩
[10] Flowing through the Olympic Park in Stratford and debouching in the Thames opposite the O2 Arena (formerly the Millennium Dome) in Greenwich. ↩
[11] The Colne, one of a handful of rivers so named, flows into the Thames in the marshlands that still constitute a border - these days between Greater London and Buckinghamshire. ↩
[12] A marker near the northern border, sometimes used as pars pro toto its entirety, is the Grimsdyke (or Grim's Ditch), stretching some 2 miles from Harrow Weald to Bushey Heath. Several Grimsdykes exist throughout southern England, all earthenworks possibly thrown up as boundary markers by Celtic tribes in the last centuries BC. ↩
[13] On Parliament Square, facing Big Ben. Since 2009, Middlesex Guildhall is home to the UK's Supreme Court. ↩
A critical thinking framework developed by psychologists can help teach mental skills necessary for our times.
Credit: Elder / Paul
Personal Growth
Researchers propose six levels of critical thinkers: Unreflective thinkers, Challenged thinkers, Beginning thinkers, Practicing thinkers, Advanced thinkers, and Master thinkers.
The framework comes from educational psychologists Linda Elder and Richard Paul.
Teaching critical thinking skills is a crucial challenge in our times.
The coronavirus has not only decimated our populations, its spread has also attacked the very nature of truth and stoked inherent tensions between many different groups of people, both at local and international levels. Spawning widespread conspiracy theories and obfuscation by governments, the virus has also been a vivid demonstration of the need for teaching critical thinking skills necessary to survive in the 21st century. The stage theory of critical thinking development, devised by psychologists Linda Elder and Richard Paul, can help us gauge the sophistication of our current mental approaches and provides a roadmap to the thinking of others.
The researchers identified six predictable levels of critical thinkers, from ones lower in depth and effort to the advanced mind-masters, who are always steps ahead.
As the scientists write, moving up on this pyramid of thinking "is dependent upon a necessary level of commitment on the part of an individual to develop as a critical thinker." Using your mind more effectively is not automatic and "is unlikely to take place "subconsciously." In other words – you have to put in the work and keep doing it, or you'll lose the faculty.
Here's how the stages of intellectual development break down:
Stage One: The Unreflective Thinker
These are people who don't reflect about thinking and the effect it has on their lives. As such, they form opinions and make decisions based on prejudices and misconceptions while their thinking doesn't improve.
Unreflective thinkers lack crucial skills that would allow them to parse their thought processes. They also do not apply standards like accuracy, relevance, precision, and logic in a consistent fashion.
How many such people are out there? You probably can guess based on social media comments. As Elder and Paul write, "it is perfectly possible for students to graduate from high school, or even college, and still be largely unreflective thinkers."
Stage Two: The Challenged Thinker
This next level up thinker has awareness of the importance of thinking on their existence and knows that deficiencies in thinking can bring about major issues. As the psychologists explain, to solve a problem, you must first admit you have one.
People at this intellectual stage begin to understand that "high quality thinking requires deliberate reflective thinking about thinking", and can acknowledge that their own mental processes might have many flaws. They might not be able to identify all the flaws, however.
A challenged thinker may have a sense that solid thinking involves navigating assumptions, inferences, and points of view, but only on an initial level. They may also be able to spot some instances of their own self-deception. The true difficulty for thinkers of this category is in not "believing that their thinking is better than it actually is, making it more difficult to recognize the problems inherent in poor thinking," explain the researchers.
Stage Three: The Beginning Thinker
Thinkers at this level can go beyond the nascent intellectual humility and actively look to take control of their thinking across areas of their lives. They know that their own thinking can have blind spots and other problems and take steps to address those, but in a limited capacity.
Beginning thinkers place more value in reason, becoming self-aware in their thoughts. They may also be able to start looking at the concepts and biases underlying their ideas. Additionally, such thinkers develop higher internal standards of clarity, accuracy and logic, realizing that their ego plays a key role in their decisions.
Another big aspect that differentiates this stronger thinker – some ability to take criticism of their mental approach, even though they still have work to do and might lack clear enough solutions to the issues they spot.
Stage Four: The Practicing Thinker
This more experienced kind of thinker not only appreciates their own deficiencies, but has skills to deal with them. A thinker of this level will practice better thinking habits and will analyze their mental processes with regularity.
While they might be able to express their mind's strengths and weaknesses, as a negative, practicing thinkers might still not have a systematic way of gaining insight into their thoughts and can fall prey to egocentric and self-deceptive reasoning.
How do you get to this stage? An important trait to gain, say the psychologists, is "intellectual perseverance." This quality can provide "the impetus for developing a realistic plan for systematic practice (with a view to taking greater command of one's thinking)."
"We must teach in such a way that students come to understand the power in knowing that whenever humans reason, they have no choice but to use certain predictable structures of thought: that thinking is inevitably driven by the questions, that we seek answers to questions for some purpose, that to answer questions, we need information, that to use information we must interpret it (i.e., by making inferences), and that our inferences, in turn, are based on assumptions, and have implications, all of which involves ideas or concepts within some point of view," explain Elder and Paul.
Stage Five: The Advanced Thinker
One doesn't typically get to this stage until college and beyond, estimate the scientists. This higher-level thinker would have strong habits that would allow them to analyze their thinking with insight about different areas of life. They would be fair-minded and able to spot the prejudicial aspects in the points of view of others and their own understanding.
While they'd have a good handle on the role of their ego in the idea flow, such thinkers might still not be able to grasp all the influences that affect their mentality.
The advanced thinker is at ease with self-critique and does so systematically, looking to improve. Among key traits required for this level are "intellectual insight" to develop new thought habits, "intellectual integrity" to "recognize areas of inconsistency and contradiction in one's life," intellectual empathy" to put oneself in the place of others in order to genuinely understand them, and the "intellectual courage" to confront ideas and beliefs they don't necessarily believe in and have negative emotions towards.
Stage Six: The Master Thinker
This is the super-thinker, the one who is totally in control of how they process information and make decisions. Such people constantly seek to improve their thought skills, and through experience "regularly raise their thinking to the level of conscious realization."
A master thinker achieves great insights into deep mental levels, strongly committed to being fair and gaining control over their own egocentrism.
Such a high-level thinker also exhibits superior practical knowledge and insight, always re-examining their assumptions for weaknesses, logic, and biases.
And, of course, a master thinker wouldn't get upset with being intellectually confronted and spends a considerable amount of time analyzing their own responses.
"Why is this so important? Precisely because the human mind, left to its own, pursues that which is immediately easy, that which is comfortable, and that which serves its selfish interests. At the same time, it naturally resists that which is difficult to understand, that which involves complexity, that which requires entering the thinking and predicaments of others," write the researchers.
So how do you become a master thinker? The psychologists think most students will never get there. But a lifetime of practicing the best intellectual traits can get you to that point when "people of good sense seek out master thinkers, for they recognize and value the ability of master thinkers to think through complex issues with judgment and insight."
The significance of critical thinking in our daily lives, especially in these confusing times, so rife with quick and often-misleading information, cannot be overstated. The decisions we make today can truly be life and death.
What's the difference between brainwashing and rehabilitation?
Mind & Brain
The book and movie, A Clockwork Orange, powerfully asks us to consider the murky lines between rehabilitation, brainwashing, and dehumanization.
There are a variety of ways, from hormonal treatment to surgical lobotomies, to force a person to be more law abiding, calm, or moral.
Is a world with less free will but also with less suffering one in which we would want to live?
Alex is a criminal. A violent and sadistic criminal. So, we decide to do something about it. We're going to "rehabilitate" him.
Using a new and exciting "Ludovico" technique, we'll change his brain chemistry to make him an upstanding, moral citizen. Alex will be forced to watch violent movies as his body is pumped with nausea-inducing drugs. After a while, he'll come to associate violence with this horrible sickness. And, after a course of Ludovico, Alex can happily return to society, never again doing an immoral or illegal act. He'll no longer be a danger to himself or anyone else.
This is the story of A Clockwork Orange by Anthony Burgess, and it raises important questions about the nature of moral decisions, free will, and the limits of rehabilitation.
Today's Clockwork Orange
This might seem like unbelievable science fiction, but it might be truer — and nearer — than we think. In 2010, Dr. Molly Crockett did a series of experiments on moral decision-making and serotonin levels. Her results showed that people with more serotonin were less aggressive or confrontational and much more easy-going and forgiving. When we're full of serotonin, we let insults pass, are more empathetic, and are less willing to do harm.
As Fydor Dostoyevsky wrote in The Brothers Karamazov, if the "entrance fee" for having free will is the horrendous suffering we see all around us, then "I hasten to return my ticket."
The idea that biology affects moral decisions is obvious. Most of us are more likely to be short-tempered and spiteful if we're tired or hungry, for instance. Conversely, we have the patience of a saint if we just have received some good news, had half a bottle of wine, or had sex.
If our decision-making can be manipulated or determined by our biology, should we not try various interventions to prevent the criminally inclined from harming others?
Drastic interventions
What is the point of prison? This is itself no easy question, and it's one with a rich philosophical debate. Surely one of the biggest reasons is to protect society by preventing criminals from reoffending. This might be achievable by manipulating a felon's serotonin levels, but why not go even further?
Today, we know enough about the brain to have identified a very particular part of the prefrontal cortex responsible for aggressive behavior. We know that certain abnormalities in the amygdala can result in anti-social behavior and rule breaking. If the purpose of the penal system is to rehabilitate, then why not "edit" these parts of the brain in some way? This could be done in a variety of ways.
Credit: Otis Historical Archives National Museum of Health and Medicine via Flickr / Wikipedia
Electroconvulsive therapy (ECT) is a surprisingly common practice in much of the developed world. Its supporters say that it can help relieve major mental health issues such as depression or bipolar disorder as well as alleviate certain types of seizures. Historically, and controversially, it has been used to "treat" homosexuality and was used to threaten those misbehaving in hospitals in the 1950s (as notoriously depicted in One Flew Over the Cuckoo's Nest). Of course, these early and crude efforts at ECT were damaging, immoral, and often left patients barely able to function as humans. Today, neuroscience and ECT are much more sophisticated. If we could easily "treat" those with aggressive or anti-social behavior, then why not?

Ideally, we might use techniques such as ECT or hormonal supplementation, but failing that, why not go even further? Why not perform a lobotomy? If the purpose of the penal system is to change the felon for the better, we should surely use all the tools at our disposal. With one fairly straightforward surgery to the prefrontal cortex, we could turn a violent, murderous criminal into a docile and law-abiding citizen. Should we do it?
Is free will worth it?
As Burgess, who penned A Clockwork Orange, wrote, "Is a man who chooses to be bad perhaps in some way better than a man who has the good imposed upon him?"
Intuitively, many say yes. Moral decisions must, in some way, be our own. Even if we know that our brains determine our actions, it's still me who controls my brain, no one else. Forcing someone to be good, by molding or changing their brain, is not creating a moral citizen. It's creating a law-abiding automaton. And robots are not humans.
And yet, it begs the question: is "free choice" worth all the evil in the world?
If my being brainwashed or "rehabilitated" means children won't die malnourished or the Holocaust would never happen, then so be it. If lobotomizing or neuro-editing a serial killer will prevent them from killing again, is that not a sacrifice worth making? There's no obvious reason why we should value free will above morality or the right to life. A world without murder and evil — even if it meant a world without free choices for some — might not be such a bad place.
As Fyodor Dostoyevsky wrote in The Brothers Karamazov, if the "entrance fee" for having free will is the horrendous suffering we see all around us, then "I hasten to return my ticket." Free will's not worth it.
Do you think the Ludovico technique from A Clockwork Orange is a great idea? Should we turn people into moral citizens and shape their brains to choose only what is good? Or is free choice more important than all the evil in the world?
Jonny Thomson teaches philosophy in Oxford. He runs a popular Instagram account called Mini Philosophy (@philosophyminis). His first book is Mini Philosophy: A Small Book of Big Ideas.
A simple trick allowed marine biologists to prove a long-held suspicion.
Surprising Science
It's long been suspected that sharks navigate the oceans using Earth's magnetic field.
Sharks are, however, difficult to experiment with.
Using magnetism, marine biologists figured out a clever way to fool sharks into thinking they're somewhere that they're not.
For some time, scientists have suspected that sharks belong among the growing number of animals known to navigate using Earth's magnetic field. Testing anything with a shark, though, requires some care.
"The reason this question has been withstanding for 50 years is because sharks are difficult to study," says Bryan Keller of the Save Our Seas Foundation. "To be honest, I am surprised it worked."
The key was selecting the right candidate. Keller and his colleagues chose the bonnethead shark, Sphyrna tiburo, a small critter that summers at Turkey Point Shoal off the coast of the Florida State University Coastal and Marine Laboratory with which Keller is affiliated.
Bonnetheads elsewhere have been known to complete 620-mile roundtrip migrations. As the lab's Dean Grubbs puts it, "That's not bad for a shark that is only two to three feet long. The question is how do they find their way back to that same estuary year after year." There's a report of a great white shark migrating between two locations, one in South Africa and another in Australia, year after year.
The research is published in Current Biology.
Shark tank
These are the three places the bonnethead sharks were magnetically fooled into thinking they were located.Credit: Keller et al. / Current Biology
Keller and his team rounded up 20 local juvenile bonnetheads and transported them into a holding tank at the marine lab. For the tests, the researchers simulated three real-world magnetic fields. As the various magnetic fields were activated, the sharks' movements were captured by GoPro cameras and their average swimming orientations calculated by software.

The first simulation, serving as a control, mimicked the magnetic field of the nearby shoal from which the sharks had been captured. When this field was activated, the sharks essentially acted like they were "home," just swimming around as they do.
A second field was the magnetic equivalent of a location 600 kilometers south of the lab within the Gulf of Mexico. When this field was activated, the sharks, apparently mistaking themselves for being far south in the Gulf, began swimming northward toward the shoal.
The opposite occurred with a field standing in for a location in continental North America 600 km north of their home shoal — the sharks began swimming southward.
Suspicion confirmed
"For 50 years," says Keller, "scientists have hypothesized that sharks use the magnetic field as a navigational aid. This theory has been so popular because sharks, skates, and rays have been shown to be very sensitive to magnetic fields. They have also been trained to react to unique geomagnetic signatures, so we know they are capable of detecting and reacting to variation in the magnetic field."
His team's experiments confirm what's long been suspected, Keller says: "Sharks use map-like information from the geomagnetic field as a navigational aid. This ability is useful for navigation and possibly maintaining population structure."
Culture & Religion
A machine learning system lets visitors at a Kandinsky exhibition hear the artwork.
Scroll down to load more…