The Mysterious Enclave Complex of Madha and Nahwa
Border weirdness on the Arabian peninsula
Frank Jacobs
From a young age, Frank was fascinated by maps and atlases, and the stories they contained. Finding his birthplace on the map in the endpapers of Tolkien's Lord of the Rings only increased his interest in the mystery and message of maps.
While pursuing a career in journalism, Frank started a blog called Strange Maps, as a repository for the weird and wonderful cartography he found hidden in books, posing as everyday objects and (of course) floating around the Internet.
"Each map tells a story, but the stories told by your standard atlas for school or reference are limited and literal: they show only the most practical side of the world, its geography and its political divisions. Strange Maps aims to collect and comment on maps that do everything but that - maps that show the world from a different angle".
A remit that wide allows for a steady, varied diet of maps: Frank has been writing about strange maps since 2006, published a book on the subject in 2009 and joined Big Think in 2010. Readers send in new material daily, and he keeps bumping in to cartography that is delightfully obscure, amazingly beautiful, shockingly partisan, and more.
23 July, 2010
These names sound like they're out of Arabian Nights – and that is just about right. Madha and Nahwa are the names of two territories on the Arabian peninsula which you probably have never head of. Unless you scan maps for weird borders. Together, they form a type of enclave/exclave complex which I would like to call Sunny Side Up, as it resembles an egg thus fried.
---
The territories are situated on the horn of the peninsula, the one pointing at Iran, separated from it by the Strait of Hormuz. The tip of the horn is an enclave of Oman, the mainland of which is further to the south. On this map, that little piece of Oman on the Strait is not separately named, although several towns are (including Kumzar, on its own oil spill-shaped peninsula) and one interesting natural feature is pointed out: the Jabal al Harim, surprisingly high at 2.087 metres.
One always thinks of Arabia as flat, sandy desert – apparently not entirely correct.
Below this unnamed enclave, and separating it from Oman proper, the territory of the United Arab Emirates fans out south and west, giving the UAE sea access to the Indian Ocean. By the desolate look of it, this shore is a pretty different one from the UAE's shore on the Gulf, where lies the glittering metropoles of Dubai and Abu Dhabi.
On the same latitude as Dubai, but closer again to the Indian Ocean, lie Madha and Nahwa. Madha (75 sq. km) is an Omani enclave within UAE territory, while Nahwa in turn is UAE land, completely surrounded by Oman and part of the Emirate of Sharjah. This rather complex border situation was definitively demarcated only in 1969. Nahwa only consists of a few houses, while most of Madha is uninhabited, making the necessity for this particular delineatory arrangement even more mysterious.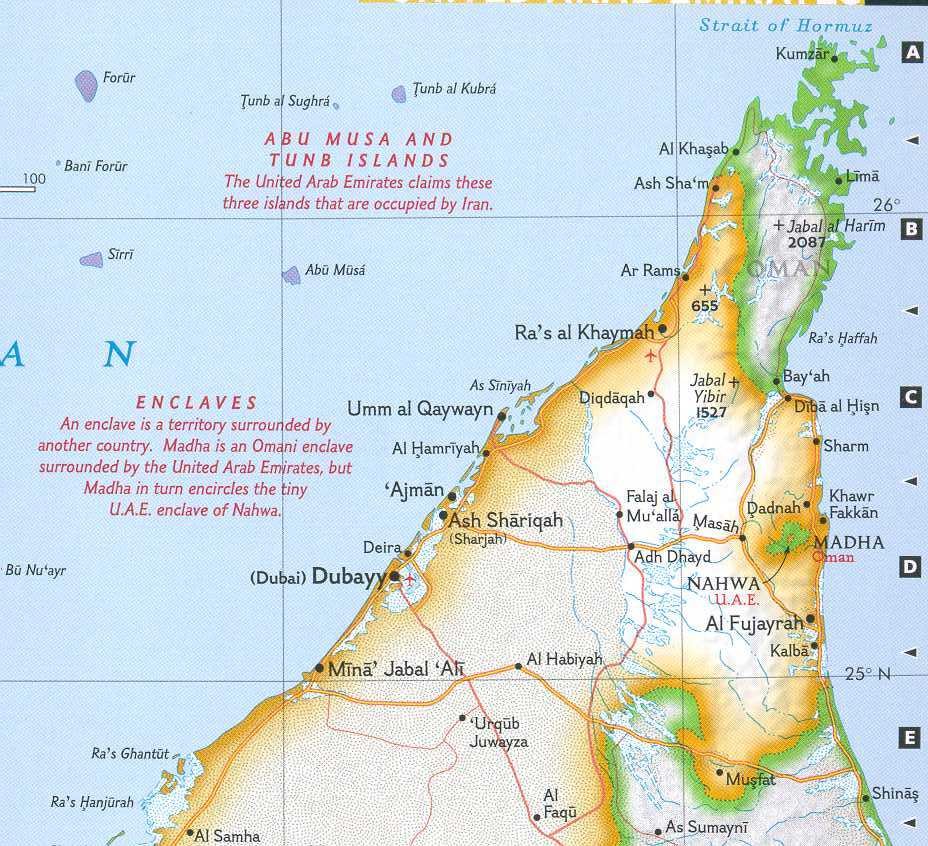 Strange Maps #60
Got a strange map? Let me know at strangemaps@gmail.com.
Big think's weekly newsletter.
Get smarter faster from the comfort of your inbox.
See our newsletter privacy policy
here