The First Satellite Map of California (1851)
The incredible (and indeed untrue) story of President Taylor's APE
Frank Jacobs
From a young age, Frank was fascinated by maps and atlases, and the stories they contained. Finding his birthplace on the map in the endpapers of Tolkien's Lord of the Rings only increased his interest in the mystery and message of maps.
While pursuing a career in journalism, Frank started a blog called Strange Maps, as a repository for the weird and wonderful cartography he found hidden in books, posing as everyday objects and (of course) floating around the Internet.
"Each map tells a story, but the stories told by your standard atlas for school or reference are limited and literal: they show only the most practical side of the world, its geography and its political divisions. Strange Maps aims to collect and comment on maps that do everything but that - maps that show the world from a different angle".
A remit that wide allows for a steady, varied diet of maps: Frank has been writing about strange maps since 2006, published a book on the subject in 2009 and joined Big Think in 2010. Readers send in new material daily, and he keeps bumping in to cartography that is delightfully obscure, amazingly beautiful, shockingly partisan, and more.
14 March, 2012
It's 1849, and a Gold Rush is drawing thousands of American prospectors to California, which was snatched from Mexico only a year earlier [1]. The lay of the land is still poorly surveyed, the risks and resources of the terrain as yet largely unknown. 
---
So US President Zachary Taylor initiates a top secret government programme to speed-map the last piece in the puzzle of America's Manifest Destiny. The plan is so hush-hush (not to mention ahead of its time) that it's scarcely believable, even with the recently declassified evidence of its success right in front of our eyes, in public view for the first time. 
Predating the launch of Sputnik by over a century [2], President Taylor's task force, consisting of civil engineers and frontiersmen, constructs a rocket in the Californian wilderness, equips its payload with the most powerful camera known to humankind at the time - endowed with revolutionary colour-capturing capacity - and launches it skyward from the slopes of Mount Whitney [3].
The President's Astro-Physical Expedition (APE) put California's local flora to good use, hollowing out a redwood tree and stuffing it with gunpowder to create a giant firing tube. An incredible concatenation of good fortune conspires to bless Taylor's APE with success: the redwood cannon does not disintegrate, the projectile survives its violent skyward thrust, and the camera mounted inside its body happens to be in the right angle for a shapshot of the mid-19th century Californian landscape.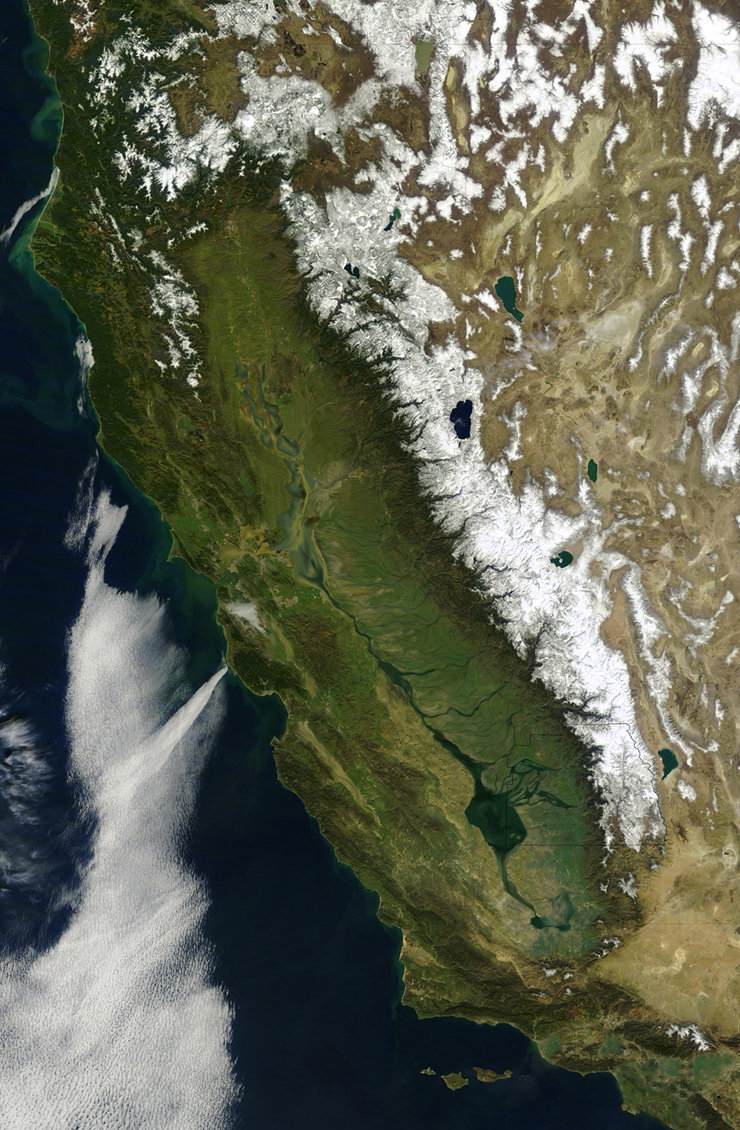 Of course this is not what happened. But it's a charming, steampunky backstory for this map, which purports to be a satellite image of California, taken in 1851. Both the map and the backstory were created by Mark Clark, a geographer who lives in California's Central Valley [4] and is fascinated by its past aquatic history: 
"[The Central Valley] used to have a big lake and lots of marshes from water runoff from the mountains. Dams and irrigation stopped all that many years ago. But I've always wondered what it looked like around here before that." 
Surprisingly, a satellite picture in 1851 would have shown a large lake in the southern part of the Valley. Tulare Lake once was the largest freshwater body west of the Great Lakes, and its fish-rich waters supported local Indian tribes for centuries. Tulare Lake's size varied widely, dependent on both rain and mountain snows for nourishment. At around the time this picture would have been taken, it would have measured about 580 sq. mi (1,500 km2). Thirty years later, it would have swelled to almost 700 sq. mi (1,800 km2). 
"You could take a boat from Bakersfield to Stockton using the waterways as shown", Mr Clark says. "A 50 foot schooner sailed the lake for many years and there were five piers for loading and unloading located around the lake. The current community of Alpaugh is located on what once was  one of the islands you see depicted."
But in a process reminiscent of the drying-up of the Aral Sea or Lake Chad [5], Tulare Lake was depleted by the diversion of its tributaries for the purpose of irrigation. By the early 20th century, the lake was largely dry. 
Only very occasionally, when rains or snowmelt flood this area of the Valley, does a dim shadow of Tulare Lake return, to blame the humans for its death by designed desiccation…
Many thanks to Mr Clark for sending in this self-made map. And many thanks to former president Zachary Taylor for providing the diversion in the top part of this post... 
Strange Maps #557
Got a strange map? Let me know at strangemaps@gmail.com.
______
[1] The Mexican-American War (1846-1848) led to the Mexican Cession of 1848. This handover of Mexican territory to the US comprised almost the entire Mexican department of Alta California, and a western sliver of the Mexican territory of Nuevo México. That corresponds to the entirety of present US states of California, Nevada and Utah, a large part of Arizona, and parts of New Mexico, Colorado and Wyoming.
[2] Generally believed to the be first artificial satellite launched into orbit around the Earth, Sputnik was launched by the Soviets on October 4th 1957.
[3] That being the highest point in what is now the contiguous United States (14,505 feet, or 4,421 m). At the time, the mountain was still unnamed.
[4] The flat expanse in the centre of California occupies about 10% of its total surface, and consists of the Sacramento Valley in the north and the San Joaquin Valley in the south. It is a major agricultural area, which helps explain where all the water went.
[5] The drying-up of Lake Chad was discussed on this blog in 2007 (#95). Has it completely gone by now? Another great lake no longer shown on contemporary maps is the Great Australian Inland Sea. But for a different reason: it only ever existed in the imagination of cartographers (#140).
New research links urban planning and political polarization.
Pixabay
Politics & Current Affairs
Canadian researchers find that excessive reliance on cars changes political views.
Decades of car-centric urban planning normalized unsustainable lifestyles.
People who prefer personal comfort elect politicians who represent such views.
Progressive America would be half as big, but twice as populated as its conservative twin.
Image: Dicken Schrader
Strange Maps
America's two political tribes have consolidated into 'red' and 'blue' nations, with seemingly irreconcilable differences.
Perhaps the best way to stop the infighting is to go for a divorce and give the two nations a country each
Based on the UN's partition plan for Israel/Palestine, this proposal provides territorial contiguity and sea access to both 'red' and 'blue' America
Science and the squishiness of the human mind. The joys of wearing whatever the hell you want, and so much more.
Flickr / 13winds
Think Again Podcasts
Why can't we have a human-sized cat tree?
What would happen if you got a spoonful of a neutron star?
Why do we insist on dividing our wonderfully complex selves into boring little boxes
Big think's weekly newsletter.
Get smarter faster from the comfort of your inbox.
See our newsletter privacy policy
here
Most Popular
Most Recent
Big think's weekly newsletter.
Get smarter faster from the comfort of your inbox.
See our newsletter privacy policy
here
© Copyright 2007-2018 & BIG THINK, BIG THINK EDGE,
SMARTER FASTER trademarks owned by The Big Think, Inc. All rights reserved.