The First Satellite Map of California (1851)
The incredible (and indeed untrue) story of President Taylor's APE
14 March, 2012
It's 1849, and a Gold Rush is drawing thousands of American prospectors to California, which was snatched from Mexico only a year earlier [1]. The lay of the land is still poorly surveyed, the risks and resources of the terrain as yet largely unknown. 
---
So US President Zachary Taylor initiates a top secret government programme to speed-map the last piece in the puzzle of America's Manifest Destiny. The plan is so hush-hush (not to mention ahead of its time) that it's scarcely believable, even with the recently declassified evidence of its success right in front of our eyes, in public view for the first time. 
Predating the launch of Sputnik by over a century [2], President Taylor's task force, consisting of civil engineers and frontiersmen, constructs a rocket in the Californian wilderness, equips its payload with the most powerful camera known to humankind at the time - endowed with revolutionary colour-capturing capacity - and launches it skyward from the slopes of Mount Whitney [3].
The President's Astro-Physical Expedition (APE) put California's local flora to good use, hollowing out a redwood tree and stuffing it with gunpowder to create a giant firing tube. An incredible concatenation of good fortune conspires to bless Taylor's APE with success: the redwood cannon does not disintegrate, the projectile survives its violent skyward thrust, and the camera mounted inside its body happens to be in the right angle for a shapshot of the mid-19th century Californian landscape.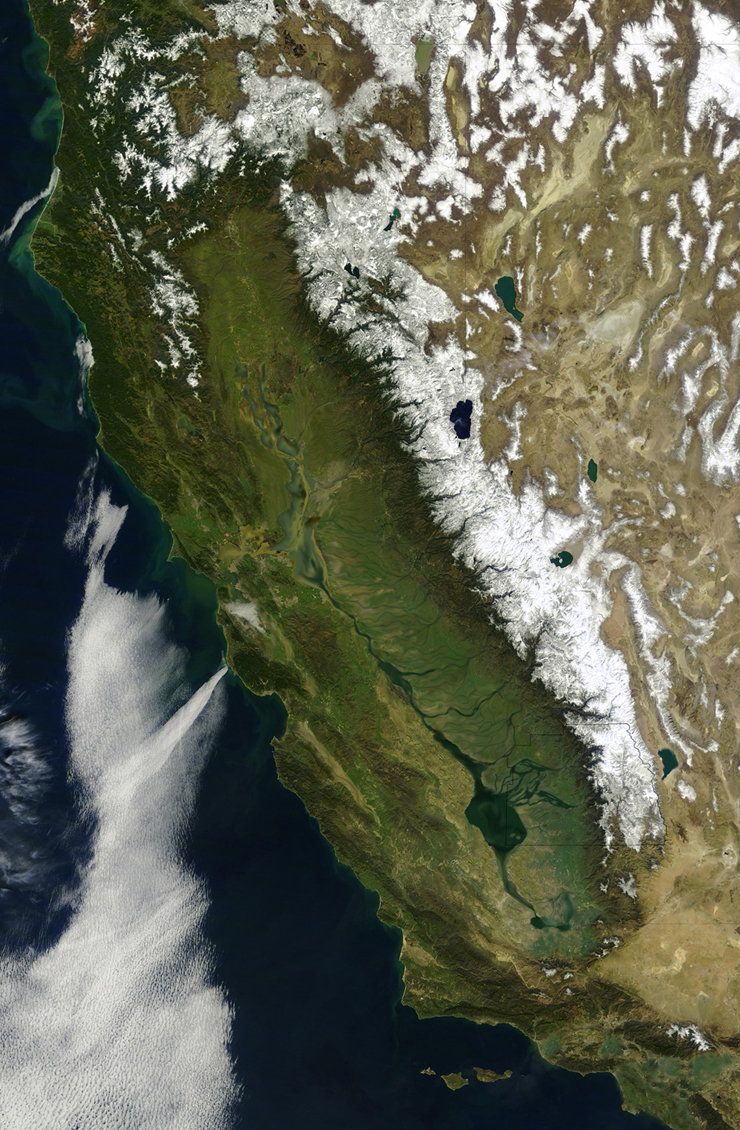 Of course this is not what happened. But it's a charming, steampunky backstory for this map, which purports to be a satellite image of California, taken in 1851. Both the map and the backstory were created by Mark Clark, a geographer who lives in California's Central Valley [4] and is fascinated by its past aquatic history: 
"[The Central Valley] used to have a big lake and lots of marshes from water runoff from the mountains. Dams and irrigation stopped all that many years ago. But I've always wondered what it looked like around here before that." 
Surprisingly, a satellite picture in 1851 would have shown a large lake in the southern part of the Valley. Tulare Lake once was the largest freshwater body west of the Great Lakes, and its fish-rich waters supported local Indian tribes for centuries. Tulare Lake's size varied widely, dependent on both rain and mountain snows for nourishment. At around the time this picture would have been taken, it would have measured about 580 sq. mi (1,500 km2). Thirty years later, it would have swelled to almost 700 sq. mi (1,800 km2). 
"You could take a boat from Bakersfield to Stockton using the waterways as shown", Mr Clark says. "A 50 foot schooner sailed the lake for many years and there were five piers for loading and unloading located around the lake. The current community of Alpaugh is located on what once was  one of the islands you see depicted."
But in a process reminiscent of the drying-up of the Aral Sea or Lake Chad [5], Tulare Lake was depleted by the diversion of its tributaries for the purpose of irrigation. By the early 20th century, the lake was largely dry. 
Only very occasionally, when rains or snowmelt flood this area of the Valley, does a dim shadow of Tulare Lake return, to blame the humans for its death by designed desiccation…
Many thanks to Mr Clark for sending in this self-made map. And many thanks to former president Zachary Taylor for providing the diversion in the top part of this post... 
Strange Maps #557
Got a strange map? Let me know at strangemaps@gmail.com.
______
[1] The Mexican-American War (1846-1848) led to the Mexican Cession of 1848. This handover of Mexican territory to the US comprised almost the entire Mexican department of Alta California, and a western sliver of the Mexican territory of Nuevo México. That corresponds to the entirety of present US states of California, Nevada and Utah, a large part of Arizona, and parts of New Mexico, Colorado and Wyoming.
[2] Generally believed to the be first artificial satellite launched into orbit around the Earth, Sputnik was launched by the Soviets on October 4th 1957.
[3] That being the highest point in what is now the contiguous United States (14,505 feet, or 4,421 m). At the time, the mountain was still unnamed.
[4] The flat expanse in the centre of California occupies about 10% of its total surface, and consists of the Sacramento Valley in the north and the San Joaquin Valley in the south. It is a major agricultural area, which helps explain where all the water went.
[5] The drying-up of Lake Chad was discussed on this blog in 2007 (#95). Has it completely gone by now? Another great lake no longer shown on contemporary maps is the Great Australian Inland Sea. But for a different reason: it only ever existed in the imagination of cartographers (#140).
What can 3D printing do for medicine? The "sky is the limit," says Northwell Health researcher Dr. Todd Goldstein.
Northwell Health
Sponsored by Northwell Health
Medical professionals are currently using 3D printers to create prosthetics and patient-specific organ models that doctors can use to prepare for surgery.
Eventually, scientists hope to print patient-specific organs that can be transplanted safely into the human body.
Northwell Health, New York State's largest health care provider, is pioneering 3D printing in medicine in three key ways.
Big Think Edge
Conformity is not conducive to good problem solving, says economist and author Tim Harford.
The opposite of conformity? Diversity.
The kind of discussions that diversity facilitates actually improve the ability of groups to arrive at effective solutions.
As Game of Thrones ends, a revealing resolution to its perplexing geography.
Strange Maps
The fantasy world of Game of Thrones was inspired by real places and events.
But the map of Westeros is a good example of the perplexing relation between fantasy and reality.
Like Britain, it has a Wall in the North, but the map only really clicks into place if you add Ireland.
Big Think Edge
Alan Lightman, physicist and author of Einstein's Dreams, examined 30 great scientific discoveries of the 20th century.
Here he explores the habits of mind that push innovators toward creative breakthroughs.
His advice for reaching creative heights? Embrace stuck-ness and don't rely on inspiration.
Big think's weekly newsletter.
Get smarter faster from the comfort of your inbox.
See our newsletter privacy policy
here
Most Popular
Most Recent
Big think's weekly newsletter.
Get smarter faster from the comfort of your inbox.
See our newsletter privacy policy
here
© Copyright 2007-2019 & BIG THINK, BIG THINK EDGE,
SMARTER FASTER trademarks owned by The Big Think, Inc. All rights reserved.