The First Satellite Map of California (1851)
The incredible (and indeed untrue) story of President Taylor's APE
14 March, 2012
It's 1849, and a Gold Rush is drawing thousands of American prospectors to California, which was snatched from Mexico only a year earlier [1]. The lay of the land is still poorly surveyed, the risks and resources of the terrain as yet largely unknown. 
---
So US President Zachary Taylor initiates a top secret government programme to speed-map the last piece in the puzzle of America's Manifest Destiny. The plan is so hush-hush (not to mention ahead of its time) that it's scarcely believable, even with the recently declassified evidence of its success right in front of our eyes, in public view for the first time. 
Predating the launch of Sputnik by over a century [2], President Taylor's task force, consisting of civil engineers and frontiersmen, constructs a rocket in the Californian wilderness, equips its payload with the most powerful camera known to humankind at the time - endowed with revolutionary colour-capturing capacity - and launches it skyward from the slopes of Mount Whitney [3].
The President's Astro-Physical Expedition (APE) put California's local flora to good use, hollowing out a redwood tree and stuffing it with gunpowder to create a giant firing tube. An incredible concatenation of good fortune conspires to bless Taylor's APE with success: the redwood cannon does not disintegrate, the projectile survives its violent skyward thrust, and the camera mounted inside its body happens to be in the right angle for a shapshot of the mid-19th century Californian landscape.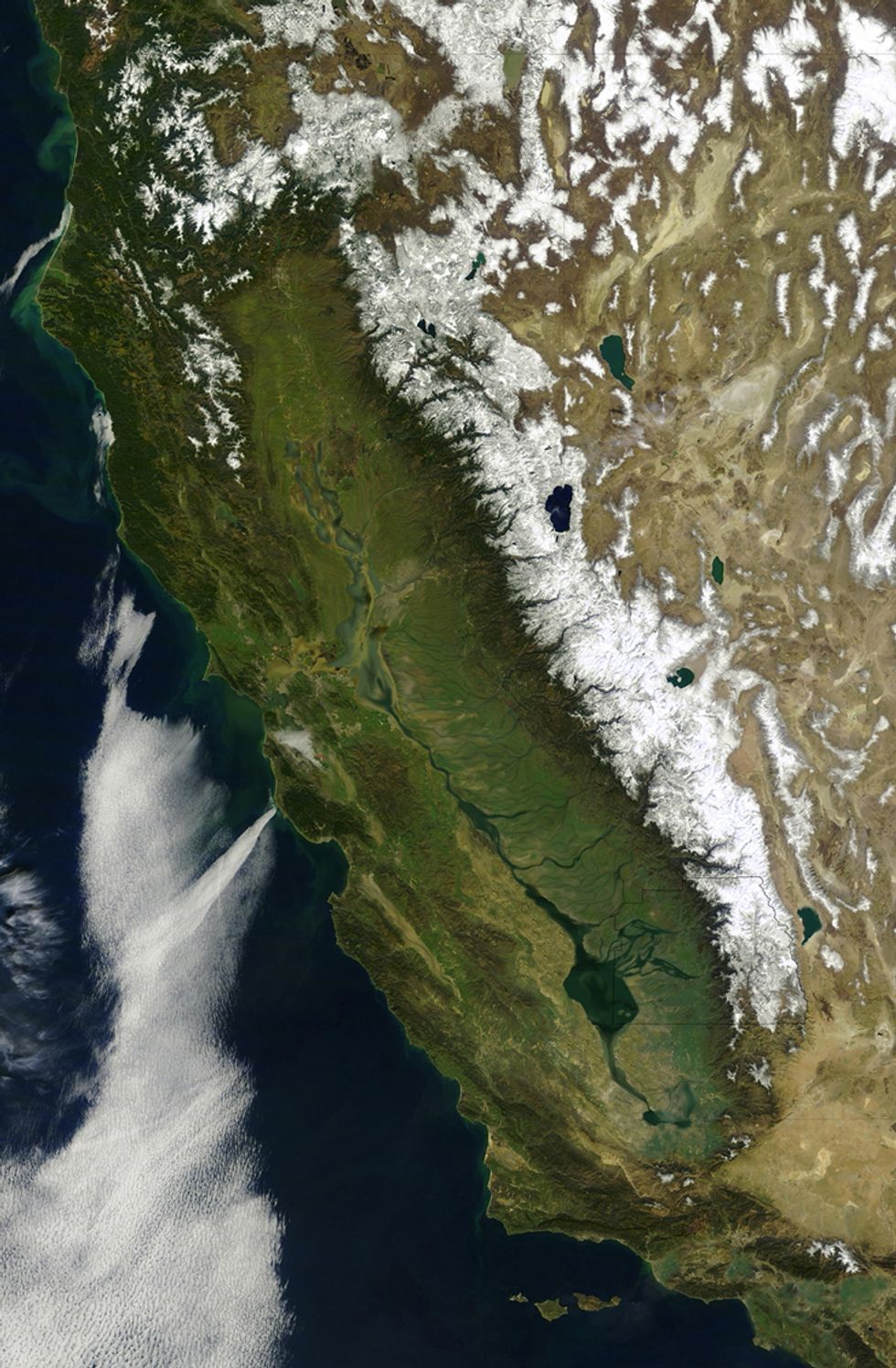 Of course this is not what happened. But it's a charming, steampunky backstory for this map, which purports to be a satellite image of California, taken in 1851. Both the map and the backstory were created by Mark Clark, a geographer who lives in California's Central Valley [4] and is fascinated by its past aquatic history: 
"[The Central Valley] used to have a big lake and lots of marshes from water runoff from the mountains. Dams and irrigation stopped all that many years ago. But I've always wondered what it looked like around here before that." 
Surprisingly, a satellite picture in 1851 would have shown a large lake in the southern part of the Valley. Tulare Lake once was the largest freshwater body west of the Great Lakes, and its fish-rich waters supported local Indian tribes for centuries. Tulare Lake's size varied widely, dependent on both rain and mountain snows for nourishment. At around the time this picture would have been taken, it would have measured about 580 sq. mi (1,500 km2). Thirty years later, it would have swelled to almost 700 sq. mi (1,800 km2). 
"You could take a boat from Bakersfield to Stockton using the waterways as shown", Mr Clark says. "A 50 foot schooner sailed the lake for many years and there were five piers for loading and unloading located around the lake. The current community of Alpaugh is located on what once was  one of the islands you see depicted."
But in a process reminiscent of the drying-up of the Aral Sea or Lake Chad [5], Tulare Lake was depleted by the diversion of its tributaries for the purpose of irrigation. By the early 20th century, the lake was largely dry. 
Only very occasionally, when rains or snowmelt flood this area of the Valley, does a dim shadow of Tulare Lake return, to blame the humans for its death by designed desiccation…
Many thanks to Mr Clark for sending in this self-made map. And many thanks to former president Zachary Taylor for providing the diversion in the top part of this post... 
Strange Maps #557
Got a strange map? Let me know at strangemaps@gmail.com.
______
[1] The Mexican-American War (1846-1848) led to the Mexican Cession of 1848. This handover of Mexican territory to the US comprised almost the entire Mexican department of Alta California, and a western sliver of the Mexican territory of Nuevo México. That corresponds to the entirety of present US states of California, Nevada and Utah, a large part of Arizona, and parts of New Mexico, Colorado and Wyoming.
[2] Generally believed to the be first artificial satellite launched into orbit around the Earth, Sputnik was launched by the Soviets on October 4th 1957.
[3] That being the highest point in what is now the contiguous United States (14,505 feet, or 4,421 m). At the time, the mountain was still unnamed.
[4] The flat expanse in the centre of California occupies about 10% of its total surface, and consists of the Sacramento Valley in the north and the San Joaquin Valley in the south. It is a major agricultural area, which helps explain where all the water went.
[5] The drying-up of Lake Chad was discussed on this blog in 2007 (#95). Has it completely gone by now? Another great lake no longer shown on contemporary maps is the Great Australian Inland Sea. But for a different reason: it only ever existed in the imagination of cartographers (#140).
To create wiser adults, add empathy to the school curriculum.
Sponsored by Charles Koch Foundation
Stories are at the heart of learning, writes Cleary Vaughan-Lee, Executive Director for the Global Oneness Project. They have always challenged us to think beyond ourselves, expanding our experience and revealing deep truths.
Vaughan-Lee explains 6 ways that storytelling can foster empathy and deliver powerful learning experiences.
Global Oneness Project is a free library of stories—containing short documentaries, photo essays, and essays—that each contain a companion lesson plan and learning activities for students so they can expand their experience of the world.
BASE particle physicists have discovered a very precise way to examine antimatter.
The Veil Nebula. Credit: By Jschulman555 - Own work, Wikipedia Commons.
Surprising Science
Thank your lucky stars you're alive. It's truly a miracle of nature. This has nothing to do with spirituality or religion and everything to do with science. Life itself may not be the miracle. Although we haven't found it elsewhere yet, our galaxy alone is so replete with Earth-like planets that, mathematically speaking, one of them must hold life, even if it's just the microbial variety. Intelligent life may be another matter.
Just before I turned 60, I discovered that sharing my story by drawing could be an effective way to both alleviate my symptoms and combat that stigma.
Photo by JJ Ying on Unsplash
Mind & Brain
I've lived much of my life with anxiety and depression, including the negative feelings – shame and self-doubt – that seduced me into believing the stigma around mental illness: that people knew I wasn't good enough; that they would avoid me because I was different or unstable; and that I had to find a way to make them like me.
A joint study by two England universities explores the link between sex and cognitive function with some surprising differences in male and female outcomes in old age.
Mind & Brain
A joint study by the universities of Coventry and Oxford in England has linked sexual activity with higher cognitive abilities in older age.
The results of this study suggest there are significant associations between sexual activity and number sequencing/word recall in men. In women, however, there was a significant association between sexual activity in word recall alone - number sequencing was not impacted.
The differences in testosterone (the male sex hormone) and oxytocin (a predominantly female hormone) may factor into why the male cognitive level changes much more during sexual activity in older age.
Technology & Innovation
Mathematicians studied 100 billion tweets to help computer algorithms better understand our colloquial digital communication.
Scroll down to load more…