Missouri Pukes and Illinois Suckers: a 'Pignominious' Map of the States
A splendid example of ge-hog-raphy
17 January, 2012
Last April, this blog discussed a map, dating from 1875, that showed the lower 48 states of the US in the shape of a hog: [T]his must be the world's finest - and possibly only - example of sustained porcineography. (see #511). How wrong, how fortunately, gloriously wrong! Here is another fine example of pig-inspired cartography.
---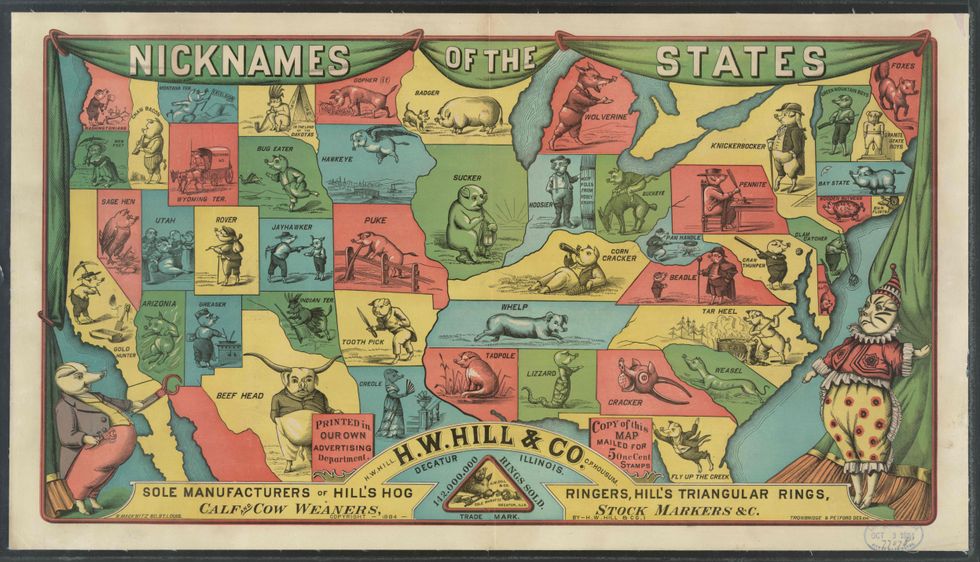 This map, published a few years later in 1884, may have been inspired by that previous example of 'gehography'. For it is another brightly-coloured depiction of the US's continental land mass - dominated by pigs. But unlike the 1875 map, this one does not go for the whole hog, so to speak. 
The map's link to Sus domesticus [1] is via the company that produced it: H.W. Hill & Co. This Decatur, Illinois outfit were the sole manufacturers of Hill's hog ringers, Hill's triangular rings, calf and cow weaners, stock markers &c. On the map, we see one pig per state or territory, each with one of H.W. Hill's trademarked triangles through its nose. 
But that is as far as product placement goes. Even though it was printed in [H.W. Hill's] own advertising department, the map is a deft example of oblique advertising - a clear-cut case of 19th-century viral marketing. 
For its main attraction were not H.W. Hill's markers, weaners and rings. It was mailed out - for five one-cent stamps - as a tableau entitled: "Nicknames of the States". It's always interesting, and perhaps a little titillating, to see what names you're being called by others, and to know how to return the mockery [2]. And it helps that all involved are portrayed as that most unloved of domestic animals, the pig. 
For us, the map holds one extra appeal: in the almost 130 years since its publication, the nickname landscape has shifted somewhat. A few have remained popular, but many have fallen into disuse. Curiously, next to the sobriquets that are insults or compliments, a few are merely descriptive, and some states and territories don't even get one. Somehow, that feels like the worst option. 
As the states and territories are not all rendered anatomically correctly, and in compensation for low legibility, I include a list of the states' proper names as well as their nicknames:
Alabama: lizzard
Arizona: --
Arkansas: tooth pick
California: gold hunter
Colorado: Rover
Connecticut: wooden nutmegs
Delaware: musk rat
Florida: fly up the creek
Georgia: cracker
Idaho: chaw bacon
Illinois: sucker
Iowa: hawkeye
Indiana: hoosier
Kansas: jayhawker
Kentucky: corn cracker
Louisiana: creole
Maine: foxes
Maryland: craw thumper
Massachusetts: bay state
Michigan: wolverine
Minnesota: gopher
Mississippi: tadpole
Missouri: puke
Montana: 'Excelsior'
Nebraska: bug eater
Nevada: sage hen
New Hampshire: granite state boys
New Jersey: clam catchers
New Mexico: greaser
New York: knickerbockers
North Carolina: tar heel
(North Dakota): --
Ohio: buckeye
Oklahoma (Indian Territory): --
Oregon: web feet
Pennsylvania: pennite
Rhode Island: gun flints
South Carolina: weasel
(South Dakota): --
Tennessee: whelp
Texas: beef head
Utah: --
Vermont: green mountain boys
Virginia: beadle
Washington: Washingtonians 
West Virginia: panhandle
Wisconsin: badger
Wyoming Territory: --
Many thanks to Tyler House and Seth Levy for sending in this beautiful map, found here at the Library of Congress, where a massive, 163 Mb version can be downloaded. Anyone need pig-themed, slightly non-pc wallpaper?
Strange Maps #549
Got a strange map? Let me know at strangemaps@gmail.com.
________
[1] So called if considered as a separate species; the domesticated pig is sometimes also taxonomised as a subspecies of the wild boar, Sus scrofa. It is then called Sus scrofa domesticus. 
[2] A surprisingly frequent trope in cartography. For a modern version of neighbourly invective splashed onto maps, go to #483.
Universities claim to prepare students for the world. How many actually do it?
Sponsored by Charles Koch Foundation
Many university mission statements do not live up to their promise, writes Ben Nelson, founder of Minerva, a university designed to develop intellect over content memorization.
The core competencies that students need for success—critical thinking, communication, problem solving, and cross-cultural understanding, for example—should be intentionally taught, not left to chance.
These competencies can be summed up with one word: wisdom. True wisdom is the ability to apply one's knowledge appropriately when faced with novel situations.
This is what the world will look like, 250 million years from now
On Pangaea Proxima, Lagos will be north of New York, and Cape Town close to Mexico City
Surprising Science
To us humans, the shape and location of oceans and continents seems fixed. But that's only because our lives are so short.
SpaceX's momentous Crew Dragon launch is a sign of things to come for the space industry, and humanity's future.
Politics & Current Affairs
SpaceX was founded in 2002 and was an industry joke for many years. Eighteen years later, it is the first private company to launch astronauts to the International Space Station.
SpaceX's Crew Dragon launched NASA astronauts Bob Behnken and Doug Hurley to the ISS at XXXpm today. The journey will take about 19 hours.
Dylan Taylor, chairman and CEO of Voyager Space Holdings, looks at SpaceX's journey from startup to a commercial space company with the operating power of a nation-state.
A new study may help us better understand how children build social cognition through caregiver interaction.
Personal Growth
Scientists speculate imitation helps develop social cognition in babies.
A new study out of Lund University shows that six-month-olds look and smile more at imitating adults.
Researchers hope the data will spur future studies to discover what role caregiver imitation plays in social cognition development.
Surprising Science
Researchers at UT Southwestern noted a 47 percent increase in blood flow to regions associated with memory.
Scroll down to load more…