547 - Too Soon? The Whisky Flavour Map
Frank Jacobs
From a young age, Frank was fascinated by maps and atlases, and the stories they contained. Finding his birthplace on the map in the endpapers of Tolkien's Lord of the Rings only increased his interest in the mystery and message of maps.
While pursuing a career in journalism, Frank started a blog called Strange Maps, as a repository for the weird and wonderful cartography he found hidden in books, posing as everyday objects and (of course) floating around the Internet.
"Each map tells a story, but the stories told by your standard atlas for school or reference are limited and literal: they show only the most practical side of the world, its geography and its political divisions. Strange Maps aims to collect and comment on maps that do everything but that - maps that show the world from a different angle".
A remit that wide allows for a steady, varied diet of maps: Frank has been writing about strange maps since 2006, published a book on the subject in 2009 and joined Big Think in 2010. Readers send in new material daily, and he keeps bumping in to cartography that is delightfully obscure, amazingly beautiful, shockingly partisan, and more.
03 January, 2012
Happy 2012! By now, you're probably still in the earnest stage of your New Year's resolutions. If one of those is about your determination to cut back on drink, this might not be the best thing to read right now.  
---
Maybe you should bookmark this post for that moment when you again feel like enjoying a drop of something strong. For this map celebrates not just the merely palatable, but rather the positively appetising. Or, as put so emphatically by the Bunk, that suave Baltimore murder police from The Wire: "The taste, Jimmy, the taste!"
This map is a handy guide to Scottish single malt whiskies, plotted on a grid with two sets of variables. Horizontally, from light (left) to rich (right); and vertically, from delicate (bottom) to smoky (top).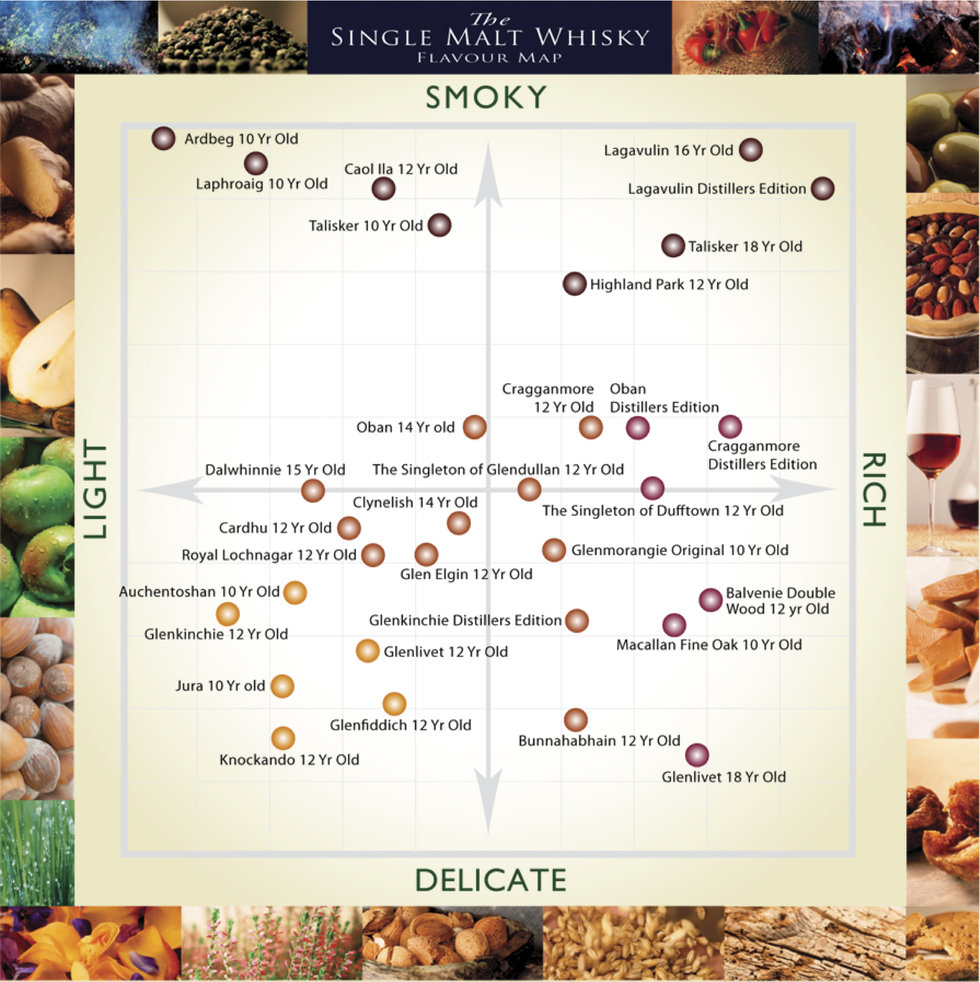 These are the main taste variables in the vast and bewildering universe of uisge beatha [1]. In Scotland alone, over 90 distilleries produce over 2,000 brands of whisky. Many of those are blended; aficionados will prefer the single malt whiskies, i.e. whiskies produced by one single distillery, using only one type of malted grain, and aged in oak casks for at least three years. Even in the strictly defined and regulated category of Scottish single malt whiskies, there are still over 800 varieties [2] - of which only a few are represented here. 
"I know that people find whisky confusing - and they often try blended Scotch and get put off whisky for life", says whisky expert Dave Broom [3]. "They are really missing out […] You need help to find what you like."
Which is why Broom developed the aforementioned grid, also known as the Whisky Flavour Map. The map allows samplers of single-malt whiskeys to explore taste relations between them, and discover new ones to their liking. 
The horizontal axis differentiates lighter from richer flavours. According to Broom, the Glenkinchie 12 (years old), on the lighter end of the spectrum, "had light floral grassy notes". Clynelish 14, was "more textured, silkier, waxy and unctuous", so halfway between the Glenkinchie and the Singleton of Dufftown 12, with its "nutty, almondly, dried-fruit flavours".
The position on the vertical axis is determined by the whisky's degree of 'peatiness'. Peat can be used to heat the pot stills in which the damp malt is dried, during which time the smoke gets into the barley - more time, more smoke, more smokiness. A Laphroaig 10, anyone? If less or no peat is used for the fire, the taste will be delicate rather than smoky, like with a Scapa 14.
Many thanks to Michael Castelein for alerting me to the Whisky Flavour Map, which can be downloaded at www.malts.com.
________
[1] Scottish Gaelic for 'water of life', and origin of the word 'whisky' (written as whiskey when referring to the Irish or American variant). Similar etymologies underlie Scandinavian akvavit, a grain- or potato-based distillate, flavoured with caraway and other spices, and eau de vie, a fruit brandy.
[2] According to Michael Jackson's still very influential 'Complete Guide to Single Malt Whiskies' (1999). No, not that Michael Jackson. This one.
[3] In this article in The Scotsman, d.d. 23 August 2009.
Giving our solar system a "slap in the face."
Surprising Science
A stream of galactic debris is hurtling at us, pulling dark matter along with it
It's traveling so quickly it's been described as a hurricane of dark matter
Scientists are excited to set their particle detectors at the onslffaught
Two massive clouds of dust in orbit around the Earth have been discussed for years and finally proven to exist.
J. Sliz-Balogh, A. Barta and G. Horvath
Surprising Science
Hungarian astronomers have proven the existence of two "pseudo-satellites" in orbit around the earth.
These dust clouds were first discovered in the sixties, but are so difficult to spot that scientists have debated their existence since then.
The findings may be used to decide where to put satellites in the future and will have to be considered when interplanetary space missions are undertaken.
Once again, our circadian rhythm points the way.
Photo: Victor Freitas / Unsplash
Surprising Science
Seven individuals were locked inside a windowless, internetless room for 37 days.
While at rest, they burned 130 more calories at 5 p.m. than at 5 a.m.
Morning time again shown not to be the best time to eat.
Big think's weekly newsletter.
Get smarter faster from the comfort of your inbox.
See our newsletter privacy policy
here
Most Popular
Most Recent
Big think's weekly newsletter.
Get smarter faster from the comfort of your inbox.
See our newsletter privacy policy
here
© Copyright 2007-2018 & BIG THINK, BIG THINK EDGE,
SMARTER FASTER trademarks owned by The Big Think, Inc. All rights reserved.