533 - Next Stop Beaujolais: A Metro Map of French Wines
Frank Jacobs
From a young age, Frank was fascinated by maps and atlases, and the stories they contained. Finding his birthplace on the map in the endpapers of Tolkien's Lord of the Rings only increased his interest in the mystery and message of maps.
While pursuing a career in journalism, Frank started a blog called Strange Maps, as a repository for the weird and wonderful cartography he found hidden in books, posing as everyday objects and (of course) floating around the Internet.
"Each map tells a story, but the stories told by your standard atlas for school or reference are limited and literal: they show only the most practical side of the world, its geography and its political divisions. Strange Maps aims to collect and comment on maps that do everything but that - maps that show the world from a different angle".
A remit that wide allows for a steady, varied diet of maps: Frank has been writing about strange maps since 2006, published a book on the subject in 2009 and joined Big Think in 2010. Readers send in new material daily, and he keeps bumping in to cartography that is delightfully obscure, amazingly beautiful, shockingly partisan, and more.
26 September, 2011
Wine maps are appreciated mainly by the select few who are both cartophiles and oenophiles. Those who are either or neither face a formidable obstacle to cartographic enjoyment, inherent in viticulture: wine regions are a mess to map.
---
In wine-making, the hyperlocal is paramount. Soil type and microclimate, production and processing methods, taste and reputation - not least the type of grapes involved - all help explain the widely differing oenological appreciations of relatively small, often adjacent plots of land.
This is why traditional wine cartography resembles a map of rampant feudalism, with a confusing jumble of tiny dominions ineffectually jostling for the attention of the map reader.
That defect is brilliantly resolved by this map, which borrows its clarity from the metro map. The accepted formula for such maps, pioneered by Harry Beck [1] for the London Underground in 1931, is to reduce the complexity of actual metro line topography to a schematic simplicity: lines connecting dots with the utilitarian simplicity of an electrical circuit.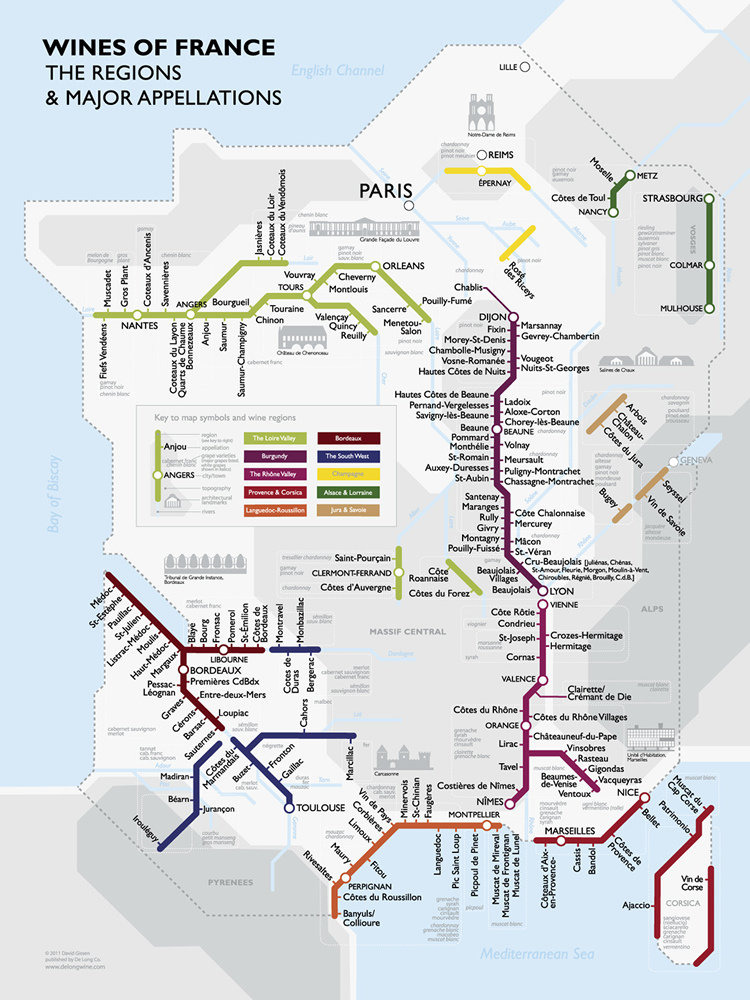 The coloured lines on this wine map denote the main wine-producing regions in France, the dots are significant cities or towns in those regions. Names that branch off from the main line via little streaks are the so-called appellations [2].  
This schematic approach is illuminating for non-aficionados. In the first place, it clarifies the relation between region and appellation. For example: Médoc, Margaux and St-Emilion are three wines from the same region. So they are all Bordeaux wines, but each with its own appellation. 
Secondly, it provides a good indication of the geographic relation between appellations within regions. Chablis and Nuits-St-Georges are northern Burgundy wines, while Beaujolais is a southern one. It also permits some comparison between regions: Beaujolais, although a Burgundy, neighbours Côte Rôtie, a northern Rhône Valley wine. 
And lastly, it provides the names of the main grape varieties used in each region (the white ones italicised), like merlot or chardonnay.
In all, this map lists 10 major wine regions in France. Apart from Bordeaux (coloured in a tint of red I'd be foolish not to call bordeaux), these are: the Loire Valley (green), Burgundy (burgundy red), the Rhône Valley (beetrooty red - sorry, Rhône valleyers), Provence & Corsica (proper red), Languedoc-Roussillon (orange), the South West (blue), Champagne (yellow), Alsace & Lorraine (dark green), and Jura & Savoie (brown).
What's not clear from this map, however, is how the geographic proximity (or distance) of certain wines relates to the similarity (or not) of their taste. But that's asking too much of a mere map. This is where cartographic curiosity might be complemented by a wine-tasting - where cartophilia and oenophilia meet…
Many thanks to Steve De Long and Hervé Saint-Amand for sending in this map. Mr De Long is in the business of offering Wine Discovery Tools (maps, charts and tasting guides); the Metro Wine Map, designed by Dr David Gissen, is his latest offering.
--------
[1] Mr Beck's diagram is a popular matrix for presenting just about any type of categorical information. Previous examples discussed on Strange Maps include Bloomsday (#518), the Mississippi (#501), and, deliciously self-referential, a world map of metro systems (#212).
[2] An appellation is a legal definition and protection of the geographical origin for food. Often for wine, most famously for French wine - on the label, look for Appellation d'origine contrôlée (AOC) to ensure that your wine is grown in an officially recognised terroir (derived from terre - 'land' - this term has come to define the particularity of agricultural regions).
Firefighters in California are still struggling to contain several wildfires nearly one week after they broke out.
(Photo by Elijah Nouvelage/Getty Images)
Politics & Current Affairs
Hundreds of people are still missing after three wildfires spread across Northern and Southern California last week.
48 of the 50 deaths occurred after the Camp Fire blazed through the town of Paradise, north of Sacramento.
On Tuesday night, a fourth wildfire broke out, though it's mostly contained.
We know the dangers of too little sleep. Now for the other side of the story.
Photo: Vladislav Muslakvo / Unsplash
Surprising Science
Western University researchers found that sleeping over eight hours per night results in cognitive decline.
Oversleepers suffer similar difficulties on certain cognitive tests as those who sleep under seven hours.
Not all the news is bad: One night of oversleeping results in a cognitive boost.
Protected animals are feared to be headed for the black market.
(VL.ru)
Politics & Current Affairs
Russian news network discovers 101 black-market whales.
Orcas and belugas are seen crammed into tiny pens.
Marine parks continue to create a high-price demand for illegal captures.
Big think's weekly newsletter.
Get smarter faster from the comfort of your inbox.
See our newsletter privacy policy
here
Most Popular
Most Recent
Big think's weekly newsletter.
Get smarter faster from the comfort of your inbox.
See our newsletter privacy policy
here
© Copyright 2007-2018 & BIG THINK, BIG THINK EDGE,
SMARTER FASTER trademarks owned by The Big Think, Inc. All rights reserved.