Football Fanlands of London
Football - yes, we mean soccer - divides the British capital into a medieval-looking map of invisible territories, frontlines and enclaves.
11 January, 2011
---
"Football isn't a matter of life and death, it's much more important than that," is a quote often attributed (1) to Bill Shankly, the legendary manager of Liverpool FC. As exaggerations go, this one gets pretty close to the truth. Millions of fans identify intensely with the highs and lows of their favourite sports team, perhaps a modern substitute for the tribal loyalties of bygone days. 
Fandom is a bit more complicated than mere tribalism, though. Which team you support is the result of an intricate compound of ancestral, regional, social, and sometimes even religious loyalties. And, of course, personal choice. However, this map of London seems to indicate that geography is a major factor in fan loyalty.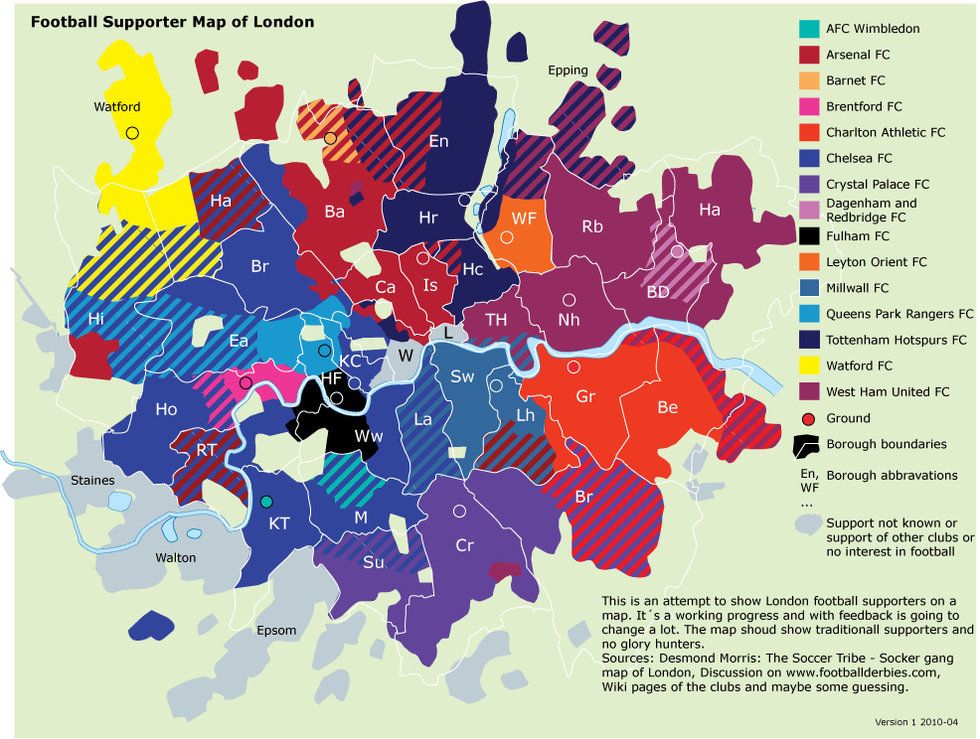 It shows the clear geographical slant of football (2) fandom in the British capital: the centres of gravity for each 'fanland' tend to be around the home grounds of each team.
As with other fan loyalty maps (3), this one has a decidedly feudal feel to it. None of the clear, straight delineations of modern borders, but lots of fuzzy boundaries, transitional zones, and enclaves in 'enemy' territory. 
Some teams command great swathes of territory, for example West Ham United FC. This Premier League club dominates the east of London, in particular the boroughs of Havering [Ha], Barking and Dagenham [BD], Redbridge [Rb], Newham [Nh] and Tower Hamlets [TH].
Barking and Dagenham, West Ham heartland, contains an enclave where loyalty is shared with Dagenham and Redbridge FC, recently promoted from Football League Two to One. However, the Daggers are - literally - not in West Ham's league; loyalties for both teams therefore probably are complementary rather than conflictual.
Other fanlands are more compact than West Ham's, like that of Fulham FC. From Craven Cottage, its grounds on the banks of the Thames, this club commands an undisputed, but relatively small territory in the boroughs of Hammersmith and Fulham [HF] (north of the river), most of Wandsworth [Ww]  and part of Richmond upon Thames [RT] (both south of the river). 
Nearby rival Chelsea, based at Stamford Bridge (also in Hammersmith and Fulham rather than the neighbouring borough of Kensington and Chelsea [KC]), is master of a much more fragmented, but also much larger domain, extending from its core in Kensington and Chelsea all the way north to the northeastern corner of Barnet [Ba], taking in most of Brent [Br], south to Kingston upon Thames [KT], west to Lambeth [La] (a grey zone shared with Millwall) and east to Hillingdon [Hi], an area disputed with Queens Park Rangers that extends back into Ealing [Ea], the western part of which is QPR-only territory. 
Arsenal is big in its home borough of Islington [Is], and in Camden [Ca] and Barnet. It commands a similar archipelago of loyalty throughout London (4), but has to share north London with Tottenham Hotspur, which rules over most of Enfield [En], Haringey [Hr] and Hackney [Hc]. Loyalty to the Spurs seems to be confined to that area, however, except for two small patches in Westminster [W].
The whole of London thus constitutes a wildly patterned patchwork of fanlands, the demarcation and location of which will probably be hotly debatable to any local football fans. The white patches in between the coloured bits possibly are football-free zones, self-selected sanctuaries for dissenters from England's secular religion of footie. Or they just might be the parks of London.
Many thanks to Paul Maidment for sending in this map, found here on qprdot.org, a messageboard for Queens Park Rangers fans.
Strange Maps #496
Got a strange map? Let me know at strangemaps@gmail.com.
-------------------- 
Since we're discussing sports geography, a small encore. This map shows the so-called Barassi Line in Australia, first posited in 1978 as running in a straight line from the Northern Territory/Queensland border to the border of Victoria and New South Wales.The line denotes a peculiar sports dichotomy that seems to have persisted since the 1850s. West and south of the line, Australian rules football is the more popular sport, while varieties of rugby football are more popular east and north of it. 
"As an Australian myself, this map has always interested me because there is no other major cultural divide in Australia, and as far as I know no historical reason for the differences between NSW & QLD and the rest of Australia," says Andrew Simon Goard, who sent in this map, found here on Wikipedia.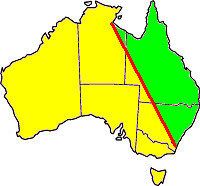 -------------------- 
(1) Somewhat streamlined. In the actual quote, on Granada TV in 1981, Shankly related a conversation he had: "Someone said 'football is more important than life and death to you', and I said 'listen, it's more important than that'."
(2) That's the original football, called soccer in the United States (although that term, too, originated in England). The other game, the one with the helmets, is American football. Except in America, where the geographic adjective is redundant, and you are allowed to call it football - if you must. Here is an interesting map showing the distribution of the terms soccer and football across the anglosphere.
(3) See #160 for a map of the United Countries of Baseball, a similar map plotting regional team loyalties across the US.
(4) mainly throughout London's western half, although there is an Arsenal-minded patch in Lewisham [Lh] in southeast London - incongruously, for in general football loyalties seem to transfer worse from east to west than north to south.
What can 3D printing do for medicine? The "sky is the limit," says Northwell Health researcher Dr. Todd Goldstein.
Northwell Health
Sponsored by Northwell Health
Medical professionals are currently using 3D printers to create prosthetics and patient-specific organ models that doctors can use to prepare for surgery.
Eventually, scientists hope to print patient-specific organs that can be transplanted safely into the human body.
Northwell Health, New York State's largest health care provider, is pioneering 3D printing in medicine in three key ways.
Moral grandstanding is a vanity project that sabotages public discourse says moral philosopher Brandon Warmke.
Sponsored by the Institute for Humane Studies
Moral grandstanding is the use of moral talk for self-promotion. Moral grandstanders have egotistical motives: they may want to signal that they have superhuman insight into a topic, paint themselves as a victim, or show that they care more than others.
Moral philosophers view moral grandstanding as a net negative. They argue that it contributes to political polarization, increases levels of cynicism about moral talk and its value in public life, and it causes outrage exhaustion.
Grandstanders are also a kind of social free rider, says Brandon Warmke. They get the benefits of being heard without contributing to any valuable discourse. It's selfish behavior at best, and divisive behavior at worst.
Some books had a profound influence on Einstein's thinking and theories.
Getty Images
Culture & Religion
Einstein had a large library and was a voracious reader.
The famous physicist admitted that some books influenced his thinking.
The books he preferred were mostly philosophical and scientific in nature.
You wouldn't think even a 10-second break would help, but it does.
Mind & Brain
A study finds that even short breaks help you solidify new learning.
In a way, learning really only happens during your breaks.
For the most effective learning sessions, build-in short rest periods.
Big think's weekly newsletter.
Get smarter faster from the comfort of your inbox.
See our newsletter privacy policy
here
Most Popular
Most Recent
Big think's weekly newsletter.
Get smarter faster from the comfort of your inbox.
See our newsletter privacy policy
here
© Copyright 2007-2019 & BIG THINK, BIG THINK EDGE,
SMARTER FASTER trademarks owned by The Big Think, Inc. All rights reserved.