Big ideas.
Once a week.
Subscribe to our weekly newsletter.
483 - The Great European Shouting Match
05 October, 2010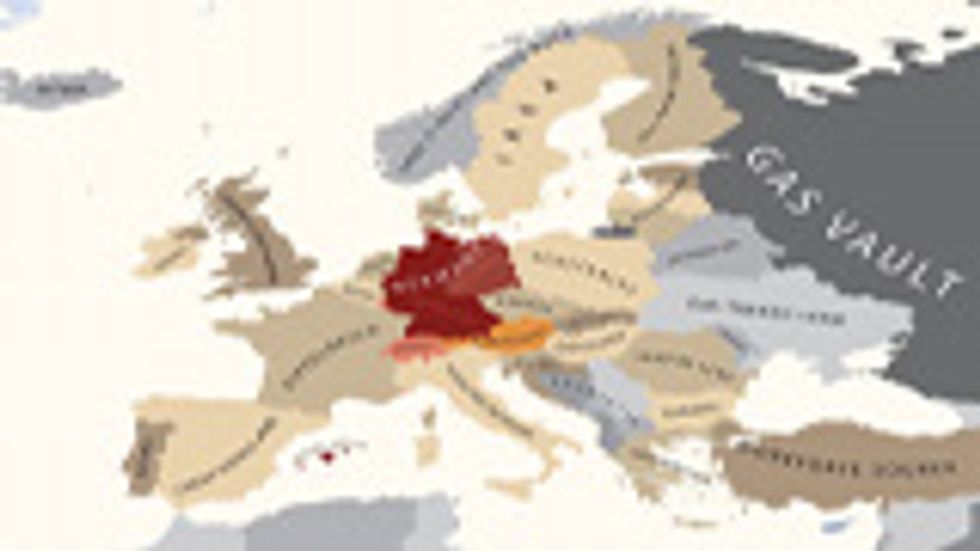 If Europe has one defining cultural characteristic, it is that it has none. This may sound like too neat a paradox, but it's not that far from the truth. There is not a single state, language, religion or ethnicity that even comes close to dominating the continent as a whole - although at least one in each category at some point in history had the pretension to try (1). Europe's war-torn history demonstrates that such diversity is, well, divisive. The European Union was designed to supersede the continent's internecine past, and its continuing appeal (at least to those European countries still outside the EU) is the degree to which it has succeeded, inaugurating an unprecedented period of peace and prosperity (2).
---
But that does not imply that cultural diversity has been neutralised. The EU, lacking a unifying cultural paradigm similar to the US's 'melting pot', has ended up celebrating a rather bland version of multiculturalism. One example: the buildings on the euro notes are imaginary, in part to avoid fueling national chauvinisms, either of the slighted or boasting variety.
This lowest-common-denominator kind of multiculturalism might actually be the least bad solution. In the kaleidoscope of cultures that is Europe, no matter from where you look at it, you're always surrounded by 'the Other'. It takes but a few small steps thence to paranoia, xenophobia, and worse. I remember speaking to a European about the neighbouring ethnicity, literally living up the road. "Oh yes, but they're all racists," she said, apparently undefeated by her own logic.
Another solution to dealing with the potential divisiveness of diversity, and if done in good humour at least a lot funnier, is the great European Shouting Match. Let it all hang out! Air that mistrust! Calling each other names establishes three things:
(1) that nobody is exempt, neither from feeling superior to others nor from being looked down upon by others. At least in this, everybody is equal. In the Republic of Mockery, we are all both givers and takers.
(2) that familiarity breeds contempt. Most often, the deepest disdain is reserved for the closest neighbours, from whom distant strangers would have a hard time distinguishing us. Inversely, those distant and/or obscure members of the European family are damned with faint put-downs of the who-the-heck-are-they-variant.
(3) that the sum of these insults says equally much about the nationality doing the shouting, or at least the perception we have of them: Germans are materialistic and utilitarian, the French still dream of la gloire, the British cherish their splendid isolation, etc.
The last map in the order as they are shown here seems to have been created by in June 2009 Yanko Tsvetkov to accompany an editorial in the Süddeutsche Zeitung, the others apparently are variations on that same theme by the Bulgarian-born, London-based designer of the first one. Some of these maps also recently featured in the Daily Mail, at which point they appear to have gone viral, as testified by the large number of readers sending them in (see below). Even though a grain of truth might be mixed in with some of the descriptions on the maps, this blog in no way endorses any of the sentiments they express (3).
Europe seen by the Germans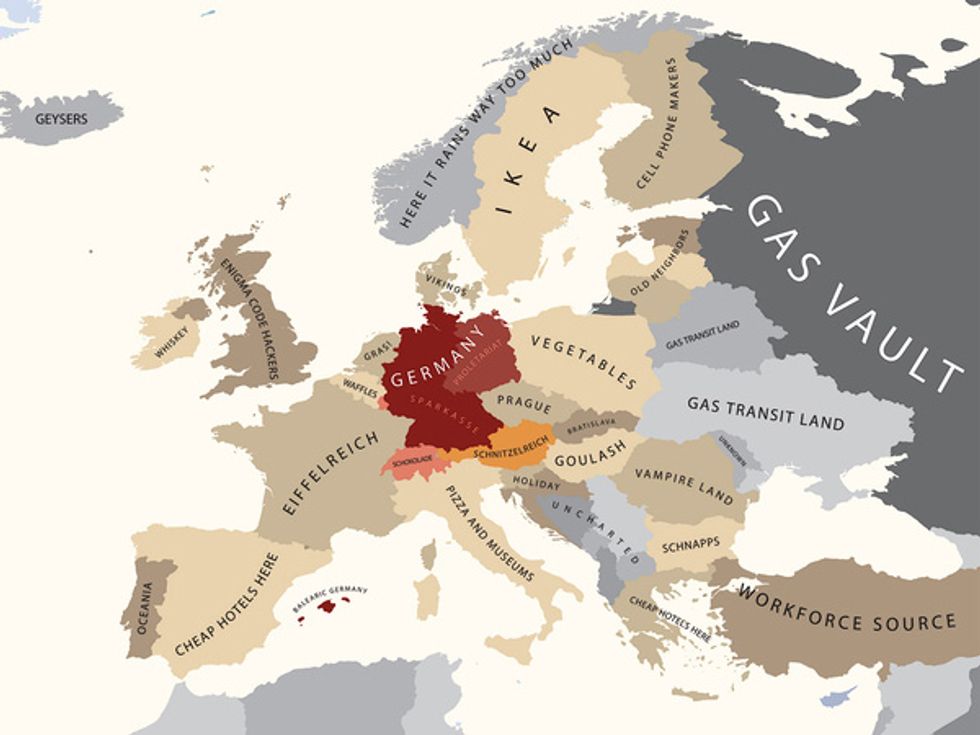 Quite insidiously, the colour toning of this map binds Germany to its linguistically related neighbours, i.e. Luxembourg, Switzerland and Austria. Since World War Two, any such hint at territorial ambitions beyond the borders of the Bundesrepublik is a definite nein-nein. The Swiss are labelled Schokolade ('chocolate'), the Austrians Schnitzelreich ('escalope empire'). Reducing other countries to their (perceived) national dish is a very ancient type of put-down (compare the age-old French moniker for the English: les rosbif). Another colour tone difference, this time in Germany itself, is between the former West and East Germanies, the former labelled Sparkasse ('savings bank'), the other called Proletariat. It reflects the fading, but still powerful division between the prosperous west and the poorer former German Democratic Republic in the east, which has been the beneficiary of billions of euros of government support after Unification in 1990.
Other examples of the culinary dismissive jibe include Belgium ('waffles'), Hungary ('goulash'), Poland ('vegetables'), Ireland ('whiskey') and Bulgaria ('schnapps'). Russia is simply seen as a gas vault, the Ukraine and Belarus as 'gas transit land'. A crude portrayal perhaps, but not far from the larger, geopolitical truth. Russia is the largest single supplier of natural gas to Europe. Former German chancellor Gerhard Schroeder now sits on the board of Nord Stream, a company piping Russian gas into Europe.
Apart from eating and heating, Germans are also shown to be quite obsessed with Freizeit ('holiday' marked across Slovenia and Croatia, 'cheap hotels here' in Greece and Spain, its islands transformed in 'Balearic Germany'). Italy's label 'pizza and museums' acknowledges that country's culinary and cultural attractions. The Czech republic and Slovakia are referred to merely by the names of their capital cities (Prague and Bratislava), perhaps to reflect their popularity as a citytrip destinations.
Most of former Yugoslavia is labelled 'uncharted', while Turkey is reduced to its role as 'workforce source' (there are about 4 million Turkish Gastarbeiter and their descendants living in Germany). Of all the other labels, two stick out: 'Enigma code breakers' (UK) and 'old neighbours' (the Baltics) - two oblique references to the Second World War, the former suggesting some residual resentment, the latter a form of nostalgia. The rather neutral depicition of France as Eiffelreich ('empire of [Gustave] Eiffel, he of the Eiffel Tower) on the other hand reflects the non-animosity between France and Germany that has become the cornerstone of European good neighbourliness and integration.
Europe seen by the Italians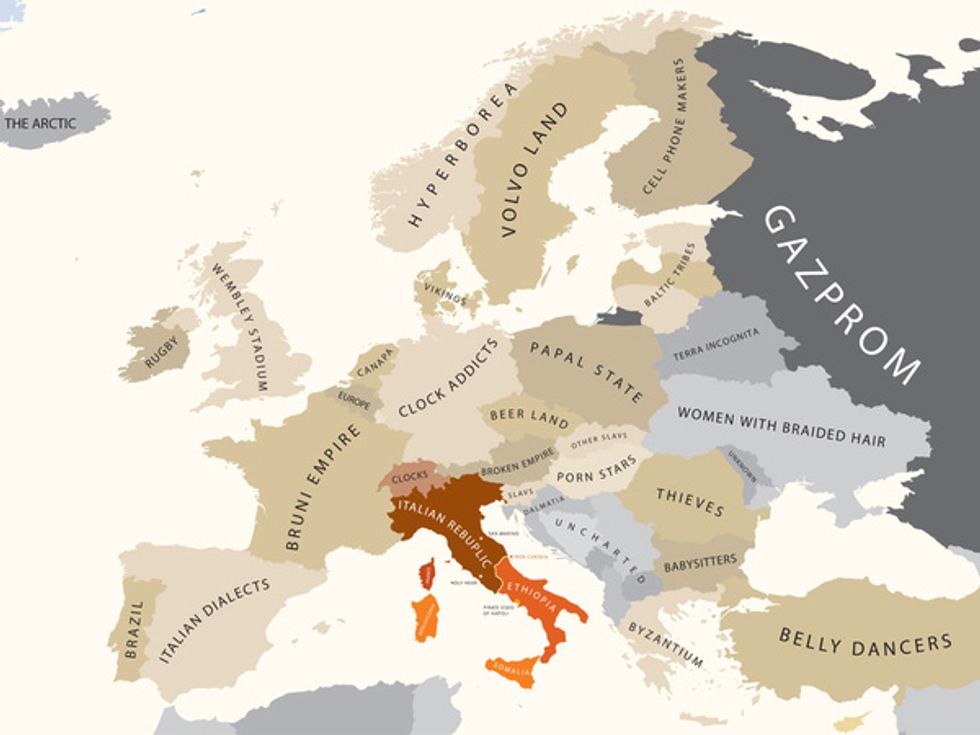 The Italian view of the European continent is alternately ignorant and harsh, with Eastern Europe dismissed as dominated by 'porn stars' (Hungary; no doubt a reference to La Cicciolina), 'thieves' (Romania), 'babysitters' (Bulgaria), 'women with braided hair' (Ukraine) and 'Other Slavs' (Slovakia). Other latin countries are merely seen as extensions of Italy (France is the 'Bruni Empire', Spain is full of 'Italian dialects') or of other countries (Portugal is 'Brazil'). The British Islands are reduced to popular sports ('Rugby' for Ireland and 'Wembley Stadium', the home of soccer, for the UK). Switzerland is the land of '(cuckoo) clocks', while the Germans pay for their reputation as hard workers with the put-down 'clock addicts'. Poland still is the land of Karol Woytila, the previous Pope, while Russia, again, is nothing more but a source of natural gas. Turkey is the land not of guest workers but of belly dancers.
Just like Germany, Italy itself is also split in two, also reflecting a dichotomy between a richer half (in this case the north) and a poorer half (the south, labelled 'Ethiopia' - Sicily is even called 'Somalia').
Europe seen by the Bulgarians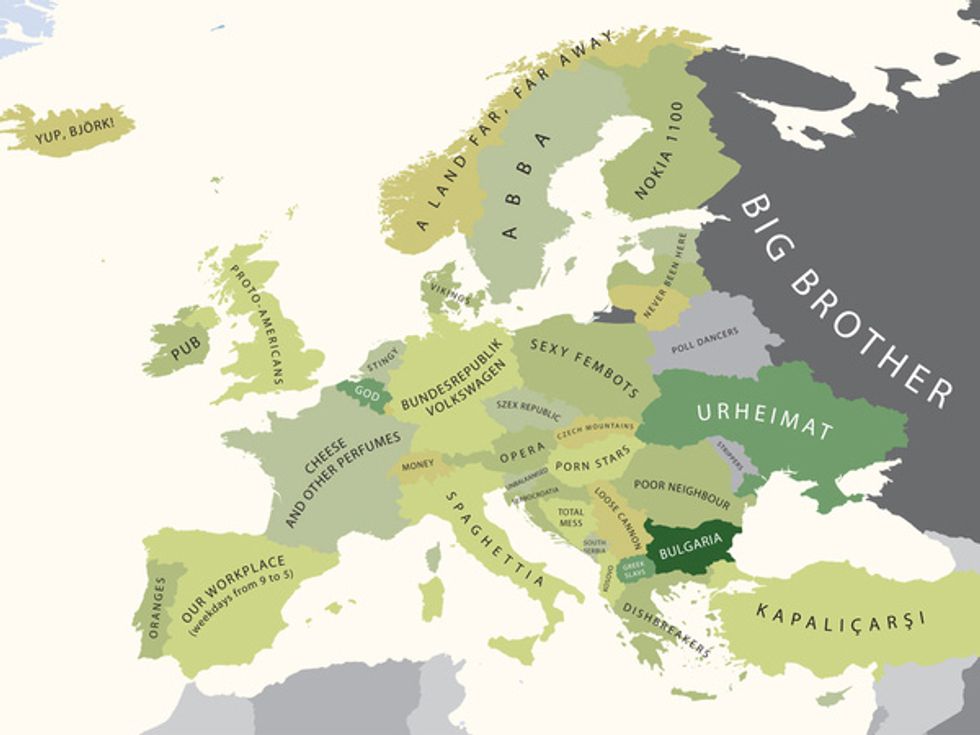 From a Bulgarian perspective, Russia is not the land of natural gas, but of natural alliances (i.e. 'Big Brother'). Reflecting some theories on the origin and migrations of the Bulgarian people, Ukraine is named their 'Urheimat'. The Serbs next door have earned a reputation as 'loose cannon', while Albania is (expressly?) mislabeled 'Kosovo', and Montenegro 'South Serbia'. Macedonia is called 'Greek Slavs', while the Greeks are 'dish breakers'. Germany and France are reduced to  some of their best-known export products (cars and cheese), while Belgium is seen as the home of the EU, a generous provider of subsidies (hence 'God'). Poland, bizarrely, is the land of 'sexy fembots'.
Europe as seen by the French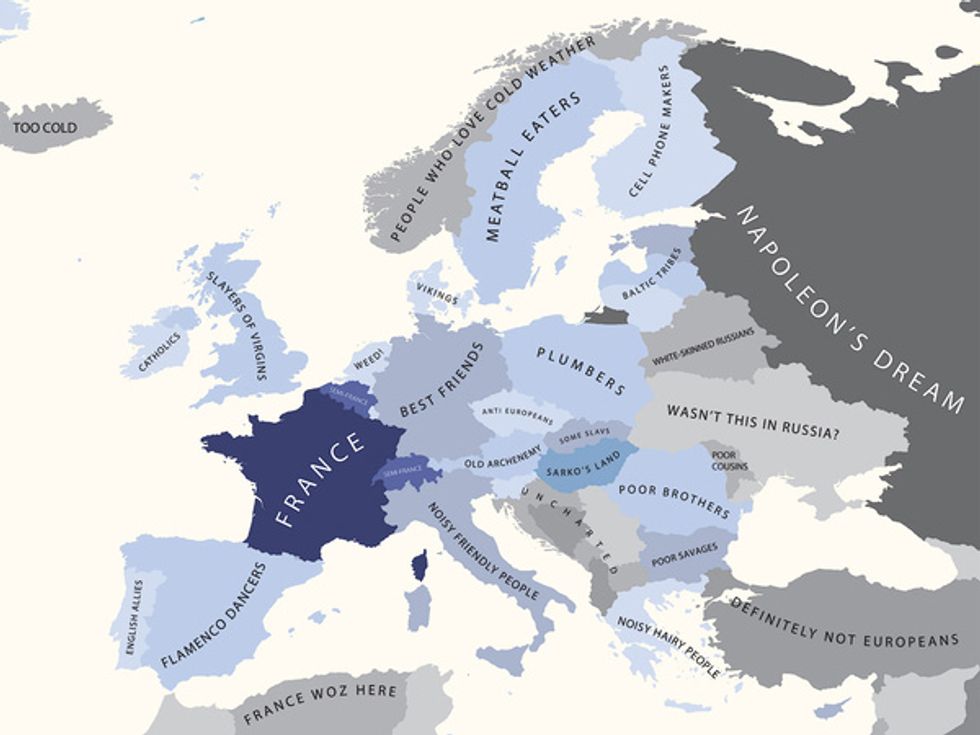 France is portrayed as still recovering from its early 19th-century ambitions of dominating the continent. Hence the labelling of both Belgium and Switzerland as 'semi-France', Russia as 'Napoleon's dream', Austria as 'old archenemy' and Portugal als 'English allies'. Other countries are labelled to reflect possible alliances, i.e. Ireland ('catholics'), Romania and Moldova ('poor brothers' and 'poor cousins'). The faintest praise is reserved for the Germans ('best friends' - one can almost hear teeth gnash), while Algeria is still seen with nostalgia: 'France woz here'. Reflecting a political attitude not shared by some other major European powers, France sees Turkey as 'definitely not Europeans'. Hungary for once is not seen as a country of pornstars, but as 'Sarko's land', the ancestral country of  France's president Nicolas Sarkozy.
 Europe as seen by gays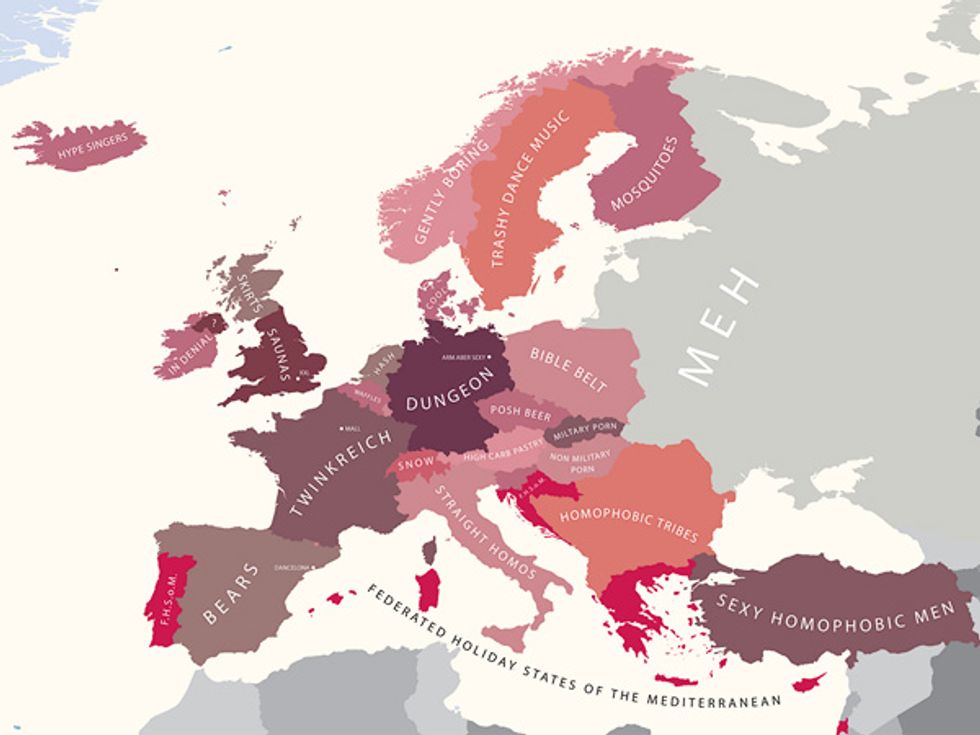 A hilariously different perspective is offered by this map of Europe as seen by the gay community. Sweden for once isn't the land of Volvo, but of trashy dance music (does that include Abba, though?) Catholic Ireland is 'in denial', while Catholic Poland is the 'Bible Belt'. Slovakia and Hungary respectively are the source of 'military porn' and 'non-military porn' (what is it with those Hungarians? Or those Slovakians, for that matter). Not all is well in the 'Federated Holiday States of the Mediterranean', as they are adjacent to the lands of 'straight homos' (Italy), homophobic tribes (most of the Balkan) and 'sexy homophobic men' (Turkey). Even on a gay map, Belgium, the Netherlands and Switzerland are still the countries of waffles, hash and snow, respectively.
Europe as seen by the British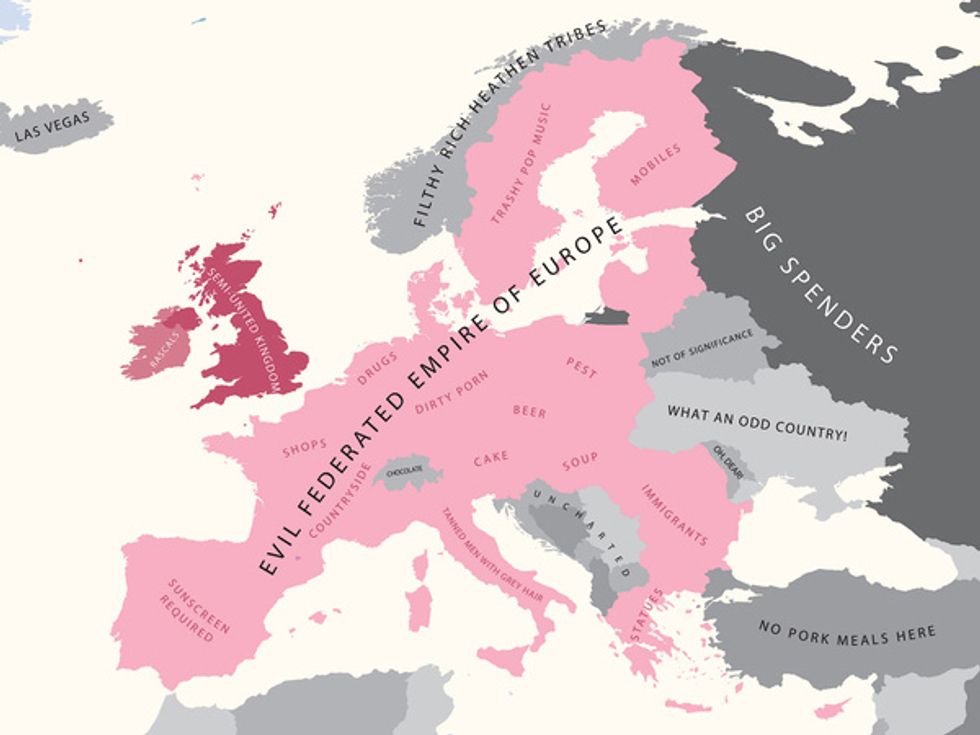 The United Kingdom is famously ambiguous about its European affiliation, let alone about its membership of the European Union. Three elements combine to reinforce Britain's euroskepticism: its geography as an island nation, the legacy of its overseas Empire and its heroic role as the sole holdout against a continent dominated by the Nazis. Margaret Thatcher tried to steer the European Community in the direction of a purely economic alliance of sovereign nations, but the drive towards 'ever closer union' (as mandated by the EU's own founding texts) has proved inexorable - and very ominous, from a British perspective.
Europe is therefore not seen as a collection of states, but as an 'Evil Federated Empire of Europe', producing all kinds of goods that may or may not be good to get into the UK (statues, cake, beer and soup, but also drugs, pest, dirty porn and immigrants). The Russian exiles, outrageously wealthy even for London standards, have given Russia the reputation of 'big spenders'. Iceland, reflecting its dubious role in the recent financial meltdown, is labelled 'Las Vegas'.
Europe as seen by the Americans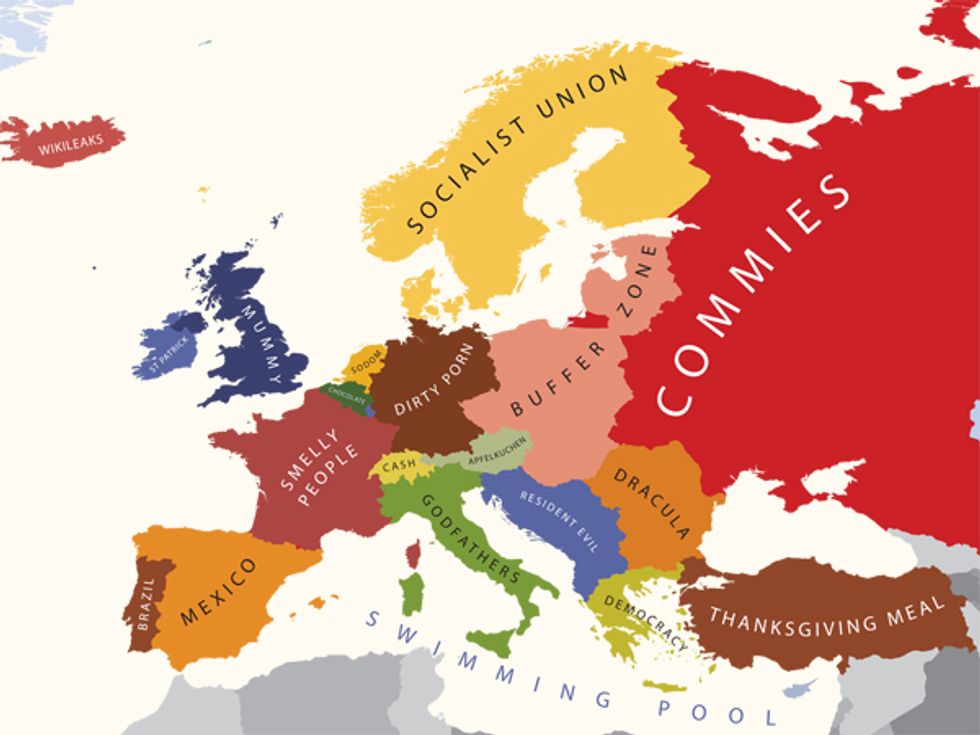 This map offers an external, and even more unidimensional perspective on European diversity. Americans apparently still see Russia (and Ukraine, Belarus and Moldova) as thinly veiled communists, and the Scandinavian countries as one big 'socialist union' (it must be a relief for the Danes to be called something other than Vikings, for the Finns not to be reduced to their mobile phone industry and for the Swedes to be linked to something else than Volvo, Ikea or Abba). The Netherlands, soft on drugs, are 'Sodom', the Iberian peninsula is dominated by Brazil and Mexico, Italy is simply 'godfathers' country, France is full of 'smelly people' and the UK is affectionately called 'mummy'. Ex-Yugoslavia is 'resident evil', while Turkey is 'thanksgiving dinner'.
European stereotypes, a composite map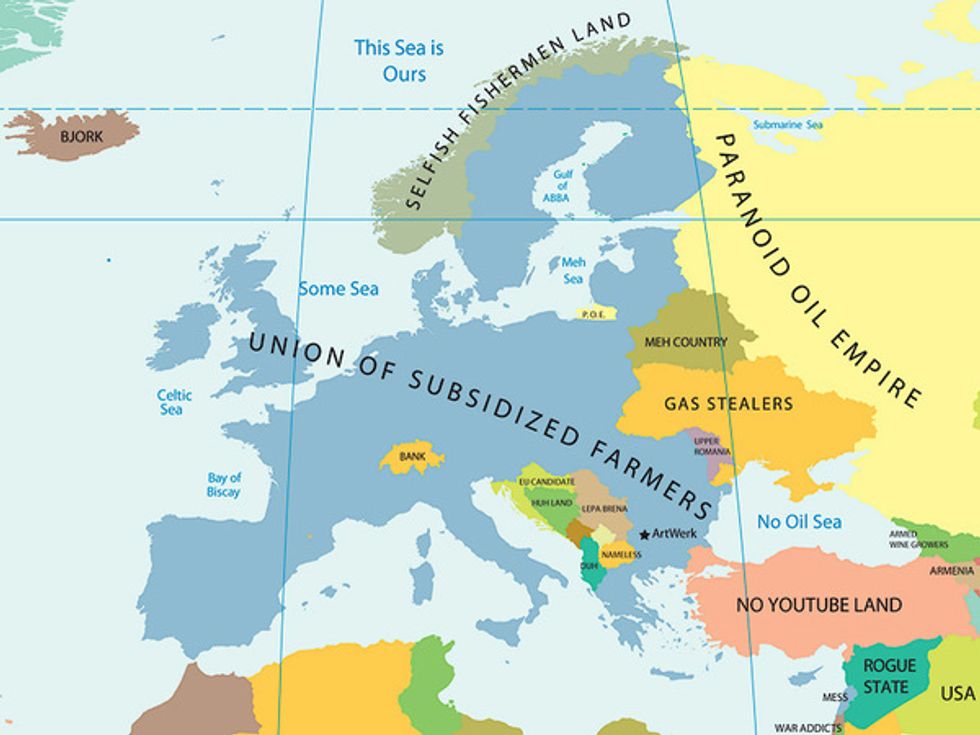 This map seems to be a composite of European stereotypes. Nobody is left out. The EU, in view of its massive agricultural budget, is seen as the 'Union of Subsidized Farmers', Russia is a 'Paranoid Oil Empire', Ukraine is a country of 'gas stealers' and Norway (outside of the EU because independently wealthy) is 'Selfish Fisherman Land'.
Many thanks to all those who sent in these maps: Anthony Argyriou, Kevin Axe, Michael B, Roel Damiaans, Jóhannes Birgir Jensson, Patrick Chevallier, Stefano Cirolini, David Clarke, Patrick Dea, Kathi Dubach, Vincent Frietman, William Grewe-Mullins, Lars Haefner, Lee Jones, Charlie Kaupp, Jonathan Leblang, Christine Lohr, Katrien Luyten de Zurrita, Jim Mannheim, Alex Meerovich, Benjamin Miller, Kasper Nijhoff, Ivan Plis, Maria Popova, The Brigand's Republic, Fabian Schmidt, Mikael Schulman, Tom Schuring, Teddy Sherrill, Marcin Siehankiewicz, Tobi, Jon Worth.
The maps can be seen in their original context at [this page] on Mr Tsvetkov's website Alphadesigner.
--------------------------------------------------------------------------------------------------------------------------------------------------------------------
(1) Examples? Off the top of my head, and in corresponding order: the Soviet Union, French, catholicism, the so-called 'Aryan' race. These examples are of course non-limitative and debatable (esp. in the case of religion, where it could be argued that Europe was/is overwhelmingly christian, but also that the devastating wars between its sects suggest otherwise).
(2) No armed conflict has ever been fought between member states of the EU (or its predecessor, the European Economic Community). On the other hand, the organisation has proved embarrasingly powerless to stop armed conflict in its own backyard - the Yugoslav wars in the mid-1990s ended only through US-led NATO intervention.
(3) Except where they pertain to Icelanders, those credit-crunching, volcano-firing, cod-hogging, elf-worshiping, Bjork-exporting bastards.
Certain water beetles can escape from frogs after being consumed.
Surprising Science
A Japanese scientist shows that some beetles can wiggle out of frog's butts after being eaten whole.
The research suggests the beetle can get out in as little as 7 minutes.
Most of the beetles swallowed in the experiment survived with no complications after being excreted.
In what is perhaps one of the weirdest experiments ever that comes from the category of "why did anyone need to know this?" scientists have proven that the Regimbartia attenuata beetle can climb out of a frog's butt after being eaten.
The research was carried out by Kobe University ecologist Shinji Sugiura. His team found that the majority of beetles swallowed by black-spotted pond frogs (Pelophylax nigromaculatus) used in their experiment managed to escape about 6 hours after and were perfectly fine.
"Here, I report active escape of the aquatic beetle R. attenuata from the vents of five frog species via the digestive tract," writes Sugiura in a new paper, adding "although adult beetles were easily eaten by frogs, 90 percent of swallowed beetles were excreted within six hours after being eaten and, surprisingly, were still alive."
One bug even got out in as little as 7 minutes.

Sugiura also tried putting wax on the legs of some of the beetles, preventing them from moving. These ones were not able to make it out alive, taking from 38 to 150 hours to be digested.
Naturally, as anyone would upon encountering such a story, you're wondering where's the video. Thankfully, the scientists recorded the proceedings:
The Regimbartia attenuata beetle can be found in the tropics, especially as pests in fish hatcheries. It's not the only kind of creature that can survive being swallowed. A recent study showed that snake eels are able to burrow out of the stomachs of fish using their sharp tails, only to become stuck, die, and be mummified in the gut cavity. Scientists are calling the beetle's ability the first documented "active prey escape." Usually, such travelers through the digestive tract have particular adaptations that make it possible for them to withstand extreme pH and lack of oxygen. The researchers think the beetle's trick is in inducing the frog to open a so-called "vent" controlled by the sphincter muscle.
"Individuals were always excreted head first from the frog vent, suggesting that R. attenuata stimulates the hind gut, urging the frog to defecate," explains Sugiura.
For more information, check out the study published in Current Biology.
Are "humanized" pigs the future of medical research?
Surprising Science
In recent years, our team at Iowa State University has found a way to make pigs an even closer stand-in for humans. We have successfully transferred components of the human immune system into pigs that lack a functional immune system. This breakthrough has the potential to accelerate medical research in many areas, including virus and vaccine research, as well as cancer and stem cell therapeutics.
Existing biomedical models
Severe Combined Immunodeficiency, or SCID, is a genetic condition that causes impaired development of the immune system. People can develop SCID, as dramatized in the 1976 movie "The Boy in the Plastic Bubble." Other animals can develop SCID, too, including mice.
Researchers in the 1980s recognized that SCID mice could be implanted with human immune cells for further study. Such mice are called "humanized" mice and have been optimized over the past 30 years to study many questions relevant to human health.
Mice are the most commonly used animal in biomedical research, but results from mice often do not translate well to human responses, thanks to differences in metabolism, size and divergent cell functions compared with people.
Nonhuman primates are also used for medical research and are certainly closer stand-ins for humans. But using them for this purpose raises numerous ethical considerations. With these concerns in mind, the National Institutes of Health retired most of its chimpanzees from biomedical research in 2013.
Alternative animal models are in demand.
Swine are a viable option for medical research because of their similarities to humans. And with their widespread commercial use, pigs are met with fewer ethical dilemmas than primates. Upwards of 100 million hogs are slaughtered each year for food in the U.S.
Humanizing pigs
In 2012, groups at Iowa State University and Kansas State University, including Jack Dekkers, an expert in animal breeding and genetics, and Raymond Rowland, a specialist in animal diseases, serendipitously discovered a naturally occurring genetic mutation in pigs that caused SCID. We wondered if we could develop these pigs to create a new biomedical model.
Our group has worked for nearly a decade developing and optimizing SCID pigs for applications in biomedical research. In 2018, we achieved a twofold milestone when working with animal physiologist Jason Ross and his lab. Together we developed a more immunocompromised pig than the original SCID pig – and successfully humanized it, by transferring cultured human immune stem cells into the livers of developing piglets.
During early fetal development, immune cells develop within the liver, providing an opportunity to introduce human cells. We inject human immune stem cells into fetal pig livers using ultrasound imaging as a guide. As the pig fetus develops, the injected human immune stem cells begin to differentiate – or change into other kinds of cells – and spread through the pig's body. Once SCID piglets are born, we can detect human immune cells in their blood, liver, spleen and thymus gland. This humanization is what makes them so valuable for testing new medical treatments.
We have found that human ovarian tumors survive and grow in SCID pigs, giving us an opportunity to study ovarian cancer in a new way. Similarly, because human skin survives on SCID pigs, scientists may be able to develop new treatments for skin burns. Other research possibilities are numerous.

The ultraclean SCID pig biocontainment facility in Ames, Iowa. Adeline Boettcher, CC BY-SA
Pigs in a bubble
Since our pigs lack essential components of their immune system, they are extremely susceptible to infection and require special housing to help reduce exposure to pathogens.
SCID pigs are raised in bubble biocontainment facilities. Positive pressure rooms, which maintain a higher air pressure than the surrounding environment to keep pathogens out, are coupled with highly filtered air and water. All personnel are required to wear full personal protective equipment. We typically have anywhere from two to 15 SCID pigs and breeding animals at a given time. (Our breeding animals do not have SCID, but they are genetic carriers of the mutation, so their offspring may have SCID.)
As with any animal research, ethical considerations are always front and center. All our protocols are approved by Iowa State University's Institutional Animal Care and Use Committee and are in accordance with The National Institutes of Health's Guide for the Care and Use of Laboratory Animals.
Every day, twice a day, our pigs are checked by expert caretakers who monitor their health status and provide engagement. We have veterinarians on call. If any pigs fall ill, and drug or antibiotic intervention does not improve their condition, the animals are humanely euthanized.
Our goal is to continue optimizing our humanized SCID pigs so they can be more readily available for stem cell therapy testing, as well as research in other areas, including cancer. We hope the development of the SCID pig model will pave the way for advancements in therapeutic testing, with the long-term goal of improving human patient outcomes.
Adeline Boettcher earned her research-based Ph.D. working on the SCID project in 2019.

Christopher Tuggle, Professor of Animal Science, Iowa State University and Adeline Boettcher, Technical Writer II, Iowa State University
This article is republished from The Conversation under a Creative Commons license. Read the original article.
Satellite imagery can help better predict volcanic eruptions by monitoring changes in surface temperature near volcanoes.
Credit:
Ammit
via Adobe Stock
Surprising Science
A recent study used data collected by NASA satellites to conduct a statistical analysis of surface temperatures near volcanoes that erupted from 2002 to 2019.
The results showed that surface temperatures near volcanoes gradually increased in the months and years prior to eruptions.
The method was able to detect potential eruptions that were not anticipated by other volcano monitoring methods, such as eruptions in Japan in 2014 and Chile in 2015.
How can modern technology help warn us of impending volcanic eruptions?
One promising answer may lie in satellite imagery. In a recent study published in Nature Geoscience, researchers used infrared data collected by NASA satellites to study the conditions near volcanoes in the months and years before they erupted.
The results revealed a pattern: Prior to eruptions, an unusually large amount of heat had been escaping through soil near volcanoes. This diffusion of subterranean heat — which is a byproduct of "large-scale thermal unrest" — could potentially represent a warning sign of future eruptions.
Conceptual model of large-scale thermal unrestCredit: Girona et al.
For the study, the researchers conducted a statistical analysis of changes in surface temperature near volcanoes, using data collected over 16.5 years by NASA's Terra and Aqua satellites. The results showed that eruptions tended to occur around the time when surface temperatures near the volcanoes peaked.

Eruptions were preceded by "subtle but significant long-term (years), large-scale (tens of square kilometres) increases in their radiant heat flux (up to ~1 °C in median radiant temperature)," the researchers wrote. After eruptions, surface temperatures reliably decreased, though the cool-down period took longer for bigger eruptions.
"Volcanoes can experience thermal unrest for several years before eruption," the researchers wrote. "This thermal unrest is dominated by a large-scale phenomenon operating over extensive areas of volcanic edifices, can be an early indicator of volcanic reactivation, can increase prior to different types of eruption and can be tracked through a statistical analysis of little-processed (that is, radiance or radiant temperature) satellite-based remote sensing data with high temporal resolution."
Temporal variations of target volcanoesCredit: Girona et al.
Although using satellites to monitor thermal unrest wouldn't enable scientists to make hyper-specific eruption predictions (like predicting the exact day), it could significantly improve prediction efforts. Seismologists and volcanologists currently use a range of techniques to forecast eruptions, including monitoring for gas emissions, ground deformation, and changes to nearby water channels, to name a few.

Still, none of these techniques have proven completely reliable, both because of the science and the practical barriers (e.g. funding) standing in the way of large-scale monitoring. In 2014, for example, Japan's Mount Ontake suddenly erupted, killing 63 people. It was the nation's deadliest eruption in nearly a century.
In the study, the researchers found that surface temperatures near Mount Ontake had been increasing in the two years prior to the eruption. To date, no other monitoring method has detected "well-defined" warning signs for the 2014 disaster, the researchers noted.
The researchers hope satellite-based infrared monitoring techniques, combined with existing methods, can improve prediction efforts for volcanic eruptions. Volcanic eruptions have killed about 2,000 people since 2000.
"Our findings can open new horizons to better constrain magma–hydrothermal interaction processes, especially when integrated with other datasets, allowing us to explore the thermal budget of volcanoes and anticipate eruptions that are very difficult to forecast through other geophysical/geochemical methods."
Scroll down to load more…