A Night-Club Map of 1930s Harlem
"The only important omission is the location of the various speakeasies, but since there are 500 of them, you won't have much trouble"
Frank Jacobs
From a young age, Frank was fascinated by maps and atlases, and the stories they contained. Finding his birthplace on the map in the endpapers of Tolkien's Lord of the Rings only increased his interest in the mystery and message of maps.
While pursuing a career in journalism, Frank started a blog called Strange Maps, as a repository for the weird and wonderful cartography he found hidden in books, posing as everyday objects and (of course) floating around the Internet.
"Each map tells a story, but the stories told by your standard atlas for school or reference are limited and literal: they show only the most practical side of the world, its geography and its political divisions. Strange Maps aims to collect and comment on maps that do everything but that - maps that show the world from a different angle".
A remit that wide allows for a steady, varied diet of maps: Frank has been writing about strange maps since 2006, published a book on the subject in 2009 and joined Big Think in 2010. Readers send in new material daily, and he keeps bumping in to cartography that is delightfully obscure, amazingly beautiful, shockingly partisan, and more.
16 August, 2010
It's the 1930s, and while elsewhere in the world evil people are poring over maps with plans for plunder and dreams of conquest, cartography is serving a more benign purpose in Harlem, New York City. This Night-Club Map of Harlem is a chart of the fun to be had  in the cultural capital of black America, circa 1932.
---
At that time, this vibrant community on the northern tip of Manhattan was experiencing what came to be known as the Harlem Renaissance – a flowering of African-American literature, theatre and (jazz) music. This map is focused on the area of Harlem just north of Central Park, where much of that flowering took place.
Perhaps exemplary of that renaissance, this map was drawn by Elmer Simms Campbell (1906-1971), the first African-American cartoonist to be published nationally (in Esquire, Cosmopolitan, The New Yorker and Playboy, among others).  The map faces southwest, is bounded by 110th Street (in the top left corner), which runs along Central Park's northern edge, and concentrates on Lenox Avenue and Seventh Avenue ("or heaven").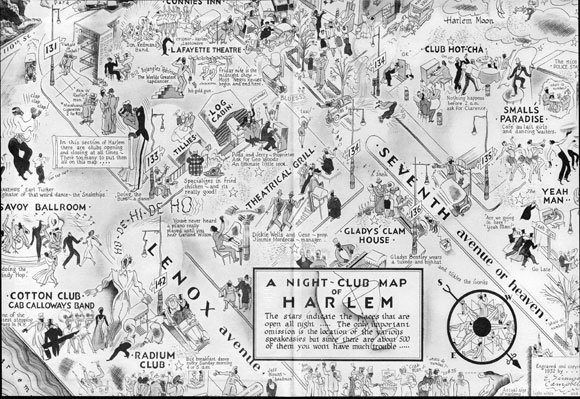 This being the tail end of Prohibition (1920-1933), not much effort is made to conceal the fact that alcohol is readily available in Harlem nightlife. As the legend states, [t]he only important omission[on the map] is the location of the various speakeasies but since there are 500 of them, you won't have much trouble…
Other intoxicants are equally easily obtainable. Near the corner of Lenox Avenue and 131st  Street, a hunched figure proclaims Ah'm the reefer man, selling marahuana [sic] cigarettes at 2 for $.25. This section of Harlem, bounded on the other side by 133rd Street, seems to have been a particularly active, if not necessarily profitable nightlife hotspot: […] there are clubs opening and closing at all times – There's too many to put them all on this map.
Some of the more famous night spots do get name-checked, often accompanied by some insightful information seeming to indicate that Mr Simms Campbell knew what he was talking about.
The Radium Club, near Lenox and 142nd, has a [b]ig breakfast dance every Sunday morning [at] 4 or 5 am.
In the Club Hot-Cha, near 7th Avenue and 134th Street, [n]othing happens before 2 am. Ask for Clarence.
Tillie's, on 133rd Street, [s]pecializes in fried chicken – and it's really good!
The next-door Log Cabin is [a]n intimate little spot, especially if you know to [a]sk for Geo[rge] Woods.
If you want to go to the Yeah Man, near 7th and 135th, [g]o late!
A lot of attention is lavished on the extraordinary concentration of  musical talent that made Harlem hop in those days.
You've never heard a piano really played until you hear Garland Wilson, is the enticing prospect for the Theatrical Grill, not too far from Gladys' Clam House, where Gladys Bentley wears a tuxedo and high hat and [also] tickles the ivories.
At Lafayette Theatre, you can catch a show with Bill "Bojangles" Robinson, the world's greatest tapdancer (and the original Man with the Golden Gun, apparently). Friday nite [at the Lafayette] is the midnight show… Most Negro Revues begin and end here.
The Savoy Ballroom was the home of the Lindy Hop, and nearby (or possibly at the same location; it's hard to make out as the map is cropped somewhat on all sides), Earl Tucker launched another dance craze, the Snakehips.
The star at the Cotton Club is Cab Calloway, who can be seen (and almost heard) howling his signature refrain: Ho De Hi De Ho!
The map is replete with much more detail, a lot of which eludes this map-lover. Why, for example, is everybody asking What's de numbah? The question is asked in the police station, just north of Small's Paradise. It's repeated  not far from reefer man. It's answered with the intriguingly non-revealing answer of "$.35" at the bottom of the map, just next to the peanut seller and the crab man.
This Night-Club Map of Harlem, apparently first published in Manhattan Magazine (1932), was also used as the endpapers of Cab Calloway's autobiography, Of Minnie the Moocher and Me (1976). Many thanks to Christoph Höser for sending it in. Original context here, at Mike Thibault's blog.
Strange Maps #476
Got a strange map? Let me know at strangemaps@gmail.com.
Related Articles
These five main food groups are important for your brain's health and likely to boost the production of feel-good chemicals.
Infographics show the classes and anxieties in the supposedly classless U.S. economy.
What is the middle class now, anyway? (JEWEL SAMAD/AFP/Getty Images)
Politics & Current Affairs
For those of us who follow politics, we're used to commentators referring to the President's low approval rating as a surprise given the U.S.'s "booming" economy. This seeming disconnect, however, should really prompt us to reconsider the measurements by which we assess the health of an economy. With a robust U.S. stock market and GDP and low unemployment figures, it's easy to see why some think all is well. But looking at real U.S. wages, which have remained stagnant—and have, thus, in effect gone down given rising costs from inflation—a very different picture emerges. For the 1%, the economy is booming. For the rest of us, it's hard to even know where we stand. A recent study by Porch (a home-improvement company) of blue-collar vs. white-collar workers shows how traditional categories are becoming less distinct—the study references "new-collar" workers, who require technical certifications but not college degrees. And a set of recent infographics from CreditLoan capturing the thoughts of America's middle class as defined by the Pew Research Center shows how confused we are.
Big think's weekly newsletter.
Get smarter faster from the comfort of your inbox.
See our newsletter privacy policy
here
Most Popular
Most Recent
Big think's weekly newsletter.
Get smarter faster from the comfort of your inbox.
See our newsletter privacy policy
here
© Copyright 2007-2018 & BIG THINK, BIG THINK EDGE,
SMARTER FASTER trademarks owned by The Big Think, Inc. All rights reserved.