A Night-Club Map of 1930s Harlem
"The only important omission is the location of the various speakeasies, but since there are 500 of them, you won't have much trouble"
16 August, 2010
It's the 1930s, and while elsewhere in the world evil people are poring over maps with plans for plunder and dreams of conquest, cartography is serving a more benign purpose in Harlem, New York City. This Night-Club Map of Harlem is a chart of the fun to be had  in the cultural capital of black America, circa 1932.
---
At that time, this vibrant community on the northern tip of Manhattan was experiencing what came to be known as the Harlem Renaissance – a flowering of African-American literature, theatre and (jazz) music. This map is focused on the area of Harlem just north of Central Park, where much of that flowering took place.
Perhaps exemplary of that renaissance, this map was drawn by Elmer Simms Campbell (1906-1971), the first African-American cartoonist to be published nationally (in Esquire, Cosmopolitan, The New Yorker and Playboy, among others).  The map faces southwest, is bounded by 110th Street (in the top left corner), which runs along Central Park's northern edge, and concentrates on Lenox Avenue and Seventh Avenue ("or heaven").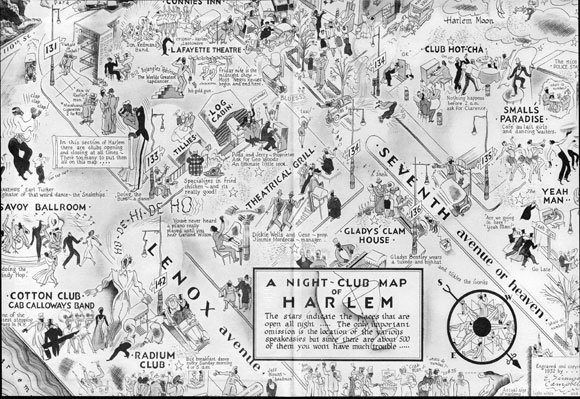 This being the tail end of Prohibition (1920-1933), not much effort is made to conceal the fact that alcohol is readily available in Harlem nightlife. As the legend states, [t]he only important omission[on the map] is the location of the various speakeasies but since there are 500 of them, you won't have much trouble…
Other intoxicants are equally easily obtainable. Near the corner of Lenox Avenue and 131st  Street, a hunched figure proclaims Ah'm the reefer man, selling marahuana [sic] cigarettes at 2 for $.25. This section of Harlem, bounded on the other side by 133rd Street, seems to have been a particularly active, if not necessarily profitable nightlife hotspot: […] there are clubs opening and closing at all times – There's too many to put them all on this map.
Some of the more famous night spots do get name-checked, often accompanied by some insightful information seeming to indicate that Mr Simms Campbell knew what he was talking about.
The Radium Club, near Lenox and 142nd, has a [b]ig breakfast dance every Sunday morning [at] 4 or 5 am.
In the Club Hot-Cha, near 7th Avenue and 134th Street, [n]othing happens before 2 am. Ask for Clarence.
Tillie's, on 133rd Street, [s]pecializes in fried chicken – and it's really good!
The next-door Log Cabin is [a]n intimate little spot, especially if you know to [a]sk for Geo[rge] Woods.
If you want to go to the Yeah Man, near 7th and 135th, [g]o late!
A lot of attention is lavished on the extraordinary concentration of  musical talent that made Harlem hop in those days.
You've never heard a piano really played until you hear Garland Wilson, is the enticing prospect for the Theatrical Grill, not too far from Gladys' Clam House, where Gladys Bentley wears a tuxedo and high hat and [also] tickles the ivories.
At Lafayette Theatre, you can catch a show with Bill "Bojangles" Robinson, the world's greatest tapdancer (and the original Man with the Golden Gun, apparently). Friday nite [at the Lafayette] is the midnight show… Most Negro Revues begin and end here.
The Savoy Ballroom was the home of the Lindy Hop, and nearby (or possibly at the same location; it's hard to make out as the map is cropped somewhat on all sides), Earl Tucker launched another dance craze, the Snakehips.
The star at the Cotton Club is Cab Calloway, who can be seen (and almost heard) howling his signature refrain: Ho De Hi De Ho!
The map is replete with much more detail, a lot of which eludes this map-lover. Why, for example, is everybody asking What's de numbah? The question is asked in the police station, just north of Small's Paradise. It's repeated  not far from reefer man. It's answered with the intriguingly non-revealing answer of "$.35" at the bottom of the map, just next to the peanut seller and the crab man.
This Night-Club Map of Harlem, apparently first published in Manhattan Magazine (1932), was also used as the endpapers of Cab Calloway's autobiography, Of Minnie the Moocher and Me (1976). Many thanks to Christoph Höser for sending it in. Original context here, at Mike Thibault's blog.
Strange Maps #476
Got a strange map? Let me know at strangemaps@gmail.com.
Lumina Foundation is partnering with Big Think to unearth the next large-scale, rapid innovation in post-high school education. Enter the competition here!
Musican. Actor. Fashion Icon. Internet Visionary?
Technology & Innovation
David Bowie was well known as a rock star, but somehow his other interests and accomplishments remain obscure.
In this 1999 interview, he explains why he knows the internet is more than just a tool and why it was destined to change the world.
He launched his own internet service provider in 1998, BowieNet. It ceased operations in 2006.
Moans, groans, and gripes release stress hormones in the brain.
popular
Could you give up complaining for a whole month? That's the crux of this interesting piece by Jessica Hullinger over at Fast Company. Hullinger explores the reasons why humans are so predisposed to griping and why, despite these predispositions, we should all try to complain less. As for no complaining for a month, that was the goal for people enrolled in the Complaint Restraint project.
Participants sought to go the entirety of February without so much as a moan, groan, or bellyache.
Good science is sometimes trumped by the craving for a "big splash."
Videos
Scientists strive to earn credit from their peers, for grants from federal agencies, and so a lot of the decisions that they make are strategic in nature. They're encouraged to publish exciting new findings that demonstrate some new phenomenon that we have never seen before.
This professional pressure can affect their decision-making — to get acclaim they may actually make science worse. That is, a scientist might commit fraud if he thinks he can get away with it or a scientist might rush a result out of the door even though it hasn't been completely verified in order to beat the competition.
On top of the acclaim of their peers, scientists — with the increasing popularity of science journalism — are starting to be rewarded for doing things that the public is interested in. The good side of this is that the research is more likely to have a public impact, rather than be esoteric. The bad side? To make a "big splash" a scientist may push a study or article that doesn't exemplify good science.
Big think's weekly newsletter.
Get smarter faster from the comfort of your inbox.
See our newsletter privacy policy
here
Most Popular
Most Recent
Big think's weekly newsletter.
Get smarter faster from the comfort of your inbox.
See our newsletter privacy policy
here
© Copyright 2007-2018 & BIG THINK, BIG THINK EDGE,
SMARTER FASTER trademarks owned by The Big Think, Inc. All rights reserved.