A Smart Watch and SatNav - from the 1920s
Satellite navigation.... decades before the first satellite
23 July, 2010
Satellite navigation (SatNav) is a lot older than previously thought. In fact, it's even decades older than man-made satellites themselves. This fantastic contraption, called the 'Routefinder', showed 1920s drivers in the UK the roads they were travelling down, gave them the mileage covered and told them to stop when they came at journey's end.
---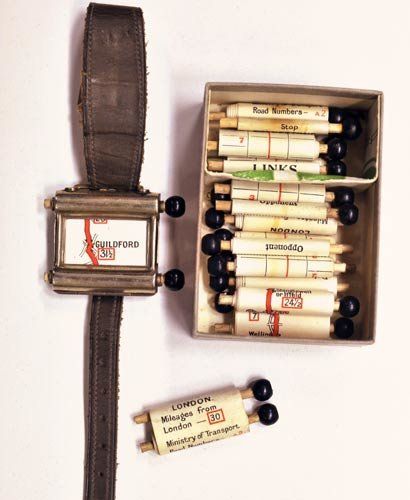 The technology – a curious cross between the space age and the stone age – consisted of a little map rolled up inside a watch, to be 'scrolled' (literally) as the driver moved along on their route. A multitude of scrolls could be fitted in the watch to suit the particular trip the driver fancied taking.
The system has several obvious drawbacks – a limited number of available journeys, and the inability of the system to respond to sudden changes of direction. Also: no warning of road works or traffic jams ahead.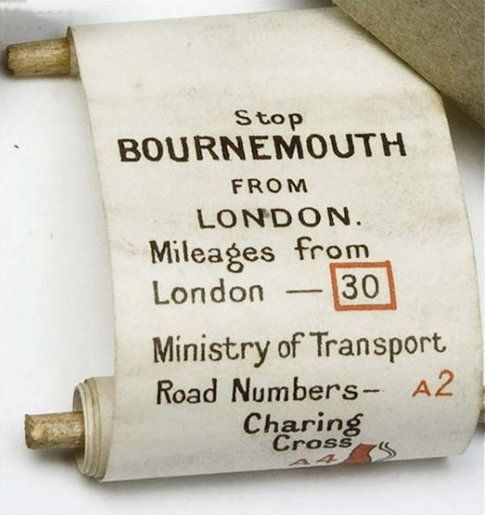 Not that there were that many traffic jams in 1920s Britain. The Routefinder, one of many bizarre patented gadgets now on display at the British Library, didn't take off: there were too few drivers, i.e. potential customers, at that time in Britain. It may also have been a bit impractical, distracting drivers from what they were supposed to watch – the road.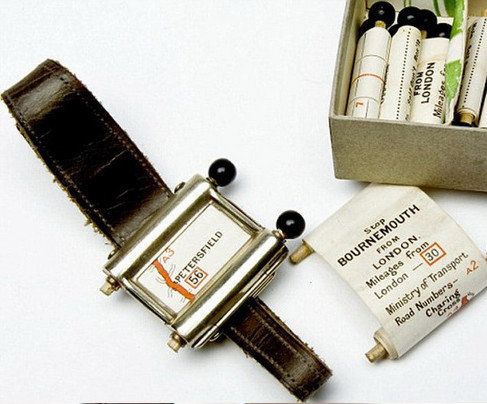 Many thanks to Toni Hudzina for sending in a link to this story. Images found here on Mr Muffin Blog.
Strange Maps #314
Got a strange map? Let me know at strangemaps@gmail.com.
The Russian-built FEDOR was launched on a mission to help ISS astronauts.
Most people think human extinction would be bad. These people aren't philosophers.
Shutterstock
Politics & Current Affairs
A new opinion piece in The New York Times argues that humanity is so horrible to other forms of life that our extinction wouldn't be all that bad, morally speaking.
The author, Dr. Todd May, is a philosopher who is known for advising the writers of The Good Place.
The idea of human extinction is a big one, with lots of disagreement on its moral value.
Picking up where we left off a year ago, a conversation about the homeostatic imperative as it plays out in everything from bacteria to pharmaceutical companies—and how the marvelous apparatus of the human mind also gets us into all kinds of trouble.
Think Again Podcasts
"Prior to nervous systems: no mind, no consciousness, no intention in the full sense of the term. After nervous systems, gradually we ascend to this possibility of having to this possibility of having minds, having consciousness, and having reasoning that allows us to arrive at some of these very interesting decisions."

"We are fragile culturally and socially…but life is fragile to begin with. All that it takes is a little bit of bad luck in the management of those supports, and you're cooked…you can actually be cooked—with global warming!"