The Genetic Map of Europe
23 July, 2010
---
Genetically speaking, Finns and Italians are the most atypical Europeans. There is a large degree of overlap between other European ethnicities, but not up to the point where they would be indistinguishable from each other. Which means that forensic scientists now can use DNA to predict the region of origin of otherwise unknown persons (provided they are of European heritage).
These are among the conclusions to be drawn from a genetic map of Europe, produced by the Erasmus University Medical Center in Rotterdam (the Netherlands), published in the August 7, 2008 issue of Current Biology. In its Science section, the New York Times devoted an article to the study, reproducing the genetic map.
The discovery that autosomal (i.e. non-gender-related) aspects of DNA may be used to predict regional European provenance of unkown individuals was made by prof. dr. Manfred Kayser's team of forensic molecular biologists. In a press release, the Erasmus UMC stated that this might potentially be helpful in resolving so-called 'cold cases'.
The genetic map of Europe was compiled by comparing DNA samples from 23 populations in Europe (pictured on the right-hand side map).  Those populations were then placed on the 'genetic' map according to their similarity, with the vertical axis denoting differences from south to north, and the horizontal one from west to east. The larger the area assigned to a population, the larger the genetic variation within that population.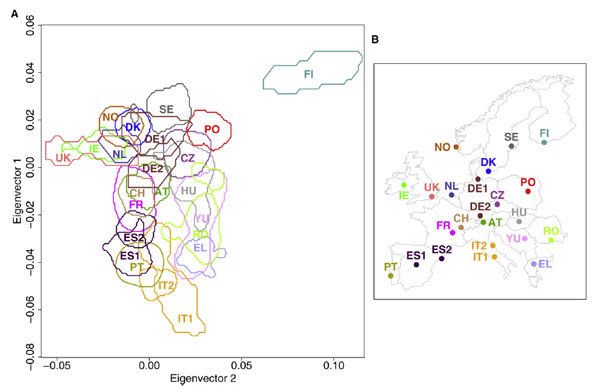 When compared to the actual map, the populations kinda sorta maintain their relative position to each other. Two observations spring to mind immediately: the fact that most populations overlap so intimately with their neighbours. And that Finland doesn't. Some other observations:
The extent of genetic variation is greater north to south than east to west.

 

This may be a result of the way Europe was colonized by modern humans, i.e. from the south, in three successive waves of migration (45,000 years ago, where before there had only been Neanderthals; 17,000 years ago, after the last Ice Age; and 10,000 years ago, with the advent of farming techniques from the Middle East).
The isolation of Finnish genetics can be explained by the fact that they were at one time a very small population, preserving its genetic idiosyncrasies as it expanded.
The relative isolation of Italian genetics is probably due to the Alps, providing a geographic barrier to the free and unhindered flow of population to and from Italy… Although Hannibal, the Celtic and Germanic influence in Italy's north and of course the expansion of the Roman Empire would seem to contradict this.
Yugoslav genetic variation is quite large (hence the big pink blob), and overlaps with the Greek, Romanian, Hungarian, Czech and even the Italian ones.
There is surprisingly little overlap between the northern and southern German populations, each of which has more in common with their other neighbours (Danish/Dutch/Swedish in the northern case, Austrian/Swiss/French in the other one).
The Polish population is quite eccentric as well, only significantly overlapping with the Czech one (and only minimally with the northern German one).
The Swiss population is entirely subsumed by the French one, similarly, the Irish population almost doesn't show any characteristics that would distinguish it from the British one.
British and Irish insularity probably explains why so much of their genetic area is not shared with their closest European cousins, i.c. the Norwegian/Danish/Dutch cluster.
Many thanks the many people that sent in this map.
 Strange Maps #306
Got a strange map? Let me know at strangemaps@gmail.com.
What can 3D printing do for medicine? The "sky is the limit," says Northwell Health researcher Dr. Todd Goldstein.
Northwell Health
Sponsored by Northwell Health
Medical professionals are currently using 3D printers to create prosthetics and patient-specific organ models that doctors can use to prepare for surgery.
Eventually, scientists hope to print patient-specific organs that can be transplanted safely into the human body.
Northwell Health, New York State's largest health care provider, is pioneering 3D printing in medicine in three key ways.
The periodic table was a lot simpler at the beginning of the universe.
The controversial herbicide is everywhere, apparently.
Surprising Science
U.S. PIRG tested 20 beers and wines, including organics, and found Roundup's active ingredient in almost all of them.
A jury on August 2018 awarded a non-Hodgkin's lymphoma victim $289 million in Roundup damages.
Bayer/Monsanto says Roundup is totally safe. Others disagree.
Can dirt help us fight off stress? Groundbreaking new research shows how.
University of Colorado Boulder
Surprising Science
New research identifies a bacterium that helps block anxiety.
Scientists say this can lead to drugs for first responders and soldiers, preventing PTSD and other mental issues.
The finding builds on the hygiene hypothesis, first proposed in 1989.
Are modern societies trying too hard to be clean, at the detriment to public health? Scientists discovered that a microorganism living in dirt can actually be good for us, potentially helping the body to fight off stress. Harnessing its powers can lead to a "stress vaccine".
Researchers at the University of Colorado Boulder found that the fatty 10(Z)-hexadecenoic acid from the soil-residing bacterium Mycobacterium vaccae aids immune cells in blocking pathways that increase inflammation and the ability to combat stress.
The study's senior author and Integrative Physiology Professor Christopher Lowry described this fat as "one of the main ingredients" in the "special sauce" that causes the beneficial effects of the bacterium.
The finding goes hand in hand with the "hygiene hypothesis," initially proposed in 1989 by the British scientist David Strachan. He maintained that our generally sterile modern world prevents children from being exposed to certain microorganisms, resulting in compromised immune systems and greater incidences of asthma and allergies.
Contemporary research fine-tuned the hypothesis, finding that not interacting with so-called "old friends" or helpful microbes in the soil and the environment, rather than the ones that cause illnesses, is what's detrimental. In particular, our mental health could be at stake.
"The idea is that as humans have moved away from farms and an agricultural or hunter-gatherer existence into cities, we have lost contact with organisms that served to regulate our immune system and suppress inappropriate inflammation," explained Lowry. "That has put us at higher risk for inflammatory disease and stress-related psychiatric disorders."
University of Colorado Boulder
Christopher Lowry
This is not the first study on the subject from Lowry, who published previous work showing the connection between being exposed to healthy bacteria and mental health. He found that being raised with animals and dust in a rural environment helps children develop more stress-proof immune systems. Such kids were also likely to be less at risk for mental illnesses than people living in the city without pets.
Lowry's other work also pointed out that the soil-based bacterium Mycobacterium vaccae acts like an antidepressant when injected into rodents. It alters their behavior and has lasting anti-inflammatory effects on the brain, according to the press release from the University of Colorado Boulder. Prolonged inflammation can lead to such stress-related disorders as PTSD.
The new study from Lowry and his team identified why that worked by pinpointing the specific fatty acid responsible. They showed that when the 10(Z)-hexadecenoic acid gets into cells, it works like a lock, attaching itself to the peroxisome proliferator-activated receptor (PPAR). This allows it to block a number of key pathways responsible for inflammation. Pre-treating the cells with the acid (or lipid) made them withstand inflammation better.
Lowry thinks this understanding can lead to creating a "stress vaccine" that can be given to people in high-stress jobs, like first responders or soldiers. The vaccine can prevent the psychological effects of stress.
What's more, this friendly bacterium is not the only potentially helpful organism we can find in soil.
"This is just one strain of one species of one type of bacterium that is found in the soil but there are millions of other strains in soils," said Lowry. "We are just beginning to see the tip of the iceberg in terms of identifying the mechanisms through which they have evolved to keep us healthy. It should inspire awe in all of us."
Check out the study published in the journal Psychopharmacology.
Big think's weekly newsletter.
Get smarter faster from the comfort of your inbox.
See our newsletter privacy policy
here
Most Popular
Most Recent
Big think's weekly newsletter.
Get smarter faster from the comfort of your inbox.
See our newsletter privacy policy
here
© Copyright 2007-2019 & BIG THINK, BIG THINK EDGE,
SMARTER FASTER trademarks owned by The Big Think, Inc. All rights reserved.