See How New South Wales Shrinks as Australia Grows
Now one of the smaller states, it once covered half the continent
23 July, 2010
For a long time, Australia was known as New Holland, after the country that first explored the island/continent. The British, who eventually colonised it, at first adopted the name, but settled on an adaptation of the term Terra Australis for their new colony. That name refers to the giant continent in the South that was thought by pre-exploration geographers in the Old World to counterbalance the land-mass of the then-known world (see #575).
---
The name of the country might very well have been New South Wales. At present, NSW is just one of six states (1) that compose the Commonwealth of Australia – and a relatively small state at that – but NSW at one time covered almost half of the country. At that time it was the only British colony on Australian soil, making it at least plausible that the name might have expanded with British sovereignty.
But that was not to be. As this map (the origin of which I unfortunately haven't recorded) shows, NSW has steadily shrunk in size as other states and territories emerged or were split off from the 'mother colony'. The map, dating from 1904, shows the evolution of NSW (and the nameless other half of the country) to Australia.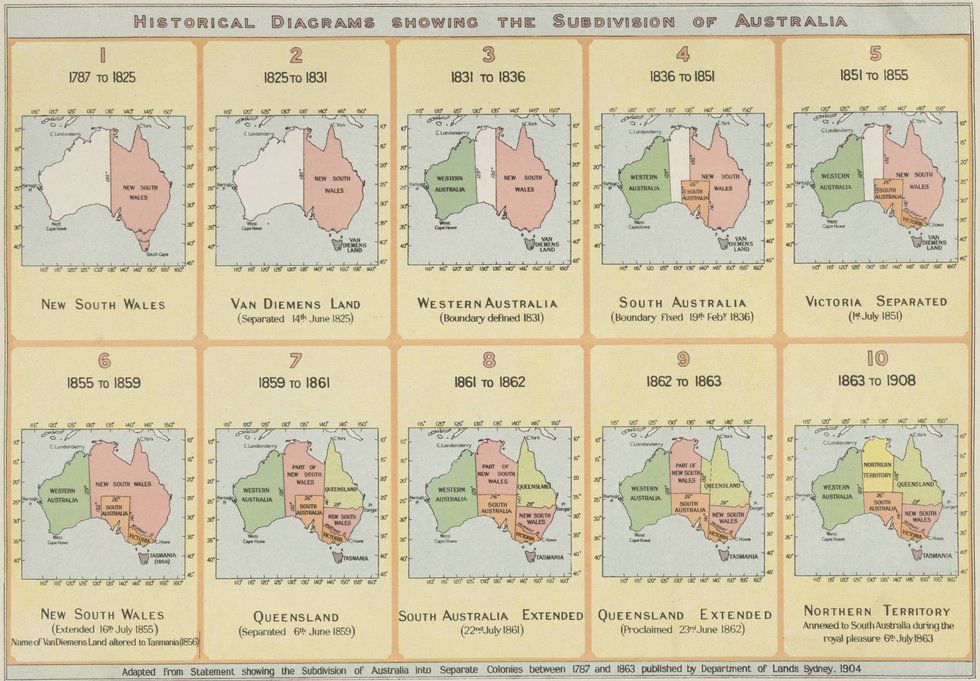 For good measure: the map denotes the situation as of the first date mentioned, and up until the second date.
1787-1825: NSW covers roughly half of the island, including present-day Tasmania.
1825-1831: the island of Van Diemen's Land is separated from NSW.
1831-1836: the territory of Western Australia is formed, covering about one third of the island, and leaving an unorganised strip of land in between.
1836-1851: South Australia is formed out of part of NSW and part of the unorganised strip between NSW and Western Australia.
1851-1855: Victoria is separated from NSW, constituting a separate entity in the south-west.
1855-1859: NSW was extended to 'fill the void', so to speak; in 1856, the name of Van Diemen's Land was changed into Tasmania, after Abel Tasman, another Dutch explorer.
1859-1861: the northeastern part of NSW is separated to form Queensland, chopping the remainder of NSW in two: the large stretch in the middle of the country, from north to south shore, is now separated from the rest of NSW by South Australia and Queensland.
1861-1862: South Australia expands westward to the detriment of 'central' NSW, depriving it of acces to the southern shore.
1862-1863: Queensland expands westward at the expense of 'central' NSW and in the process bending what was one of the longest straight borders in the world.
1863-1908: 'Central' NSW is placed under the jurisdiction of South Australia as the Northern Territory. According to Wikipedia, this state of affairs lasted until 1911, not 1908.
Strange Maps #21
Got a strange map? Let me know at strangemaps@gmail.com.
(1) To be precise: six federated states, namely New South Wales, Queensland, South Australia, Tasmania, Victoria and Western Australia. To be complete: also a number of territories, of which three internal, i.e. on the Australian mainland (the Australian Capital Territory, the Jervis Bay Territory and the Northern Territory); and seven external (Ashmore and Cartier Islands, the Australian Antarctic Territory, Christmas Island, Cocos (Keeling) Islands, Coral Sea Islands, Heard Island and McDonald Islands, and Norfolk Island).
What can 3D printing do for medicine? The "sky is the limit," says Northwell Health researcher Dr. Todd Goldstein.
Northwell Health
Sponsored by Northwell Health
Medical professionals are currently using 3D printers to create prosthetics and patient-specific organ models that doctors can use to prepare for surgery.
Eventually, scientists hope to print patient-specific organs that can be transplanted safely into the human body.
Northwell Health, New York State's largest health care provider, is pioneering 3D printing in medicine in three key ways.
Elon Musk took issue with recent ideas for space exploration from Jeff Bezos.
Getty Images
Technology & Innovation
Elon Musk and Jeff Bezos have sparred over space exploration previously.
Musk wants to focus on Mars while Bezos has the moon and space colonies as goals.
In a recent tweet, Musk called out Bezos's plans for space colonies as unrealistic.
If you don't want to know anything about your death, consider this your spoiler warning.
Culture & Religion
For centuries cultures have personified death to give this terrifying mystery a familiar face.
Modern science has demystified death by divulging its biological processes, yet many questions remain.
Studying death is not meant to be a morbid reminder of a cruel fate, but a way to improve the lives of the living.
Big Think Edge
Push Past Negative Self-Talk: Give Yourself the Proper Fuel to Attack the World, with David Goggins, Former NAVY SealIf you've ever spent 5 minutes trying to meditate, you know something most people don't realize: that our minds are filled, much of the time, with negative nonsense. Messaging from TV, from the news, from advertising, and from difficult daily interactions pulls us mentally in every direction, insisting that we focus on or worry about this or that. To start from a place of strength and stability, you need to quiet your mind and gain control. For former NAVY Seal David Goggins, this begins with recognizing all the negative self-messaging and committing to quieting the mind. It continues with replacing the negative thoughts with positive ones.
Big think's weekly newsletter.
Get smarter faster from the comfort of your inbox.
See our newsletter privacy policy
here
Most Popular
Most Recent
Big think's weekly newsletter.
Get smarter faster from the comfort of your inbox.
See our newsletter privacy policy
here
© Copyright 2007-2019 & BIG THINK, BIG THINK EDGE,
SMARTER FASTER trademarks owned by The Big Think, Inc. All rights reserved.