The World, Equinational: Showing Each Country in the Same Size
Big nations or small ones: each gets a same-sized square on this map
23 July, 2010
No flat world map can do our three-dimensional globe justice. So why not go the whole hog and produce a without any pretense to topographic accuracy? This 'equinational projection' goes where no Mercator or Peters projection ever went, and shows a world in which every country is the same size. A world which is a little different from ours.
---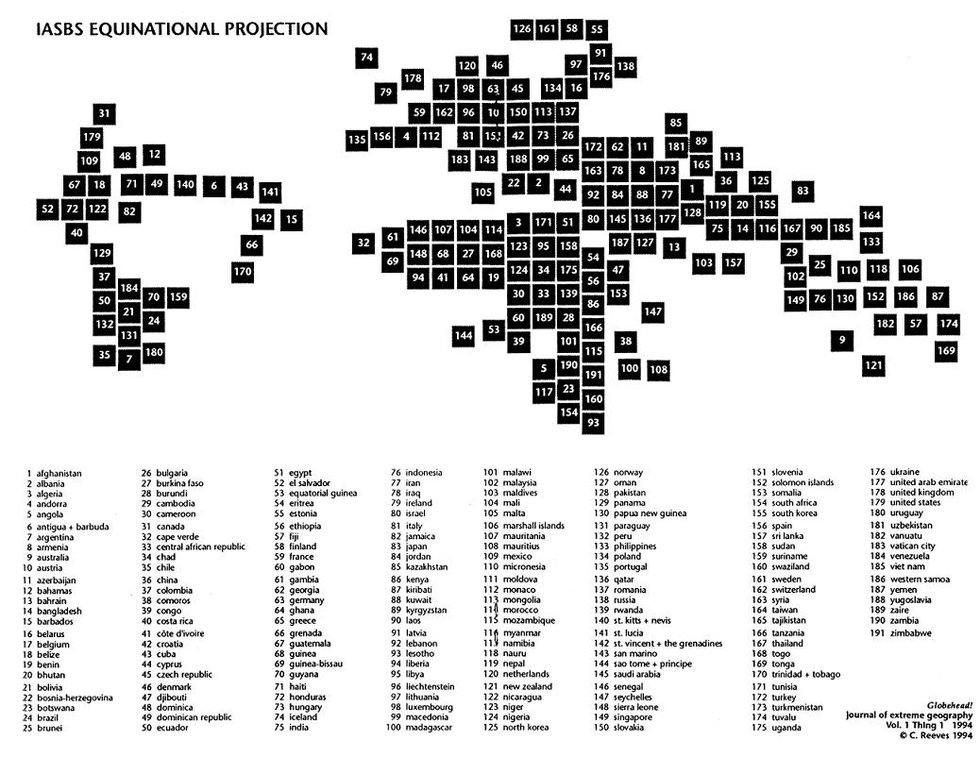 The American continent, especially its northern half, is covered by relatively few states, resulting in an atrophied New World – except for the Carribbean, where all those tiny island nations each now occupy the same space as giants like the US and Canada.
Europe, its territory littered with lots of states, medium or small (compared to America), holds a dominating position. Russia (Nr 138) is a mere appendage of Europe.
Africa, long squeezed and thereafter painfully stretched by the aforementioned Mercator and Peters projections, now holds what at first glance seems the largest block of nations.
Asia consists of a few very large countries (Russia, China, India, Kazakhstan, Pakistan) which accounts for its relatively small size. This contrasts to almost any other projection, be it size, population or economic growth.
Australia and New Zealand are the most visible constituents of Oceania, except on this map, where all the Pacific island nations figure more prominently than usual.
Unfortunately, 'Globehead! Journal of Extreme Cartography' was a rather short-lived grad school magazine at Penn State (only 2 issues), otherwise we might have seen some more strange maps like this one.
"The equinational projection was invented by my friend Catherine Reeves for Globehead! in 1994," writes Jeremy W. Crampton, professor of Geography at the University of Kentucky, who sent this map in. He kindly explains the cryptic acronym IASBS: International Association for the Study of Big Science.
Strange Maps #201 
Got a strange map? Let me know at strangemaps@gmail.com.
The way that you think about stress can actually transform the effect that it has on you – and others.
Big Think Edge
Stress is contagious, and the higher up in an organization you are the more your stress will be noticed and felt by others.
Kelly McGonigal teaches "Reset your mindset to reduce stress" for Big Think Edge.

Subscribe to Big Think Edge before we launch on March 30 to get 20% off monthly and annual memberships.
These quick bursts of inspiration will brighten your day in 10 minutes or less.

Explore a legendary philosopher's take on how society fails to prepare us for education and progress.
Alan Watts.
Personal Growth
Alan Watts was an instrumental figure in the 1960s counterculture revolution.
He believed that we put too much of a focus on intangible goals for our educational and professional careers.
Watts believed that the whole educational enterprise is a farce compared to how we should be truly living our lives.
How can we use the resources that are already on the Moon to make human exploration of the satellite as economical as possible?
The All-Terrain Hex-Limbed Extra-Terrestrial Explorer (ATHLETE), a prototype heavy-lift utility vehicle to support future human exploration of extraterrestrial surfaces, at right, is parked beside the Habitat Demonstration Unit - Pressurized Excursion Module (HDU-PEM), at left, a concept off-Earth living and work quarters for astronauts stationed on asteroids, the moon or Mars, 15 September 2010. Photo by: ROBYN BECK/AFP/Getty Images
Technology & Innovation
If you were transported to the Moon this very instant, you would surely and rapidly die. That's because there's no atmosphere, the surface temperature varies from a roasting 130 degrees Celsius (266 F) to a bone-chilling minus 170 C (minus 274 F). If the lack of air or horrific heat or cold don't kill you then micrometeorite bombardment or solar radiation will. By all accounts, the Moon is not a hospitable place to be.

Big think's weekly newsletter.
Get smarter faster from the comfort of your inbox.
See our newsletter privacy policy
here
Most Popular
Most Recent
Big think's weekly newsletter.
Get smarter faster from the comfort of your inbox.
See our newsletter privacy policy
here
© Copyright 2007-2018 & BIG THINK, BIG THINK EDGE,
SMARTER FASTER trademarks owned by The Big Think, Inc. All rights reserved.