A Map of the Ideal City, Anno 1951
Frank Jacobs
From a young age, Frank was fascinated by maps and atlases, and the stories they contained. Finding his birthplace on the map in the endpapers of Tolkien's Lord of the Rings only increased his interest in the mystery and message of maps.
While pursuing a career in journalism, Frank started a blog called Strange Maps, as a repository for the weird and wonderful cartography he found hidden in books, posing as everyday objects and (of course) floating around the Internet.
"Each map tells a story, but the stories told by your standard atlas for school or reference are limited and literal: they show only the most practical side of the world, its geography and its political divisions. Strange Maps aims to collect and comment on maps that do everything but that - maps that show the world from a different angle".
A remit that wide allows for a steady, varied diet of maps: Frank has been writing about strange maps since 2006, published a book on the subject in 2009 and joined Big Think in 2010. Readers send in new material daily, and he keeps bumping in to cartography that is delightfully obscure, amazingly beautiful, shockingly partisan, and more.
23 July, 2010
Mid-20th century British illustrator Ronald Lampitt had a predilection for maps. It probably was no coincidence that he got to draw, in the Illustrated Magazine of 17 February 1951, the proposal of John Sleigh Pudney for an ideal city.
---
Pudney (1909-1977) was a prolific British journalist and writer (despite leaving school at 16), memorable for his short stories, his wartime poem For Johnny (1941) and his BAFTA-winning documentary 'Elizabeth is Queen' (1953). In the aforementioned article, he proposes his vision:
"In this age of planning it is surely time that some innocent traditionalist thrust his way forward to offer mankind the ideal city. Whose ideal? goes up the snarl from the idealists. Ideal for what? chorus the realists. Ideal against whom? demand the tacticians. Why a city? moan the simple-lifers. Allow me for a moment to toy with dreams, taking a holiday from the magic of the materialists. The ideal city which I shall venture to plan must be controversial: for it is myself of whom I am thinking rather than of humanity in general. I have the vice, before my ink is dry, of all planners. I have a sneaking notion already that what is good for me must be good for the rest of mankind."
That nameless city under Lampitts brushstrokes becomes a spacious, undulating seaside paradise of a place, populated with monuments that look vaguely familiar. Which is because they are; they're architectural icons from all over the world – the western world, that is. And yet, this ideal city looks suspiciously sterile: no rubbish tips, no shantytowns, no shopping malls, no advertising… Here follows a list of buildings referenced at the bottom of the map.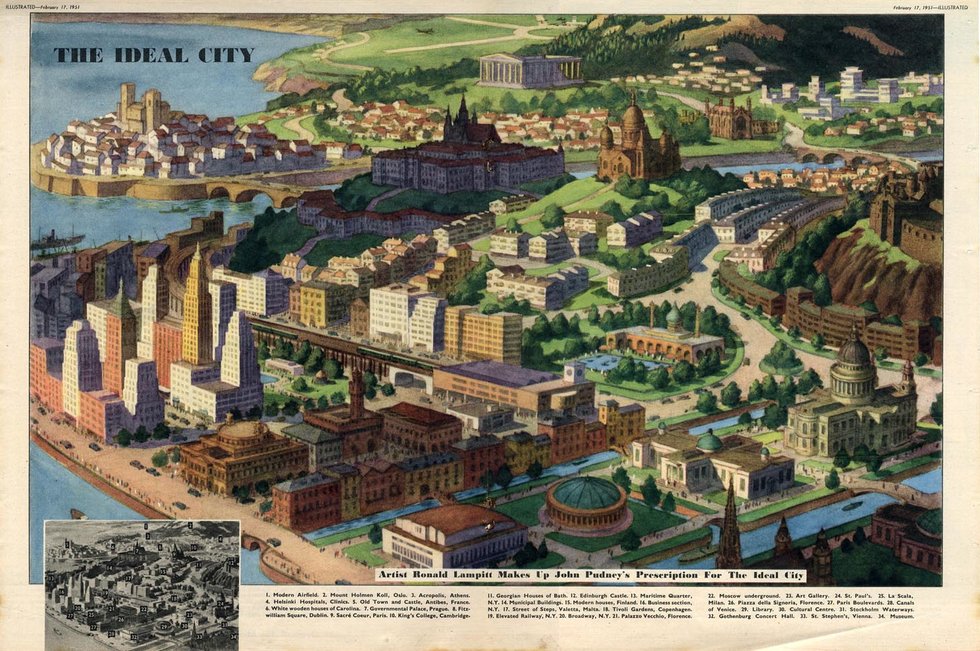 1. Modern Airfield 2. Mount Holmen Koll, Oslo 3. Acropolis, Athens 4. Helsinki Hospitals, Clinics 5. Old Town and Castle, Antibes, France 6. White Wooden Houses of Carolina 7. Governmental Palace, Prague 8. Fitzwilliam Square, Dublin 9. Sacré Coeur, Paris 10. King's College, Cambridge 11. Georgian Houses of Bath 12. Edinburgh Castle 13. Maritime Quarter, NY 14. Municipal Buildings 15. Modern Houses, Finland 16. Business Section, NY 17. Street of Steps, Valetta 18. Tivoli Gardens, Copenhagen 19. Elevated Railway, NY 20. Broadway, NY 21. Palazzo Vecchio, Florence 22. Moscow Underground 23. Art Gallery 24. St Paul's Cathedral, London 25. La Scala, Milan 26. Piazza della Signoria, Florence 27. Paris Boulevards 28. Canals of Venice 29. Library 30. Cultural Centre 31. Stockholm Waterways 32. Gothenburg Concert Hall 33. St Stephen's, Vienna 34. Museum
The map was found here, in the intriguingly idiosyncratic graphic collection at fulltable.com. Pudney's article is here.
Strange Maps #198 
Got a strange map? Let me know at strangemaps@gmail.com.
Related Articles
These five main food groups are important for your brain's health and likely to boost the production of feel-good chemicals.
Infographics show the classes and anxieties in the supposedly classless U.S. economy.
What is the middle class now, anyway? (JEWEL SAMAD/AFP/Getty Images)
Politics & Current Affairs
For those of us who follow politics, we're used to commentators referring to the President's low approval rating as a surprise given the U.S.'s "booming" economy. This seeming disconnect, however, should really prompt us to reconsider the measurements by which we assess the health of an economy. With a robust U.S. stock market and GDP and low unemployment figures, it's easy to see why some think all is well. But looking at real U.S. wages, which have remained stagnant—and have, thus, in effect gone down given rising costs from inflation—a very different picture emerges. For the 1%, the economy is booming. For the rest of us, it's hard to even know where we stand. A recent study by Porch (a home-improvement company) of blue-collar vs. white-collar workers shows how traditional categories are becoming less distinct—the study references "new-collar" workers, who require technical certifications but not college degrees. And a set of recent infographics from CreditLoan capturing the thoughts of America's middle class as defined by the Pew Research Center shows how confused we are.
Big think's weekly newsletter.
Get smarter faster from the comfort of your inbox.
See our newsletter privacy policy
here
Most Popular
Most Recent
Big think's weekly newsletter.
Get smarter faster from the comfort of your inbox.
See our newsletter privacy policy
here
© Copyright 2007-2018 & BIG THINK, BIG THINK EDGE,
SMARTER FASTER trademarks owned by The Big Think, Inc. All rights reserved.