Want World Peace? Divide the World in Enough Small States
Leopold Kohr, who championed the principle 'small is beautiful', also applied it to geopolitics
Frank Jacobs
From a young age, Frank was fascinated by maps and atlases, and the stories they contained. Finding his birthplace on the map in the endpapers of Tolkien's Lord of the Rings only increased his interest in the mystery and message of maps.
While pursuing a career in journalism, Frank started a blog called Strange Maps, as a repository for the weird and wonderful cartography he found hidden in books, posing as everyday objects and (of course) floating around the Internet.
"Each map tells a story, but the stories told by your standard atlas for school or reference are limited and literal: they show only the most practical side of the world, its geography and its political divisions. Strange Maps aims to collect and comment on maps that do everything but that - maps that show the world from a different angle".
A remit that wide allows for a steady, varied diet of maps: Frank has been writing about strange maps since 2006, published a book on the subject in 2009 and joined Big Think in 2010. Readers send in new material daily, and he keeps bumping in to cartography that is delightfully obscure, amazingly beautiful, shockingly partisan, and more.
23 July, 2010
"Small is beautiful" is an aptly brief summary of the thinking of Leopold Kohr (1909-1994), an Austrian philosopher influenced by Anarchism and influential on the Green movement. In his best-known work, 'The Breakdown of Nations', he applied his theory of size to nations. Why? "There seems only one cause behind all forms of social misery: bigness…" Or, put differently again: "Whenever something is wrong, something is too big."
---
The main question for society, therefore, is "not to grow, but to stop growing. The answer: not union but division." Not something you often hear advocated by politicians. Kohr wrote about half a dozen other books in all, also wrote one titled 'Is Wales Viable?' – a question that has still not been answered satisfactorily. Here are some maps he designed:
Europe à la USA
As Kohr saw it, the problem with Europe's geopolitical makeup was the fact that its states were not equal in size, allowing the 'big ones' to dominate the rest. Or at least try to, hence the endless series of wars in Europe. One way to solve this, would be to chop up the continent into rectangular chunks of territory, disregarding most existing cultural, religious, linguistic and natural boundaries.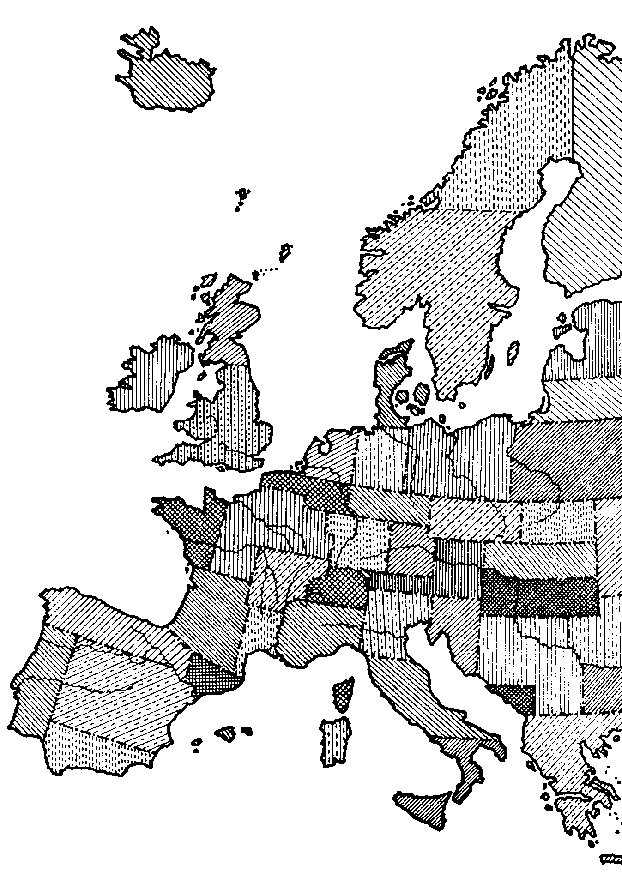 Some of these Europeans states à l'américaine would be culturally homogenous and correspond fairly well to existing nations or nation-states, whether by accident of geography (e.g. Iceland, Ireland) or by apparent design (e.g. Catalonia, Scotland, Portugal).
Others seem created purely for the sake of geometry (e.g. the south of Italy, where the border nearly isolates the 'heel' from the 'nose' of the shoe or the pair Norway-Sweden 'sliced' north-south rather than east-west).
But in many, if not most cases, even these crude geometric forms correspond to some real nation or state (e.g. Austria, Switzerland).
The US à la Europe
According to Kohr, the division into many states of roughly equal size is what made the USA strong as a nation. Should America be organised into states of unequal size, disaster would be bound to happen. States such as: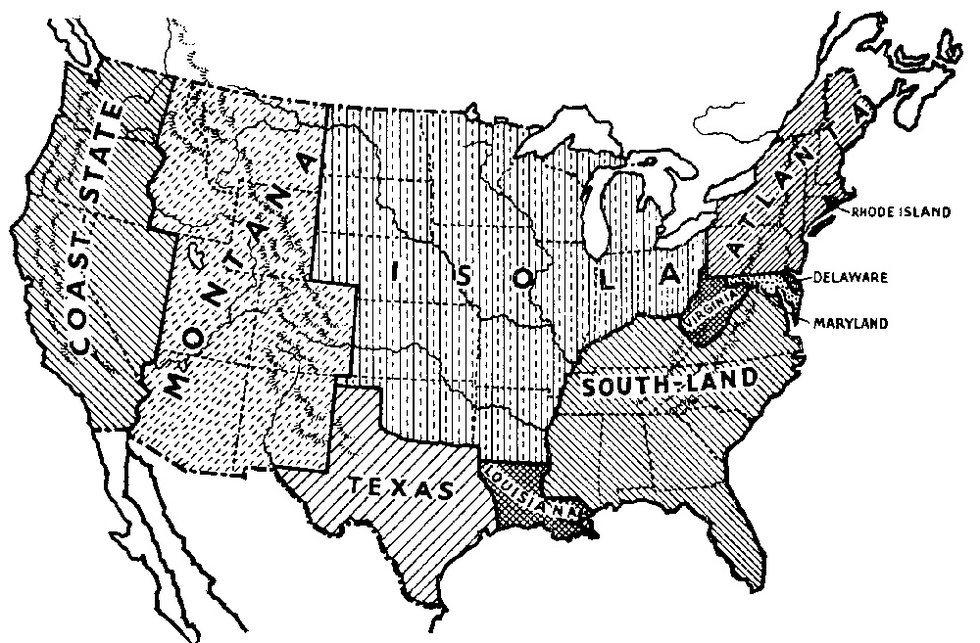 Coastal State The four westernmost of the 48 contiguous states: Washington, Oregon, California, Nevada.
Montana Seven states adjacent to the 'Coastal State' and dominated by the Rocky Mountains chain, constitute the state of Montana. These are, apart from the original eponymous state: Idaho, Wyoming, Utah, Colorado, Arizona, New Mexico.
Isola Short for 'isolated', or Italian for 'island', this state is made up out of 14 Mid-Western states: North and South Dakota, Nebraska, Kansas, Oklahoma, Minnesota, Iowa, Missouri, Arkansas, Michigan, Wisconsin, Illinois, Indiana and Ohio.
Atlanta Includes all 6 New England states (Maine, New Hampshire, Vermont, Rhode Island, Massachusetts, Connecticut) plus New York and Pennsylvania.
Southland A resurrection of sorts of the Confederated States of America, this super-state combines all the original states of the Confederacy, minus Texas, Arkansas and Louisiana. But plus Kentucky – which was claimed, but never occupied by the original CSA. It comprises these 7 states: Virginia, North Carolina, South Carolina, Georgia, Florida, Alabama, Mississippi.
Mini-states Six states remain independent, apart from Texas all too small to be taken seriously by the 'big boys': Louisiana, Virginia (formerly West Virginia), Maryland, Delaware and Rhode Island).
Washington DC The federal capital would be as purely decorative a centre as Geneva was for the League of Nations. To enforce its authority it would have to ask the support of one or more of the powerful members. Wars would be as frequent as in Europe.
A Europe of small states
One  last map by Leopold Kohr, also an addendum to his book 'The Breakdown of Nations' (1957). Kohr probably realised that dividing Europe into rectangular, US-style states would clash with the 'tribal' makeup of the Old Continent's culturally diverse peoples. So he modified that idea to propose a European federation of 'little states': still too small to cause harm, but more in line with Europe's ethnic composition.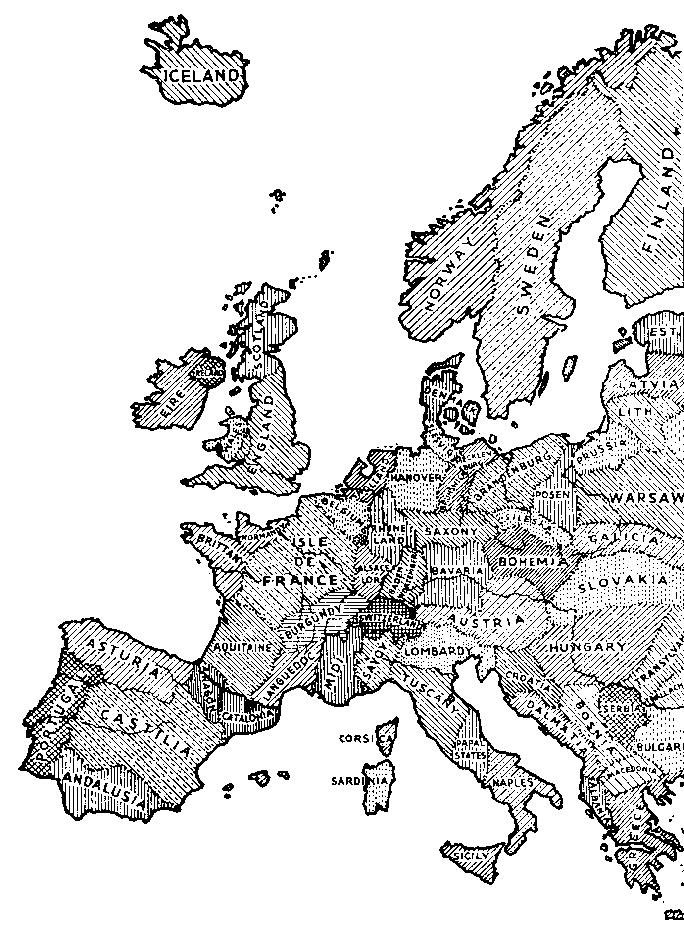 Some states are small enough to continue undivided: Eire, Portugal, all 5 Scandinavian countries, the 3 Baltic countries (which weren't yet independent at that time), the Netherlands and Belgium (is Luxembourg too small for this map, or has it been absorbed by Belgium?), Austria, Hungary, Albania, Greece, Bulgaria and Switzerland. The bigger European states are divvied up along not unfamiliar lines:
The UK is disestablished in favour of its constituent nations: England, Scotland, Wales, (Northern) Ireland.
Spain disintegrates into Asturia, Castillia, Andalusia, Catalonia and Aragón.
France falls apart into Aquitaine, Brittany, Normandy, Isle de France, Alsace-Lorraine, Burgundy, Languedoc, the Midi and Corsica.
Italy is replaced by successor states Savoy, Lombardy, Tuscany, the Papal States (!), Naples, Sicily and Sardinia.
Yugoslavia breaks up into Croatia, Dalmatia, Bosnia, Serbia and Macedonia. 
Romania becomes Transylvania and Wallachia.
Czechoslovakia is divided among Bohemia and Slovakia.
Germany,  the pivotal power in Central Europe (in a bad way, historically) disintegrates into Bavaria, Saxony, Hanover, the Rhineland, Baden-Württemberg, Brandenburg, Prussia, Silesia and one more state the name of which I can't quite make out – but which would have to be Mecklenburg.
Poland becomes Posen, Galicia and Warsaw.
These maps are taken here from an online version of The Breakdown of Nations.
Strange Maps #18
Got a strange map? Let me know at strangemaps@gmail.com. 
A federal judge ruled that the Trump administration likely violated the reporter's Fifth Amendment rights when it stripped his press credentials earlier this month.
WASHINGTON, DC - NOVEMBER 16: CNN chief White House correspondent Jim Acosta (R) returns to the White House with CNN Washington bureau chief Sam Feist after Federal judge Timothy J. Kelly ordered the White House to reinstate his press pass November 16, 2018 in Washington, DC. CNN has filed a lawsuit against the White House after Acosta's press pass was revoked after a dispute involving a news conference last week. (Photo by Alex Wong/Getty Images)
Politics & Current Affairs
Acosta will be allowed to return to the White House on Friday.
The judge described the ruling as narrow, and didn't rule one way or the other on violations of the First Amendment.
The case is still open, and the administration may choose to appeal the ruling.
Protected animals are feared to be headed for the black market.
(VL.ru)
Politics & Current Affairs
Russian news network discovers 101 black-market whales.
Orcas and belugas are seen crammed into tiny pens.
Marine parks continue to create a high-price demand for illegal captures.
New research identifies an unexpected source for some of earth's water.
Surprising Science
A lot of Earth's water is asteroidal in origin, but some of it may come from dissolved solar nebula gas.
Our planet hides majority of its water inside: two oceans in the mantle and 4–5 in the core.
New reason to suspect that water is abundant throughout the universe.
Big think's weekly newsletter.
Get smarter faster from the comfort of your inbox.
See our newsletter privacy policy
here
Most Popular
Most Recent
Big think's weekly newsletter.
Get smarter faster from the comfort of your inbox.
See our newsletter privacy policy
here
© Copyright 2007-2018 & BIG THINK, BIG THINK EDGE,
SMARTER FASTER trademarks owned by The Big Think, Inc. All rights reserved.