The Free State of Bottleneck, a Bizarre By-product of Allied Occupation
Squeezed in between two occupation zones, the locals opted for independence - and smuggling.
Frank Jacobs
From a young age, Frank was fascinated by maps and atlases, and the stories they contained. Finding his birthplace on the map in the endpapers of Tolkien's Lord of the Rings only increased his interest in the mystery and message of maps.
While pursuing a career in journalism, Frank started a blog called Strange Maps, as a repository for the weird and wonderful cartography he found hidden in books, posing as everyday objects and (of course) floating around the Internet.
"Each map tells a story, but the stories told by your standard atlas for school or reference are limited and literal: they show only the most practical side of the world, its geography and its political divisions. Strange Maps aims to collect and comment on maps that do everything but that - maps that show the world from a different angle".
A remit that wide allows for a steady, varied diet of maps: Frank has been writing about strange maps since 2006, published a book on the subject in 2009 and joined Big Think in 2010. Readers send in new material daily, and he keeps bumping in to cartography that is delightfully obscure, amazingly beautiful, shockingly partisan, and more.
23 July, 2010
In course of the 20th century, Allied forces occupied Germany not just once, but twice. The better-known (and longer-lasting) occupation took place in the decades after World War II. The lesser-known one occurred after World War I. For a few years after 1918, British, French, American and Belgian forces took up positions in the Rhineland, wholly occupying the area west of the river Rhine – but eventually also some areas on the Rhine's right bank.
---
One of the unintended consequences of that expansion of Allied military sovereignty over the Rhine was the creation of the so-called Freistaat Flaschenhals, literally translated: the Free State of Bottleneck, after its geographic shape. This miniature quasi-state existed for just a bit over four years, from 10 January 1919 until 25 February 1923.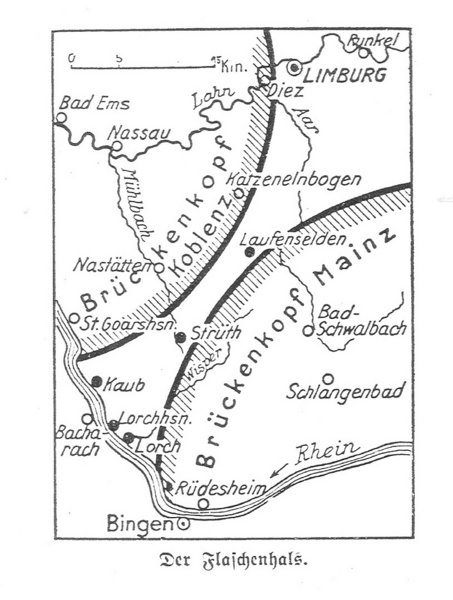 Map of the Bottleneck, in between Bacharach, Nassau and Schlangenbad (literally: Bath of Snakes). Image found here.
Flaschenhals came into being after the Allies extended their jurisdiction in a 30-km radius from the Rhine-side cities of Cologne (UK), Koblenz (US) and Mainz (France). Because of the proximity of Mainz and Koblenz, the US and French 'circles' of occupation across the Rhine almost but not quite overlapped. The resulting bottleneck-shaped area between both circles contained the Wisper valley, which comprises the towns of Lorch and Kaub, and the villages of Lorchhausen, Sauerthal, Ransel, Wollmerschied, Welterod, Zorn, Strüth and Egenrod.
The Wispertal wasn't just hemmed in on two sides by the American and French zones of occupation, but also cut off from the rest of unoccupied Weimar Germany by the Taunus mountain-range in the east. Thus effectively left to fend for themselves, the approximately 8,000 people of the Wisper Valley declared their independence in early 1919, proclaimed Lorch its capital and elected the mayor of that largest city in the valley its president. Herr Präsident Pnischneck oversaw the administration of the ministate, which even produced its own stamps, currency and passports.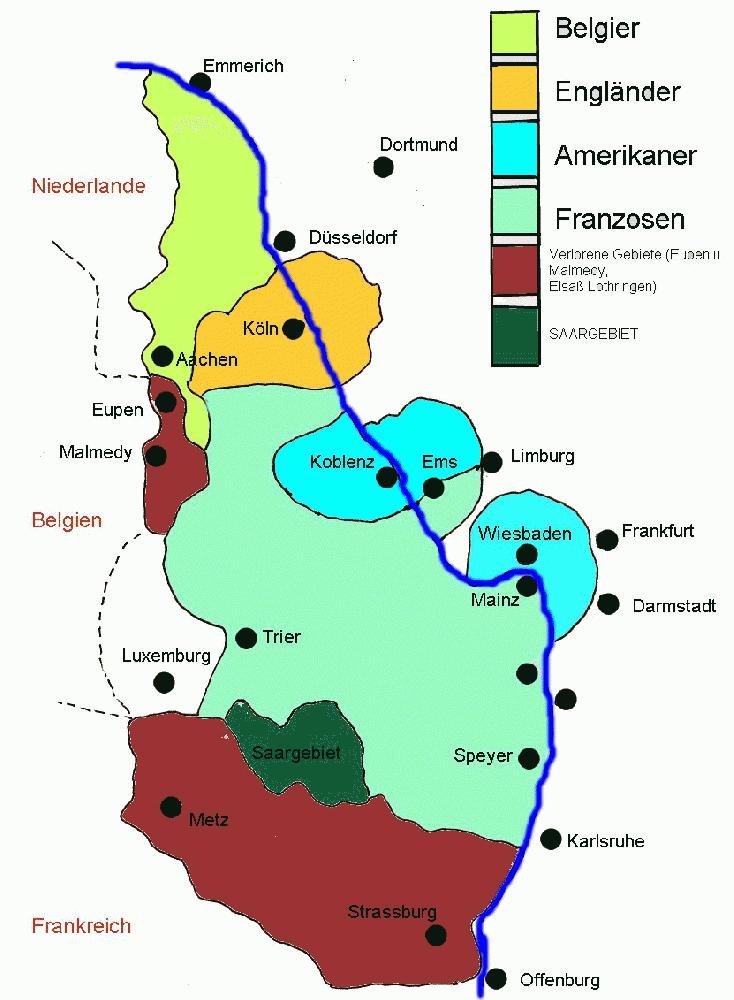 Map of the occupation of the Rhineland. Green: occupied by Belgium. Red (north): annexed by Belgium. Orange: occupied by Britain. Blue: occupied by the U.S. Light green: occupied by France. Dark green; Saarland (special status). Red (south): annexed by France. Image found here.
Since transportation by land, air and water was impossible and trains were not permitted to stop in Flaschenhals, the main source of income of the ministate was smuggling. At one time, this even involved hijacking a French coal train in nearby Rüdesheim and driving it to Flaschenhals, where the contents were distributed among the population.
Flaschenhals felt confident enough to draw up plans for an embassy in Berlin. The Free State was abolished before this could happen. Following the French occupation of the Ruhr area in 1923, Flaschenhals was eventually reincorporated into the Prussian province of Hesse-Nassau.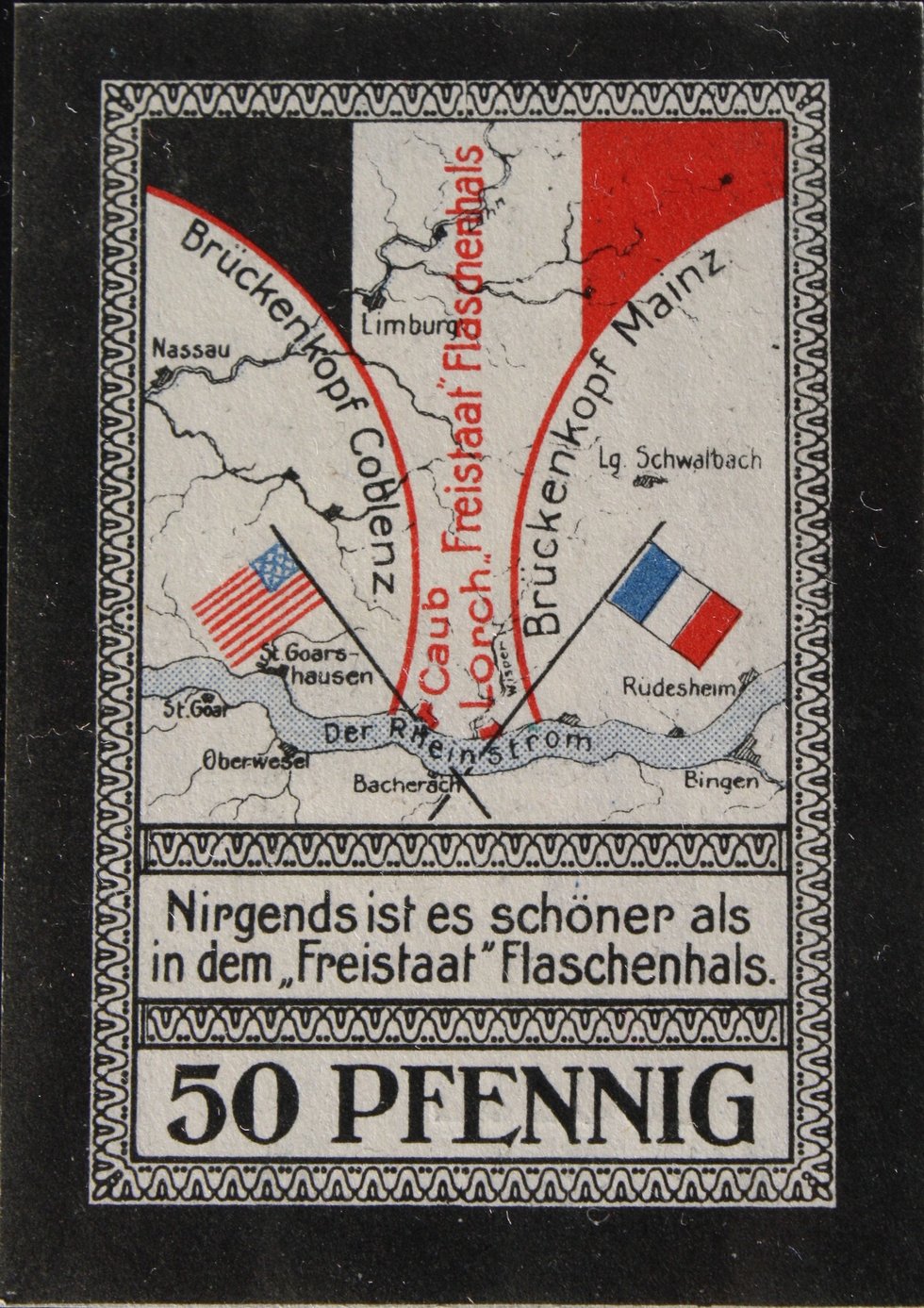 Notgeldschein (emergency money) showing the location of the Free State. Image found here. 
The history of the Flaschenhals may not be widely known outside the area itself, but there it is an added tourist attraction, mainly in the towns of Lorch and Kaub. Not that tourists are scarce in the area, which is part of the Unesco World Heritage Site of the Rhine Gorge.
Strange Maps #179
Got a strange map? Let me know at strangemaps@gmail.com.
Dogs' floppy ears may be part of why they and other domesticated animals love humans so much.
Surprising Science
Nearly all domestic animals share several key traits in addition to friendliness to humans, traits such as floppy ears, a spotted coat, a shorter snout, and so on.
Researchers have been puzzled as to why these traits keep showing up in disparate species, even when they aren't being bred for those qualities. This is known as "domestication syndrome."
Now, researchers are pointing to a group of a cells called neural crest cells as the key to understanding domestication syndrome.
Protected animals are feared to be headed for the black market.
(VL.ru)
Politics & Current Affairs
Russian news network discovers 101 black-market whales.
Orcas and belugas are seen crammed into tiny pens.
Marine parks continue to create a high-price demand for illegal captures.
Giving our solar system a "slap in the face."
Surprising Science
A stream of galactic debris is hurtling at us, pulling dark matter along with it
It's traveling so quickly it's been described as a hurricane of dark matter
Scientists are excited to set their particle detectors at the onslffaught
Big think's weekly newsletter.
Get smarter faster from the comfort of your inbox.
See our newsletter privacy policy
here
Most Popular
Most Recent
Big think's weekly newsletter.
Get smarter faster from the comfort of your inbox.
See our newsletter privacy policy
here
© Copyright 2007-2018 & BIG THINK, BIG THINK EDGE,
SMARTER FASTER trademarks owned by The Big Think, Inc. All rights reserved.