A Map of the United Countries of Baseball
Baseball is the quintessential North American sport, as demonstrated by this map
23 July, 2010
Although also very popular in East Asia and in other parts of the American continent, baseball is the quintessential North American sport, early in the 20th century even labelled the 'national pastime' of the USA. It remains so today: in the US, the words 'ballgame' and 'ballpark' automatically refer to baseball, not to any other sport.
---
To the disinterested outsider, baseball shares some vague similarities with cricket – not a coincidence, since baseball is an 18th-century development out of earlier bat-and-ball games popular with British immigrants, such as 'rounders'. This origin is somewhat disputed: some evidence exists for a British game also called 'base-ball', as in British novelist Jane Austen's 'Northanger Abbey' (written circa 1800), where some children play it on a village green.
Nowadays, professional baseball in North America is organized in Major League Baseball, composed of the National league (°1876) and the American league (°1901). Both are divided in to Eastern, Central and Western divisions. The game has – or had – a mainly eastern following: the first major league teams on the West Coast were 'transplants' from Back East: the Brooklyn Dodgers moved to LA and the New York Giants to San Francisco in 1958. In 1961, the first 'original' West Coast team was founded: the LA Angels.
This map, indicating all teams in the National and American sub-leagues of Major League Baseball, translates some of the American obsession with baseball into a representation of the supposed 'countries' of baseball. As with many other team sports, the fan base of baseball teams is to a large extent regional. Unless you're of a contrary nature, you support the local team – barring of course that you move, and continue to support your home team as a kind of sentimental link with your place of origin.
Here's an overview of the 'countries of baseball', first of the National League:
1. The Atlanta Braves (based at Turner Field in Atlanta, GA): Rule a large swathe of the Southeast.
2. The Florida Marlins (based at Dolphin Stadium in Miami Gardens, FL): Most of Florida, including the Panhandle, but excluding the area around Jacksonville (Braves territory) and the Rays' country.
3. The New York Mets (based at Shea Stadium in NYC, NY): As far as I can tell, Long Island and northern New Jersey.
4. Philadelphia Phillies (based at Citizens' Bank Park in Philadelphia, PA): Southern New Jersey, chunks of Maryland and only a limited amount of the Pennsyvlvanian hinterland.
5. The Washington Nationals (based at RFK Memorial Stadium, Washington DC): Most of the DC-surrounding area, and a surprisingly large part of the eastern seaboard to the south of DC.
6. The Chicago Cubs (based at Wrigley Field in Chicago, IL): A large country to the east and west of Chicago, completely surrounding the Chicago Sox's land.
7. The Cincinnati Reds (based at the Great American Ball Park in Cincinnati, OH): A medium-sized nation, hemmed in by the Cardinals, Cubs, Tigers, Indians, Pirates and Braves.
8. The Houston Astros (based at Minute Maid Park in Houston, TX): All of Louisiana and most of southeastern Texas, including of course Houston itself.
9. The Arizona Diamondbacks (based at Chase Field in Phoenix, AZ): Most of Arizona, parts of New Mexico, bits of southern California.
10. The San Francisco Giants (based at AT&T Park in San Francisco, CA): A small coastal strip below San Francisco Bay, a large one north of it, all the way through Oregon to Seattle Mariners country.
11. The Colorado Rockies (based at Coors Field in Denver, CO): The only team in Rocky Mountain territory, therefore has a lot of expansion potential.
12. The San Diego Padres (based at PETCO Park in San Diego, CA): Occupies the small strip of southern California hugging the Mexican border.
13. The St. Louis Cardinals (based at Busch Stadium in St. Louis, MO): Rule a big part of the Midwest and South, including Arkansas and parts of Mississippi, Illinois and Tennessee.
14. The Pittsburgh Pirates (based at PNC Park in Pittsburgh, PA): Western Pennsylvania, through West Virginia into western Virginia.
15. The LA Dodgers (based at Dodger Stadium in Los Angeles, CA): Mid-California, from the coast into southern Nevada.
16. The Milwaukee Brewers (based at Miller Park in Milwaukee, WI): Wisconsin, the whole of Wisconsin and nothing but Wisconsin.
These teams play in the American League:
1. The Baltimore Orioles (based at Oriole Park in Baltimore, MD): The Delmarva peninsula and central Maryland.
2. The Toronto Blue Jays (based at Rogers Centre in Toronto, Ontario – Canada): Southern and central Ontario.
3. The Boston Red Sox (based at Fenway Park in Boston, MA): The map doesn't show the extreme northeast of the US; one presumes the Red Sox rule the whole of New England.
4. The New York Yankees (based at Yankee Stadium in NYC, NY): Upstate New York and northern Pennsylvania.
5. The Tampa Bay Devil Rays (based at Tropicana Field in St. Petersburg, FL): A relatively small strip of Florida's Gulf Coast, dipping into the interior.
6. The Chicago White Sox (based at US Cellular Field in Chicago, IL): No more than an enclave in Cubs country.
7. The Cleveland Indians (based at Jacobs Field in Cleveland, OH): Ohio, with a southern tail.
8. The Detroit Tigers (based at Comerica Park in Detroit, MI): The whole of Michigan, some of it 'dripping' out south of the state line.
9. The Kansas City Royals (based at Kauffman Stadium in Kansas City, MO): A good chunk of the geographical centre of the Lower 48.
10. The Minnesota Twins: (based at Hubert H. Humphrey Metrodome in Minneapolis, MN) Minnesota and most of the Dakotas.
11. The LA Angels of Anaheim (based at Angel Stadium in Anaheim, CA): Squeezed small by the Dodgers, Padres and Diamondbacks.
12. The Oakland Athletics (based at McAfee Coliseum in Oakland, CA): Almost denied coastal access by the Giants, this land surrounds the Bay and fans out further inland.
13. The Seattle Mariners (based at Safeco Field in Seattle, WA): Washington State, plus parts of Oregon.
14. The Texas Rangers (based at Rangers Ballpark in Arlington, TX): Oklahoma and Texas, minus Astros country.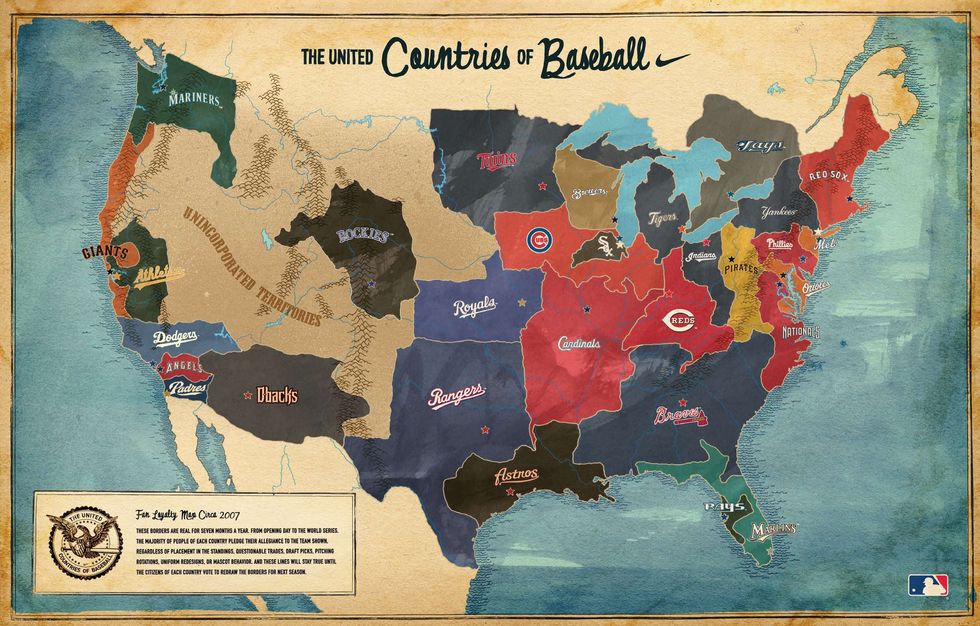 This map was first sent to me by Lee I. Garnett. This version found here. 
Strange Maps #160
Got a strange map? Let me know at strangemaps@gmail.com.
Universities claim to prepare students for the world. How many actually do it?
Sponsored by Charles Koch Foundation
Many university mission statements do not live up to their promise, writes Ben Nelson, founder of Minerva, a university designed to develop intellect over content memorization.
The core competencies that students need for success—critical thinking, communication, problem solving, and cross-cultural understanding, for example—should be intentionally taught, not left to chance.
These competencies can be summed up with one word: wisdom. True wisdom is the ability to apply one's knowledge appropriately when faced with novel situations.
This is what the world will look like, 250 million years from now
On Pangaea Proxima, Lagos will be north of New York, and Cape Town close to Mexico City
Surprising Science
To us humans, the shape and location of oceans and continents seems fixed. But that's only because our lives are so short.
A new study may help us better understand how children build social cognition through caregiver interaction.
Personal Growth
Scientists speculate imitation helps develop social cognition in babies.
A new study out of Lund University shows that six-month-olds look and smile more at imitating adults.
Researchers hope the data will spur future studies to discover what role caregiver imitation plays in social cognition development.
Researchers at UT Southwestern noted a 47 percent increase in blood flow to regions associated with memory.
Photo: Johannes Eisele/AFP via Getty Images
Surprising Science
Researchers at UT Southwestern observed a stark improvement in memory after cardiovascular exercise.
The year-long study included 30 seniors who all had some form of memory impairment.
The group of seniors that only stretched for a year did not fair as well in memory tests.
Videos
According to a man that knows more than 20 languages, the key is to start in the middle.
Scroll down to load more…