A Curious Map Showing Europe as a Queen
Spain is the head, Lithuania the left knee - you get the idea
23 July, 2010
Europe and Queen were two pretty awful soft metal bands from the Eighties. Fortunately, neither has anything to do with this anthropomorphic map of Europe as a queen, also known as Europa regina.
---
The map was made in 1570 in Basel (Switzerland) by cartographer Sebastian Munster. During the late 16th century, a few map makers created this type of map, wherein countries and continents were given human or animal forms. Among the earliest examples is this map of Europa by Munster, which appeared in his Cosmography.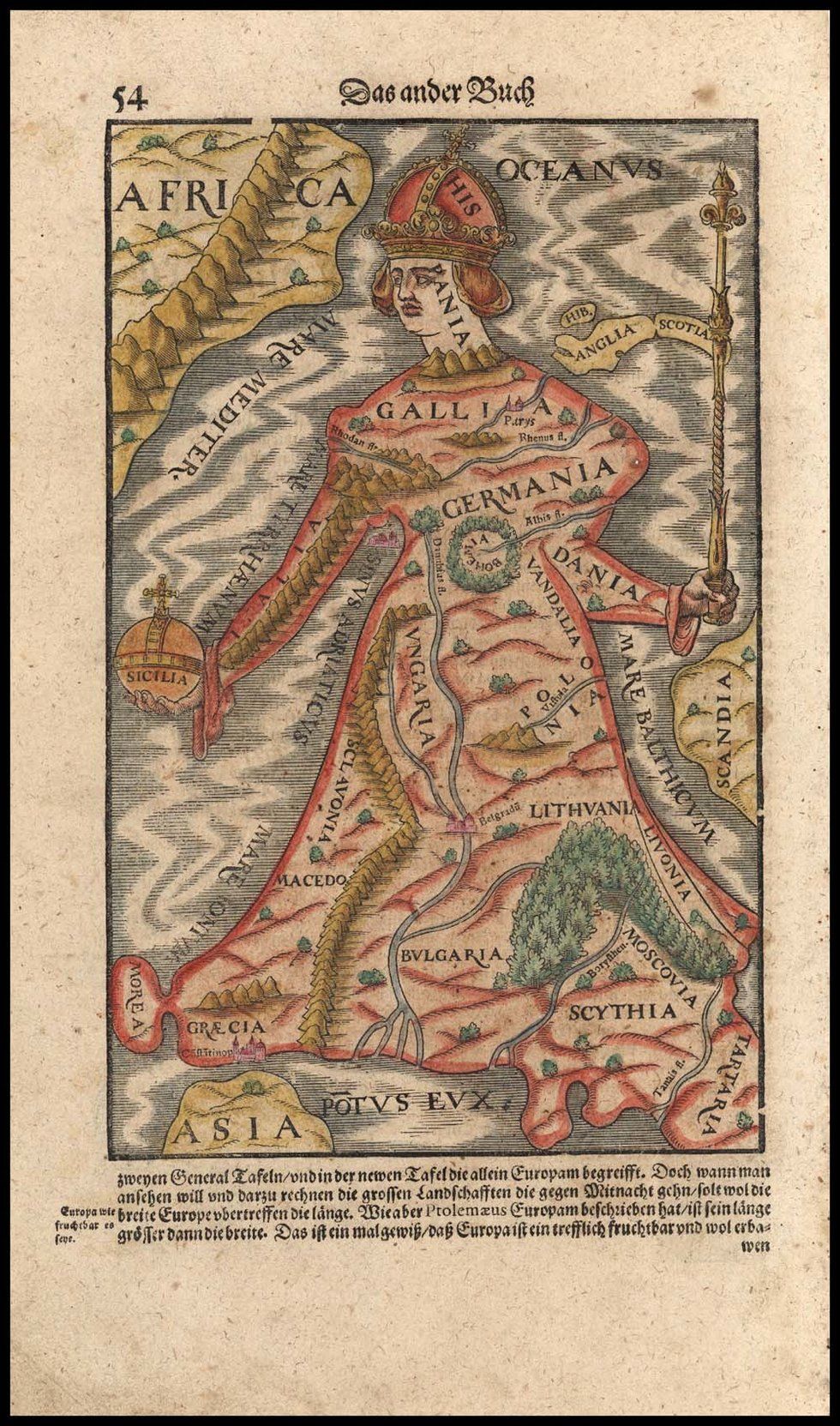 It's unclear whether the correspondence between these nations and body parts is indicative of some kind of hierarchy among European states:
HISPANIA (Spain) constitutes the head of Europe;
GALLIA (France) is the upper chest;
GERMANIA is the bosom;
ITALIA is Europe's right arm, with SICILIA being the globus cruciger, the cross-bearing orb signifying worldly power throughout the Middle Ages;
DANIA (Denmark) is the left arm of Europe, holding what appears to be a ceremonial sword, another classic piece of regalia;
BOHEMIA (the Czech lands) is a circular area close to Europe's stomach;
VNGARIA (Hungary) and SCLAVONIA (land of the southern Slavs) are the right thigh and and VANDALIA (probably a reference to the Wends, a collective name for Slavic peoples in present-day eastern Germany) and POLONIA form the left thigh of Europe;
LITHVANIA must be about the spot of Europe's left knee;
LIVONIA, MACEDONIA , BVLGARIA, MOSCOVIA, MOREA (the mediaeval name for the Peloponnese peninsula), GRAECIA, SCYTHIA (present-day Bulgaria), TARTARIA (parts of present-day Russia) are folds ever further down Europe's flowing red dress.
Map, and more background here at Wikipedia.
Strange Maps #141
Got a strange map? Let me know at strangemaps@gmail.com.
What can 3D printing do for medicine? The "sky is the limit," says Northwell Health researcher Dr. Todd Goldstein.
Northwell Health
Sponsored by Northwell Health
Medical professionals are currently using 3D printers to create prosthetics and patient-specific organ models that doctors can use to prepare for surgery.
Eventually, scientists hope to print patient-specific organs that can be transplanted safely into the human body.
Northwell Health, New York State's largest health care provider, is pioneering 3D printing in medicine in three key ways.
Neuroscience is working to conquer some of the human body's cruelest conditions: Paralysis, brain disease, and schizophrenia.
Videos
Neuroscience and engineering are uniting in mind-blowing ways that will drastically improve the quality of life for people with conditions like epilepsy, paralysis or schizophrenia.
Researchers have developed a brain-computer interface the size of a baby aspirin that can restore mobility to people with paralysis or amputated limbs. It rewires neural messages from the brain's motor cortex to a robotic arm, or reroutes it to the person's own muscles.
Deep brain stimulation is another wonder of neuroscience that can effectively manage brain conditions like epilepsy, Parkinson's, and may one day mitigate schizophrenia so people can live normal, independent lives.
As Game of Thrones ends, a revealing resolution to its perplexing geography.
Strange Maps
The fantasy world of Game of Thrones was inspired by real places and events.
But the map of Westeros is a good example of the perplexing relation between fantasy and reality.
Like Britain, it has a Wall in the North, but the map only really clicks into place if you add Ireland.
A recent study gives new meaning to the saying "fake it 'til you make it."
Pixabay
Surprising Science
The study involves four experiments that measured individuals' socioeconomic status, overconfidence and actual performance.
Results consistently showed that high-class people tend to overestimate their abilities.
However, this overconfidence was misinterpreted as genuine competence in one study, suggesting overestimating your abilities can have social advantages.
Big think's weekly newsletter.
Get smarter faster from the comfort of your inbox.
See our newsletter privacy policy
here
Most Popular
Most Recent
Big think's weekly newsletter.
Get smarter faster from the comfort of your inbox.
See our newsletter privacy policy
here
© Copyright 2007-2019 & BIG THINK, BIG THINK EDGE,
SMARTER FASTER trademarks owned by The Big Think, Inc. All rights reserved.
//This will actually fire event. Should be called after consent was verifed