A Curious Map Showing Europe as a Queen
Spain is the head, Lithuania the left knee - you get the idea
23 July, 2010
Europe and Queen were two pretty awful soft metal bands from the Eighties. Fortunately, neither has anything to do with this anthropomorphic map of Europe as a queen, also known as Europa regina.
---
The map was made in 1570 in Basel (Switzerland) by cartographer Sebastian Munster. During the late 16th century, a few map makers created this type of map, wherein countries and continents were given human or animal forms. Among the earliest examples is this map of Europa by Munster, which appeared in his Cosmography.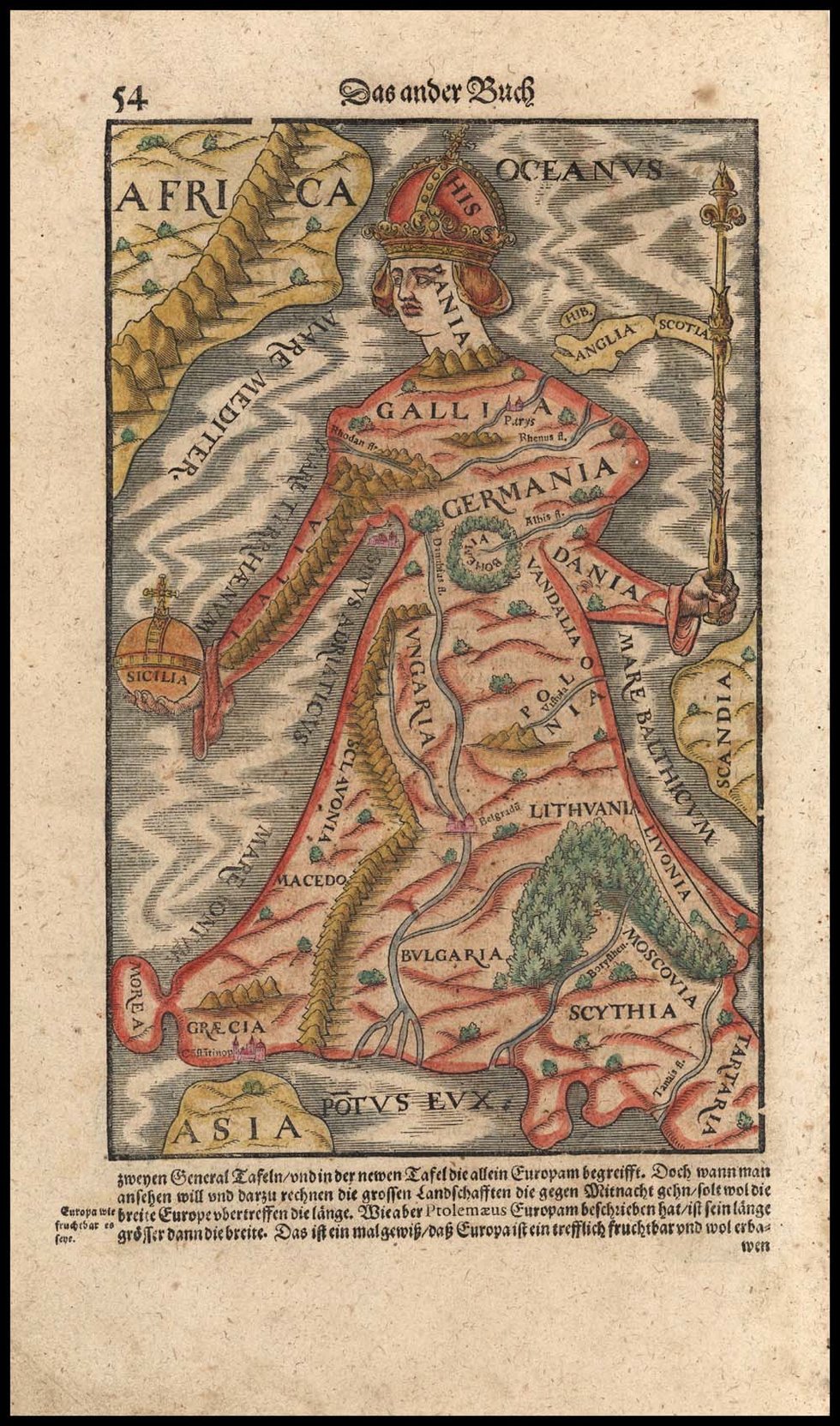 It's unclear whether the correspondence between these nations and body parts is indicative of some kind of hierarchy among European states:
HISPANIA (Spain) constitutes the head of Europe;
GALLIA (France) is the upper chest;
GERMANIA is the bosom;
ITALIA is Europe's right arm, with SICILIA being the globus cruciger, the cross-bearing orb signifying worldly power throughout the Middle Ages;
DANIA (Denmark) is the left arm of Europe, holding what appears to be a ceremonial sword, another classic piece of regalia;
BOHEMIA (the Czech lands) is a circular area close to Europe's stomach;
VNGARIA (Hungary) and SCLAVONIA (land of the southern Slavs) are the right thigh and and VANDALIA (probably a reference to the Wends, a collective name for Slavic peoples in present-day eastern Germany) and POLONIA form the left thigh of Europe;
LITHVANIA must be about the spot of Europe's left knee;
LIVONIA, MACEDONIA , BVLGARIA, MOSCOVIA, MOREA (the mediaeval name for the Peloponnese peninsula), GRAECIA, SCYTHIA (present-day Bulgaria), TARTARIA (parts of present-day Russia) are folds ever further down Europe's flowing red dress.
Map, and more background here at Wikipedia.
Strange Maps #141
Got a strange map? Let me know at strangemaps@gmail.com.
Lumina Foundation is partnering with Big Think to unearth the next large-scale, rapid innovation in post-high school education. Enter the competition here!
"I should be as happy as I'm ever going to be right now, but I'm not. Is this it?"
Personal Growth
The life choices that had led me to be sitting in a booth underneath a banner that read "Ask a Philosopher" – at the entrance to the New York City subway at 57th and 8th – were perhaps random but inevitable.

Researchers believe that the practice of sleeping through the whole night didn't really take hold until just a few hundred years ago.
The Bed by Henri de Toulouse-Lautrec.
Surprising Science
She was wide awake and it was nearly two in the morning. When asked if everything was alright, she said, "Yes." Asked why she couldn't get to sleep she said, "I don't know." Neuroscientist Russell Foster of Oxford might suggest she was exhibiting "a throwback to the bi-modal sleep pattern." Research suggests we used to sleep in two segments with a period of wakefulness in-between.
The assumption "that without memory, there can be no self" is wrong, say researchers.
Photo credit: Darren Hauck / Getty Images
Mind & Brain
In the past when scholars have reflected on the psychological impact of dementia they have frequently referred to the loss of the "self" in dramatic and devastating terms, using language such as the "unbecoming of the self" or the "disintegration" of the self. In a new review released as a preprint at PsyArXiv, an international team of psychologists led by Muireann Irish at the University of Sydney challenge this bleak picture which they attribute to the common, but mistaken, assumption "that without memory, there can be no self" (as encapsulated by the line from Hume: "Memory alone… 'tis to be considered… as the source of personal identity").
Big think's weekly newsletter.
Get smarter faster from the comfort of your inbox.
See our newsletter privacy policy
here
Most Popular
Most Recent
Big think's weekly newsletter.
Get smarter faster from the comfort of your inbox.
See our newsletter privacy policy
here
© Copyright 2007-2018 & BIG THINK, BIG THINK EDGE,
SMARTER FASTER trademarks owned by The Big Think, Inc. All rights reserved.