The Great Australian Inland Sea
If other continents have large inland river systems, why wouldn't Australia?
23 July, 2010
The Americas have the Mississippi and the Amazon, Africa has the Nile and Asia has the Ganges and the Mekong, among others. So why wouldn't Australia have a large river system – or an inland sea?
---
Early surveyors of the unexplored centre and west of Australia, fanning out from the earlier settled east, kept on the lookout for Australia's Amazon, or at least a large body of water, possibly connected to the outside ocean.
In 1827, former East India Company officer Thomas J. Maslen published this map of that inland sea in his book The Friend of Australia, which provided instructions for surveying and exploring the island-continent's interior.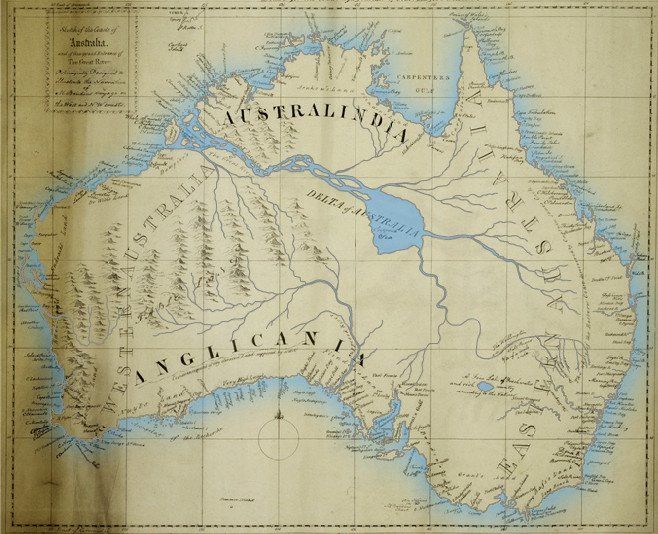 In retrospect, those instructions aren't very useful; Maslen extrapolated the Macquarie and Castlereagh Rivers as headwaters of a huge river flowing across Australia into the Indian Ocean at Australia's nort-west coast. This river separated a northern land-mass (labelled 'Australindia') from a southern one (named 'Anglicana').
It took a few more decades for the explorers to realise that Australia's interior is extremely hot, dry, waterless and deadly. In the mid-nineteenth century, the 'Dead Heart of Australia' became part of the explorers' and settlers' vocabulary.
Map found here on a gorgeous blog called Bibliodyssey, devoted to "books, illustrations, science, history, visual materia obscura, eclectic bookart", which includes some very curious maps, such as this one.
Strange Maps #140
Got a strange map? Let me know at strangemaps@gmail.com.
We are constantly trying to force the world to look like us — we need to move on.
Videos
When the Berlin Wall fell in 1989, many Americans jumped for joy. At the time, some believed there weren't going to be any more political disagreements anywhere in the world. They thought American democracy had won the "war of ideas."
American exceptionalism has sought to create a world order that's really a mirror image of ourselves — a liberal world order founded on the DNA of American thinking. To many abroad this looks like ethnic chauvinism.
We need to move on from this way of thinking, and consider that sometimes "problem-solving," in global affairs, means the world makes us look like how it wants to be.
Scientists make an important discovery for the future of computing.
Pixabay
Surprising Science
Researchers find a new state of matter called "topological superconductivity".
The state can lead to important advancements in quantum computing.
Utilizing special particles that emerge during this state can lead to error-free data storage and blazing calculation speed.
French newspapers report that the trial hasn't lived up to expectations.
Image source: Charly Triballeau / AFP / Getty Images
Technology & Innovation
The French government initially invested in a rural solar roadway in 2016.
French newspapers report that the trial hasn't lived up to expectations.
Solar panel "paved" roadways are proving to be inefficient and too expensive.