The Schlieffen Plan, Blueprint for German Victory
Failed in both world wars
Frank Jacobs
From a young age, Frank was fascinated by maps and atlases, and the stories they contained. Finding his birthplace on the map in the endpapers of Tolkien's Lord of the Rings only increased his interest in the mystery and message of maps.
While pursuing a career in journalism, Frank started a blog called Strange Maps, as a repository for the weird and wonderful cartography he found hidden in books, posing as everyday objects and (of course) floating around the Internet.
"Each map tells a story, but the stories told by your standard atlas for school or reference are limited and literal: they show only the most practical side of the world, its geography and its political divisions. Strange Maps aims to collect and comment on maps that do everything but that - maps that show the world from a different angle".
A remit that wide allows for a steady, varied diet of maps: Frank has been writing about strange maps since 2006, published a book on the subject in 2009 and joined Big Think in 2010. Readers send in new material daily, and he keeps bumping in to cartography that is delightfully obscure, amazingly beautiful, shockingly partisan, and more.
23 July, 2010
In 1905, count Alfred von Schlieffen, Chief of Staff of the German Army, developed a plan to win the impending war with France and Russia. In the time it would take Russia to mobilise, a swift campaign on the Western front would defeat France, allowing the troops to then be shipped to the Eastern front. Thus, a Blitzkrieg ('lightning war') in the West would prevent a 'Zweifrontenkrieg' (a war on two fronts) and ensure a German victory.
---
Shortly before the outbreak of the war in 1914, Schlieffen's successor count Helmut von Moltke adapted the plan: German forces would attack France from the north and south, squeezing the French into submission and subsequently meeting at Paris. This adaptation required invading neutral Belgium, which as it turned out would result in Britain declaring war on Germany – upgrading what already was a big continental war into the First World War.
The Schlieffen Plan didn't work as foreseen: the German offensive came to a standstill at the Marne, the Russians mobilised quicker than the Germans thought and invaded East Prussia. Germany's Western offensive didn't prove to be the 'Blitzkrieg' they thought it would be. The war ground to a halt and became a deadly stalemate for the next three years.
And yet, the Germans fought the Second World War broadly along the lines of the Schlieffen Plan. In 1940, the 'Blitzkrieg' did go according to plan: France and the Benelux were defeated in a matter of weeks – but the Eastern campaign proved disastrous, and All was less than Quiet on the Western front… perhaps proving the dictum that each war is fought with the tactics best suited for the previous one. Or something like that.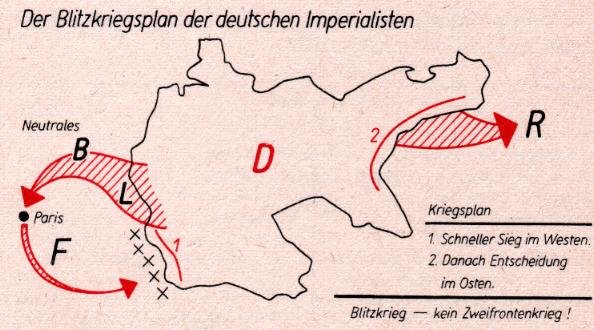 Strange Maps #138 
Got a strange map? Let me know at strangemaps@gmail.com.
Related Articles
Both schizophrenics and people with a common personality type share similar brain patterns.
(shutterstock)
Mind & Brain
A new study shows that people with a common personality type share brain activity with patients diagnosed with schizophrenia.
The study gives insight into how the brain activity associated with mental illnesses relates to brain activity in healthy individuals.
This finding not only improves our understanding of how the brain works but may one day be applied to treatments.
It's a development that could one day lead to much better treatments for osteoporosis, joint damage, and bone fractures.
Image: Nissim Benvenisty
Surprising Science
Scientists have isolated skeletal stem cells in adult and fetal bones for the first time.
These cells could one day help treat damaged bone and cartilage.
The team was able to grow skeletal stem cells from cells found within liposuctioned fat.
Gut bacteria play an important role in how you feel and think and how well your body fights off disease. New research shows that exercise can give your gut bacteria a boost.
National Institutes of Health
Surprising Science
Two studies from the University of Illinois show that gut bacteria can be changed by exercise alone.
Our understanding of how gut bacteria impacts our overall health is an emerging field, and this research sheds light on the many different ways exercise affects your body.
Exercising to improve your gut bacteria will prevent diseases and encourage brain health.
Big think's weekly newsletter.
Get smarter faster from the comfort of your inbox.
See our newsletter privacy policy
here
Most Popular
Most Recent
Big think's weekly newsletter.
Get smarter faster from the comfort of your inbox.
See our newsletter privacy policy
here
© Copyright 2007-2018 & BIG THINK, BIG THINK EDGE,
SMARTER FASTER trademarks owned by The Big Think, Inc. All rights reserved.