Map Shows How Communism Threatened 1950s Europe
A tilt in the usual orientation shows Moscow in a much more threatening perspective
23 July, 2010
Perspective and the right choice of colours can help to infuse a map with meaning, this one being a very good example. The map is entitled Europe From Moscow, and was featured in the Time Magazine issue of March 10, 1952.
---
At that time, the world was dominated by the Cold War between the Soviet Union and the United States. Even though the Nazis were defeated less than a decade ago, it seemed Europe – divided between American allies in the west and Soviet satellite states in the east – could become a theatre of war, if the Soviets were to push into Western Europe and 'finish the job' they started by virtually annexing the Eastern European countries they conquered in the Second World War.
Those countries are shaded in a lighter tone of red in this map, thus underlining the image of Communism seeping into Europe from Russia, making the 'uncontaminated' parts of Europe look threatened.
"The effective psychological strategy demonstrated by this map is an illustration of the powerfully innovative propaganda work achieved by R.M.Chapin, the primary cartographer for political maps in Time," says the Newberry Library in Chicago about this map.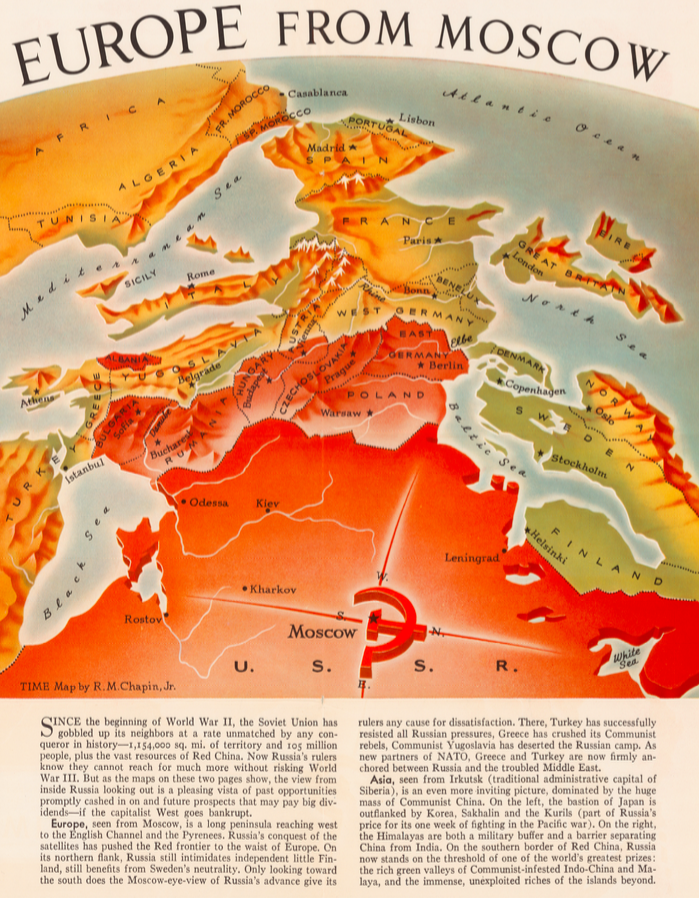 Strange Maps #103
Got a strange map? Let me know at strangemaps@gmail.com.
Research in plant neurobiology shows that plants have senses, intelligence and emotions.
Getty Images
Surprising Science
The field of plant neurobiology studies the complex behavior of plants.
Plants were found to have 15-20 senses, including many like humans.
Some argue that plants may have awareness and intelligence, while detractors persist.
E-cigarettes may be safer than traditional cigarettes, but they come with their own risks.
Surprising Science
A new study used an MRI machine to examine how vaping e-cigarettes affects users' cardiovascular systems immediately after inhalation.
The results showed that vaping causes impaired circulation, stiffer arteries and less oxygen in their blood.
The new study adds to a growing body of research showing that e-cigarettes – while likely safer than traditional cigarettes – are far from harmless.
Since the idea of locality is dead, space itself may not be an aloof vacuum: Something welds things together, even at great distances.

Videos
Realists believe that there is an exactly understandable way the world is — one that describes processes independent of our intervention. Anti-realists, however, believe realism is too ambitious — too hard. They believe we pragmatically describe our interactions with nature — not truths that are independent of us.
In nature, properties of Particle B may be depend on what we choose to measure or manipulate with Particle A, even at great distances.
In quantum mechanics, there is no explanation for this. "It just comes out that way," says Smolin. Realists struggle with this because it would imply certain things can travel faster than light, which still seems improbable.