New study reveals alarming shortage of mental health professionals in rural America
In rural America, the odds of having access to a specialized mental health professional are slim, according to new research.
25 June, 2018
---
In rural America, the odds of having access to a specialized mental health professional are slim, according to new research.
A study published in the American Journal of Preventive Medicine examined how mental health care professionals are distributed across the country, revealing that 65 percent of rural counties don't have a psychiatrist, 47 percent don't have a psychologist, and 81 percent don't have a psychiatric nurse practitioner.
It's an alarming scarcity, considering some 6.5 million rural Americans are estimated to have a form of mental illness, according to the Rural Health Information Hub.
"People in rural communities have limited access to the diversity of care they may need. There are very few services offered and people have to travel to reach them," Jackson Rainer, a rural-based clinical psychologist, told CNN. "Typically, the first closest providers are generalists, and there is very little specialized care. There is no community (public) mental health care, and often there are no relevant hospital services within a reasonable distance. So, people are just left on their own."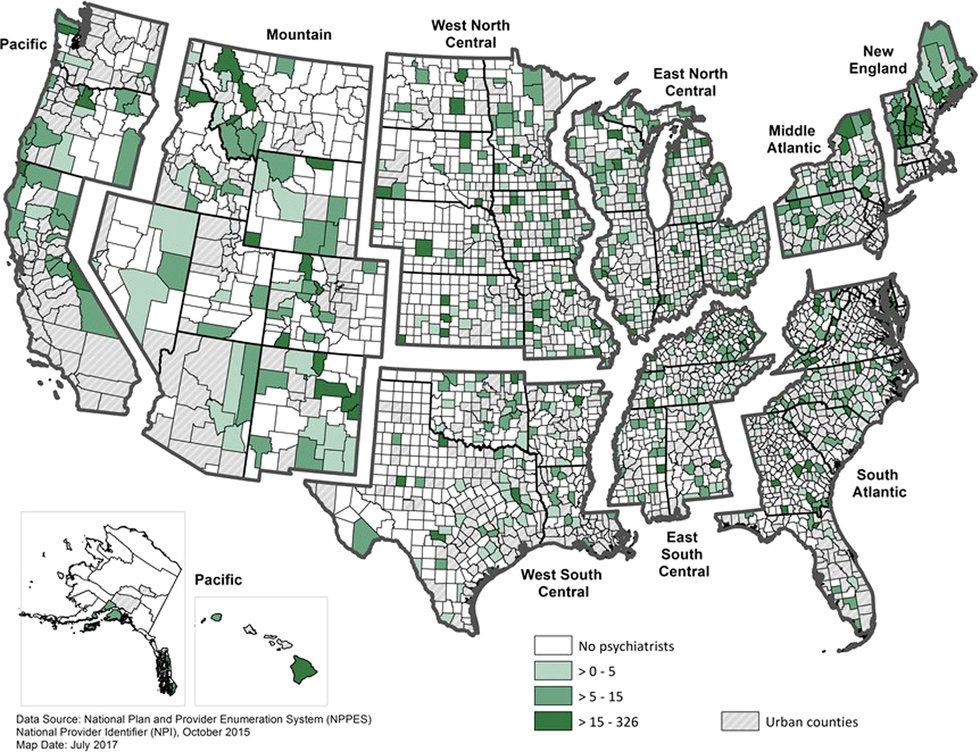 Rural Americans often settle for 'the next best thing'
In a 2016 VICE article called 'Why It's So Hard to get Mental Healthcare in Rural America', Syrena Clark, a woman with schizophrenia living in rural Maine, interviewed Paul Mackie, president of the National Association for Rural Mental Health.
"In rural areas, too often there are too few providers to allow for the 'luxury' of seeking out the services of a specialist—they simply don't exist," Mackie said.
"Depending on how 'rural' one is geographically, access to care and services range from acceptable to nearly impossible," he said. "The last I understood, approximately 90 percent of all psychologists and psychiatrists and 80 percent of clinical social workers are located in urban locations."
What's more, laws can prevent mental health professionals from providing services to people who live just miles away yet across a state line. This lack of resources restricts medical professionals to playing a reactionary role.
"[Mental health care] becomes oriented towards crisis intervention, not prevention," Jackson Rainer, a clinical psychologist who has practiced in rural communities, told CNN. "It's, 'let's get rid of your crisis as it's happening.' And if you don't have good insurance or enough money, that's the best you can hope for."
Rainer said that rural areas also typically lack other infrastructure related to mental health care, like shelters, hospitals, and community support groups.
"As a practitioner, I am asked to be the end of the road," he said. "For mental health, I would hope that I would be one piece of a larger puzzle to get people to an improved quality of life, not to be the last resource that they have available."
Other aspects of rural life—job shortages, drug addiction, and isolation—can exacerbate mental health problems, creating a vicious cycle.
"Isolation is a cultural, social and interpersonal response," Rainer said. "When someone feels isolated, they feel diminished and apathetic and are unable to pull resources from their own selves. When it comes to rural mental health, isolation is a particularly dangerous problem."
To address the problem, the study authors said "innovative solutions must be explored," such as using telehealth technologies and implementing behavioral health aides.
What can 3D printing do for medicine? The "sky is the limit," says Northwell Health researcher Dr. Todd Goldstein.
Northwell Health
Sponsored by Northwell Health
Medical professionals are currently using 3D printers to create prosthetics and patient-specific organ models that doctors can use to prepare for surgery.
Eventually, scientists hope to print patient-specific organs that can be transplanted safely into the human body.
Northwell Health, New York State's largest health care provider, is pioneering 3D printing in medicine in three key ways.
New computing theory allows artificial intelligences to store memories.
Credit: Perception and Robotics Group, University of Maryland.
Technology & Innovation
To become autonomous, robots need to perceive the world around them and move at the same time.
Researchers create a theory of hyperdimensional computing to help store robot movement in high-dimensional vectors.
This improvement in perception will allow artificial intelligences to create memories.
If you don't want to know anything about your death, consider this your spoiler warning.
Culture & Religion
For centuries cultures have personified death to give this terrifying mystery a familiar face.
Modern science has demystified death by divulging its biological processes, yet many questions remain.
Studying death is not meant to be a morbid reminder of a cruel fate, but a way to improve the lives of the living.
Riots may ensue as more poor Americans recognize their "miserable" long-term prospects.
Videos
How bad is wealth inequality in the United States? About 1 percent of Americans hold 80 percent of the money.
In the United States, the correlation between the income of parents and the income of their children when they grow up is higher than in any other country in the world.
One of the big underlying reasons for poverty is receiving a crummy education, which in turn leads to crummy jobs. When people recognize their miserable long-term prospects, they are more likely to partake in riots.
Big think's weekly newsletter.
Get smarter faster from the comfort of your inbox.
See our newsletter privacy policy
here
Most Popular
Most Recent
Big think's weekly newsletter.
Get smarter faster from the comfort of your inbox.
See our newsletter privacy policy
here
© Copyright 2007-2019 & BIG THINK, BIG THINK EDGE,
SMARTER FASTER trademarks owned by The Big Think, Inc. All rights reserved.