New study reveals alarming shortage of mental health professionals in rural America
In rural America, the odds of having access to a specialized mental health professional are slim, according to new research.
25 June, 2018
(Credit: Andrilla et al.)
---
In rural America, the odds of having access to a specialized mental health professional are slim, according to new research.
A study published in the American Journal of Preventive Medicine examined how mental health care professionals are distributed across the country, revealing that 65 percent of rural counties don't have a psychiatrist, 47 percent don't have a psychologist, and 81 percent don't have a psychiatric nurse practitioner.
It's an alarming scarcity, considering some 6.5 million rural Americans are estimated to have a form of mental illness, according to the Rural Health Information Hub.
"People in rural communities have limited access to the diversity of care they may need. There are very few services offered and people have to travel to reach them," Jackson Rainer, a rural-based clinical psychologist, told CNN. "Typically, the first closest providers are generalists, and there is very little specialized care. There is no community (public) mental health care, and often there are no relevant hospital services within a reasonable distance. So, people are just left on their own."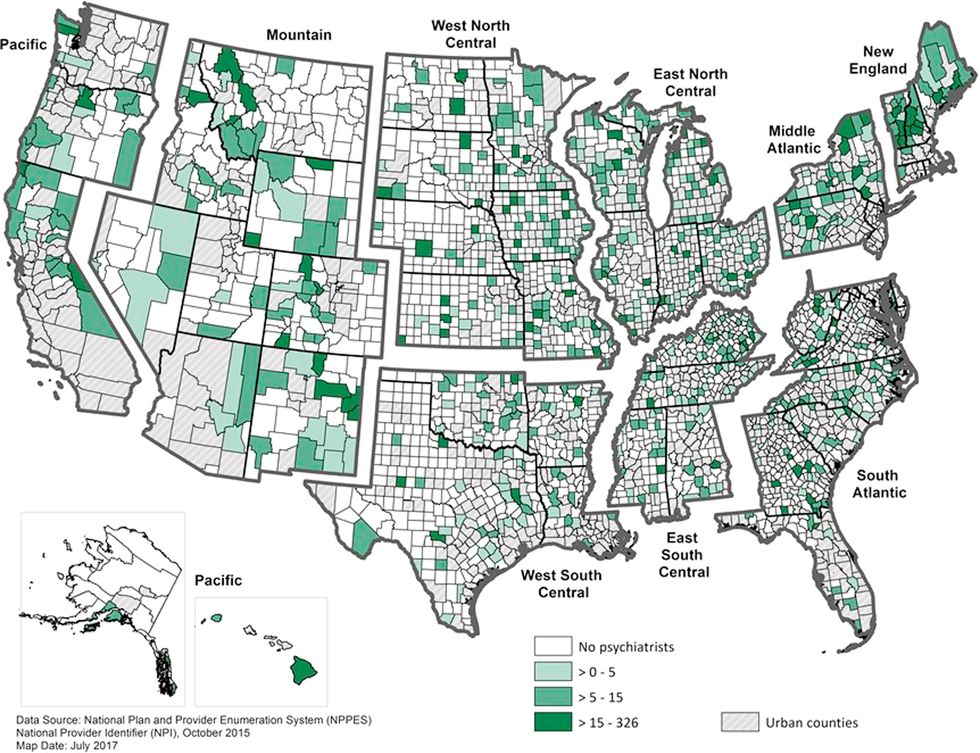 Rural Americans often settle for 'the next best thing'
In a 2016 VICE article called 'Why It's So Hard to get Mental Healthcare in Rural America', Syrena Clark, a woman with schizophrenia living in rural Maine, interviewed Paul Mackie, president of the National Association for Rural Mental Health.
"In rural areas, too often there are too few providers to allow for the 'luxury' of seeking out the services of a specialist—they simply don't exist," Mackie said.
"Depending on how 'rural' one is geographically, access to care and services range from acceptable to nearly impossible," he said. "The last I understood, approximately 90 percent of all psychologists and psychiatrists and 80 percent of clinical social workers are located in urban locations."
What's more, laws can prevent mental health professionals from providing services to people who live just miles away yet across a state line. This lack of resources restricts medical professionals to playing a reactionary role.
"[Mental health care] becomes oriented towards crisis intervention, not prevention," Jackson Rainer, a clinical psychologist who has practiced in rural communities, told CNN. "It's, 'let's get rid of your crisis as it's happening.' And if you don't have good insurance or enough money, that's the best you can hope for."
Rainer said that rural areas also typically lack other infrastructure related to mental health care, like shelters, hospitals, and community support groups.
"As a practitioner, I am asked to be the end of the road," he said. "For mental health, I would hope that I would be one piece of a larger puzzle to get people to an improved quality of life, not to be the last resource that they have available."
Other aspects of rural life—job shortages, drug addiction, and isolation—can exacerbate mental health problems, creating a vicious cycle.
"Isolation is a cultural, social and interpersonal response," Rainer said. "When someone feels isolated, they feel diminished and apathetic and are unable to pull resources from their own selves. When it comes to rural mental health, isolation is a particularly dangerous problem."
To address the problem, the study authors said "innovative solutions must be explored," such as using telehealth technologies and implementing behavioral health aides.
To create wiser adults, add empathy to the school curriculum.
Sponsored by Charles Koch Foundation
Stories are at the heart of learning, writes Cleary Vaughan-Lee, Executive Director for the Global Oneness Project. They have always challenged us to think beyond ourselves, expanding our experience and revealing deep truths.
Vaughan-Lee explains 6 ways that storytelling can foster empathy and deliver powerful learning experiences.
Global Oneness Project is a free library of stories—containing short documentaries, photo essays, and essays—that each contain a companion lesson plan and learning activities for students so they can expand their experience of the world.
Philosophers like to present their works as if everything before it was wrong. Sometimes, they even say they have ended the need for more philosophy. So, what happens when somebody realizes they were mistaken?
Just before I turned 60, I discovered that sharing my story by drawing could be an effective way to both alleviate my symptoms and combat that stigma.
Photo by JJ Ying on Unsplash
Mind & Brain
I've lived much of my life with anxiety and depression, including the negative feelings – shame and self-doubt – that seduced me into believing the stigma around mental illness: that people knew I wasn't good enough; that they would avoid me because I was different or unstable; and that I had to find a way to make them like me.
A joint study by two England universities explores the link between sex and cognitive function with some surprising differences in male and female outcomes in old age.
Mind & Brain
A joint study by the universities of Coventry and Oxford in England has linked sexual activity with higher cognitive abilities in older age.
The results of this study suggest there are significant associations between sexual activity and number sequencing/word recall in men. In women, however, there was a significant association between sexual activity in word recall alone - number sequencing was not impacted.
The differences in testosterone (the male sex hormone) and oxytocin (a predominantly female hormone) may factor into why the male cognitive level changes much more during sexual activity in older age.
Technology & Innovation
Mathematicians studied 100 billion tweets to help computer algorithms better understand our colloquial digital communication.
Scroll down to load more…