Does smoking weed make people creative, or do creative people smoke weed?
A new study investigates if pot smokers outperformed nonsmokers in creativity.
28 November, 2017
Does marijuana boost creativity, or are creative people drawn to marijuana more than others?
---
A new study published in the journal Consciousness and Cognition suggests the latter: The results showed that pot smokers (sober at the time) outperformed nonsmokers at one of the two tests researchers used to measure creativity, and that the difference in creativity is most likely due to personality traits rather than pot itself. The study worked like this:
Researchers used the Big 5 model of personality to measure the personality traits of 979 undergraduate students. They then asked the group to self-report their own levels of creativity, and also objectively measured creativity among the students using two separate tests.
Two kinds of creative thought processes were measured to assess participants' levels of creativity:
Divergent thinking — a thought process used to generate many possible solutions to a problem, like brainstorming. To measure divergent thinking, participants were asked to complete the Alternate Uses Test, in which they had one minute to generate as many uses for common objects as they could imagine.
Convergent thinking — a thought process that involves judging a finite number of solutions to arrive at one "correct" answer, like a multiple choice test. To measure convergent thinking, participants completed a Remote Associates Test, which "consists of three unrelated stimulus words, which are associated with a solution word." For instance, the solution word for "cottage," "Swiss," and "cake" would be "cheese."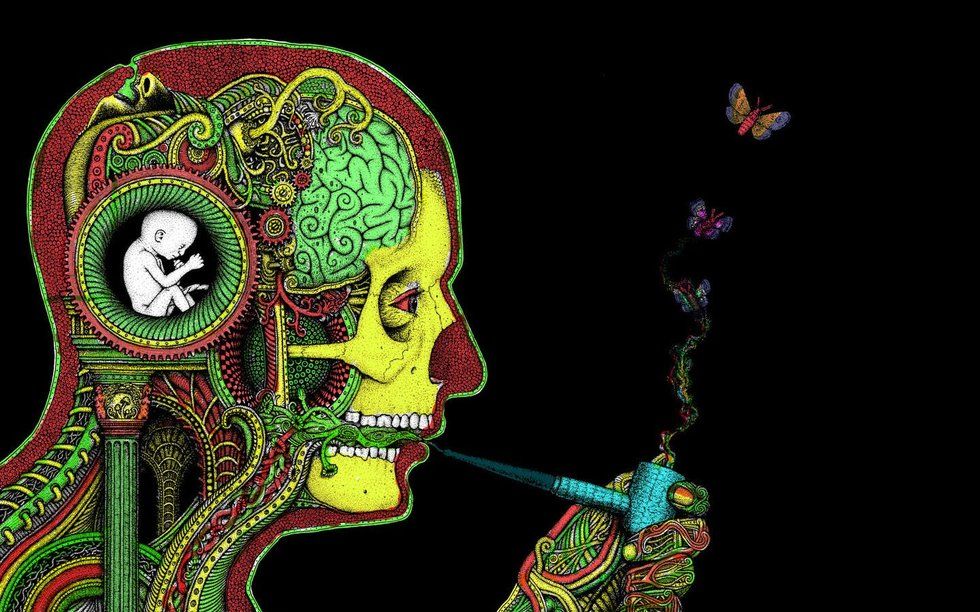 The results showed that, while there was no significant difference between the two groups on the divergent thinking test, cannabis users outperformed non-users on the Remote Associates Test that measured convergent thinking.
What's causing stoners to excel in this dimension of creativity? It's mainly a personality trait called "openness to experience." The researchers suggested:
"While mainstream media has propagated the idea that cannabis expands the mind and enhances creativity, our results show that the link between cannabis and creativity is largely a spurious correlation driven by differences in personality (i.e., openness to experience) that are related to both cannabis use and augmented creativity."
As one of the dimensions in the Big 5 model of personality, openness to experience is characterized by active imagination (fantasy), aesthetic sensitivity, attentiveness to inner feelings, preference for variety, and intellectual curiosity. People high in this trait are also more likely to be liberal, extraverted, and tolerant of diversity.
Ultimately, the results don't necessarily suggest that marijuana use has no effect on creativity.
"The answer isn't black and white," said Dr. Alice Weaver Flaherty, a neurologist at Massachusetts General Hospital and professor at Harvard Medical School who specializes in deep brain stimulation and the brain's relationship with creativity, to Artsy. "Marijuana is a stimulant. And most stimulants, in the short term anyway, boost output of all kinds."
Flaherty argues that the question of whether marijuana use boosts creativity largely depends on the personality of the artist.
"A very anxious creative person may get some benefit from cannabis. In calming them down, it could help their creativity," Flaherty said. "But for someone who's already in the zone, and who's not too anxious to work, it might push them into a place of being too laid back."
Pot in the Creative Process
Looking beyond the scientific literature and into firsthand accounts, many artists claim marijuana plays a key role in their creative process. Alanis Morisette said smoking pot was a great way to get "clarity" and new perspectives when writing songs. Steve Jobs claimed smoking pot made him feel "relaxed and creative." And comedian George Carlin deemed weed a "value-changing" drug that could open up "doors of perception," as Alexxa Gotthardt notes in her article for Artsy.
Gotthardt's article also features an interview with artist Gina Beavers, who proposed something that seems key in this debate about drugs and creativity: Getting high can sometimes be good for the idea-generation part of the creative process, not necessarily the execution of those ideas.
"If I smoke weed and then go to bed, I'll have mild hallucinatory effects as I'm drifting off to sleep and get creative ideas...A few times, I've been mulling over how to solve some issue and weed will give me ideas, but not always ones I go with. I have to wait and look at the solutions in the light of day."
Considering the plethora of mind-altering substances in the world — from Ayahuasca to Budweiser — should we think there's anything special about marijuana when it comes to creativity? Couldn't alcohol help artists be more creative, too?
Possibly. One hypothesis is that, because drugs can lower our inhibitions, they help to silence the self-editor that tends to harshly criticize what we create, allowing us to overcome writer's block or simply the fear of creation.
Jason White, a Nashville-based singer-songwriter who likes to compose songs while drinking a glass of bourbon on his front porch, summed it up like this:
"I'm drinking to stop the noise in my head so I can express what I'm feeling in my heart."
There's an interesting caveat to White's career: Although he was more of a whiskey drinker than a pot smoker, his biggest success in songwriting was influenced by marijuana and not alcohol, as Adam Wernick and Michael May wrote for PRI:
"Years ago, a friend left a marijuana bud on his coffee table. White wasn't a pot smoker, but he popped it into a corncob pipe, lit it up, and in forty minutes wrote a song called Red Ragtop. The song became a huge hit for country singer Tim McGraw."
For some more info, watch this:
As religious diversity increases in the United States, we must learn to channel religious identity into interfaith cooperation.
Sponsored by Charles Koch Foundation
Religious diversity is the norm in American life, and that diversity is only increasing, says Eboo Patel.
Using the most painful moment of his life as a lesson, Eboo Patel explains why it's crucial to be positive and proactive about engaging religious identity towards interfaith cooperation.
The opinions expressed in this video do not necessarily reflect the views of the Charles Koch Foundation, which encourages the expression of diverse viewpoints within a culture of civil discourse and mutual respect.
Here's why you might eat greenhouse gases in the future.
Technology & Innovation
The company's protein powder, "Solein," is similar in form and taste to wheat flour.
Based on a concept developed by NASA, the product has wide potential as a carbon-neutral source of protein.
The man-made "meat" industry just got even more interesting.
When it comes to sniffing out whether a source is credible or not, even journalists can sometimes take the wrong approach.
Sponsored by Charles Koch Foundation
We all think that we're competent consumers of news media, but the research shows that even journalists struggle with identifying fact from fiction.
When judging whether a piece of media is true or not, most of us focus too much on the source itself. Knowledge has a context, and it's important to look at that context when trying to validate a source.
The opinions expressed in this video do not necessarily reflect the views of the Charles Koch Foundation, which encourages the expression of diverse viewpoints within a culture of civil discourse and mutual respect.