Archaeologists discover 3,200-year-old cheese in ancient Egyptian tomb
A team of archaeologists has discovered 3,200-year-old cheese after analyzing artifacts found in an ancient Egyptian tomb. It could be the oldest known cheese sample in the world.
20 August, 2018
The broken jar in which the white mass of cheese was found. (Photo: University of Catania and Cairo University)
---
A team of archaeologists has discovered 3,200-year-old cheese after analyzing artifacts found in an ancient Egyptian tomb. It could be the oldest known cheese sample in the world.
The tomb that held the cheese lies in the desert sands south of Cairo. It was first discovered in the 19th century by treasure hunters, who eventually lost the knowledge of its location, leaving the Saharan sands to once again conceal the tomb.
"Since 1885 the tomb has been covered in sand and no-one knew about it," Professor Ola el-Aguizy of Cairo University told the BBC. "It is important because this tomb was the lost tomb."
In 2010, a team of archaeologists rediscovered the tomb, which belonged to Ptahmes, a mayor and military chief of staff of the Egyptian city of Memphis in the 13th century B.C. In the tomb, the team found a jar containing a "solidified whitish mass," among other artifacts.
"The archaeologists suspected [the mass] was food, according to the conservation method and the position of the finding inside the tomb, but we discovered it was cheese after the first tests," Enrico Greco, the lead author of the paper and a research assistant at Peking University in Beijing, told the The New York Times.
To find out what the substance was, the team had to develop a novel way to analyze the proteins and identify the peptide markers in the samples. They first dissolved parts of the substance and then used mass spectrometry and chromatography to analyze its proteins.
Despite more than 3,000 years spent in the desert, the researchers were able to identify hundreds of peptides (chains of amino acids) in the sample. They found some that were associated with milk from goat, sheep and, interestingly, the African buffalo, a species not usually kept as a domestic animal in modern Africa, as Gizmodo reports.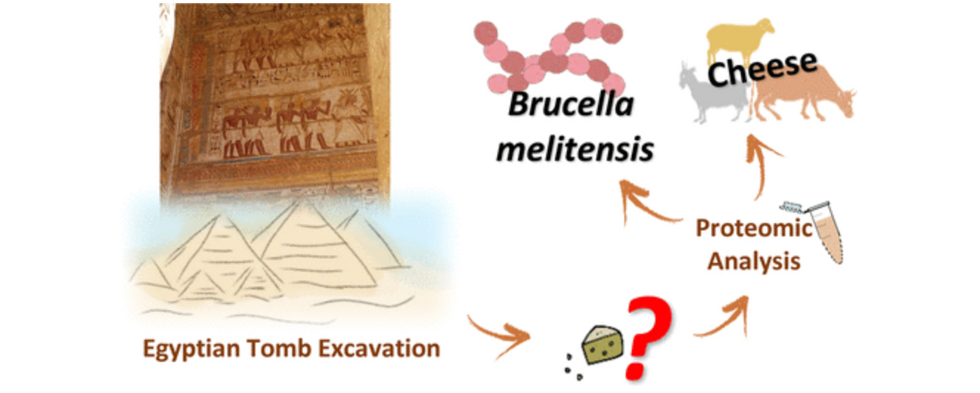 Those results suggested that the substance was cheese, specifically one that was probably similar in consistency to chevre but with a "really, really acidy" taste, as Dr. Paul Kindstedt, a professor at the University of Vermont who studies the chemistry and history of cheese, told the The New York Times.
"It would be high in moisture; it would be spreadable," he said. "It would not last long; it would spoil very quickly."
The researchers also found traces of the bacterium Brucella melitensis, which causes brucellosis, a debilitating disease that can cause endocarditis, arthritis, chronic fatigue, malaise, muscle pain and other conditions. It's a disease usually contracted by consuming raw dairy products.
"The most common way to be infected [with Brucella melitensis] is by eating or drinking unpasteurized/raw dairy products. When sheep, goats, cows, or camels are infected, their milk becomes contaminated with the bacteria," the U.S. Centers for Disease Control wrote on its website. "If the milk from infected animals is not pasteurized, the infection will be transmitted to people who consume the milk and/or cheese products."
Dr. Kindstedt said one reason the study is significant is for its novel use of proteomic analysis, which is the systematic identification and quantification of the complete complement of proteins (the proteome) of a biological system.
"As I say to my students every year when I get to Egypt, someone has to go ahead and analyze these residues with modern capabilities," he told the The New York Times. "This is a logical next step and I think you're going to see a lot more of this."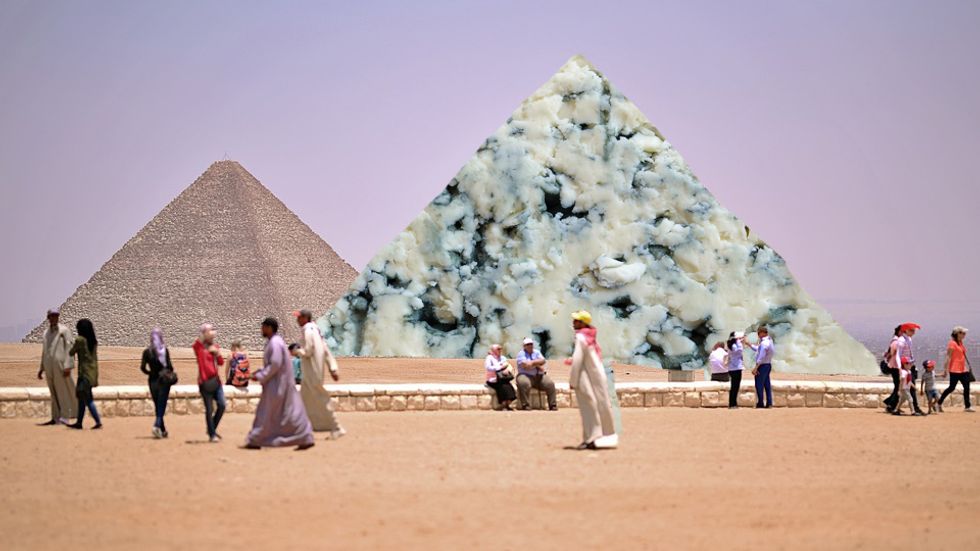 'The Great Pyramid of Chee-za'. An artist's interpretation of a very ripe, slightly deadly Egyptian tomb cheese. (Credit: Creative commons/Big Think)
However, Dr. Kindstedt did offer a bit of caution on the conclusions the researchers drew from the findings.
"The authors of this new study did some nice work," he told Gizmodo in a statement. "But in my view, on multiple grounds (I suspect in their zeal to be "the first"), they inferred considerably beyond what their data is capable of supporting within reasonable certainty, and almost certainly they are not the first to have found solid cheese residues in Egyptian tombs, just the first to apply proteomic analyses (which is worthy achievement on its own)."
To create wiser adults, add empathy to the school curriculum.
Sponsored by Charles Koch Foundation
Stories are at the heart of learning, writes Cleary Vaughan-Lee, Executive Director for the Global Oneness Project. They have always challenged us to think beyond ourselves, expanding our experience and revealing deep truths.
Vaughan-Lee explains 6 ways that storytelling can foster empathy and deliver powerful learning experiences.
Global Oneness Project is a free library of stories—containing short documentaries, photo essays, and essays—that each contain a companion lesson plan and learning activities for students so they can expand their experience of the world.
Philosophers like to present their works as if everything before it was wrong. Sometimes, they even say they have ended the need for more philosophy. So, what happens when somebody realizes they were mistaken?
Just before I turned 60, I discovered that sharing my story by drawing could be an effective way to both alleviate my symptoms and combat that stigma.
Photo by JJ Ying on Unsplash
Mind & Brain
I've lived much of my life with anxiety and depression, including the negative feelings – shame and self-doubt – that seduced me into believing the stigma around mental illness: that people knew I wasn't good enough; that they would avoid me because I was different or unstable; and that I had to find a way to make them like me.
A joint study by two England universities explores the link between sex and cognitive function with some surprising differences in male and female outcomes in old age.
Mind & Brain
A joint study by the universities of Coventry and Oxford in England has linked sexual activity with higher cognitive abilities in older age.
The results of this study suggest there are significant associations between sexual activity and number sequencing/word recall in men. In women, however, there was a significant association between sexual activity in word recall alone - number sequencing was not impacted.
The differences in testosterone (the male sex hormone) and oxytocin (a predominantly female hormone) may factor into why the male cognitive level changes much more during sexual activity in older age.
Technology & Innovation
Mathematicians studied 100 billion tweets to help computer algorithms better understand our colloquial digital communication.
Scroll down to load more…