How China's 'social credit score' will punish and reward citizens
By 2020, China plans to assign each of its 1.4 billion citizens a "social credit score" that could determine what certain people are allowed to do.
25 April, 2018
---
By 2020, China plans to assign each of its 1.4 billion citizens a "social credit score" that will determine what people are allowed to do, and where they rank in society. 
It's part of a broad effort in China to build a so-called reputation system that will measure, in theory, the credibility of government officials and businesses, in addition to citizens. The Chinese government says the system will boost "trust" nationwide and build a culture of "sincerity."
A handful of private data companies are helping the government develop the system. One is a firm called Sesame Credit, which assigns citizens a fluctuating score between 350 and 950 points, based on factors like what people buy, whom they associate with, and what they post. For instance, sharing a post praising the Chinese government would be recorded as having "positive energy" by Sesame Credit, and would make one's score go up.
Low scores will result in punishment, as a 2016 government report describes:
"If trust is broken in one place, restrictions are imposed everywhere, safeguard judicial authority, raise judicial credibility, and create an upward, charitable, sincere and mutually helpful social atmosphere."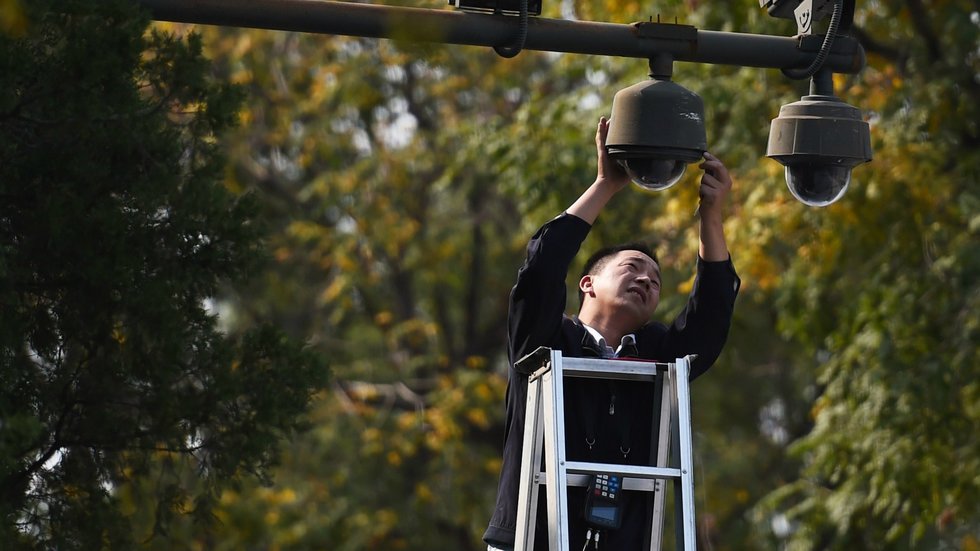 (Photo: Greg Baker/Getty)
Some citizens have already suffered punishment, such as Chinese journalist Liu Hu, who discovered he was banned from flying because his name was on a list of "untrustworthy people". In 2013, Liu was arrested for defamation after publishing posts that were highly critical of government officials, a crime for which he was ordered to apologize. The court found his apology insincere.
"I can't buy property. My child can't go to a private school," he told CBS. "You feel you're being controlled by the list all the time."
Other potential punishments for low-score citizens could include slower internet speeds, restricted access to businesses, and being prohibited from entering certain professions.
A massive network of surveillance cameras will also help to record and measure citizen behavior. It's estimated that China has 176 million surveillance cameras in operation now, with plans to more than double that by 2020. The stated goal of this surveillance infrastructure is to deter criminals, but so far there seems to be no crime too small to punish. For instance, Chinese officials in Fuzhou have been publishing the names of jaywalkers, and it's been reported that citizens might soon be punished for being seen smoking in non-smoking areas or driving poorly.
If it sounds like Orwellian doublespeak to hear the Chinese government say the plan will foster a "sincere" and "mutually helpful social atmosphere," you're not alone.
"It's Amazon's consumer tracking with an Orwellian political twist," wrote Johan Lagerkvist, a Chinese internet specialist at the Swedish Institute of International Affairs, adding that the program also records what books people read.
Rogier Creemers, a post-doctoral scholar who specializes in Chinese law and governance at the Van Vollenhoven Institute at Leiden University, likened the system to "Yelp reviews with the nanny state watching over your shoulder."
Perhaps the most popular comparison has been to the 'Nosedive' episode of Black Mirror, in which everyone in a future society has a social credit score that can be nudged up or down based on interactions with other people.
But criticism hasn't stopped millions of Chinese citizens from voluntarily signing up for the program before it becomes mandatory in 2020. That's partly because of China's widely unregulated market, where many signed contracts aren't kept, and where counterfeit and substandard products move freely. The Chinese government says these problems represent a "trust deficit" that could be fixed with a codified credibility system.
"Given the speed of the digital economy it's crucial that people can quickly verify each other's credit worthiness," Wang Shuqin, a professor at the Office of Philosophy and Social Science at Capital Normal University in China, who is helping the government develop the system, told Wired. "The behavior of the majority is determined by their world of thoughts. A person who believes in socialist core values is behaving more decently."
Of course, it's also possible that Chinese citizens are signing up for the program out of fear of reprisal if they don't. And then there's the incentives: A 2017 Wired cover story points out that high social credit scores are seen as a status symbol, and they earn people more prominent visibility on dating apps, as well as perks at businesses–gift cards, faster check-ins at hotels and airports, and no required deposits for rental cars.
In an interview with CBS, Ken Dewoskin, a senior advisor and eminence fellow to Deloitte Services LP for China research and insight, was asked how far the social credit system goes into people's daily mundane activities.
"I think that the government and the people running the plan would like it to go as deeply as possible to determine how to allocate benefits and also how to impact and shape their behavior."
One internet privacy expert described China's plan as a dangerous intervention into human behavior.
"What China is doing here is selectively breeding its population to select against the trait of critical, independent thinking. This may not be the purpose, indeed I doubt it's the primary purpose, but it's nevertheless the effect of giving only obedient people the social ability to have children, not to mention successful children."
The way that you think about stress can actually transform the effect that it has on you – and others.
Big Think Edge
Stress is contagious, and the higher up in an organization you are the more your stress will be noticed and felt by others.
Kelly McGonigal teaches "Reset your mindset to reduce stress" for Big Think Edge.

Subscribe to Big Think Edge before we launch on March 30 to get 20% off monthly and annual memberships.
These quick bursts of inspiration will brighten your day in 10 minutes or less.

Explore a legendary philosopher's take on how society fails to prepare us for education and progress.
Alan Watts.
Personal Growth
Alan Watts was an instrumental figure in the 1960s counterculture revolution.
He believed that we put too much of a focus on intangible goals for our educational and professional careers.
Watts believed that the whole educational enterprise is a farce compared to how we should be truly living our lives.
How can we use the resources that are already on the Moon to make human exploration of the satellite as economical as possible?
The All-Terrain Hex-Limbed Extra-Terrestrial Explorer (ATHLETE), a prototype heavy-lift utility vehicle to support future human exploration of extraterrestrial surfaces, at right, is parked beside the Habitat Demonstration Unit - Pressurized Excursion Module (HDU-PEM), at left, a concept off-Earth living and work quarters for astronauts stationed on asteroids, the moon or Mars, 15 September 2010. Photo by: ROBYN BECK/AFP/Getty Images
Technology & Innovation
If you were transported to the Moon this very instant, you would surely and rapidly die. That's because there's no atmosphere, the surface temperature varies from a roasting 130 degrees Celsius (266 F) to a bone-chilling minus 170 C (minus 274 F). If the lack of air or horrific heat or cold don't kill you then micrometeorite bombardment or solar radiation will. By all accounts, the Moon is not a hospitable place to be.

Big think's weekly newsletter.
Get smarter faster from the comfort of your inbox.
See our newsletter privacy policy
here
Most Popular
Most Recent
Big think's weekly newsletter.
Get smarter faster from the comfort of your inbox.
See our newsletter privacy policy
here
© Copyright 2007-2018 & BIG THINK, BIG THINK EDGE,
SMARTER FASTER trademarks owned by The Big Think, Inc. All rights reserved.