Big ideas.
Once a week.
Subscribe to our weekly newsletter.
Healthy Eating App Teaches Students Climate Change
The Food for Thought app from the University of Illinois teaches students about climate change through the lens of eating healthy.
20 May, 2016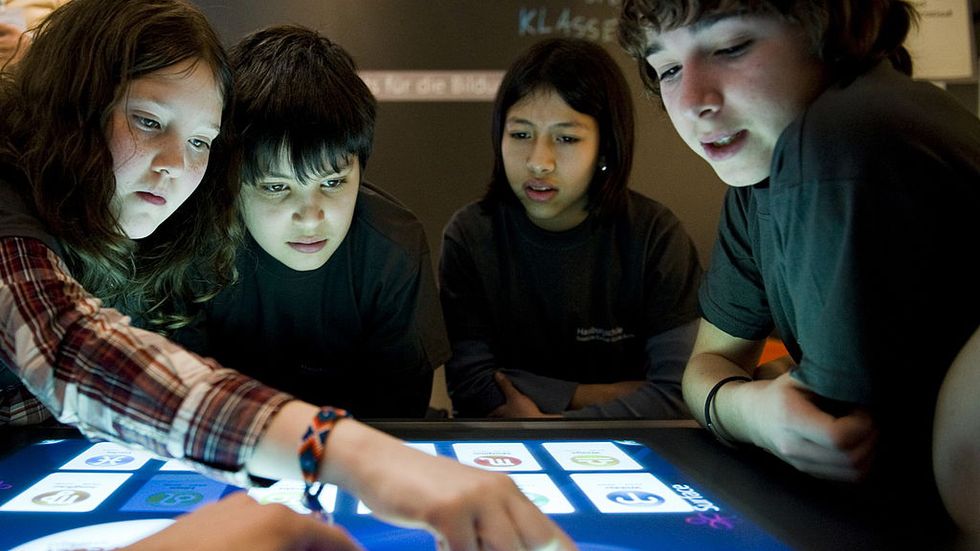 Any parent with kids probably knows how challenging it can be to get them to eat healthy foods like vegetables. There's recommendations about when to introduce sweets, how to make food interesting, and how to avoid vegetable tug-of-war at each meal. The dinner table can become even more of a battleground for parents who want to feed their kids foods that are good for the planet, such as locally-sourced produce.
---
Enter technology to save the day. The Food for Thought app, created by the University of Illinois, brings the topic of climate change to middle schoolers through the lens of what they choose to eat. In the app, students can pick and choose various food items to fill a virtual dinner plate. As they do so, the app calculates nutritional information as well as the carbon footprint of that item being added.
The result is that kids start to develop a sense for both nutritional information and the types of food that are better for the planet. And they learn about data analysis along the way, since the app displays a number of graphs and other information for students to process. One teacher noted that the app is particularly empowering for youth, who may not be able to control many of the decisions in their life, but who can advocate to eat certain types of food at home or when they are out at restaurants.
Perhaps the Food for Thought game can help science teachers who want to introduce climate change topics in the classroom but aren't sure how to do so. Past observations of how teachers bring up climate change shows that there is still some confusion as to the most widely accepted scientific findings thus far. For instance, teachers often failed to discuss global warming as a mainly-human phenomenon. Maybe, digital lessons will become part of an alternative teaching strategy.
—
Header Image: JENS SCHLUETER / Staff
Geologists discover a rhythm to major geologic events.
Surprising Science
It appears that Earth has a geologic "pulse," with clusters of major events occurring every 27.5 million years.
Working with the most accurate dating methods available, the authors of the study constructed a new history of the last 260 million years.
Exactly why these cycles occur remains unknown, but there are some interesting theories.
Our hearts beat at a resting rate of 60 to 100 beats per minute. Lots of other things pulse, too. The colors we see and the pitches we hear, for example, are due to the different wave frequencies ("pulses") of light and sound waves.
Now, a study in the journal Geoscience Frontiers finds that Earth itself has a pulse, with one "beat" every 27.5 million years. That's the rate at which major geological events have been occurring as far back as geologists can tell.
A planetary calendar has 10 dates in red
Credit: Jagoush / Adobe Stock
According to lead author and geologist Michael Rampino of New York University's Department of Biology, "Many geologists believe that geological events are random over time. But our study provides statistical evidence for a common cycle, suggesting that these geologic events are correlated and not random."

The new study is not the first time that there's been a suggestion of a planetary geologic cycle, but it's only with recent refinements in radioisotopic dating techniques that there's evidence supporting the theory. The authors of the study collected the latest, best dating for 89 known geologic events over the last 260 million years:
29 sea level fluctuations
12 marine extinctions
9 land-based extinctions
10 periods of low ocean oxygenation
13 gigantic flood basalt volcanic eruptions
8 changes in the rate of seafloor spread
8 times there were global pulsations in interplate magmatism
The dates provided the scientists a new timetable of Earth's geologic history.
Tick, tick, boom
Credit: New York University
Putting all the events together, the scientists performed a series of statistical analyses that revealed that events tend to cluster around 10 different dates, with peak activity occurring every 27.5 million years. Between the ten busy periods, the number of events dropped sharply, approaching zero.

Perhaps the most fascinating question that remains unanswered for now is exactly why this is happening. The authors of the study suggest two possibilities:
"The correlations and cyclicity seen in the geologic episodes may be entirely a function of global internal Earth dynamics affecting global tectonics and climate, but similar cycles in the Earth's orbit in the Solar System and in the Galaxy might be pacing these events. Whatever the origins of these cyclical episodes, their occurrences support the case for a largely periodic, coordinated, and intermittently catastrophic geologic record, which is quite different from the views held by most geologists."
Assuming the researchers' calculations are at least roughly correct — the authors note that different statistical formulas may result in further refinement of their conclusions — there's no need to worry that we're about to be thumped by another planetary heartbeat. The last occurred some seven million years ago, meaning the next won't happen for about another 20 million years.
When we rely on the conscious mind alone, we lose; but when we listen to the body, we gain a winning edge.
Credit
: Anthony Tran via Unsplash
Personal Growth
Our surroundings contain far more information than our conscious minds can process.
Our non-conscious minds are constantly gathering information and identifying patterns.
By being interoceptively attuned — that is, aware of the inner state of the body — we can tap into what our non-conscious mind is trying to tell us.
The following is an adapted excerpt from the book The Extended Mind. It is reprinted with permission of the author.
If you'd like to make smarter choices and sounder decisions — and who doesn't? — you might want to take advantage of a resource you already have close at hand: your interoception. Interoception is, simply stated, an awareness of the inner state of the body. Just as we have sensors that take in information from the outside world (retinas, cochleas, taste buds, olfactory bulbs), we have sensors inside our bodies that send our brains a constant flow of data from within. These sensations are generated in places all over the body — in our internal organs, in our muscles, even in our bones — and then travel via multiple pathways to a structure in the brain called the insula. Such internal reports are merged with several other streams of information — our active thoughts and memories, sensory inputs gathered from the external world — and integrated into a single snapshot of our present condition, a sense of "how I feel" in the moment, as well as a sense of the actions we must take to maintain a state of internal balance.
To understand the role interoception can play in smart decision-making, it's important to know that the world is full of far more information than our conscious minds can process. However, we are also able to collect and store the volumes of information we encounter on a non-conscious basis. As we proceed through each day, we are continuously apprehending and storing regularities in our experience, tagging them for future reference. Through this information-gathering and pattern-identifying process, we come to know things — but we're typically not able to articulate the content of such knowledge or to ascertain just how we came to know it. This trove of data remains mostly under the surface of consciousness, and that's usually a good thing. Its submerged status preserves our limited stores of attention and working memory for other uses.
A study led by cognitive scientist Pawel Lewicki demonstrates this process in microcosm. Participants in Lewicki's experiment were directed to watch a computer screen on which a cross-shaped target would appear, then disappear, then reappear in a new location; periodically they were asked to predict where the target would show up next. Over the course of several hours of exposure to the target's movements, the participants' predictions grew more and more accurate. They had figured out the pattern behind the target's peregrinations. But they could not put this knowledge into words, even when the experimenters offered them money to do so. The subjects were not able to describe "anything even close to the real nature" of the pattern, Lewicki observes. The movements of the target operated according to a pattern too complex for the conscious mind to accommodate — but the capacious realm that lies below consciousness was more than roomy enough to contain it.
"Nonconscious information acquisition," as Lewicki calls it, along with the ensuing application of such information, is happening in our lives all the time. As we navigate a new situation, we're scrolling through our mental archive of stored patterns from the past, checking for ones that apply to our current circumstances. We're not aware that these searches are under way; as Lewicki observes, "The human cognitive system is not equipped to handle such tasks on the consciously controlled level." He adds, "Our conscious thinking needs to rely on notes and flowcharts and lists of 'if-then' statements — or on computers — to do the same job which our non-consciously operating processing algorithms can do without external help, and instantly."

But — if our knowledge of these patterns is not conscious, how then can we make use of it? The answer is that, when a potentially relevant pattern is detected, it's our interoceptive faculty that tips us off: with a shiver or a sigh, a quickening of the breath or a tensing of the muscles. The body is rung like a bell to alert us to this useful and otherwise inaccessible information. Though we typically think of the brain as telling the body what to do, just as much does the body guide the brain with an array of subtle nudges and prods. (One psychologist has called this guide our "somatic rudder.") Researchers have even captured the body in mid-nudge, as it alerts its inhabitant to the appearance of a pattern that she may not have known she was looking for.
Such interoceptive prodding was visible during a gambling game that formed the basis of an experiment led by neuroscientist Antonio Damasio, a professor at the University of Southern California. In the game, presented on a computer screen, players were given a starting purse of two thousand "dollars" and were shown four decks of digital cards. Their task, they were told, was to turn the cards in the decks face-up, choosing which decks to draw from such that they would lose the least amount of money and win the most. As they started clicking to turn over cards, players began encountering rewards — bonuses of $50 here, $100 there — and also penalties, in which small or large amounts of money were taken away. What the experimenters had arranged, but the players were not told, was that decks A and B were "bad" — they held lots of large penalties in store — and decks C and D were "good," bestowing more rewards than penalties over time.
How Our Brains Feel Emotion | Antonio Damasio | Big Think www.youtube.com
As they played the game, the participants' state of physiological arousal was monitored via electrodes attached to their fingers; these electrodes kept track of their level of "skin conductance." When our nervous systems are stimulated by an awareness of potential threat, we start to perspire in a barely perceptible way. This slight sheen of sweat momentarily turns our skin into a better conductor of electricity. Researchers can thus use skin conductance as a measure of nervous system arousal. Looking over the data collected by the skin sensors, Damasio and his colleagues noticed something interesting: after the participants had been playing for a short while, their skin conductance began to spike when they contemplated clicking on the bad decks of cards. Even more striking, the players started avoiding the bad decks, gravitating increasingly to the good decks. As in the Lewicki study, subjects got better at the task over time, losing less and winning more.

Yet interviews with the participants showed that they had no awareness of why they had begun choosing some decks over others until late in the game, long after their skin conductance had started flaring. By card 10 (about forty-five seconds into the game), measures of skin conductance showed that their bodies were wise to the way the game was rigged. But even ten turns later — on card 20 — "all indicated that they did not have a clue about what was going on," the researchers noted. It took until card 50 was turned, and several minutes had elapsed, for all the participants to express a conscious hunch that decks A and B were riskier. Their bodies figured it out long before their brains did. Subsequent studies supplied an additional, and crucial, finding: players who were more interoceptively aware were more apt to make smart choices within the game. For them, the body's wise counsel came through loud and clear.
Damasio's fast-paced game shows us something important. The body not only grants us access to information that is more complex than what our conscious minds can accommodate. It also marshals this information at a pace that is far quicker than our conscious minds can handle. The benefits of the body's intervention extend well beyond winning a card game; the real world, after all, is full of dynamic and uncertain situations, in which there is no time to ponder all the pros and cons. When we rely on the conscious mind alone, we lose — but when we listen to the body, we gain a winning edge.
Annie Murphy Paul is a science writer who covers research on learning and cognition. She is the author of The Extended Mind: The Power of Thinking Outside the Brain, from which this article is adapted.
Brain cells snap strands of DNA in many more places and cell types than researchers previously thought.
Mind & Brain
The urgency to remember a dangerous experience requires the brain to make a series of potentially dangerous moves: Neurons and other brain cells snap open their DNA in numerous locations — more than previously realized, according to a new study — to provide quick access to genetic instructions for the mechanisms of memory storage.
The extent of these DNA double-strand breaks (DSBs) in multiple key brain regions is surprising and concerning, says study senior author Li-Huei Tsai, Picower Professor of Neuroscience at MIT and director of The Picower Institute for Learning and Memory, because while the breaks are routinely repaired, that process may become more flawed and fragile with age. Tsai's lab has shown that lingering DSBs are associated with neurodegeneration and cognitive decline and that repair mechanisms can falter.
"We wanted to understand exactly how widespread and extensive this natural activity is in the brain upon memory formation because that can give us insight into how genomic instability could undermine brain health down the road," says Tsai, who is also a professor in the Department of Brain and Cognitive Sciences and a leader of MIT's Aging Brain Initiative. "Clearly, memory formation is an urgent priority for healthy brain function, but these new results showing that several types of brain cells break their DNA in so many places to quickly express genes is still striking."
Tracking breaks
In 2015, Tsai's lab provided the first demonstration that neuronal activity caused DSBs and that they induced rapid gene expression. But those findings, mostly made in lab preparations of neurons, did not capture the full extent of the activity in the context of memory formation in a behaving animal, and did not investigate what happened in cells other than neurons.
In the new study published July 1 in PLOS ONE, lead author and former graduate student Ryan Stott and co-author and former research technician Oleg Kritsky sought to investigate the full landscape of DSB activity in learning and memory. To do so, they gave mice little electrical zaps to the feet when they entered a box, to condition a fear memory of that context. They then used several methods to assess DSBs and gene expression in the brains of the mice over the next half-hour, particularly among a variety of cell types in the prefrontal cortex and hippocampus, two regions essential for the formation and storage of conditioned fear memories. They also made measurements in the brains of mice that did not experience the foot shock to establish a baseline of activity for comparison.
The creation of a fear memory doubled the number of DSBs among neurons in the hippocampus and the prefrontal cortex, affecting more than 300 genes in each region. Among 206 affected genes common to both regions, the researchers then looked at what those genes do. Many were associated with the function of the connections neurons make with each other, called synapses. This makes sense because learning arises when neurons change their connections (a phenomenon called "synaptic plasticity") and memories are formed when groups of neurons connect together into ensembles called engrams.
"Many genes essential for neuronal function and memory formation, and significantly more of them than expected based on previous observations in cultured neurons … are potentially hotspots of DSB formation," the authors wrote in the study.
In another analysis, the researchers confirmed through measurements of RNA that the increase in DSBs indeed correlated closely with increased transcription and expression of affected genes, including ones affecting synapse function, as quickly as 10-30 minutes after the foot shock exposure.
"Overall, we find transcriptional changes are more strongly associated with [DSBs] in the brain than anticipated," they wrote. "Previously we observed 20 gene-associated [DSB] loci following stimulation of cultured neurons, while in the hippocampus and prefrontal cortex we see more than 100-150 gene associated [DSB] loci that are transcriptionally induced."
Snapping with stress
In the analysis of gene expression, the neuroscientists looked at not only neurons but also non-neuronal brain cells, or glia, and found that they also showed changes in expression of hundreds of genes after fear conditioning. Glia called astrocytes are known to be involved in fear learning, for instance, and they showed significant DSB and gene expression changes after fear conditioning.
Among the most important functions of genes associated with fear conditioning-related DSBs in glia was the response to hormones. The researchers therefore looked to see which hormones might be particularly involved and discovered that it was glutocortocoids, which are secreted in response to stress. Sure enough, the study data showed that in glia, many of the DSBs that occurred following fear conditioning occurred at genomic sites related to glutocortocoid receptors. Further tests revealed that directly stimulating those hormone receptors could trigger the same DSBs that fear conditioning did and that blocking the receptors could prevent transcription of key genes after fear conditioning.
Tsai says the finding that glia are so deeply involved in establishing memories from fear conditioning is an important surprise of the new study.
"The ability of glia to mount a robust transcriptional response to glutocorticoids suggest that glia may have a much larger role to play in the response to stress and its impact on the brain during learning than previously appreciated," she and her co-authors wrote.
Damage and danger?
More research will have to be done to prove that the DSBs required for forming and storing fear memories are a threat to later brain health, but the new study only adds to evidence that it may be the case, the authors say.
"Overall we have identified sites of DSBs at genes important for neuronal and glial functions, suggesting that impaired DNA repair of these recurrent DNA breaks which are generated as part of brain activity could result in genomic instability that contribute to aging and disease in the brain," they wrote.
The National Institutes of Health, The Glenn Foundation for Medical Research, and the JPB Foundation provided funding for the research.
Reprinted with permission of MIT News. Read the original article.
Surprising Science
Research shows that those who spend more time speaking tend to emerge as the leaders of groups, regardless of their intelligence.
Scroll down to load more…