The Solution to Technology Overload Is So Incredibly Simple
New research combines what we know about the mental health benefits of walking with avoiding family dysfunction and saving our minds from technological distraction.
24 June, 2016
University of Illinois researchers have found that getting outside with family members can help prevent family dysfunction. Previous research had been done on the benefits of walking unto itself, but combining the social element as well brings past studies into a new light.
---
To clarify, walking itself, even for just 20 minutes, can help you restore your attention. And attention helps you pick up social cues, not feel as irritable, and maintain more self-control than you otherwise would have. All of these factors can lead to functioning more in harmony with those around you.
Attention is a scarce resource in the age of the Internet and constant screen exposure. It's hard for our brains to have the chance to sit back and have restorative time when there are so many tools, entertainment and advertising devices clamoring for our focus. Taking kids to the park helps parents feel like they can relax a little, they are "on-duty" in a different way. And the ritual itself of going outside with family can have benefits for family functioning.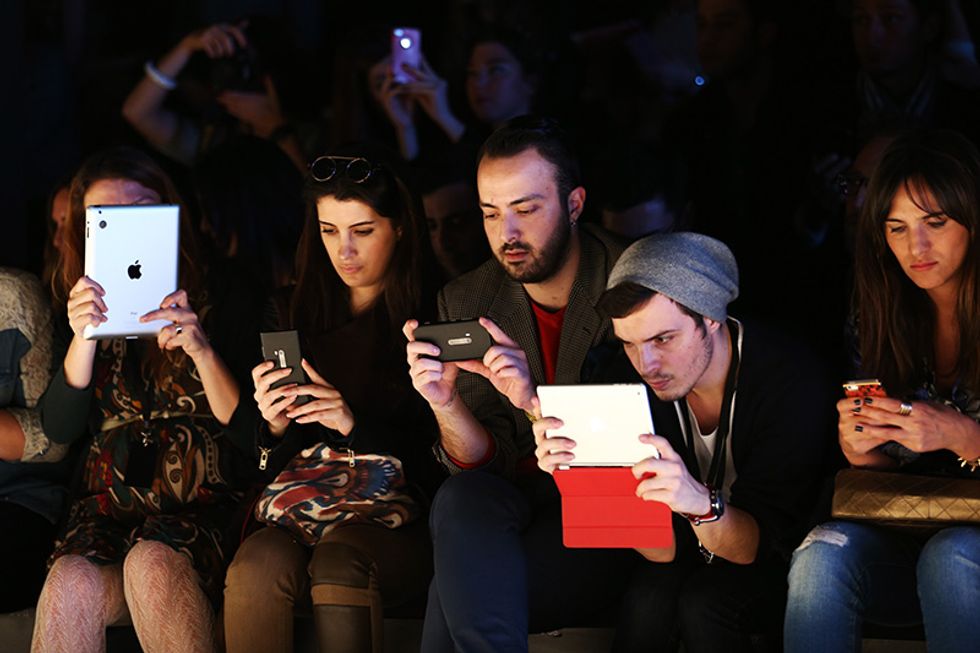 Image: Andreas Rentz / Staff
The question of how to increase our attention spans is a big one, with implications far outside that of this study. It turns out that the human attention span these days has actually decreased to be shorter than that of a goldfish. Back in 2000 (before smartphones became a big thing), the average human attention span was 12 seconds. Now, it is only eight seconds, while the attention span of a goldfish is about nine seconds.
Activities such as "dual screening," using a smartphone while watching TV is an example, are suspected of contributing to this mass attention deficit. But even for those who aren't switching back and forth between devices, heavy usage of a smartphone can lead to episodes called "cognitive failures." Cognitive failures can include forgetting appointments, frequent forgetfulness about what they were planning to do next, and having a hard time concentrating on a conversation.
Getting out for a walk might be even more beneficial for you if you walk in an area with some amount of trees. Even when viewing a street at just two percent tree density, participants in a study noted feeling more relaxed than they did when viewing a street without any trees. Seeing more trees led to further participants reporting stress reduction.
—
Header Image: Andreas Rentz / Getty Images

Save
Save
Save
Save
To create wiser adults, add empathy to the school curriculum.
Sponsored by Charles Koch Foundation
Stories are at the heart of learning, writes Cleary Vaughan-Lee, Executive Director for the Global Oneness Project. They have always challenged us to think beyond ourselves, expanding our experience and revealing deep truths.
Vaughan-Lee explains 6 ways that storytelling can foster empathy and deliver powerful learning experiences.
Global Oneness Project is a free library of stories—containing short documentaries, photo essays, and essays—that each contain a companion lesson plan and learning activities for students so they can expand their experience of the world.
An extinction events expert sounds a dire warning.
Getty Images
Surprising Science
The supervolcano in Yellowstone National Park could cause an "ultra-catastrophe," warns an extinction events writer.
The full eruption of the volcano last happened 640,000 years ago.
The blast could kill billions and make United States uninhabitable.
Just before I turned 60, I discovered that sharing my story by drawing could be an effective way to both alleviate my symptoms and combat that stigma.
Photo by JJ Ying on Unsplash
Mind & Brain
I've lived much of my life with anxiety and depression, including the negative feelings – shame and self-doubt – that seduced me into believing the stigma around mental illness: that people knew I wasn't good enough; that they would avoid me because I was different or unstable; and that I had to find a way to make them like me.
A joint study by two England universities explores the link between sex and cognitive function with some surprising differences in male and female outcomes in old age.
Mind & Brain
A joint study by the universities of Coventry and Oxford in England has linked sexual activity with higher cognitive abilities in older age.
The results of this study suggest there are significant associations between sexual activity and number sequencing/word recall in men. In women, however, there was a significant association between sexual activity in word recall alone - number sequencing was not impacted.
The differences in testosterone (the male sex hormone) and oxytocin (a predominantly female hormone) may factor into why the male cognitive level changes much more during sexual activity in older age.
Technology & Innovation
Mathematicians studied 100 billion tweets to help computer algorithms better understand our colloquial digital communication.
Scroll down to load more…