This Underwater Food and Fuel Source Might Save Us All
A Cornell University professor believes he has our food, climate, and fuel revolution answered all with one organism: microalgae.
13 December, 2016
---
The human race is expanding in a big way. As we watch birth rates in some nations boom and life expectancies in others stretch, logistical questions arise — particularly how to feed and fuel such a population with ever-less arable land and resources.
Food production will need to increase, by some estimates, up to 70%. The question will, at a certain point, no longer be one of finding new farmable land, but one of how we do more with less?
Charles H Greene, professor of earth and atmospheric sciences at Cornell University and lead author of the paper, "Marine Microalgae: Climate, Energy and Food Security From the Sea," believes he has found a solution.
Microalgae — the tiny little specks the entire oceanic food chain is based on — could be our saviors in more than one way. Through a process called ICMM (industrial cultivation of marine microalgae – basically, microalgae-farming), Greene and his team believe they've stumbled onto "the next green revolution," and the process sounds strikingly simple.
Take freshly grown microalgae, extract the water, and extract the lipids for biofuel. The leftovers are protein-rich and highly nutritious. While they're not likely to replace corn or wheat in our diets, they could replace soy in the market, adding protein to animal feed for domesticated farm or aqua-cultured animals, or even humans.
The real benefit to ICMM isn't in its byproduct, though — it's in the farming of it. Generating enough ICMM biofuel to replace our global demand for liquid fuel would require roughly 800,000 square miles of land. What's more, with no extra farming required, we'd also be producing roughly ten-fold the amount of soy protein produced each year globally.
To recap: an area of land three times the size of Texas could produce enough fuel to remove the planet's dependence on oil, and produce more than 10 times the amount of soy protein we currently produce annually. 
And we're not even at the good part yet.
Unlike soy farming, ICMM doesn't require fertile land in favorable climates to generate enough product to permanently feed the world and end oil dependence. Arid, subtropical climates like Mexico, North Africa, the Middle East, and Australia can be used to produce the stuff — we could actually farm the Sahara Desert.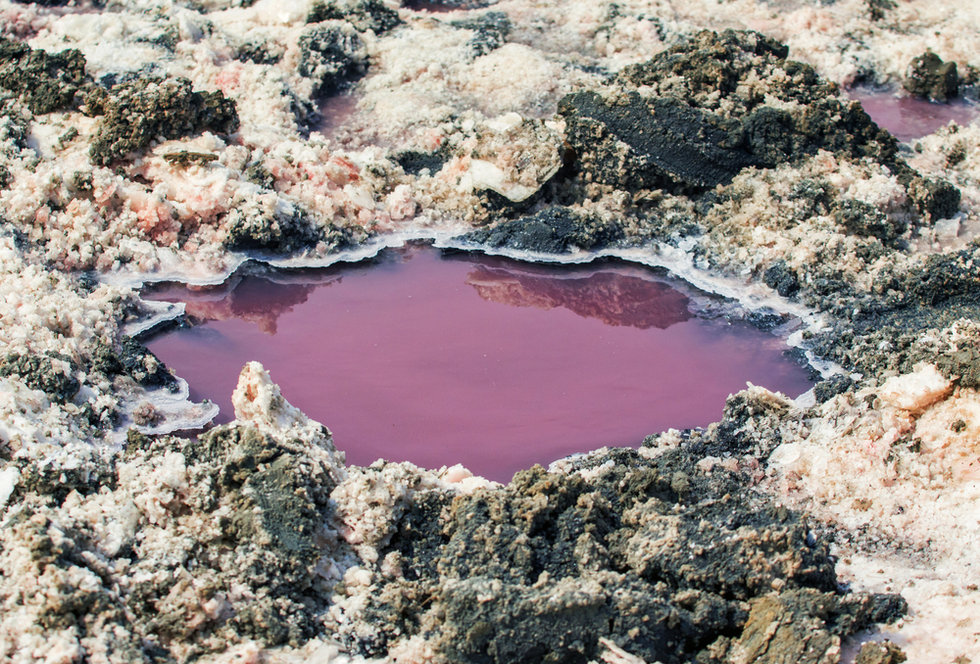 Salt, brine and mud, colored by the microalgae Dunaliella salina. 
ICMM currently requires quite an investment: a 2500-acre commercial facility would cost $400-500 million, and roughly 512 million acres would be required to farm enough microalgae to feed the planet and unhook our oil dependency.
However, according to Professor Greene, the investment would pay for itself. "We can grow algae for food and fuels in only one-tenth to one one-hundredth the amount of land we currently use to grow food and energy crops."
While the upfront cost is high, the long-term benefits absolutely sound worth it. "That may seem like a lot of money, but integrated solutions to the world's greatest challenges will pay for themselves many times over during the remainder of this century," Greene says. What's more, "the costs of inaction are too steep to even contemplate."
The pros are vast: we could stop clear cutting rainforests for soy plantations, end the debate over pipelines and climate change in one year, create jobs, and end oil wars. To say nothing of feeding the entire planet.
The cons, while significant, are temporary: as money and research is invested into new technology, costs always go down. And besides, the money saved from fueling and feeding the planet via current methods would pay for this multiple times the long term.
Humans have always excelled at finding ways to kill themselves. Here, finally, we may have found a way to save each other, instead.
Who would have thought it would come from the sea?
Lumina Foundation is partnering with Big Think to unearth the next large-scale, rapid innovation in post-high school education. Enter the competition here!
Evolutionarily speaking, being gay is still something of an enigma
Videos
Heterosexual people have been less interesting to scientists than gay people, in terms of where they come from, because, evolutionarily speaking, being gay doesn't lead to a higher "higher reproductive fitness" — meaning, it doesn't lead to more babies.
Across cultures, gay boys tend to be more interested in spending time with their mothers.
We still don't really know why gay people are attracted to each other.
The part of your brain responsible for ASMR catalogs music, and appears to be a stronghold against Alzheimer's and dementia.
The parts of the brain highlighted in red and yellow are thought to control your sense of attention and memory. (image c/o Brain Network Lab)
popular
Some music inspires you to move your feet, some inspires you to get out there and change the world. In any case, and to move hurriedly on to the point of this article, it's fair to say that music moves people in special ways. 
Creativity can bring about unchecked harm, but it's up to us how we wield it.
Mind & Brain
Suppose you forgot it was your partner's birthday, but you know that they would appreciate the smallest of gestures, say a bouquet. It's late at night and no florists are open. The cemetery on your way home has recently had a funeral, and you walk across the site and pick up a good-looking bouquet of roses from someone's grave. You then head home, and the flowers are happily received by your partner.
Would you say that you hurt anyone?
Big think's weekly newsletter.
Get smarter faster from the comfort of your inbox.
See our newsletter privacy policy
here
Most Popular
Most Recent
Big think's weekly newsletter.
Get smarter faster from the comfort of your inbox.
See our newsletter privacy policy
here
© Copyright 2007-2018 & BIG THINK, BIG THINK EDGE,
SMARTER FASTER trademarks owned by The Big Think, Inc. All rights reserved.