This Underwater Food and Fuel Source Might Save Us All
A Cornell University professor believes he has our food, climate, and fuel revolution answered all with one organism: microalgae.
13 December, 2016
A diver observes filamentous algae, locally known as thanatos, at La Ciotat in the Mediterranean sea. This bloom here is definitely not the good kind of algae, but it has some useful relatives. (Photo Boris Horvat/AFP/Getty Images)
---
The human race is expanding in a big way. As we watch birth rates in some nations boom and life expectancies in others stretch, logistical questions arise — particularly how to feed and fuel such a population with ever-less arable land and resources.
Food production will need to increase, by some estimates, up to 70%. The question will, at a certain point, no longer be one of finding new farmable land, but one of how we do more with less?
Charles H Greene, professor of earth and atmospheric sciences at Cornell University and lead author of the paper, "Marine Microalgae: Climate, Energy and Food Security From the Sea," believes he has found a solution.
Microalgae — the tiny little specks the entire oceanic food chain is based on — could be our saviors in more than one way. Through a process called ICMM (industrial cultivation of marine microalgae – basically, microalgae-farming), Greene and his team believe they've stumbled onto "the next green revolution," and the process sounds strikingly simple.
Take freshly grown microalgae, extract the water, and extract the lipids for biofuel. The leftovers are protein-rich and highly nutritious. While they're not likely to replace corn or wheat in our diets, they could replace soy in the market, adding protein to animal feed for domesticated farm or aqua-cultured animals, or even humans.
The real benefit to ICMM isn't in its byproduct, though — it's in the farming of it. Generating enough ICMM biofuel to replace our global demand for liquid fuel would require roughly 800,000 square miles of land. What's more, with no extra farming required, we'd also be producing roughly ten-fold the amount of soy protein produced each year globally.
To recap: an area of land three times the size of Texas could produce enough fuel to remove the planet's dependence on oil, and produce more than 10 times the amount of soy protein we currently produce annually. 
And we're not even at the good part yet.
Unlike soy farming, ICMM doesn't require fertile land in favorable climates to generate enough product to permanently feed the world and end oil dependence. Arid, subtropical climates like Mexico, North Africa, the Middle East, and Australia can be used to produce the stuff — we could actually farm the Sahara Desert.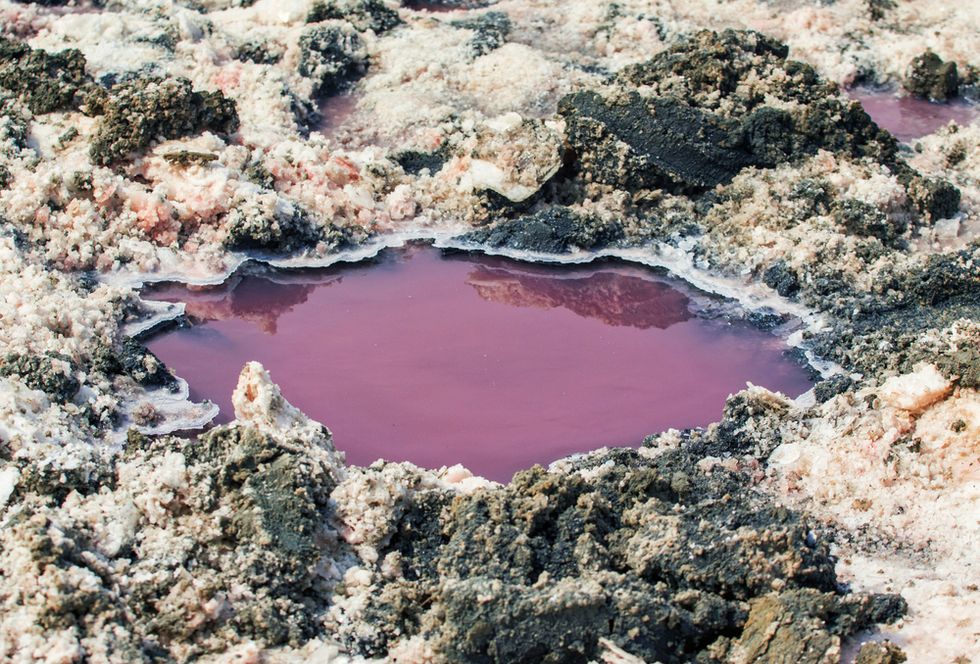 Salt, brine and mud, colored by the microalgae Dunaliella salina. 
ICMM currently requires quite an investment: a 2500-acre commercial facility would cost $400-500 million, and roughly 512 million acres would be required to farm enough microalgae to feed the planet and unhook our oil dependency.
However, according to Professor Greene, the investment would pay for itself. "We can grow algae for food and fuels in only one-tenth to one one-hundredth the amount of land we currently use to grow food and energy crops."
While the upfront cost is high, the long-term benefits absolutely sound worth it. "That may seem like a lot of money, but integrated solutions to the world's greatest challenges will pay for themselves many times over during the remainder of this century," Greene says. What's more, "the costs of inaction are too steep to even contemplate."
The pros are vast: we could stop clear cutting rainforests for soy plantations, end the debate over pipelines and climate change in one year, create jobs, and end oil wars. To say nothing of feeding the entire planet.
The cons, while significant, are temporary: as money and research is invested into new technology, costs always go down. And besides, the money saved from fueling and feeding the planet via current methods would pay for this multiple times the long term.
Humans have always excelled at finding ways to kill themselves. Here, finally, we may have found a way to save each other, instead.
Who would have thought it would come from the sea?
To create wiser adults, add empathy to the school curriculum.
Sponsored by Charles Koch Foundation
Stories are at the heart of learning, writes Cleary Vaughan-Lee, Executive Director for the Global Oneness Project. They have always challenged us to think beyond ourselves, expanding our experience and revealing deep truths.
Vaughan-Lee explains 6 ways that storytelling can foster empathy and deliver powerful learning experiences.
Global Oneness Project is a free library of stories—containing short documentaries, photo essays, and essays—that each contain a companion lesson plan and learning activities for students so they can expand their experience of the world.
BASE particle physicists have discovered a very precise way to examine antimatter.
The Veil Nebula. Credit: By Jschulman555 - Own work, Wikipedia Commons.
Surprising Science
Thank your lucky stars you're alive. It's truly a miracle of nature. This has nothing to do with spirituality or religion and everything to do with science. Life itself may not be the miracle. Although we haven't found it elsewhere yet, our galaxy alone is so replete with Earth-like planets that, mathematically speaking, one of them must hold life, even if it's just the microbial variety. Intelligent life may be another matter.
Just before I turned 60, I discovered that sharing my story by drawing could be an effective way to both alleviate my symptoms and combat that stigma.
Photo by JJ Ying on Unsplash
Mind & Brain
I've lived much of my life with anxiety and depression, including the negative feelings – shame and self-doubt – that seduced me into believing the stigma around mental illness: that people knew I wasn't good enough; that they would avoid me because I was different or unstable; and that I had to find a way to make them like me.
A joint study by two England universities explores the link between sex and cognitive function with some surprising differences in male and female outcomes in old age.
Mind & Brain
A joint study by the universities of Coventry and Oxford in England has linked sexual activity with higher cognitive abilities in older age.
The results of this study suggest there are significant associations between sexual activity and number sequencing/word recall in men. In women, however, there was a significant association between sexual activity in word recall alone - number sequencing was not impacted.
The differences in testosterone (the male sex hormone) and oxytocin (a predominantly female hormone) may factor into why the male cognitive level changes much more during sexual activity in older age.
Technology & Innovation
Mathematicians studied 100 billion tweets to help computer algorithms better understand our colloquial digital communication.
Scroll down to load more…