Young Americans Are Ditching Democracy, Say Harvard Researchers
Democracy needs a new PR team. Polls about the way US millennials view democracy seem shocking, but analyzing their reasoning brings about an unsettling truth.
08 December, 2016
---
2016 was a wild year, politically speaking. British voters elected to leave the European Union in a populist upset, sending markets spinning and rendering the phrase "sound as a pound" outdated as the currency lost 5% of its value against the dollar in a single day's trading. Americans selected Donald Trump by a minor victory, again shocking the world. In Austria, the candidate of the right-wing populist Freedom Party narrowly lost the presidency to a 72-year-old Green.

Meanwhile, in Turkey – a member of NATO, potential EU member, and often cited example of stable Democracy in the Middle East – the military attempted a coup d'etat in July in the name of "constitutional order, human rights and freedoms, and the rule of law". The defeat of the coup has lead to a massive crackdown on academia, journalists, and police officers.
It is perhaps understandable then that a new study by Yascha Mounk and Roberto Stefan Foa, shows that many young people have increasingly un-liberal and un-democratic views about how governments need to operate. Only a third of US millennials see civil rights as "absolutely essential" in a democracy, compared to 40% of older citizens. Poll results are slightly higher, but similar, in Europe.

Likewise, only 20% of millennials agreed to the statement "a military takeover is not legitimate in a democracy". A full 25% of American millennials said that democracy is a "bad" or "very bad" way to run a country, up 10% from 20 years ago, and double the rate at which European millennials responded in the same way.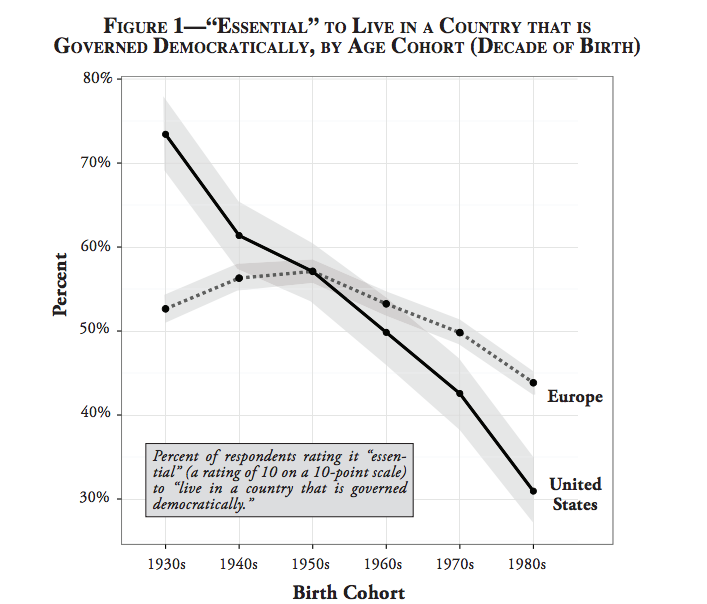 Source: Roberto Stefan Foa and Yascha Mounk
Why might they think this way? The polls show younger people are the most inclined to have casual attitudes towards anti-liberal viewpoints, as opposed to their older counterparts. These millennials can only remember a time after Francis Fukuyama declared the "End of History" and the triumph of Western Liberal Democratic Capitalism. To some extent, they may take the social order for granted and not see much of an issue with reduced liberties, having no memory of the great totalitarian regimes of the past.
On the other hand, these same people have seen democracy "fail" in several ways in their lifetimes. An American of 24 would have seen seven presidential elections in their lifetime, two of which were won by the person who lost the popular vote, and four by a person who didn't even get half the vote. Similarly, In the United Kingdom the most recent general election results were the worst ever in terms of actual voting results in comparison to who got into office. Only 36% of votes cast were cast for the Conservative party, which was able to form a majority government as a result.
It would be simple to view these events, and then perhaps conclude that your political rights and participation were of little importance.
If you thought that a decline in faith in democracy was enough, Bank of England Governor Mark Carney has warned that people will turn their backs on free and open markets if nothing is done to make those systems work for everyone. Carney, who supports capitalism and open markets has made clear his belief that:
"We need to move towards more inclusive growth where everyone has a stake in globalization" and has expressed his fear that, "Globalization is associated with low wages, insecure employment, stateless corporations and striking inequalities" and warns, "Turning our backs on open markets would be a tragedy, but it is a possibility". He does propose a notion for a solution, saying, "It can only be averted by confronting the underlying reasons for this risk upfront."
It is not hard to see that he may have a point about the popular view of globalization. In the United States both Donald Trump and Bernie Sanders offered populist economic appeals, one of a social-democratic variety and one of a protectionist-nationalist type. Both argued against the TPP trade deal, which is now dead in the United States, but for differing reasons; both sides of the political spectrum agreed in rejecting the deal.
Carney's points are of great concern as polls show an increasing dissatisfaction with free trade, open markets, and capitalism in general. An increasing numbers of people in polling show they have less faith in the capitalist system than even a half decade ago.
Millennials, again, show the most dramatic break with the past as more people under 30 hold a favorable view of socialism then do capitalism. It may be noteworthy that the socialism that young people have a favorable view of is probably not the Soviet model, but the Nordic Model. This model is not hard left, but the traditional fear of Americans to the term socialism being tossed aside perhaps shows the beginnings of new political unrest in the United States.
So, is this the end of liberal-democratic capitalism? Is a new world order soon to be at hand?

Perhaps not; while the western model may be wobbling, there is still little in the way of viable competition. Dr. Fukuyama, who has long backed away from his previous stances, still argues that there is no high functioning alternative system as "neither Islamist theocracy nor Chinese capitalism cuts it". Liberal democracy is liable to carry on as the dominant form of society for some time.
However, these systems only work if there is popular faith in their ability to improve the common condition. While some politicians are taking action to explicitly try to restore this faith, the exact nature of the remedies, how much is needed, and if we can avoid a repeat of what happened last time faith in democracy was tested, remains to be seen.
In a breakthrough for nuclear fusion research, scientists at China's Experimental Advanced Superconducting Tokamak (EAST) reactor have produced temperatures necessary for nuclear fusion on Earth.
Credit: EAST Team
Surprising Science
The EAST reactor was able to heat hydrogen to temperatures exceeding 100 million degrees Celsius.
Nuclear fusion could someday provide the planet with a virtually limitless supply of clean energy.
Still, scientists have many other obstacles to pass before fusion technology becomes a viable energy source.
Military recruits are supposed to be assessed to see whether they're fit for service. What happens when they're not?
Politics & Current Affairs
During the Vietnam War, Robert McNamara began a program called Project 100,000.
The program brought over 300,000 men to Vietnam who failed to meet minimum criteria for military service, both physically and mentally.
Project 100,000 recruits were killed in disproportionate numbers and fared worse after their military service than their civilian peers, making the program one of the biggest—and possibly cruelest—mistakes of the Vietnam War.
The 116th Congress is set to break records in term of diversity among its lawmakers, though those changes are coming almost entirely from Democrats.
(Photo: MANDEL NGAN/AFP/Getty Images)
Politics & Current Affairs
Women and nonwhite candidates made record gains in the 2018 midterms.
In total, almost half of the newly elected Congressional representatives are not white men.
Those changes come almost entirely from Democrats; Republican members-elect are all white men except for one woman.
Big think's weekly newsletter.
Get smarter faster from the comfort of your inbox.
See our newsletter privacy policy
here
Most Popular
Most Recent
Big think's weekly newsletter.
Get smarter faster from the comfort of your inbox.
See our newsletter privacy policy
here
© Copyright 2007-2018 & BIG THINK, BIG THINK EDGE,
SMARTER FASTER trademarks owned by The Big Think, Inc. All rights reserved.