90,000-year-old human hybrid found in ancient cave
Researchers have just discovered the remains of a hybrid human.
23 August, 2018
90,000 years ago, a young girl lived in a cave in the Altai mountains in southern Siberia. Her life was short; she died in her early teens, but she stands at a unique point in human evolution. She is the first known hybrid of two different kinds of ancient humans: the Neanderthals and the Denisovans.
---
Her remains were discovered by a team of researchers this past summer. In a study published in Nature, the details of the discovery and the implications it has on our understanding of human evolution are explained. 
A hybrid who and what?
We Homo sapiens aren't the only species of human to have walked the earth, and only recently have we lacked the company of our evolutionary siblings, the Neanderthals and the Denisovans. While the former is rather famous the later is nearly unknown.  
This might be because we only discovered the Denisovans in 2010 and have so few fossils to work with that we don't even know what they looked like. We're not quite sure when they faded away, but it is probable that they vanished around the same time the Neanderthals did, 40,000 years ago. 
What do we know about this girl? 
Denisova 11, the rather dull name the researchers have given the hybrid human, is the fifth Denisovan ever found, which makes the fact she was a hybrid all the more fascinating. A small bone fragment is all we have of her, or the other members of her species for that matter. We know she had parents of two different species and lived in a cave with several members of both species.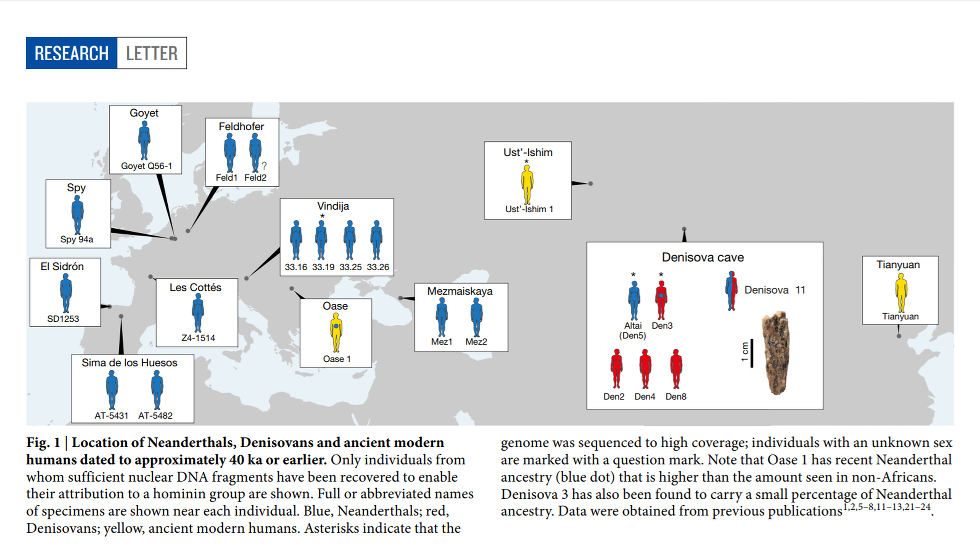 How do we know she was a hybrid?
During DNA sequencing of the bones discovered at the site, the researchers noticed that half of the chromosomes in Denisova 11 were similar to those of the other Denisovans and half of them were closer to those of the Neanderthals. Initially, Viviane Slon, a graduate student involved with the study thought that she must have made a mistake. However, after the hybrid hypothesis was suggested, the DNA evidence became "good proof that this was real," she explained. 
The researchers looked at the mitochondrial DNA, which can only be inherited from your mother, to determine which parent belonged to which species. This is how we know Denisova's mother was a Neanderthal and her father was a Denisovan.
Her father's DNA was very similar to that of the original Denisovan found in the cave. Strangely, her Neanderthal mother's DNA was closer to that of Neanderthals found living in Croatia thousands of years later than to the other members of her species in the cave. This suggests that migrations of Neanderthal populations took place at some point in the last 100,000 years.  
Were there other hybrids?
In 2015, scientists found the 40,000-year old remains of a modern human who had a Neanderthal for a great-great-grandparent. The discovery of two individuals with blended DNA in the small group of ancient humans scientists have tested so far suggests that more will be found.
We also know that people from pretty much everywhere but Sub-Saharan Africa have either Neanderthal or Denisovan DNA mixed into their genome, with variations of which and how much varying with geography. You, dear reader, probably have a Neanderthal in your family tree!
What does this mean for human evolution?
We've only been genetically sequencing the remains of ancient human remains over the last decade. The evidence that modern humans were interbreeding with other subspecies has been piling up since then. This find, however, is the first evidence that the other two human species were interbreeding too.
This could pose a problem for the scientists who wish to explain away the discovery of Neanderthal or Denisovan DNA in modern humans by claiming it merely comes from a recent common ancestor, as we now have direct evidence of interbreeding between two of the groups. 
Finding a hybrid specimen amongst other archaic species suggests that interbreeding was either common or didn't strike the two groups as odd. This could end up supporting the idea that both the Neanderthals and the Denisovans interbred with humans to the point where they ceased to exist as a species, though further evidence is needed before that can be proven.
We're not the only humans to have existed on this planet. In the not too distant past, we shared Eurasia with some close evolutionary cousins. Why they died out we cannot say, but this discovery helps shed light on these mysterious relatives of ours. 
What can 3D printing do for medicine? The "sky is the limit," says Northwell Health researcher Dr. Todd Goldstein.
Northwell Health
Sponsored by Northwell Health
Medical professionals are currently using 3D printers to create prosthetics and patient-specific organ models that doctors can use to prepare for surgery.
Eventually, scientists hope to print patient-specific organs that can be transplanted safely into the human body.
Northwell Health, New York State's largest health care provider, is pioneering 3D printing in medicine in three key ways.
Torn between absolutism on the left and the right, classical liberalism—with its core values of compassion and incremental progress whereby the once-radical becomes the mainstream—is in need of a good defense. And Adam Gopnik is its lawyer.
Think Again Podcasts
Liberalism as "radical pragmatism"
Intersectionality and civic discourse
How "a thousand small sanities" tackled drunk driving, normalized gay marriage, and could control gun violence
Irish president believes students need philosophy.
Personal Growth
President of Ireland Michael D. Higgins calls for students to be thought of as more than tools made to be useful.
Higgins believes that philosophy and history should be a basic requirement forming a core education.
The Irish Young Philosopher Awards is one such event that is celebrating this discipline among the youth.
The lost practice of face-to-face communication has made the world a more extreme place.
Videos
The world was saner when we spoke face-to-face, argues John Cameron Mitchell. Not looking someone in the eye when you talk to them raises the potential for miscommunication and conflict.
Social media has been an incredible force for activism and human rights, but it's also negatively affected our relationship with the media. We are now bombarded 24/7 with news that either drives us to anger or apathy.
Sitting behind a screen makes polarization worse, and polarization is fertile ground for conspiracy theories and fascism, which Cameron describes as irrationally blaming someone else for your problems.
Big think's weekly newsletter.
Get smarter faster from the comfort of your inbox.
See our newsletter privacy policy
here
Most Popular
Most Recent
Big think's weekly newsletter.
Get smarter faster from the comfort of your inbox.
See our newsletter privacy policy
here
© Copyright 2007-2019 & BIG THINK, BIG THINK EDGE,
SMARTER FASTER trademarks owned by The Big Think, Inc. All rights reserved.