Stuck for An Idea? Try Listening to Some Happy Music.
A study finds that happen music enhances divergent thinking, and thus, creativity.
10 September, 2017
---
Creative thinking has long fascinated us. In the Middle Ages, creativity was believed to have a divine source, appearing only in people with an open line of communication with God. It wasn't until the Renaissance that creatives were given credit for their work. Modern studies have shown that this kind of thinking is simply something the normal human mind is capable of, though there are some studies that suggests that we're actually becoming less creative than we used to be. In any event, everybody seems to want to enhance creative thinking, and the psychologists behind the new study were interested in seeing what role music could play since there's been a fair amount of research into music's impact on the brain. 
A study just published in PLOS One suggests that happy music can be the key that unlocks divergent thinking, the kind of thinking that results in creative solutions and ideas. Psychologists studied 155 people in their late teens and 20s and found a clear correlation between how they thought and what they were listening to.
For the new study, Simone Ritter from Radboud University in Nijmegen and Sam Ferguson at the University of Technology in Sydney assessed their subjects for two types of thinking:
Convergent thinking — This type of thinking, as its name suggests, involves putting together a set of choices to assess their relative value and select the best option. It's a way of concentrating on something where you already have the information you need and simply need to arrive at the best conclusion.
Divergent thinking — This type of thinking goes wide in search of new possibilities. The mind opens up, or diverges, from the basic task, free to dream up completely new ideas or develop a fresh synthesis of, or angle on, existing ones.
To demonstrate why we'd want to enhance divergent thinking, the study's authors cite an example: The problem not having enough resources to repair high-tech incubators in developing countries with high neonatal death rates. Convergent thinking, or digging deeper, might involve improving the technology to make the incubators more reliable, or train more local people to repair them. Divergent thinking might lead to the designing of new incubators based on car parts with which locals are already familiar.
The researchers had their subjects attempt to solve a series of puzzles that required one of the two types of thinking to solve.
The Puzzles
There were three types of tests for convergent thinking:
Idea selection task — in which subjects were asked to select the three most creative objects from 10 kitchen inventions they were shown.
Remote associates task — in which subjects were asked ten times to come up with a fourth word after hearing a seemingly unrelated three-word combination.
Creative insight task — in which participants were presented with two physical puzzles. The first posed the "two-string" problem in which two strings hanging from the ceiling need to be tied together, even though they're spaced too far apart to be grabbed at the same time. (The solution is to swing one like a pendulum to bring its end closer to the other.). The other was the "Duncker candle problem," in which a candle must be stuck to a wall and lit without dripping wax on the floor using only matches and box of thumbtacks. (Tack the box to the wall, put the candle in the box, and light it with a match.)
For divergent thinking, subjects were given an Alternate Uses Task that instructed them to find many uses as they could for a common household brick.
The Music
As subjects worked, pieces of classical music were played in the background. Each was selected for its emotional effect as determined by previous study.

(RITTER/FERGUSON)
The Findings
First off, none of the music had any discernible effect on the performance of convergent tasks. Divergent thinking, though, was another story altogether.
Using a an Overall Divergent Thinking scale (ODT), where high scores are better, subjects listening to happy music had a rating of 93.87. Working in silence? A paltry ODT rating of 76. Vivaldi's Four Seasons for the win.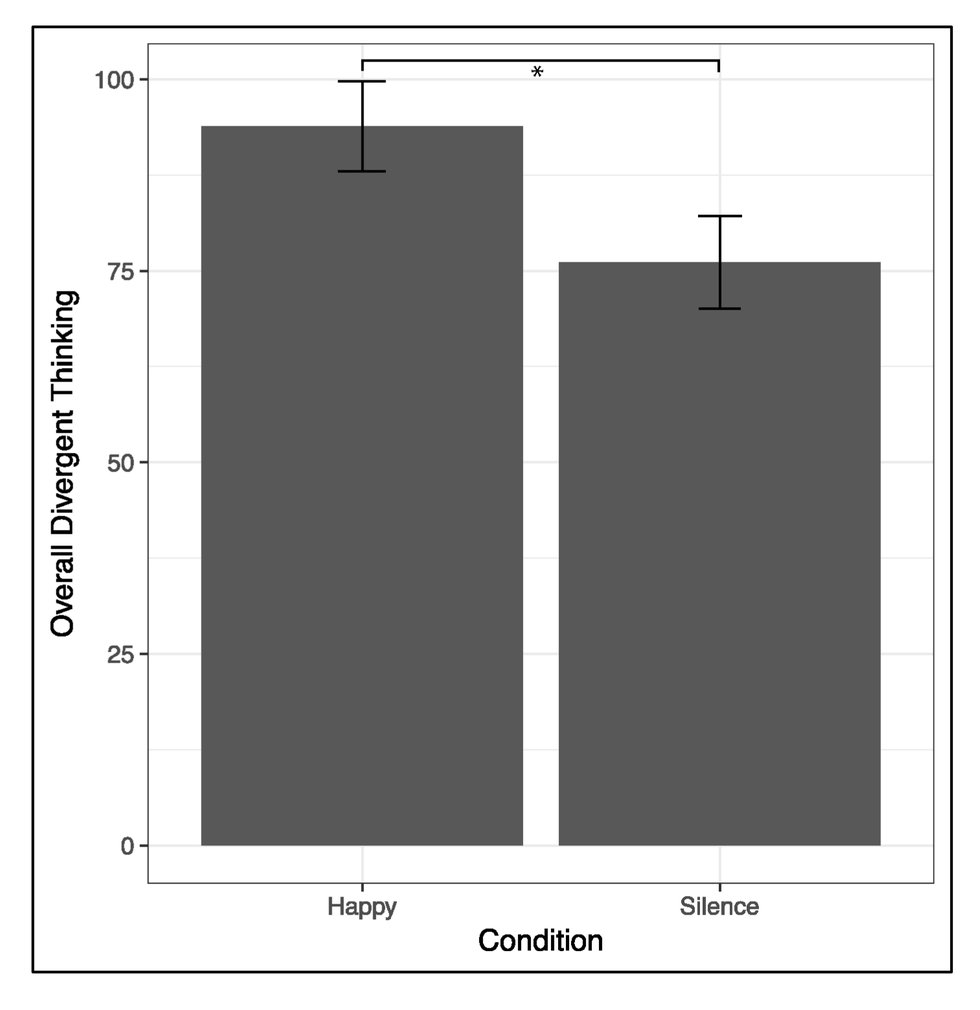 (RITTER/FERGUSON)
The research didn't get into why this happens, though its authors suggest that divergent thinking may provide the only way out of a sticky problem, "When getting stuck in a rut, it can be helpful to, instead of digging deeper, dig elsewhere."
Malcolm Gladwell teaches "Get over yourself and get to work" for Big Think Edge.
Big Think Edge
Learn to recognize failure and know the big difference between panicking and choking.

At Big Think Edge, Malcolm Gladwell teaches how to check your inner critic and get clear on what failure is.

Subscribe to Big Think Edge before we launch on March 30 to get 20% off monthly and annual memberships.
Archeologists had been doubtful since no such ship had ever been found.
(Christoph Gerigk/Franck Goddio/Hilti Foundation)
Surprising Science
In 450 BCE, Greek historian Herodotus described a barge that's never been found.
When the ancient port of Thonis-Heracleion was discovered, some 70 sunken ships were found resting in its waters.
One boat, Ship 17, uncannily matches the Herodotus' description.
The blood of horseshoe crabs is harvested on a massive scale in order to retrieve a cell critical to medical research. However, recent innovations might make this practice obsolete.
Credit: Business Insider (video)
Surprising Science
Horseshoe crabs' blue blood is so valuable that a quart of it can be sold for $15,000.
This is because it contains a molecule that is crucial to the medical research community.
Today, however, new innovations have resulted in a synthetic substitute that may end the practice of farming horseshoe crabs for their blood.
The Canadian professor has been on the Joe Rogan Experience six times. There's a lot of material to discuss.
Personal Growth
Jordan Peterson has constantly been in the headlines for his ideas on gender over the last three years.
While on Joe Rogan's podcast, he explains his thoughts on the gender differences in society.
On another episode, Peterson discusses the development of character through competition.
Big think's weekly newsletter.
Get smarter faster from the comfort of your inbox.
See our newsletter privacy policy
here
Most Popular
Most Recent
Big think's weekly newsletter.
Get smarter faster from the comfort of your inbox.
See our newsletter privacy policy
here
© Copyright 2007-2018 & BIG THINK, BIG THINK EDGE,
SMARTER FASTER trademarks owned by The Big Think, Inc. All rights reserved.