Science Keeps Not Debunking the Alien Dyson Sphere Idea
Science can't seem to disprove the giant alien megastructure some have proposed as an explanation for Tabby's star, AKA, the WTF star, AKA KIC 8462852.
10 August, 2016
All the scientific studies in the world of this one mysterious star have so far ruled out every theory except one, and it's the wildest one. The whole thing started when Yale astronomer Tabetha Boyajian located star KIC 8462852, unofficially known as "Tabby's star," after Boyajian. Tabby's star is doing something very strange.
---
In 2009, NASA launched its Kepler probe to keep a close watch on a small section of the sky — the idea was to learn more about a smaller area than less about a larger one. The probe tracks how light reflected from stars dims and grows brighter. Generally, when a star dims, a planet has passed in front of it, and will again and again as it travels its orbital path.
Kepler's found some 2,000+ planets orbiting stars and published its data to allow citizen scientists to confirm their findings. A group of people affiliated with Yale called Planet Finders started going over the data, and Boyajian found her star.
To start with, it's unexpectedly dim for a star of its its size and age. But what really got her attention was this chart.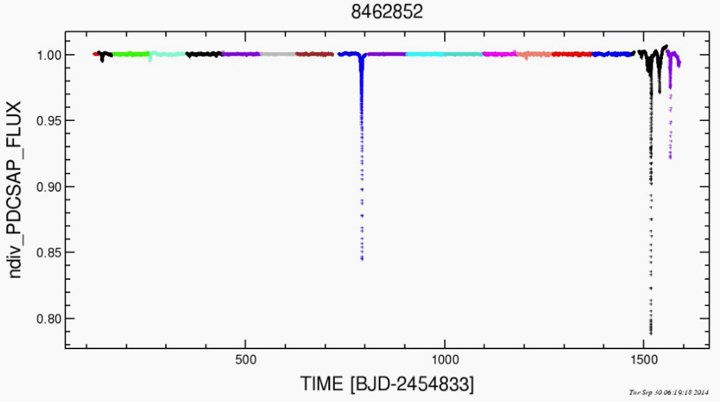 Each vertical dip represents a holy-cow reduction in the star's brightness, more than 10 times the dimming that astronomers would expect from a planet even as big as Jupiter crossing in front of the star. So it appears it's not a planet causing Tabby's star to dim, which is why it's also called the "WTF star," after the paper they published about it titled "Where's the Flux?"
The data suggests something huge is orbiting the star, but what?
The reason the WTF star is famous is the hypothesis put forward to explain the dimming by Penn State astronomer Jason Wright: That what's orbiting the star could be a "swarm of megastructures," alien-built energy collectors, much like terrestrial solar panels. Wright told The Atlantic, "When Boyajian showed me the data, I was fascinated by how crazy it looked. Aliens should always be the very last hypothesis you consider, but this looked like something you would expect an alien civilization to build." He was imagining something like a Dyson sphere.
Crazy, right? Well, since then scientists have been frantically pushing out other hypotheses to explain the anomaly.
Here are some of the more normal theories, and why they're probably wrong:
Kepler was malfunctioning — Nope.
It's a cloud of dust from star formation — But the star isn't young. It shows no sign of the infrared light that indicates a new star.
It's a swarm of comets — But the dimming is too extreme to be caused by comets.
It's debris from colliding planets — But that matter would get sucked into the star so quickly it would be unlikely to linger long enough for us to see it.
So, yes, WTF indeed.
SETI pointed its radio telescopes at Tabby's star for two solid weeks but detected no radio signals that would indicate civilization emanating from it. No joy — or maybe terror — there.
And then there's this. Louisiana State University's Brad Schaefer went through old photographic plates of that area of the sky and deduced that the star has dimmed by 20% over the last century. Could this be when the aliens were building their Dyson sphere? Though Schaefer's finding was disputed, there's now a new study from California Institute of Technology and Carnegie Institute that suggests the dimming over this period is twice what Schaefer found.
Okay, so the fact that other theories have been a bust is in no way proof that there's a Dyson sphere collecting energy around Tabby's star. Maybe it's just that no one's come up with a more plausible hypothesis yet. But it in no way is it proof that there isn't one, either.
What can 3D printing do for medicine? The "sky is the limit," says Northwell Health researcher Dr. Todd Goldstein.
Northwell Health
Sponsored by Northwell Health
Medical professionals are currently using 3D printers to create prosthetics and patient-specific organ models that doctors can use to prepare for surgery.
Eventually, scientists hope to print patient-specific organs that can be transplanted safely into the human body.
Northwell Health, New York State's largest health care provider, is pioneering 3D printing in medicine in three key ways.
Mega-rich entrepreneurs are taking us where no human being has gone before.
Videos
During the first golden era of space exploration, we went to the moon. Then we sort of dropped the ball for 50 years.
The problem is space travel is very expensive, especially the way governments do space travel.
Because it costs $10,000 to put a pound of anything into orbit around the planet, we need to have an infusion of public and private funds. That's where billionaires such as Elon Musk and Jeff Bezos come into the picture. With their help, we have new energies, new strategies, and new plans to go back into outer space.
If you don't want to know anything about your death, consider this your spoiler warning.
Culture & Religion
For centuries cultures have personified death to give this terrifying mystery a familiar face.
Modern science has demystified death by divulging its biological processes, yet many questions remain.
Studying death is not meant to be a morbid reminder of a cruel fate, but a way to improve the lives of the living.
Cook's commencement speech at Tulane University urges students to take action.
Getty Images
Technology & Innovation
Apple CEO Tim Cook gave a commencement speech at Tulane University on May 18th.
Cook cautioned the graduates to not get caught up in echo chambers and algorithms.
He acknowledged the failures of his generation.
Big think's weekly newsletter.
Get smarter faster from the comfort of your inbox.
See our newsletter privacy policy
here
Most Popular
Most Recent
Big think's weekly newsletter.
Get smarter faster from the comfort of your inbox.
See our newsletter privacy policy
here
© Copyright 2007-2019 & BIG THINK, BIG THINK EDGE,
SMARTER FASTER trademarks owned by The Big Think, Inc. All rights reserved.