Why Meek Mill is a symbol of the broken American justice system
Rapper Meek Mill is stuck in jail, caught in the U.S. justice system's perpetual probation trap that keeps a disproportionate number of black people in America incarcerated.
17 April, 2018
When New England Patriots owner Robert Kraft visited rapper Meek Mill in a Philadelphia prison Tuesday, it wasn't a big surprise. The 76-year-old Kraft has hired hip-hop artists for team parties, and he's been photographed with Beyoncé and husband Jay-Z. Kraft is just one of the well-known names who are raising their voices in protest of the treatment of Mill by the U.S. legal system, a case that represents the way the legal system treats many Americans of color.
---
Stuck in probation
Mill's case began before fame when he was known as Robert Rihmeek Williams. In 2007, the then-19-year-old was arrested for drugs and carrying a concealed weapon he had no license for.
Since that time, the arresting officer's integrity has come into question—his name has appeared on a list of officers suspected of framing witnesses and lying in court—and prosecutors for the Philadelphia District Attorney's offices support the vacating of Mill's original conviction because there are "questions about the credibility" of that officer. On April 16, Philadelphia District Attorney Larry Krasner announced he does, too.
Mill was convicted and served his sentence, getting out in six months on parole. However, on top of the jail time, Judge Genece E. Brinkley had also sentenced him to seven years of probation that remained in effect.
The latest Federal data says that in 2015 there were 3.8 million people on legal probation in the U.S. and only about half of those had been released from it by 2016. Though black people make up only 13% of the U.S. population, they constitute 30% of those put on probation. They're more likely to get probation than whites, and more likely to have probation revoked and land back in jail.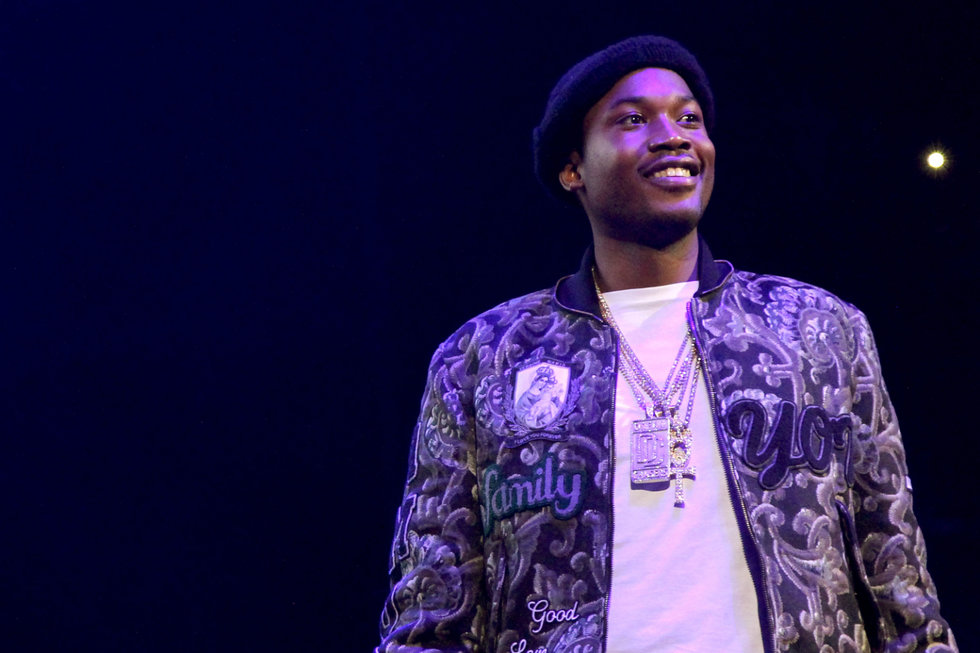 (Photo: Bennett Raglin)
Meek and Brinkley
Meek had been paroled to house arrest and ordered by Judge Brinkley to get his GED and drug treatment. Over the next few years, a series of failed and skipped drug tests led Brinkley to begin imposing travel restrictions to the Philadelphia area on the rising rap star.
Since that time, it's been a series of drug-test and travel violations on Meeks' part, and some unusual behavior on Brinkley's, including an attempt, according to Mill's lawyers, to force the artist to leave his record label and sign with a friend of the judge. He also says Brinkley asked him to record a song containing a shout-out to her. There have also been off-the-record meetings at which no lawyers were allowed, and Mill claims the judge has warned him not to attempt to appeal her rulings, which he's done anyway, to no avail.
In November, Brinkley sent Mill to jail for the current two-to-four year sentence. She noted new drug-test and travel violations, an assault charge that was later dropped, and a New York reckless driving citation for popping a wheelie on an NYC street. DJ Khaled's single 'Top Off' (with guests Beyoncé and Jay-Z) includes the line:
"Screamin', 'Free my nigga, Meek Mill'/N——s can't wheelie in this free world."
The face of a brutal system
Though the details are his own, Mill's experience falls in line with the sort of never-ending probation in which people of color are so often trapped.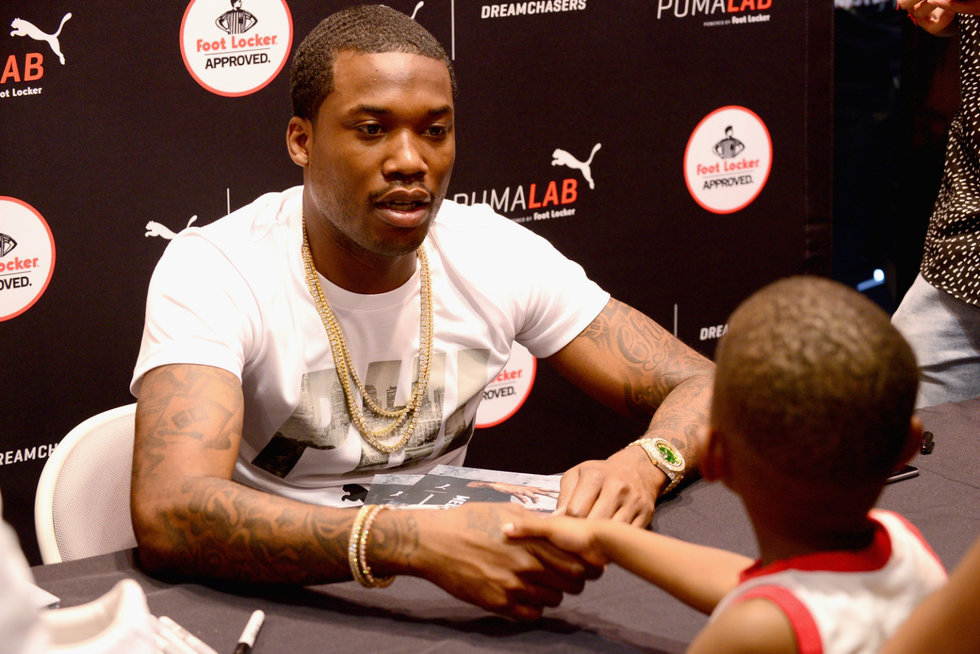 (Photo: Lisa Lake)
Pitchfork asked civil rights attorney Thomas O. Fitzpatrick what he thought of the case. "Is it fair to Meek Mill? Eh, he knew what it was. This isn't a surprise to Meek Mill." On the other hand, "Is it fair in terms of: Should we look at this as an indictment of our system? Absolutely, we should. And we should reconsider how we do things." DA Krasner says that Mill's case perfectly demonstrates what's wrong with the justice system: "Across the board, African-Americans are ending up with worse sentences over and over than white people."
Many agree. The hashtags #freemeekmill and #justice4meek are popular on Twitter, and Pennsylvania governor Tom Wolf recently tweeted his support for vacating Mill's conviction: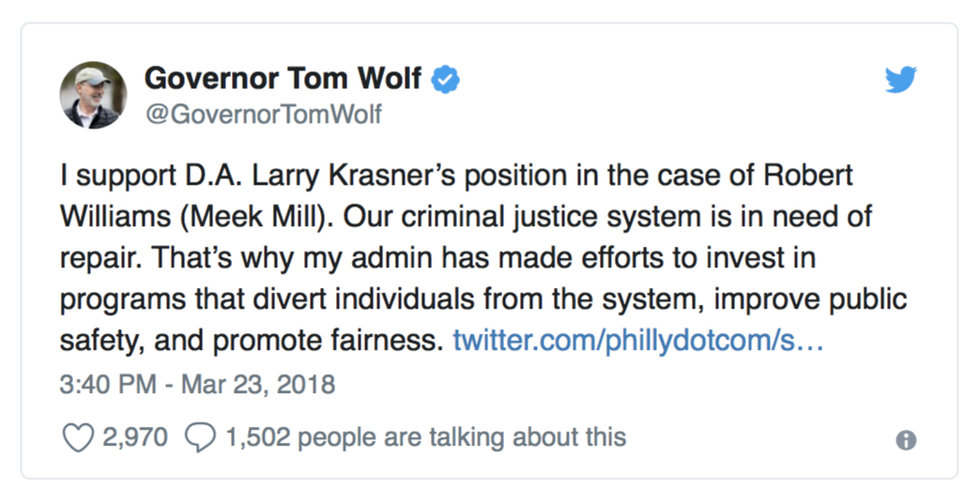 Colin Kaepernick, Rick Ross, Lil Uzi Vert, Julius Erving, and Rev. Al Sharpton are some of the other well-known names pulling for the rapper.
Whatever ends up happening with Mill, there's an entire population of black prisoners trapped in a system that seems to never want to let them go. There's bipartisan support for reform of sentencing but, apparently, the probation trap is not part of the discussion yet, however much a case like Mill's makes it clear that it should be.
In November 2017, Jay-Z wrote an opinion piece published in The New York Times about how the probation model is less a second chance than a field of land mines:
"On the surface, this may look like the story of yet another criminal rapper who didn't smarten up and is back where he started. But consider this: Meek was around 19 when he was convicted on charges relating to drug and gun possession, and he served an eight-month sentence. Now he's 30, so he has been on probation for basically his entire adult life. For about a decade, he's been stalked by a system that considers the slightest infraction a justification for locking him back inside."
Related Articles
It's just the current cycle that involves opiates, but methamphetamine, cocaine, and others have caused the trajectory of overdoses to head the same direction
From the study: http://science.sciencemag.org/content/361/6408/eaau1184
Surprising Science
It appears that overdoses are increasing exponentially, no matter the drug itself
If the study bears out, it means that even reducing opiates will not slow the trajectory.
The causes of these trends remain obscure, but near the end of the write-up about the study, a hint might be apparent
Through computationally intensive computer simulations, researchers have discovered that "nuclear pasta," found in the crusts of neutron stars, is the strongest material in the universe.
Accretion disk surrounding a neutron star. Credit: NASA
Surprising Science
The strongest material in the universe may be the whimsically named "nuclear pasta."
You can find this substance in the crust of neutron stars.
This amazing material is super-dense, and is 10 billion times harder to break than steel.
---
Superman is known as the "Man of Steel" for his strength and indestructibility. But the discovery of a new material that's 10 billion times harder to break than steel begs the question—is it time for a new superhero known as "Nuclear Pasta"? That's the name of the substance that a team of researchers thinks is the strongest known material in the universe.
Unlike humans, when stars reach a certain age, they do not just wither and die, but they explode, collapsing into a mass of neurons. The resulting space entity, known as a neutron star, is incredibly dense. So much so that previous research showed that the surface of a such a star would feature amazingly strong material. The new research, which involved the largest-ever computer simulations of a neutron star's crust, proposes that "nuclear pasta," the material just under the surface, is actually stronger.
The competition between forces from protons and neutrons inside a neutron star create super-dense shapes that look like long cylinders or flat planes, referred to as "spaghetti" and "lasagna," respectively. That's also where we get the overall name of nuclear pasta.
Caplan & Horowitz/arXiv
Diagrams illustrating the different types of so-called nuclear pasta.
The researchers' computer simulations needed 2 million hours of processor time before completion, which would be, according to a press release from McGill University, "the equivalent of 250 years on a laptop with a single good GPU." Fortunately, the researchers had access to a supercomputer, although it still took a couple of years. The scientists' simulations consisted of stretching and deforming the nuclear pasta to see how it behaved and what it would take to break it.
While they were able to discover just how strong nuclear pasta seems to be, no one is holding their breath that we'll be sending out missions to mine this substance any time soon. Instead, the discovery has other significant applications.
One of the study's co-authors, Matthew Caplan, a postdoctoral research fellow at McGill University, said the neutron stars would be "a hundred trillion times denser than anything on earth." Understanding what's inside them would be valuable for astronomers because now only the outer layer of such starts can be observed.
"A lot of interesting physics is going on here under extreme conditions and so understanding the physical properties of a neutron star is a way for scientists to test their theories and models," Caplan added. "With this result, many problems need to be revisited. How large a mountain can you build on a neutron star before the crust breaks and it collapses? What will it look like? And most importantly, how can astronomers observe it?"
Another possibility worth studying is that, due to its instability, nuclear pasta might generate gravitational waves. It may be possible to observe them at some point here on Earth by utilizing very sensitive equipment.
The team of scientists also included A. S. Schneider from California Institute of Technology and C. J. Horowitz from Indiana University.
Check out the study "The elasticity of nuclear pasta," published in Physical Review Letters.
Scientists think constructing a miles-long wall along an ice shelf in Antarctica could help protect the world's largest glacier from melting.
Image: NASA
Surprising Science
Rising ocean levels are a serious threat to coastal regions around the globe.
Scientists have proposed large-scale geoengineering projects that would prevent ice shelves from melting.
The most successful solution proposed would be a miles-long, incredibly tall underwater wall at the edge of the ice shelves.
The world's oceans will rise significantly over the next century if the massive ice shelves connected to Antarctica begin to fail as a result of global warming.
To prevent or hold off such a catastrophe, a team of scientists recently proposed a radical plan: build underwater walls that would either support the ice or protect it from warm waters.
In a paper published in The Cryosphere, Michael Wolovick and John Moore from Princeton and the Beijing Normal University, respectively, outlined several "targeted geoengineering" solutions that could help prevent the melting of western Antarctica's Florida-sized Thwaites Glacier, whose melting waters are projected to be the largest source of sea-level rise in the foreseeable future.
An "unthinkable" engineering project
"If [glacial geoengineering] works there then we would expect it to work on less challenging glaciers as well," the authors wrote in the study.

One approach involves using sand or gravel to build artificial mounds on the seafloor that would help support the glacier and hopefully allow it to regrow. In another strategy, an underwater wall would be built to prevent warm waters from eating away at the glacier's base.
The most effective design, according to the team's computer simulations, would be a miles-long and very tall wall, or "artificial sill," that serves as a "continuous barrier" across the length of the glacier, providing it both physical support and protection from warm waters. Although the study authors suggested this option is currently beyond any engineering feat humans have attempted, it was shown to be the most effective solution in preventing the glacier from collapsing.
Source: Wolovick et al.
An example of the proposed geoengineering project. By blocking off the warm water that would otherwise eat away at the glacier's base, further sea level rise might be preventable.
But other, more feasible options could also be effective. For example, building a smaller wall that blocks about 50% of warm water from reaching the glacier would have about a 70% chance of preventing a runaway collapse, while constructing a series of isolated, 1,000-foot-tall columns on the seafloor as supports had about a 30% chance of success.

Still, the authors note that the frigid waters of the Antarctica present unprecedently challenging conditions for such an ambitious geoengineering project. They were also sure to caution that their encouraging results shouldn't be seen as reasons to neglect other measures that would cut global emissions or otherwise combat climate change.
"There are dishonest elements of society that will try to use our research to argue against the necessity of emissions' reductions. Our research does not in any way support that interpretation," they wrote.
"The more carbon we emit, the less likely it becomes that the ice sheets will survive in the long term at anything close to their present volume."
A 2015 report from the National Academies of Sciences, Engineering, and Medicine illustrates the potentially devastating effects of ice-shelf melting in western Antarctica.
"As the oceans and atmosphere warm, melting of ice shelves in key areas around the edges of the Antarctic ice sheet could trigger a runaway collapse process known as Marine Ice Sheet Instability. If this were to occur, the collapse of the West Antarctic Ice Sheet (WAIS) could potentially contribute 2 to 4 meters (6.5 to 13 feet) of global sea level rise within just a few centuries."
Big think's weekly newsletter.
Get smarter faster from the comfort of your inbox.
See our newsletter privacy policy
here
Most Popular
Most Recent
Big think's weekly newsletter.
Get smarter faster from the comfort of your inbox.
See our newsletter privacy policy
here
© Copyright 2007-2018 & BIG THINK, BIG THINK EDGE,
SMARTER FASTER trademarks owned by The Big Think, Inc. All rights reserved.