Just 10 minutes of meditation turbocharges your brain
A new study finds that even minutes of meditation or mindfulness increases your cognitive capabilities.
14 August, 2018
A new study published in the journal Frontiers in Neuroscience finds that just 10 minutes of mindfulness meditation can improve a person's cognitive abilities, provided they're not too neurotic to begin with. According to Hedy Kober, senior author and associate professor of psychiatry and psychology at Yale, "We have known for a while that people who practice meditation for a few weeks or months tend to perform better on cognitive tests, but now we know you don't have to spend weeks practicing to see improvement." She adds, "We don't know if longer meditation sessions, or multiple sessions, would improve their cognitive scores, and we look forward to testing that in future studies." Her co-lead on the project was Catherine Norris at Swarthmore.
How the studies worked
The researchers performed two studies on male and female Swarthmore students. Subjects of the first were 37 students, a third of them female. The second involved 56 students, divided about evenly between male and female.
Congruent and incongruent Flanker tasks
Subjects' cognitive capabilities were divided into response times—"RTs"—and levels of accuracy as they performed Flanker tasks. A Flanker task presents you a string of five characters (or colors, or images, etc.) arranged in a row. Your job is to press a specified keyboard key when you see one of a particular pair of characters in the middle position, or a different key when you see one of another pair. (You can take an online Flanker task demo to see for yourself what it's like.)
Sometimes the non-relevant characters on either side of the central character are the same as the central character. Such a trial is called "congruent." If the surrounding characters are not the same as the central one, they're "incongruent." Previous studies have found that the brain processes congruent and incongruent Flanker trials differently, even if you think you barely notice anything outside the center. A Flanker task activates your anterior cingulate cortex, or ACC, and the level of activity is higher for incongruous tasks, at least initially.
Study 1


(Credit: Kober, et al/Big Think)
In the first study, students were divided randomly into two blindfolded groups—the blindfolds were to reduce distractions as they listened. One group listened to a 10-minute meditation/mindfulness audio recording presenting mindfulness-based stress reduction, or MBSR. The other group listened to a 10-minute control recording. The control recording matched the MBSR recording "on number of words, word frequencies, voice, cadence, and length," although, of course, with different content.
After listening to the MBSR recording or the control recording, the now-unblindfolded subjects were introduced to Flanker testing and allowed 12 trial runs before the official test. Afterward, each filled out a Big 5 Personality Inventory to help track the effect of neuroticism in the data. There's been a lot of interest on whether or not meditation can help alleviate neuroticism; in this study, things were reversed, with neuroticism adversely affecting meditation's potential effects. Each subject also took a demographic survey and was debriefed.
Study 2


(Credit: Kober, et al/Big Think)
In the second study, researchers took a slightly different tack. The Flanker task was a more extended "attention network test," or ANT. Subjects were given instructions on the test and given 24 practice trials before being outfitted with EEG electrode nets for real-time monitoring of brain activity — "the researchers wanted to investigate neural correlates of the effects of meditation on attention." After listening to the recording or a control recording, subjects performed the ANT Flanker test. Afterward, the electrodes were removed, and the subjects were again given a Big Five test as well as a demographic survey, and finally, debriefed.
What researchers found
Study 1 results
Response time (RT): There was no difference in RTs when the group performed congruent Flanker tasks compared to those who didn't.
Accuracy: Interestingly, although MBSR subjects performed significantly more accurately than the control group with incongruent trials, there was no discernible difference between them on congruent trials. It may be that meditation helps reduce the stress inherent in the more confusing incongruent trials.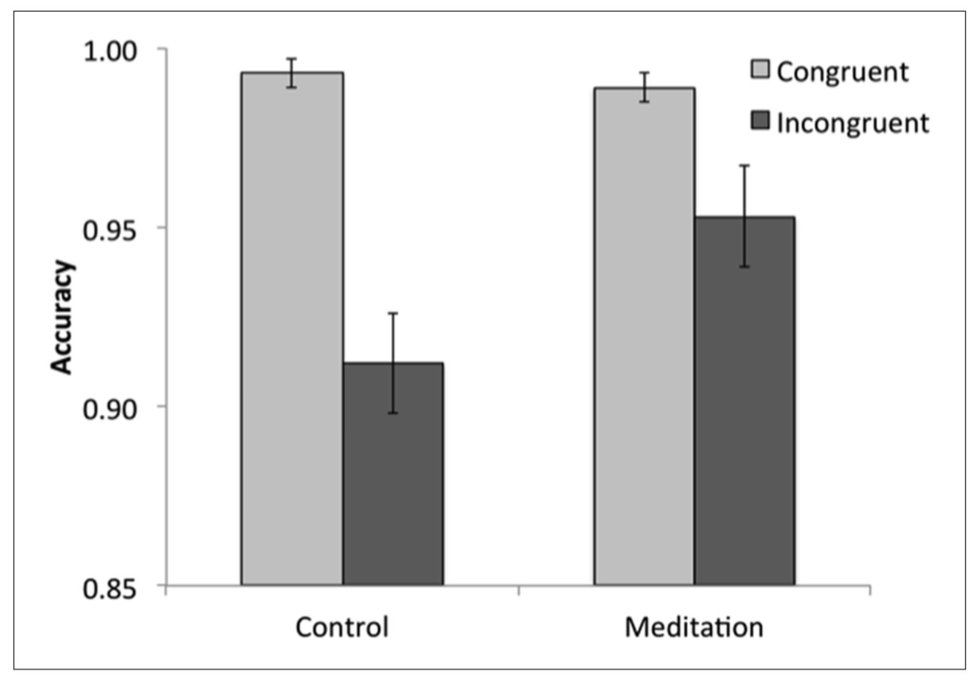 Effect of neuroticism: Researchers found "individuals higher in neuroticism did not exhibit any performance boost following meditation. Neuroticism may thus prevent individuals from reaping the benefits of an initial, brief meditation."
Overall: Study 1 found "a brief 10-min guided mindfulness meditation instruction period can improve executive attentional control even in naïve, inexperienced meditators. This is a novel and important finding, suggesting that individuals who are merely initiating a meditation practice may reap benefits after a single brief session."
Study 2 results
Response time: For correct Flanker responses, ANT subjects had quicker RTs than the control group for both congruent and incongruent tasks.
Accuracy: There was no significant difference in accuracy between the ANT group and the control group.
Effect of neuroticism: Study 2 found slightly lower RTs for this personality type with both the control and ANT group.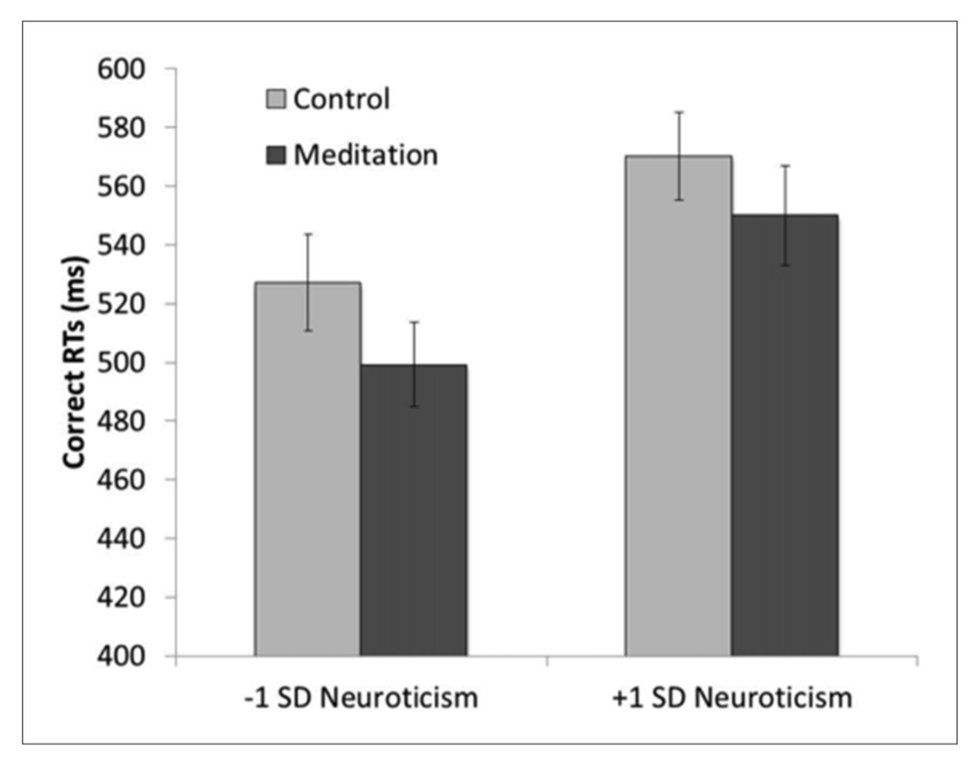 EEG differences: The authors found no discernible differences in the EEGs between the two groups or for congruent/incongruent trials.
Overall: Subjects in Study 2 had a less rushed experience than those in Study 1, with short breaks, and thus they may have been able to demonstrate "faster correct RTs overall, regardless of trial type, consistent with the conclusion that they were better able to focus and respond (correctly) more quickly than those in the control condition."
Adding it up
"Of primary interest is that a brief meditation period did affect performance in both studies," says the study of the increased RTs seen with meditation, leading them to conclude that while more study of this is warranted—factoring in different mediation/mindfulness methods, for example, or the level of commitment on the part of subjects—"a brief guided meditation may improve executive attention, but the manifestation of that improvement may depend strongly on the task being performed."
Former president of the ACLU Nadine Strossen discusses whether our society should always defend free speech rights, even for groups who would oppose such rights.
Sponsored by Charles Koch Foundation
Former ACLU president Nadine Strossen understands that protecting free speech rights isn't always a straightforward proposition.
In this video, Strossen describes the reasoning behind why the ACLU defended the free speech rights of neo-Nazis in Skokie, Illinois, 1977.
The opinions expressed in this video do not necessarily reflect the views of the Charles Koch Foundation, which encourages the expression of diverse viewpoints within a culture of civil discourse and mutual respect.
Going back to the moon will give us fresh insights about the creation of our solar system.
Videos
July 2019 marks the 50th anniversary of the moon landing — Apollo 11.
Today, we have a strong scientific case for returning to the moon: the original rock samples that we took from the moon revolutionized our view of how Earth and the solar system formed. We could now glean even more insights with fresh, nonchemically-altered samples.
NASA plans to send humans to a crater in the South Pole of the moon because it's safer there, and would allow for better communications with people back on Earth.
Pugs and bulldogs are incredibly trendy, but experts have massive animal welfare concerns about these genetically manipulated breeds. 
Photo by terriermandotcom.blogspot.com
popular
Pugs, Frenchies, boxers, shih-tzus and other flat-faced dog breeds have been trending for at least the last decade.
Higher visibility (usually in a celebrity's handbag), an increase in city living (smaller dogs for smaller homes), and possibly even the fine acting of Frank the Pug in 1997's Men in Black may be the cause.
These small, specialty pure breeds are seen as the pinnacle of cuteness – they have friendly personalities, endearing odd looks, and are perfect for Stranger Things video montages.
Jokesters and serious Area 51 raiders would be met with military force.
Politics & Current Affairs
Facebook joke event to "raid Area 51" has already gained 1,000,000 "going" attendees.
The U.S. Air Force has issued an official warning to potential "raiders."
If anyone actually tries to storm an American military base, the use of deadly force is authorized.