DNA analysis reveals the 'extinct' Taino people never died out
DNA analysis reveals the Taino people who welcomed Columbus to the New World were not eradicated after all.
21 February, 2018
When Columbus arrived, the Caribbean islands were populated by people known now as the "Taino." Most likely they were descendants of the Arawaks of South America, and Taino was actually just their language — at the time, they were known as Lucayans locally in the Bahamas, Greater Antilles, and the northern Lesser Antilles areas they dominated. They courteously greeted Christopher Columbus when he landed in the New World, but within 30 years, according to Spanish accounts, the Taino were all gone, victims of European pathogens — smallpox in particular — and the brutality of the newcomers. Locals have long insisted that this isn't true, that they were simply written out of history. Now a DNA analysis reveals the locals were right, and at least one modern Caribbean population includes Lucayan Taino descendants.
---
DNA was extracted from a Lucayan Taino woman who lived about 1,000 years ago according to radiocarbon dating, or about 500 years before Columbus appeared. (Researchers believe her people arrived in the area some 2,500 years ago.) As can happen when serendipity's at play, she was found by researchers looking for something else entirely.
After a shipwreck at Devil Backbone off the Bahamian island of Eleuthera in the 1600s, Captain Willam Styles and his crew and passengers found shelter in a cave Bahamians call "Preacher's Cave."
Preacher's Cave on EleutheraWilly Volk
In the early 2000s, archeologists began digging there to learn more about these seafarers and were surprised to unearth artifacts and intact burial sites from long before Sayles. With low expectations due to the fragile nature of DNA in hot, humid environments, DNA researcher Hannes Schroeder examined five teeth from the cave and found a single tooth from a female that had sufficient DNA for sequencing. Schroeders' team was able to sequence each of the tooth's nucleotide bases to an average depth of 12.4-fold, giving them an unprecedented view of the "long-lost" Taino population.

The researchers found evidence that the Lucayan Tainos had likely originated with the Arawaks of northern South America. They also saw none of the telltale signs of inbreeding, suggesting she belonged to a large population that that wasn't constrained to tiny Eleuthera but instead extended across the larger Caribbean region.
Most exciting was that researchers were able to document components of the woman's genome in modern Caribbean populations. Puerto Rico became an area of special significance. "Due to the high levels of African and European ancestry in modern Puerto Ricans, the native components are difficult to discern; however, when we compare only the estimated ancestry clusters that reflect non-African/European ancestries, there are clear similarities between Puerto Ricans, Arawakan speakers, and the ancient Taino," says the research. The analysis also finds that their DNA diverged from modern Puerto Ricans "only recently."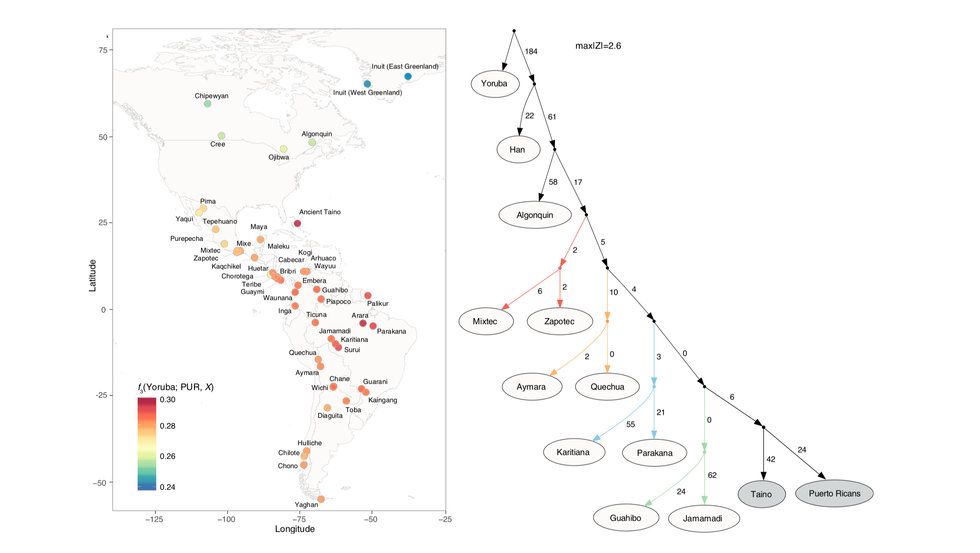 On the left, a "heat map" of areas with Taino-like genomes. On the right, the Taino and modern Puerto Ricans have their own branch. (Schroeder, et al)
This may be a heartening case of scientific evidence being able to defeat the spoils of war — "History is written by the victors," goes the saying — and revealing hidden truth: The Lucayan Taino were not eradicated after all. The conclusion at which Schroeder and his team arrive is clear: "Lastly, we find that the native component in present-day Puerto Rican genomes is closely related to the ancient Taino, demonstrating an element of continuity between precontact populations and present-day Latino populations in the Caribbean despite the disruptive effects of European colonization."
--
What can 3D printing do for medicine? The "sky is the limit," says Northwell Health researcher Dr. Todd Goldstein.
Northwell Health
Sponsored by Northwell Health
Medical professionals are currently using 3D printers to create prosthetics and patient-specific organ models that doctors can use to prepare for surgery.
Eventually, scientists hope to print patient-specific organs that can be transplanted safely into the human body.
Northwell Health, New York State's largest health care provider, is pioneering 3D printing in medicine in three key ways.
The periodic table was a lot simpler at the beginning of the universe.
The controversial herbicide is everywhere, apparently.
Surprising Science
U.S. PIRG tested 20 beers and wines, including organics, and found Roundup's active ingredient in almost all of them.
A jury on August 2018 awarded a non-Hodgkin's lymphoma victim $289 million in Roundup damages.
Bayer/Monsanto says Roundup is totally safe. Others disagree.
Can dirt help us fight off stress? Groundbreaking new research shows how.
University of Colorado Boulder
Surprising Science
New research identifies a bacterium that helps block anxiety.
Scientists say this can lead to drugs for first responders and soldiers, preventing PTSD and other mental issues.
The finding builds on the hygiene hypothesis, first proposed in 1989.
Are modern societies trying too hard to be clean, at the detriment to public health? Scientists discovered that a microorganism living in dirt can actually be good for us, potentially helping the body to fight off stress. Harnessing its powers can lead to a "stress vaccine".
Researchers at the University of Colorado Boulder found that the fatty 10(Z)-hexadecenoic acid from the soil-residing bacterium Mycobacterium vaccae aids immune cells in blocking pathways that increase inflammation and the ability to combat stress.
The study's senior author and Integrative Physiology Professor Christopher Lowry described this fat as "one of the main ingredients" in the "special sauce" that causes the beneficial effects of the bacterium.
The finding goes hand in hand with the "hygiene hypothesis," initially proposed in 1989 by the British scientist David Strachan. He maintained that our generally sterile modern world prevents children from being exposed to certain microorganisms, resulting in compromised immune systems and greater incidences of asthma and allergies.
Contemporary research fine-tuned the hypothesis, finding that not interacting with so-called "old friends" or helpful microbes in the soil and the environment, rather than the ones that cause illnesses, is what's detrimental. In particular, our mental health could be at stake.
"The idea is that as humans have moved away from farms and an agricultural or hunter-gatherer existence into cities, we have lost contact with organisms that served to regulate our immune system and suppress inappropriate inflammation," explained Lowry. "That has put us at higher risk for inflammatory disease and stress-related psychiatric disorders."
University of Colorado Boulder
Christopher Lowry
This is not the first study on the subject from Lowry, who published previous work showing the connection between being exposed to healthy bacteria and mental health. He found that being raised with animals and dust in a rural environment helps children develop more stress-proof immune systems. Such kids were also likely to be less at risk for mental illnesses than people living in the city without pets.
Lowry's other work also pointed out that the soil-based bacterium Mycobacterium vaccae acts like an antidepressant when injected into rodents. It alters their behavior and has lasting anti-inflammatory effects on the brain, according to the press release from the University of Colorado Boulder. Prolonged inflammation can lead to such stress-related disorders as PTSD.
The new study from Lowry and his team identified why that worked by pinpointing the specific fatty acid responsible. They showed that when the 10(Z)-hexadecenoic acid gets into cells, it works like a lock, attaching itself to the peroxisome proliferator-activated receptor (PPAR). This allows it to block a number of key pathways responsible for inflammation. Pre-treating the cells with the acid (or lipid) made them withstand inflammation better.
Lowry thinks this understanding can lead to creating a "stress vaccine" that can be given to people in high-stress jobs, like first responders or soldiers. The vaccine can prevent the psychological effects of stress.
What's more, this friendly bacterium is not the only potentially helpful organism we can find in soil.
"This is just one strain of one species of one type of bacterium that is found in the soil but there are millions of other strains in soils," said Lowry. "We are just beginning to see the tip of the iceberg in terms of identifying the mechanisms through which they have evolved to keep us healthy. It should inspire awe in all of us."
Check out the study published in the journal Psychopharmacology.
Big think's weekly newsletter.
Get smarter faster from the comfort of your inbox.
See our newsletter privacy policy
here
Most Popular
Most Recent
Big think's weekly newsletter.
Get smarter faster from the comfort of your inbox.
See our newsletter privacy policy
here
© Copyright 2007-2019 & BIG THINK, BIG THINK EDGE,
SMARTER FASTER trademarks owned by The Big Think, Inc. All rights reserved.