Does your favorite music reveal your political beliefs?
1,007 people were surveyed about their political affiliations and opinions, and their music tastes to learn to what extent they correspond to each other. Survey results are shown as infographics.
09 May, 2018
---
"This machine kills fascists," read the handwritten scrawl taped to Woody Guthrie's guitar. It was Depression-era testament to the link between two common passions: politics and music. Our feelings about them say something about how we view our world. But is there a one-to-one correspondence between them? Do people with one kind of politics prefer a particular form of music? Ticketing company TickPick decided to find out by surveying 1,007 music fans through Amazon's Mechanical Turk. Here's what it found.
Party (music) affiliations unite us
Favorite genres
Whether you're a Democrat, Republican, or Independent, the top two genres are classic rock and then pop. This is heartening—some things we do agree on. Going down the list there are differences, sure, but still…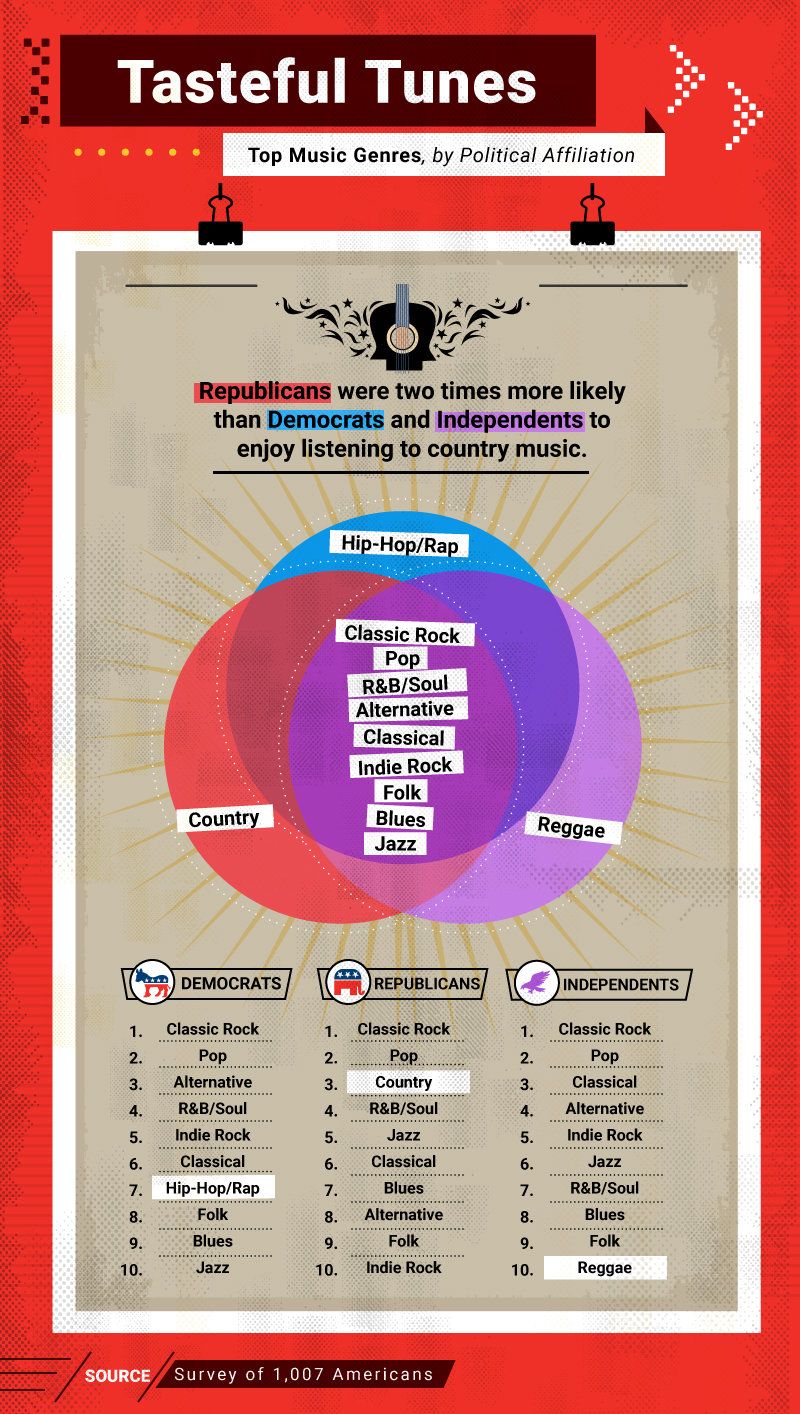 Favorite artists
It turns out that regardless of party affiliation, all of the respondents liked pretty much the same artists.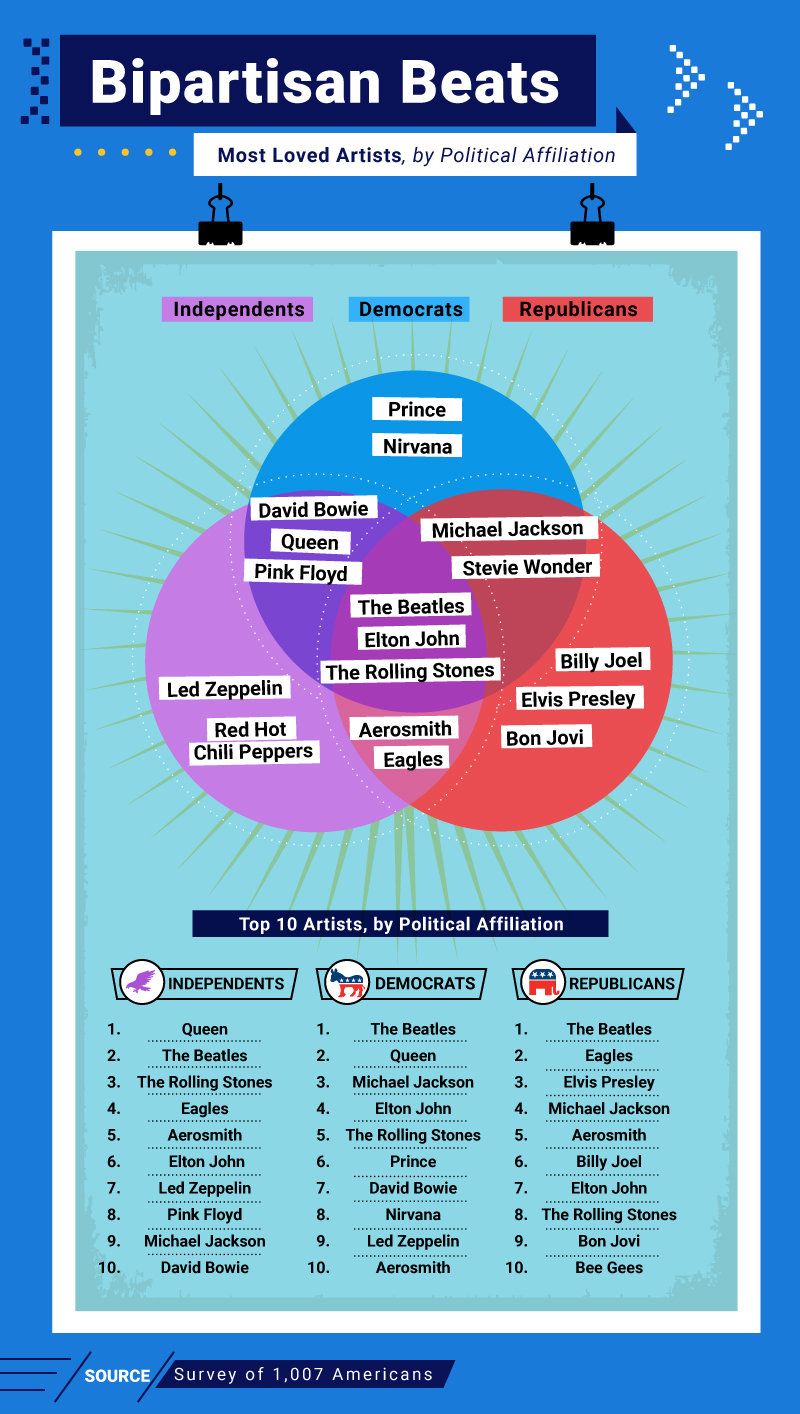 Hot-button issues and music tastes
Well, so much for our Kumbaya moment. When it comes to how we feel about specific issues—and the president—our music tastes are no longer in harmony. In general, it seems like people will be clustered to either side of our national dance floor, with far more of them on the side that favors pot legalization, gun control, same-sex marriage, and no border wall.
To Trump or not to Trump
KISS or Beyoncé? They're the #2 artists on both sides of this question, with recent events casting doubt on #1 as shown.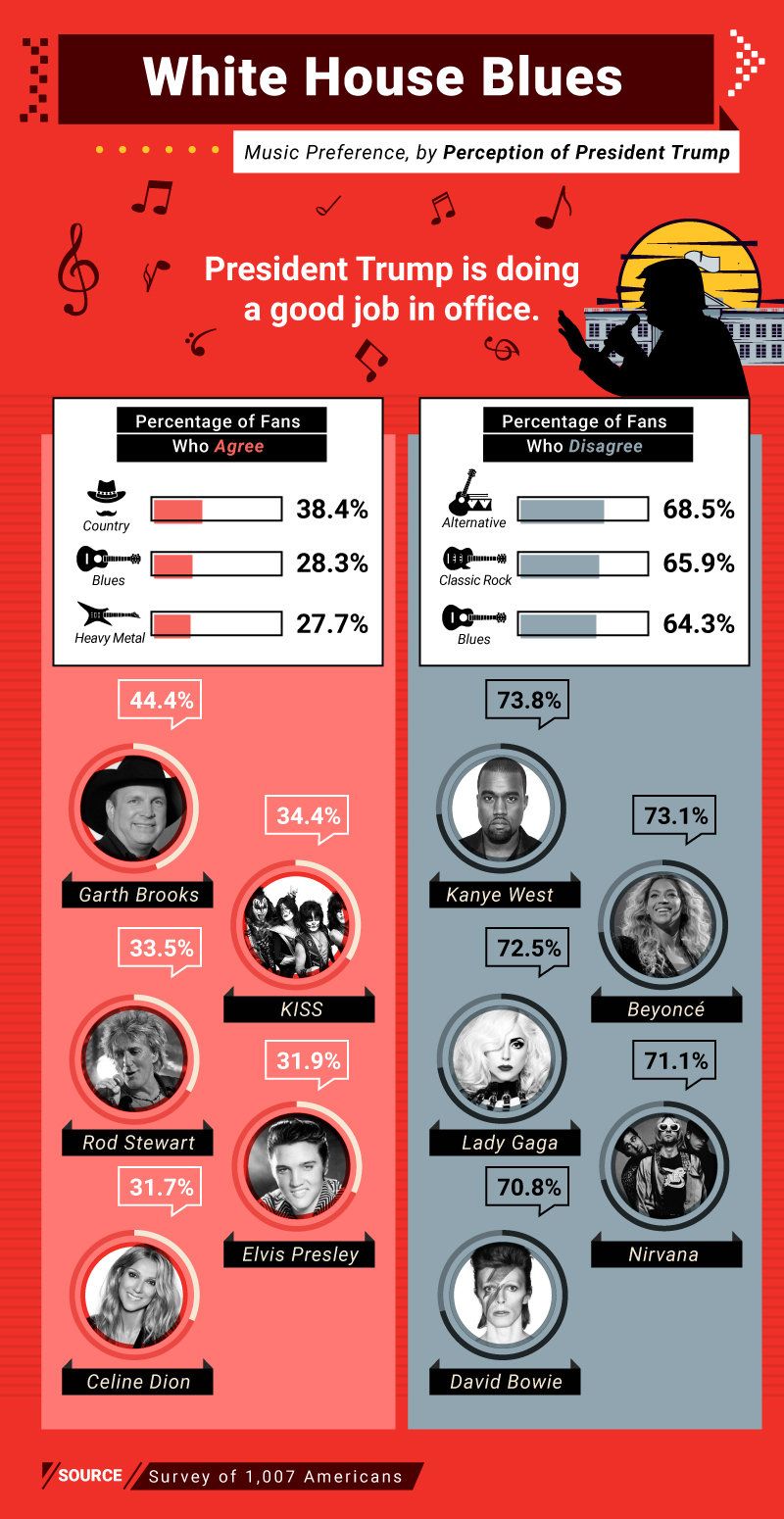 Or should this be White House Reds?
As you can see, when the survey was taken, Trump supporters preferred Garth Brooks, and opponents picked Kanye. Since then, Kanye has announced his support for Trump, so his position may have swapped columns. We demand a recount! (Or maybe the results have been tampered with.) This is why the #2 winners may be more accurate. At least this week.
Legalization of marijuana
It's totally plausible that Taylor Swift fans don't want to see pot made legal while Nirvana fans do. Got it. But we're skeptical about Justin Bieber's current fans. Sure, when he was a tween idol, but now? Cough.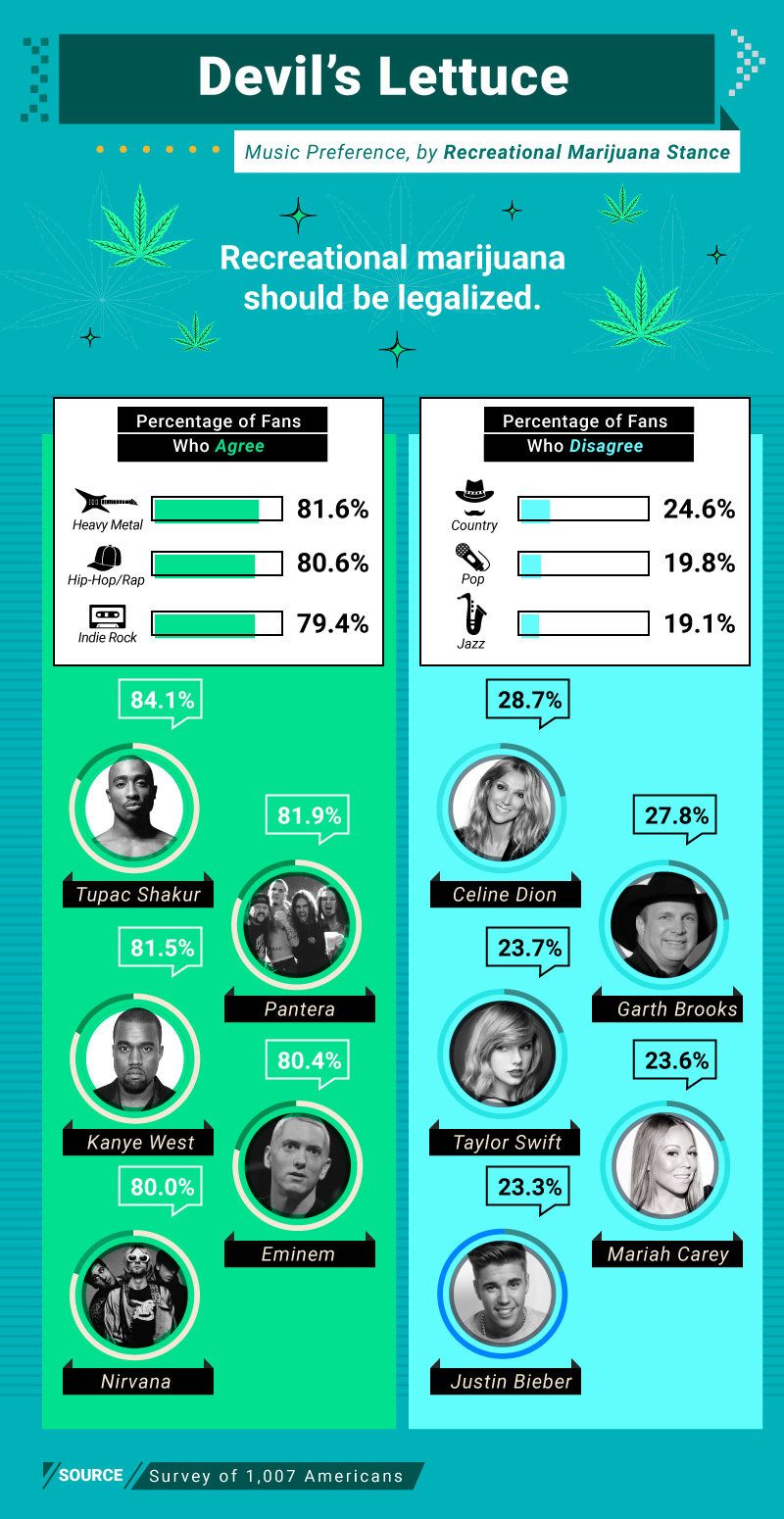 Bang, Bang
Gun control. Ow. This topic exhibits a real cultural divide, with all pop artists for those seeking tighter gun laws, and those against into country, rock, and… Frank Sinatra? (Also, not to make trouble, but three out of five pro-gun control favorites are people of color, while every single anti-gun-control favorite is white.)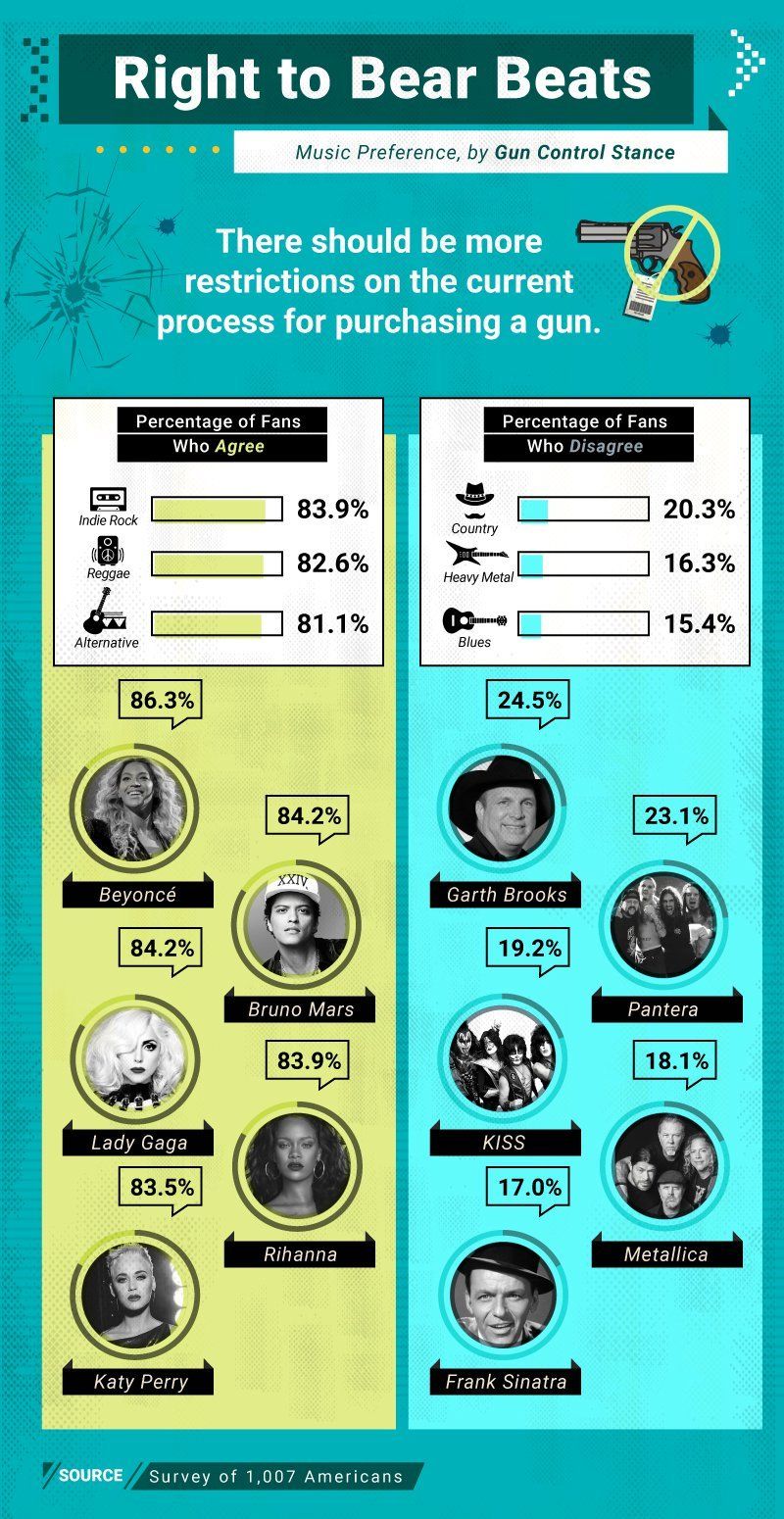 Support for same-sex marriage
This breakdown is remarkably similar to the preferences of the pro-and anti-legalization people. Weird. Culture war much? (A little bit surprised about Celine Dion fans.)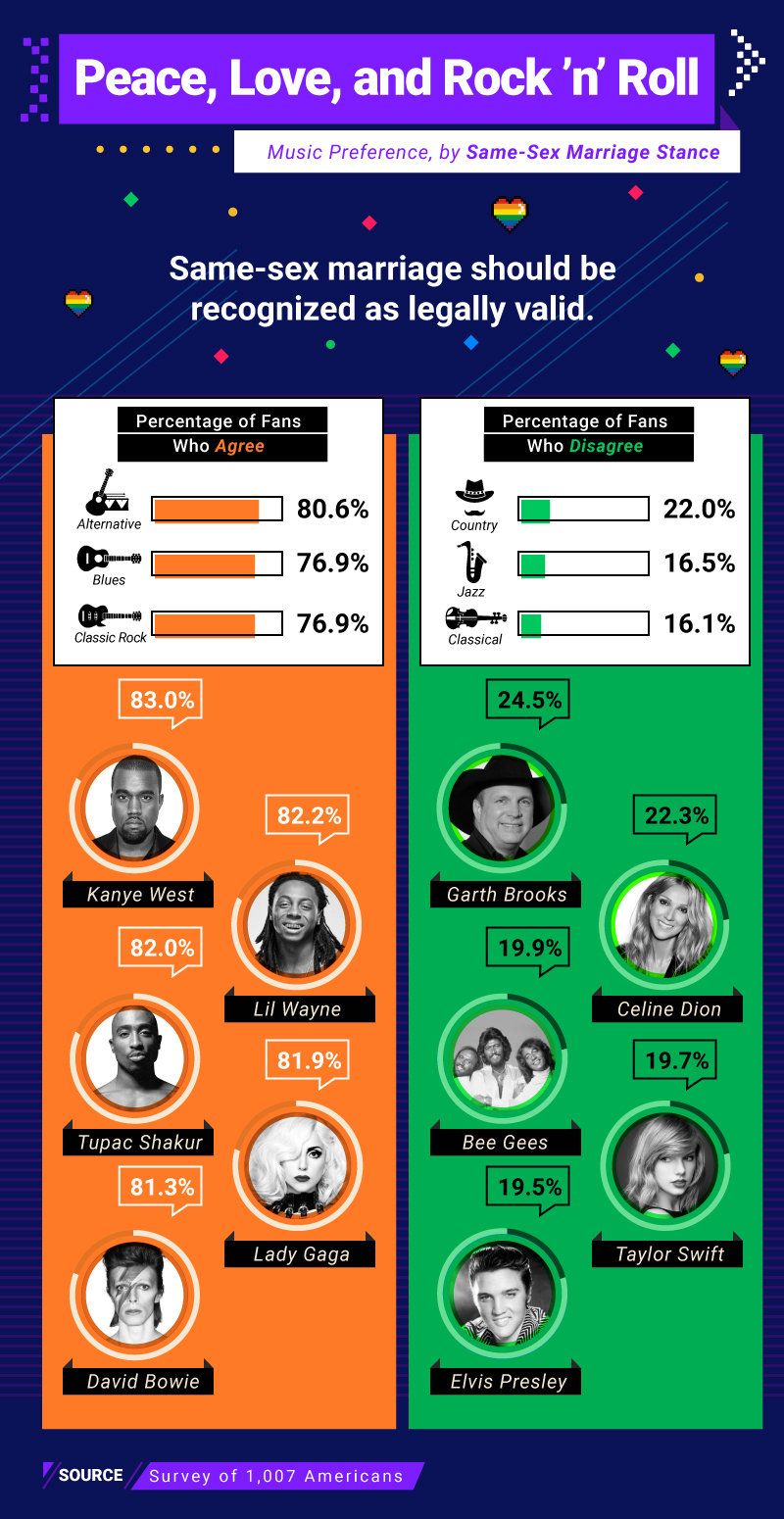 A border wall
Okay, now we really think the music culture wars are real. Surprise in the pro-wall camp: The Bee Gees. Fortunately, the wall still allows immigrants from the Isle of Man.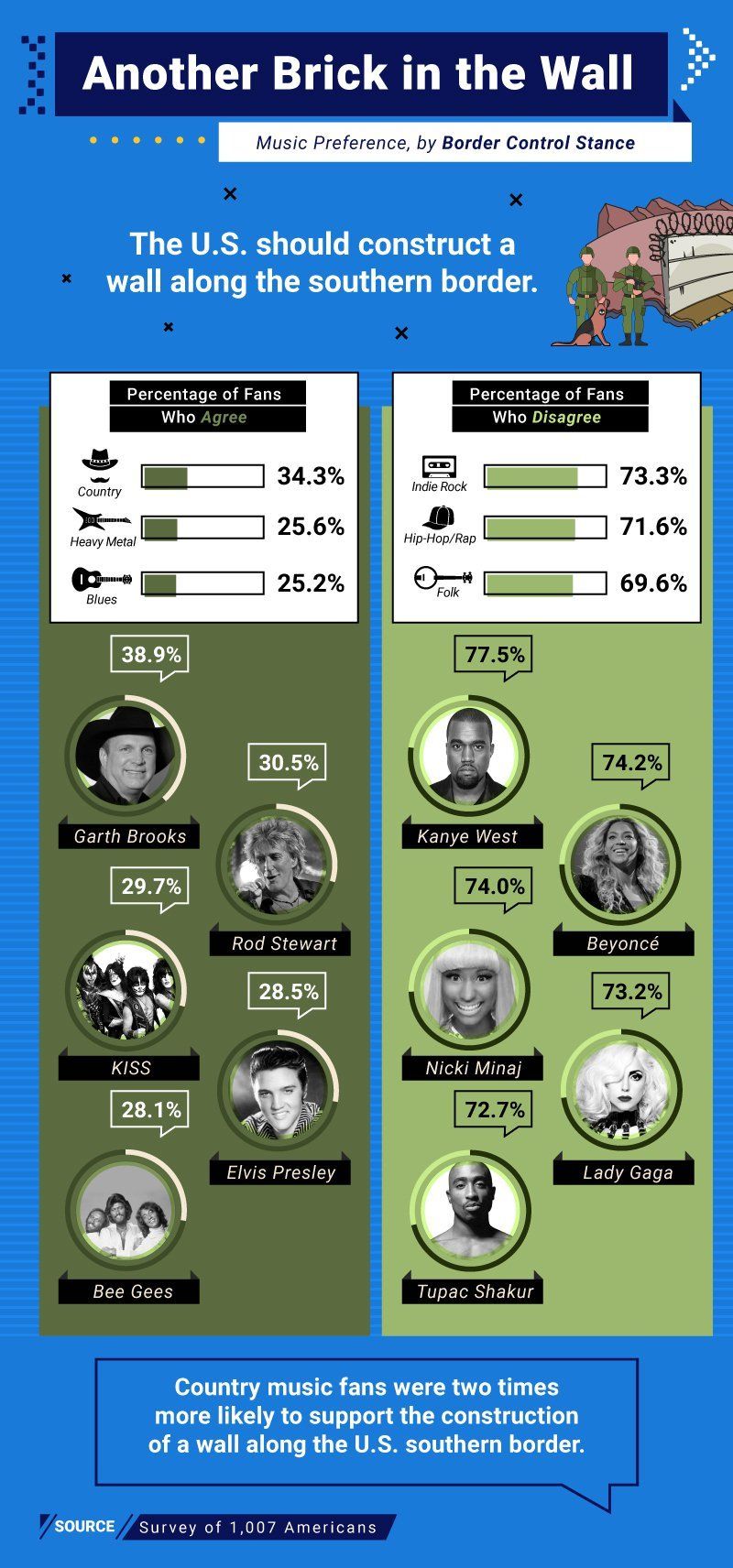 Out of tune
Yeah, we're a fractious bunch, having little in common other than rock oldies and Top 40. Our diversity is our strength, though, right? Just leave that radio station where it is, please.
Big Think
Sponsored by Lumina Foundation
Upvote/downvote each of the videos below!

As you vote, keep in mind that we are looking for a winner with the most engaging social venture pitch - an idea you would want to invest in.
Here are 7 often-overlooked World Heritage Sites, each with its own history.
Culture & Religion
UNESCO World Heritage Sites are locations of high value to humanity, either for their cultural, historical, or natural significance.
Some are even designated as World Heritage Sites because humans don't go there at all, while others have felt the effects of too much human influence.
These 7 UNESCO World Heritage Sites each represent an overlooked or at-risk facet of humanity's collective cultural heritage.
Famous physicists like Richard Feynman think 137 holds the answers to the Universe.
Pixabay
Surprising Science
The fine structure constant has mystified scientists since the 1800s.
The number 1/137 might hold the clues to the Grand Unified Theory.
Relativity, electromagnetism and quantum mechanics are unified by the number.
A new method promises to capture an elusive dark world particle.
Surprising Science
Scientists working on the Large Hadron Collider (LHC) devised a method for trapping dark matter particles.
Dark matter is estimated to take up 26.8% of all matter in the Universe.
The researchers will be able to try their approach in 2021, when the LHC goes back online.
Big think's weekly newsletter.
Get smarter faster from the comfort of your inbox.
See our newsletter privacy policy
here
Most Popular
Most Recent
Big think's weekly newsletter.
Get smarter faster from the comfort of your inbox.
See our newsletter privacy policy
here
© Copyright 2007-2019 & BIG THINK, BIG THINK EDGE,
SMARTER FASTER trademarks owned by The Big Think, Inc. All rights reserved.