A Company Is Trying to Resurrect the Brain Dead, a Really Bad Idea
A company has received approval to try and partially revive brain-dead patients in India.
24 May, 2016
U.S. company Bioquark, in partnership with India's Revita Life Science, has embarked on what it calls the "Reanima Project." They're going to attempt to resurrect brain-dead subjects. With all the necessary regulatory approvals somehow now in place, the companies will be leveraging stem cell therapy, nerve stimulation, and transcranial laser therapy to try to achieve the kind of brain regeneration that's been seen in salamanders and sea cucumbers. In humans. Living humans. 20 of them, at the Anupam Hospital in Rudrapur, Uttarakhand India.
---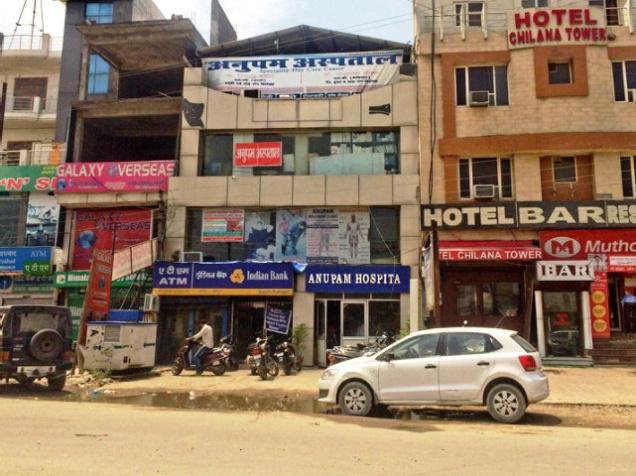 In science fiction, the doctor flips a switch, machines beep, and the reanimated patient's eyes open, alive again. That's not what's gonna happen here at best. 
There are different standards for what constitutes "brain death," depending on where you are, though some experts are working to reconcile the differences and establish an international standard. It's unclear which one Reanima is using, but in India, where the project is taking place, the standard is brain stem death, which is met when essential components of consciousness and respiratory control stop working, producing an "irreversible loss of the capacity for consciousness combined with the irreversible loss of the capacity to breathe." The U.K. and Canada also use this standard.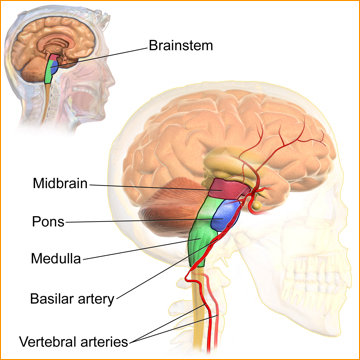 In the U.S. and a lot of Europe, the standard is "whole brain death," the "irreversible cessation of all functions of the entire brain, including the brain stem."
Really, though, the use of the word "death" in both cases is a little misleading, since neither standard requires the brain to be completely non-functional. With brain stem death, there can still be cortical electrical activity and blood flow. In whole brain death, there can still be functioning areas in the brain, and there can be electrical and hormonal activity still going on.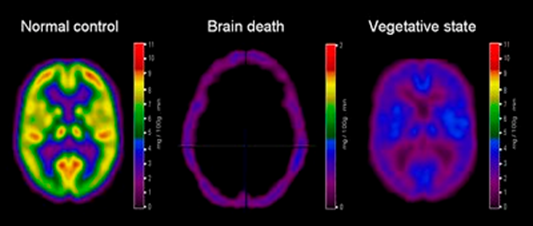 Which is just one thing that's wrong with Bioquark's plan. They plan to assess their success by looking for "reversal of brain death as noted in clinical examination or EEG." An EEG detects electrical activity, but, as we noted above, a person with brain stem death could already have this, making it an odd standard by which to judge progress. A patient starting to breathe independently would be a better sign, but it's not expected to happen.
Since no one has ever recovered from an accurate diagnosis of brain death, Bioquark's goal isn't really what we might think of as recovery anyway, truth be told. It's more like "improvement." Bioquark's CEO Ira Pastor told Inverse that "even the transition from irreversible to a deep coma state would be a major win." Maybe for his company, but not so much for the subjects. According to bioethicist L. Syd M Johnson, who recently wrote about the Reanima project, "There are not a lot of people who would consider being left in a permanent coma to be a 'win.'" There's quite a distance between a comatose state and normalcy.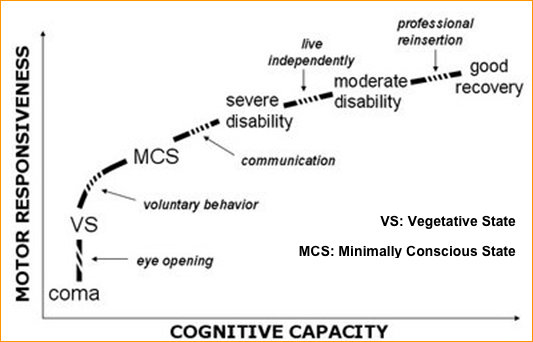 Laureys et al., 2005
One more thing: The Reanima Project's another in a long line of questionable medical experiments using people from a low-income locale. While Bioquark asserts that the lower cost of intensive care in India is the reason the country's been selected for the project, that reason's often been given in the past as the rationale for being free to conduct experimentation on poor people whose rights tend to be less well-protected. Informed consent is not required for the brain dead in India, according to Dr. C.M. Gulhati, editor of medical journal Monthly Index of Medical Specialities. Even if it was, as Johnson told Big Think, "Imagine you're a family grieving the unexpected death of a loved one, and some doctor comes along and offers to enroll your father, mother, daughter, or son in amazing new research that could reverse their death. If you're like most people, you don't really understand what brain death is, and you don't understand how biomedical research works. Are you going to say no to bringing that family member back to life?"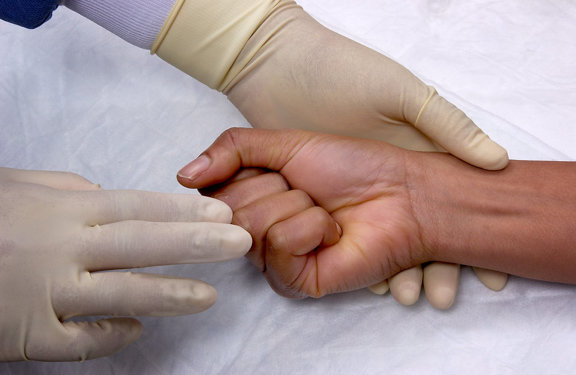 And what's going to happen with the Reanima Project's subjects after the study is complete? "Failure" means they'll still be dead, while "success" means they'll be comatose and in need of care for as long as they survive. We can only hope Bioquark intends to foot the bill.
The most powerful editors in the world? Algorithms.
It isn't mind over matter as much as mind properly working with matter.
DENVER, CO - MAY 16: Brian and Monica Folts workout on treadmills at Colorado Athletic Club Tabor Center on May 16, 2018 in Denver, Colorado. The couple runs marathons and compete in Ironman triathlons and train on on treadmills. (Photo by RJ Sangosti/The Denver Post via Getty Images)
Mind & Brain
A new Stanford study finds believing you have genetic predispositions for obesity and low exercise endurance changes your physiology.
Participants told they had a protective obesity gene had a better response than those told they did not, even if they did not actually have the gene.
Runners performed poorly after learning they did not have the gene for endurance, even if they actually have the gene.
The findings of the controversial study flew in the face of past research on ice gains in Antarctica.
NASA
Politics & Current Affairs
A 2015 NASA study caused major controversy by claiming that Antarctica was gaining more ice than it was losing.
The study said that ice gains in East Antarctica were effectively canceling out ice losses in the western region of the continent.
Since 2015, multiple studies have shown that Antarctica is losing more ice than it's gaining, though the 2015 study remains a favorite of climate change doubters to this day.
Big think's weekly newsletter.
Get smarter faster from the comfort of your inbox.
See our newsletter privacy policy
here
Most Popular
Most Recent
Big think's weekly newsletter.
Get smarter faster from the comfort of your inbox.
See our newsletter privacy policy
here
© Copyright 2007-2018 & BIG THINK, BIG THINK EDGE,
SMARTER FASTER trademarks owned by The Big Think, Inc. All rights reserved.