Why subclinical narcissists have a competitive advantage
New research shows narcissists aren't smarter than the average person, but they have a secret weapon that helps them succeed: mental toughness.
03 July, 2018
We might not like narcissists, they're often full of themselves and difficult to deal with, but new research shows they may be better suited to deal with adversity than many others. A study carried out at Queen's University Belfast has shown that narcissists who are considered 'subclinical'—at a level that is less observable and severe—may benefit from their heightened sense of self.
---
Narcissists are usually considered to be maladapted and lacking vital social survival skills. The Queen's University study posits that narcissism, commonly considered one of the dark triad personality traits, may provide a different set of tools to narcissists, improving their ability to cope with adversity which can help them perform better academically, professionally, and in other achievement-based settings.
The study raises some important questions and perhaps more importantly sheds a light on factors that help develop individuals' mental toughness, giving a once-maligned mental diagnosis hope of redemption.
The link between narcissism and mental toughness
The research, led by Dr. Kostas Papageorgiou and carried out in conjunction with several other research institutions, focused on the academic performance of several high-school-aged teenagers in Italy. Researchers used a variety of established tests to measure for subclinical narcissism and mental toughness, searching for any sort of correlation. Once these tests were completed, the researchers factored in the results of a variety of academic exams and test scores that would help them identify any patterns based on their initial findings.
The tests were eye-opening for a few reasons. For one, students who were rated highly on the test for subclinical narcissism also exhibited behaviors and qualities that are normally associated with strong mental toughness. According to Dr. Papageorgiou in an interview with the Belfast Telegraph, "Being confident in your own abilities is one of the key signs of grandiose narcissism and is also at the core of mental toughness."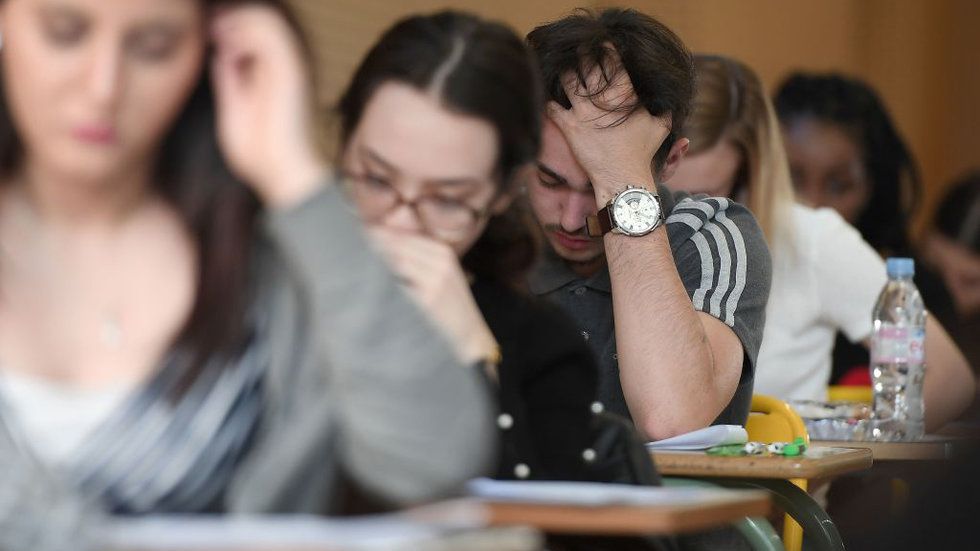 High school students work on a 4-hour philosophy dissertation. Those with mental toughness may be more motivated when faced with challenges. (Photo: FREDERICK FLORIN/AFP/Getty Images)
Examining the results, the team of researchers found that students who rated higher on the subclinical narcissism indicators also performed better. One key lesson taken away by Papageorgiou and his team is that while students who scored high on narcissism aren't demonstrably smarter than their counterparts, they are more confident in their abilities, which leads them to better performance.
Many of the qualities that are considered negative in narcissistic personalities are also crucial components of mental toughness. According to Papageorgiou in an interview with Bustle, "People who score high on subclinical narcissism may be at an advantage… because their heightened sense of self-worth may mean they are more motivated, assertive, and successful in certain contexts."
This heightened sense of self-worth translates into a variety of factors that many psychologists agree form the core of mental toughness. For instance, researchers have noted that people with high mental toughness view challenges and threats as opportunities and believe they have the faculties to succeed at them, no matter what. Similarly, subclinical narcissists may have a deep belief that they are superior to any challenge and can easily succeed. While this does not make them smarter or more capable, it does give them the confidence to be better at specific tasks. The result of the study is possibly the beginning of a paradigm shift in how narcissism is viewed and diagnosed in the future. Moreover, it could lead to many "narcissistic" behaviors being reevaluated in a new light.
What we can learn from narcissists
Narcissists aren't more competent or more prone to success than others. Instead, the study examined narcissists' mental toughness and aims to understand how it helps them achieve success. Using these core concepts, we can apply them to our own lives. One of the first areas to work on involves changing how you perceive new challenges, threats, and stressful situations. Learning to re-conceptualize challenges to as opportunities for growth and personal improvement is a vital step towards improving your overall mental toughness.
Moreover, mental toughness helps people brush off rejection, loss, and failure more easily. Narcissists tend to be persistent even in the face of failure because of their heightened self-confidence and sense of self. While this can be harmful when taken to extremes, the ability to bounce back, understanding that rejection takes nothing away from your personal self-worth are vital for development.
Finally, the study also found that narcissism is not inevitable, but rather a combination of nature and nurture. Simply having a tendency towards the behavior isn't bad but understanding it can help you. By focusing on improving those qualities that are positive and working on minimizing the negative aspects that accompany them, it's possible for people to lead high power careers and full lives without falling into a pattern of narcissism.
Here's how former Navy SEAL David Goggins honed his mental toughness, going from a 300lb kid with a very tough upbringing to an ultra-endurance athlete:
What can 3D printing do for medicine? The "sky is the limit," says Northwell Health researcher Dr. Todd Goldstein.
Northwell Health
Sponsored by Northwell Health
Medical professionals are currently using 3D printers to create prosthetics and patient-specific organ models that doctors can use to prepare for surgery.
Eventually, scientists hope to print patient-specific organs that can be transplanted safely into the human body.
Northwell Health, New York State's largest health care provider, is pioneering 3D printing in medicine in three key ways.
The tactics that work now won't work for long.
Politics & Current Affairs
Arms races happen when two sides of a conflict escalate in a series of ever-changing moves intended to outwit the opponent.
Great ideas in philosophy often come in dense packages. Then there is where the work of Marcus Aurelius.
(Getty Images)
Personal Growth
Meditations is a collection of the philosophical ideas of the Roman Emperor Marcus Aurelius.
Written as a series of notes to himself, the book is much more readable than the dry philosophy most people are used to.
The advice he gave to himself 2,000 years ago is increasingly applicable in our hectic, stressed-out lives.
By working together, and learning from one another, we can build better systems.
Videos
Many of the things that we experience, are our imagination manifesting into this physical realm, avers artist Dustin Yellin.
People need to completely rethink the way they work together, and learn from one another, that they they can build better systems. If not, things may get "really dark" soon.
The first step to enabling cooperation is figuring out where the common ground is. Through this method, despite contrary beliefs, we may be able to find some degree of peace.
Big think's weekly newsletter.
Get smarter faster from the comfort of your inbox.
See our newsletter privacy policy
here
Most Popular
Most Recent
Big think's weekly newsletter.
Get smarter faster from the comfort of your inbox.
See our newsletter privacy policy
here
© Copyright 2007-2019 & BIG THINK, BIG THINK EDGE,
SMARTER FASTER trademarks owned by The Big Think, Inc. All rights reserved.