Morning Guy vs. Night Guy
25 July, 2013
Do you ever stay up late and then curse yourself the next morning when your alarm clock wakes you up? Jerry Seinfeld has the same problem. He's got a pretty good idea of why it happens, too, he just doesn't have a great solution yet. In the opening monologue to The Glasses in Season 5, Jerry complains:
---
"I never get enough sleep. I stay up late at night, because I'm Night Guy. Night Guy wants to stay up late. 'What about getting up after five hours sleep?' Oh, that's Morning Guy's problem. That's not my problem, I'm Night Guy. I stay up as late as I want. So you get up in the morning, the alarm [rings], you're exhausted, groggy… Oh, I hate that Night Guy! See, Night Guy always screws Morning Guy. There's nothing Morning Guy can do."
The idea that there's a cast of characters inhabiting your body at various times, getting in each other's way, may not seem like a sound psychological theory, but it's actually not too far off. Research shows that when people think about themselves in the future, it's almost like they're thinking about another person (see here and here). Recent findings by NYU's Hal Hershfield and his colleagues even suggest that when we think of ourselves in the future, the neural circuits that we recruit can be the similar to the ones that we use to think about others, not about ourselves.
It's not that Night Guy doesn't care about Morning Guy at all, it's just that he doesn't think of him as a later version of himself, but as somebody else entirely. So Night Guy goes out drinking with his friends and Morning Guy gets stuck with the hangover. Worse still, Night Guy's got friends. There's Young Guy who doesn't save enough money for Old Guy to retire, Hungry Guy who leaves Fat Guy with a beer gut, and Invincible Guy who has better things to spend his money on than health insurance for Sick Guy. They might sound kind of like superheroes, but despite their great power, they're not so great about responsibility. So what is poor Morning Guy supposed to do?
Jerry does have one potential solution, but it's a little impractical. He says that, "the only thing Morning Guy can do is try and oversleep often enough so that Day Guy loses his job, and Night Guy has no money to go out anymore." Hershfield and his colleagues have a different approach – one that won't cost you your job. They find that you can get Night Guy to be nicer to Morning Guy if you just introduce them to each another.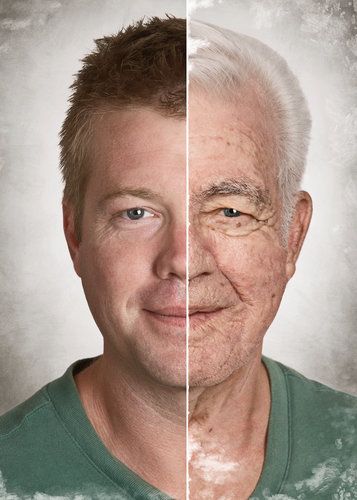 One clever way they have done this is to show people pictures of themselves that have been digitally aged. When people see older versions of themselves they become more likely to see their current and future selves as the same person. As Hershfield explained to me, "these types of interventions help people realize that their future selves are ultimately dependent on the choices that they make today." He finds that this leads people to save more money for retirement than they would have otherwise and they also become less likely to engage in (short-sighted) delinquent behavior, like cheating. If you don't have digital aging software on your computer, a low tech version that's also effective is to write a letter to your future self. So if you have trouble going to sleep at a reasonable hour, or saving for retirement, or really doing anything today that won't pay off until tomorrow, you should consider becoming better acquainted with Future Guy today – otherwise he'll probably get screwed by Procrastinating Guy again.
Former president of the ACLU Nadine Strossen discusses whether our society should always defend free speech rights, even for groups who would oppose such rights.
Sponsored by Charles Koch Foundation
Former ACLU president Nadine Strossen understands that protecting free speech rights isn't always a straightforward proposition.
In this video, Strossen describes the reasoning behind why the ACLU defended the free speech rights of neo-Nazis in Skokie, Illinois, 1977.
The opinions expressed in this video do not necessarily reflect the views of the Charles Koch Foundation, which encourages the expression of diverse viewpoints within a culture of civil discourse and mutual respect.
When it comes to sniffing out whether a source is credible or not, even journalists can sometimes take the wrong approach.
Sponsored by Charles Koch Foundation
We all think that we're competent consumers of news media, but the research shows that even journalists struggle with identifying fact from fiction.
When judging whether a piece of media is true or not, most of us focus too much on the source itself. Knowledge has a context, and it's important to look at that context when trying to validate a source.
The opinions expressed in this video do not necessarily reflect the views of the Charles Koch Foundation, which encourages the expression of diverse viewpoints within a culture of civil discourse and mutual respect.
Steve Wozniak doesn't know if his phone is listening, but he's minimizing risks.
Photo by Bryan Steffy/Getty Images
Technology & Innovation
Steve Wozniak didn't hold back his feelings about the social media giant when stopped at an airport.
The Apple co-founder admitted that devices spying on his conversations is worrisome.
Wozniak deleted his Facebook account last year, recommending that "most people" should do the same.
A new paradigm for machine vision has just been demonstrated.
Technology & Innovation
Scientists have invented a way for a sheet of glass to perform neural computing.
The glass uses light patterns to identify images without a computer or power.
It's image recognition at the speed of light.