Morning Guy vs. Night Guy
25 July, 2013
Do you ever stay up late and then curse yourself the next morning when your alarm clock wakes you up? Jerry Seinfeld has the same problem. He's got a pretty good idea of why it happens, too, he just doesn't have a great solution yet. In the opening monologue to The Glasses in Season 5, Jerry complains:
---
"I never get enough sleep. I stay up late at night, because I'm Night Guy. Night Guy wants to stay up late. 'What about getting up after five hours sleep?' Oh, that's Morning Guy's problem. That's not my problem, I'm Night Guy. I stay up as late as I want. So you get up in the morning, the alarm [rings], you're exhausted, groggy… Oh, I hate that Night Guy! See, Night Guy always screws Morning Guy. There's nothing Morning Guy can do."
The idea that there's a cast of characters inhabiting your body at various times, getting in each other's way, may not seem like a sound psychological theory, but it's actually not too far off. Research shows that when people think about themselves in the future, it's almost like they're thinking about another person (see here and here). Recent findings by NYU's Hal Hershfield and his colleagues even suggest that when we think of ourselves in the future, the neural circuits that we recruit can be the similar to the ones that we use to think about others, not about ourselves.
It's not that Night Guy doesn't care about Morning Guy at all, it's just that he doesn't think of him as a later version of himself, but as somebody else entirely. So Night Guy goes out drinking with his friends and Morning Guy gets stuck with the hangover. Worse still, Night Guy's got friends. There's Young Guy who doesn't save enough money for Old Guy to retire, Hungry Guy who leaves Fat Guy with a beer gut, and Invincible Guy who has better things to spend his money on than health insurance for Sick Guy. They might sound kind of like superheroes, but despite their great power, they're not so great about responsibility. So what is poor Morning Guy supposed to do?
Jerry does have one potential solution, but it's a little impractical. He says that, "the only thing Morning Guy can do is try and oversleep often enough so that Day Guy loses his job, and Night Guy has no money to go out anymore." Hershfield and his colleagues have a different approach – one that won't cost you your job. They find that you can get Night Guy to be nicer to Morning Guy if you just introduce them to each another.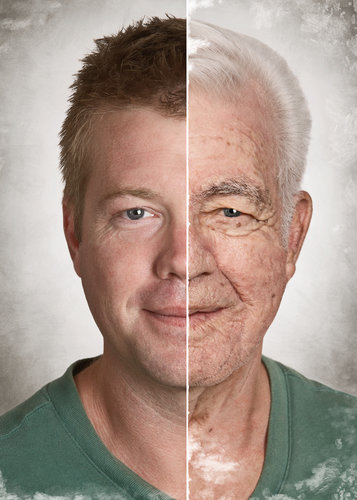 One clever way they have done this is to show people pictures of themselves that have been digitally aged. When people see older versions of themselves they become more likely to see their current and future selves as the same person. As Hershfield explained to me, "these types of interventions help people realize that their future selves are ultimately dependent on the choices that they make today." He finds that this leads people to save more money for retirement than they would have otherwise and they also become less likely to engage in (short-sighted) delinquent behavior, like cheating. If you don't have digital aging software on your computer, a low tech version that's also effective is to write a letter to your future self. So if you have trouble going to sleep at a reasonable hour, or saving for retirement, or really doing anything today that won't pay off until tomorrow, you should consider becoming better acquainted with Future Guy today – otherwise he'll probably get screwed by Procrastinating Guy again.
Sharon Salzberg, world-renowned mindfulness leader, teaches meditation at Big Think Edge.
Image: Big Think
Big Think Edge
Try meditation for the first time with this guided lesson or, if you already practice, enjoy being guided by a world-renowned meditation expert.
Sharon Salzberg teaches mindfulness meditation for Big Think Edge.

Subscribe to Big Think Edge before we launch on March 30 to get 20% off monthly and annual memberships.
The navigation tool has placed a school in the sea, among other things.
Strange Maps
Google has apologized for the sudden instability of its maps in Japan.
Errors may stem from Google's long-time map data provider Zenrin – or from the cancellation of its contract.
Speculation on the latter option caused Zenrin shares to drop 16% last Friday.
Both panoramic and detailed, this infographic manages to show both the size and distribution of world religions.
Strange Maps
At a glance, this map shows both the size and distribution of world religions.
See how religions mix at both national and regional level.
There's one country in the Americas without a Christian majority – which?
A new computer model solves a pair of Jovian riddles.
(NASA/JPL-Caltech/SwRI/MSSS/Kevin M. Gill)
Surprising Science
Astronomers have wondered how a gas giant like Jupiter could sit in the middle of our solar system's planets.
Also unexplained has been the pair of asteroid clusters in front of and behind Jupiter in its orbit.
Putting the two questions together revealed the answer to both.
Big think's weekly newsletter.
Get smarter faster from the comfort of your inbox.
See our newsletter privacy policy
here
Most Popular
Most Recent
Big think's weekly newsletter.
Get smarter faster from the comfort of your inbox.
See our newsletter privacy policy
here
© Copyright 2007-2018 & BIG THINK, BIG THINK EDGE,
SMARTER FASTER trademarks owned by The Big Think, Inc. All rights reserved.