Big ideas.
Once a week.
Subscribe to our weekly newsletter.
Capitalism is killing the world's wildlife populations, not 'humanity'
As long as we fail to name capitalism as a key cause of mass extinction, we will remain powerless to break its tragic story.
05 November, 2018
A black rhinoceros calf named Kianga stands next to his mother Shima at Brookfield Zoo September 24, 2003 in Brookfield, Illinois. (Photo by Tim Boyle/Getty Images)
The latest Living Planet report from the WWF makes for grim reading: a 60% decline in wild animal populations since 1970, collapsing ecosystems, and a distinct possibility that the human species will not be far behind. The report repeatedly stresses that humanity's consumption is to blame for this mass extinction, and journalists have been quick to amplify the message. The Guardian headline reads "Humanity has wiped out 60% of animal populations", while the BBC runs with "Mass wildlife loss caused by human consumption". No wonder: in the 148-page report, the word "humanity" appears 14 times, and "consumption" an impressive 54 times.
---
There is one word, however, that fails to make a single appearance: capitalism. It might seem, when 83% of the world's freshwater ecosystems are collapsing (another horrifying statistic from the report), that this is no time to quibble over semantics. And yet, as the ecologist Robin Wall Kimmerer has written, "finding the words is another step in learning to see".
Although the WWF report comes close to finding the words by identifying culture, economics, and unsustainable production models as the key problems, it fails to name capitalism as the crucial (and often causal) link between these things. It therefore prevents us from seeing the true nature of the problem. If we don't name it, we can't tackle it: it's like aiming at an invisible target.
Why capitalism?
The WWF report is right to highlight "exploding human consumption", not population growth, as the main cause of mass extinction, and it goes to great lengths to illustrate the link between levels of consumption and biodiversity loss. But it stops short of pointing out that capitalism is what compels such reckless consumption. Capitalism – particularly in its neoliberal form – is an ideology founded on a principle of endless economic growth driven by consumption, a proposition that is simply impossible.
Industrial agriculture, an activity that the report identifies as the biggest single contributor to species loss, is profoundly shaped by capitalism, not least because only a handful of "commodity" species are deemed to have any value, and because, in the sole pursuit of profit and growth, "externalities" such as pollution and biodiversity loss are ignored. And yet instead of calling the irrationality of capitalism out for the ways in which it renders most of life worthless, the WWF report actually extends a capitalist logic by using terms such as "natural assets" and "ecosystem services" to refer to the living world.
By obscuring capitalism with a term that is merely one of its symptoms – "consumption" – there is also a risk that blame and responsibility for species loss is disproportionately shifted onto individual lifestyle choices, while the larger and more powerful systems and institutions that are compelling individuals to consume are, worryingly, let off the hook.
Who is 'humanity', anyway?
The WWF report chooses "humanity" as its unit of analysis, and this totalising language is eagerly picked up by the press. The Guardian, for example, reports that "the global population is destroying the web of life". This is grossly misleading. The WWF report itself illustrates that it is far from all of humanity doing the consuming, but it does not go as far as revealing that only a small minority of the human population are causing the vast majority of the damage.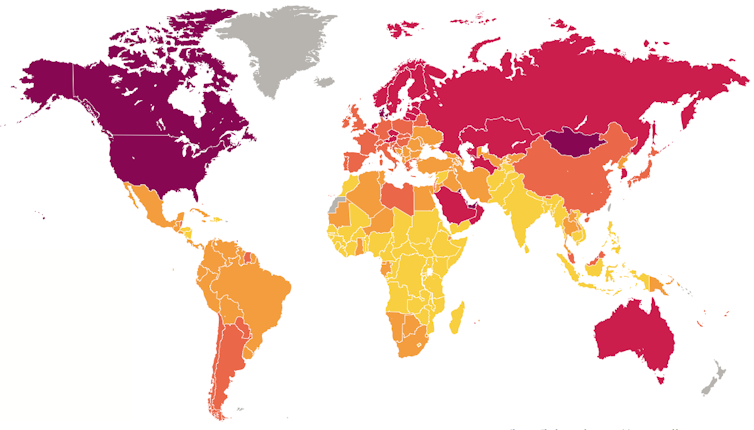 Global map of Ecological Footprint of consumption, 2014. Although the WWF report highlights disparity in consumption, it says nothing about the capitalism which produces this pattern.
From carbon emissions to ecological footprints, the richest 10% of people are having the greatest impact. Furthermore, there is no recognition that the effects of climate and biodiversity collapse are overwhelming felt by the poorest people first – the very people who are contributing least to the problem. Identifying these inequalities matters because it is this – not "humanity" per se – that is the problem, and because inequality is endemic to, you guessed it, capitalist systems (and particularly their racist and colonial legacies).
The catch-all word "humanity" papers over all of these cracks, preventing us from seeing the situation as it is. It also perpetuates a sense that humans are inherently "bad", and that it is somehow "in our nature" to consume until there is nothing left. One tweet, posted in response to the WWF publication, retorted that "we are a virus with shoes", an attitude that hints at growing public apathy.
But what would it mean to redirect such self-loathing towards capitalism? Not only would this be a more accurate target, but it might also empower us to see our humanity as a force for good.
Breaking the story
Words do so much more than simply assign blame to different causes. Words are makers and breakers of the deep stories that we construct about the world, and these stories are especially important for helping us to navigate environmental crises. Using generalised references to "humanity" and "consumption" as drivers of ecological loss is not only inaccurate, it also perpetuates a distorted view of who we are and what we are capable of becoming.
By naming capitalism as a root cause, on the other hand, we identify a particular set of practices and ideas that are by no means permanent nor inherent to the condition of being human. In doing so, we learn to see that things could be otherwise. There is a power to naming something in order to expose it. As the writer and environmentalist Rebecca Solnit puts it:
Calling things by their true names cuts through the lies that excuse, buffer, muddle, disguise, avoid, or encourage inaction, indifference, obliviousness. It's not all there is to changing the world, but it's a key step.
The WWF report urges that a "collective voice is crucial if we are to reverse the trend of biodiversity loss", but a collective voice is useless if it cannot find the right words. As long as we – and influential organisations such as the WWF, in particular – fail to name capitalism as a key cause of mass extinction, we will remain powerless to break its tragic story.

Anna Pigott, Postdoctoral Research Fellow in Environmental Humanities, Swansea University
This article is republished from The Conversation under a Creative Commons license. Read the original article.
"Deepfakes" and "cheap fakes" are becoming strikingly convincing — even ones generated on freely available apps.
Magdalene Visaggio via Twitter
Technology & Innovation
A writer named Magdalene Visaggio recently used FaceApp and Airbrush to generate convincing portraits of early U.S. presidents.
"Deepfake" technology has improved drastically in recent years, and some countries are already experiencing how it can weaponized for political purposes.
It's currently unknown whether it'll be possible to develop technology that can quickly and accurately determine whether a given video is real or fake.
The author of 'How We Read' Now explains.
Mind & Brain
During the pandemic, many college professors abandoned assignments from printed textbooks and turned instead to digital texts or multimedia coursework.
As a professor of linguistics, I have been studying how electronic communication compares to traditional print when it comes to learning. Is comprehension the same whether a person reads a text onscreen or on paper? And are listening and viewing content as effective as reading the written word when covering the same material?
The answers to both questions are often "no," as I discuss in my book "How We Read Now," released in March 2021. The reasons relate to a variety of factors, including diminished concentration, an entertainment mindset and a tendency to multitask while consuming digital content.
Print versus digital reading
When reading texts of several hundred words or more, learning is generally more successful when it's on paper than onscreen. A cascade of research confirms this finding.
The benefits of print particularly shine through when experimenters move from posing simple tasks – like identifying the main idea in a reading passage – to ones that require mental abstraction – such as drawing inferences from a text. Print reading also improves the likelihood of recalling details – like "What was the color of the actor's hair?" – and remembering where in a story events occurred – "Did the accident happen before or after the political coup?"
Studies show that both grade school students and college students assume they'll get higher scores on a comprehension test if they have done the reading digitally. And yet, they actually score higher when they have read the material in print before being tested.
Educators need to be aware that the method used for standardized testing can affect results. Studies of Norwegian tenth graders and U.S. third through eighth graders report higher scores when standardized tests were administered using paper. In the U.S. study, the negative effects of digital testing were strongest among students with low reading achievement scores, English language learners and special education students.
My own research and that of colleagues approached the question differently. Rather than having students read and take a test, we asked how they perceived their overall learning when they used print or digital reading materials. Both high school and college students overwhelmingly judged reading on paper as better for concentration, learning and remembering than reading digitally.
The discrepancies between print and digital results are partly related to paper's physical properties. With paper, there is a literal laying on of hands, along with the visual geography of distinct pages. People often link their memory of what they've read to how far into the book it was or where it was on the page.
But equally important is mental perspective, and what reading researchers call a "shallowing hypothesis." According to this theory, people approach digital texts with a mindset suited to casual social media, and devote less mental effort than when they are reading print.
Podcasts and online video
Given increased use of flipped classrooms – where students listen to or view lecture content before coming to class – along with more publicly available podcasts and online video content, many school assignments that previously entailed reading have been replaced with listening or viewing. These substitutions have accelerated during the pandemic and move to virtual learning.
Surveying U.S. and Norwegian university faculty in 2019, University of Stavanger Professor Anne Mangen and I found that 32% of U.S. faculty were now replacing texts with video materials, and 15% reported doing so with audio. The numbers were somewhat lower in Norway. But in both countries, 40% of respondents who had changed their course requirements over the past five to 10 years reported assigning less reading today.
A primary reason for the shift to audio and video is students refusing to do assigned reading. While the problem is hardly new, a 2015 study of more than 18,000 college seniors found only 21% usually completed all their assigned course reading.
Audio and video can feel more engaging than text, and so faculty increasingly resort to these technologies – say, assigning a TED talk instead of an article by the same person.
Maximizing mental focus
Psychologists have demonstrated that when adults read news stories or transcripts of fiction, they remember more of the content than if they listen to identical pieces.
Researchers found similar results with university students reading an article versus listening to a podcast of the text. A related study confirms that students do more mind-wandering when listening to audio than when reading.
Results with younger students are similar, but with a twist. A study in Cyprus concluded that the relationship between listening and reading skills flips as children become more fluent readers. While second graders had better comprehension with listening, eighth graders showed better comprehension when reading.
Research on learning from video versus text echoes what we see with audio. For example, researchers in Spain found that fourth through sixth graders who read texts showed far more mental integration of the material than those watching videos. The authors suspect that students "read" the videos more superficially because they associate video with entertainment, not learning.
The collective research shows that digital media have common features and user practices that can constrain learning. These include diminished concentration, an entertainment mindset, a propensity to multitask, lack of a fixed physical reference point, reduced use of annotation and less frequent reviewing of what has been read, heard or viewed.
Digital texts, audio and video all have educational roles, especially when providing resources not available in print. However, for maximizing learning where mental focus and reflection are called for, educators – and parents – shouldn't assume all media are the same, even when they contain identical words.
Naomi S. Baron, Professor of Linguistics Emerita, American University
This article is republished from The Conversation under a Creative Commons license. Read the original article.
Humans may have evolved to be tribalistic. Is that a bad thing?
Videos
From politics to every day life, humans have a tendency to form social groups that are defined in part by how they differ from other groups.
Neuroendocrinologist Robert Sapolsky, author Dan Shapiro, and others explore the ways that tribalism functions in society, and discuss how—as social creatures—humans have evolved for bias.
But bias is not inherently bad. The key to seeing things differently, according to Beau Lotto, is to "embody the fact" that everything is grounded in assumptions, to identify those assumptions, and then to question them.
Strange Maps
Ancient corridors below the French capital have served as its ossuary, playground, brewery, and perhaps soon, air conditioning.
Scroll down to load more…