Think you have only 5 senses? You've actually got about 14 to 20
Humans have way more than five senses, and if you include the animal kingdom there even more still.
02 May, 2018
We grow up thinking certain preconceived notions about our bodies. Probe a little deeper and you'll find not everything we were taught is true. Take our senses for example. Think you have only five?
---
Scientists say there are far more, but disagree on the exact number. Most of those familiar with the matter say there are between 14 and 20, depending on how you define a sense. Perhaps the simplest definition is: a sense is a channel through which your body can observe itself or the outside world.
You're familiar with the big five: vision, hearing, smell, touch, and taste. But have you ever heard of proprioception? If you close your eyes and lift a finger to your nose, you know exactly where it is, without seeing it. Proprioception is our ability to innately tell where our appendages, muscles, and other body parts are in space. You're able to place that finger on the tip of your nose in total darkness, thanks to this sense.
In a 2016 study, published in The New England Journal of Medicine, researchers discovered that those with a certain mutation in gene PIEZO2 had a poor sense of proprioception. The mutation caused weaker than normal mechanosensation in subjects, which is the ability to deliver sensations to the brain. Subjects with this mutation received weaker neuronal signals from their senses to their brains. As a result, they tended to be clumsy and less coordinated.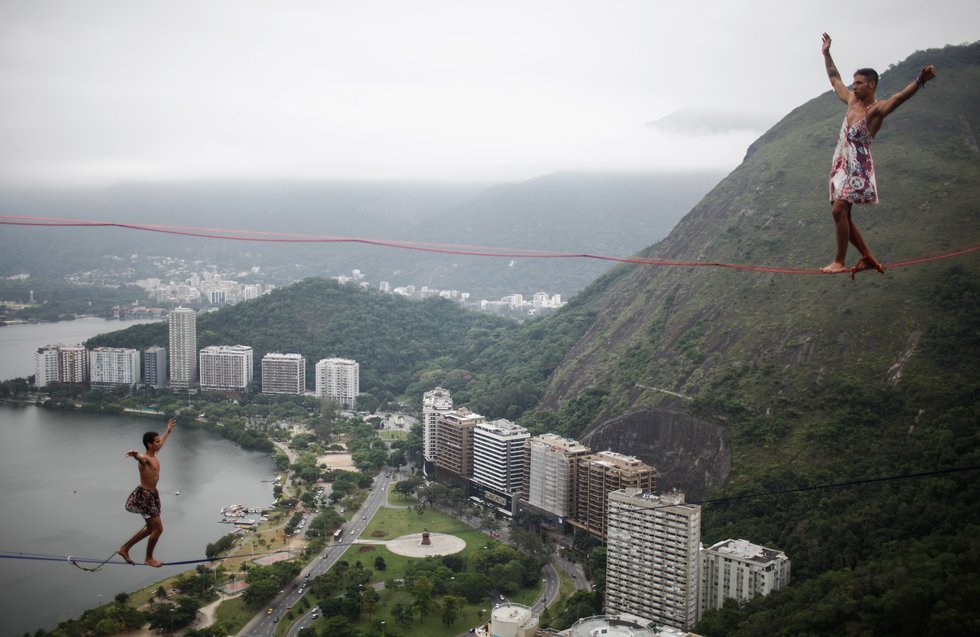 A good sense of equilibrioception allows humans to display incredible physical capabilities. Rio de Janeiro. Credit: Getty Images.
We don't only need to know where our body is in space, we need to keep it upright. For that we have equilibrioception, which is our sense of balance. This is accomplished with help from the vestibular system in the inner ear. As anyone who as a kid spun around and around on the front lawn knows, once your equilibrioception is thrown off you'll fall down and it'll take you a minute to get back up again.
The vestibular system also gives us the ability to feel velocity. Thanks to it, if you tilt your head left or right, your eyes are still able to focus on this page and read the words there. This is also why some people experience motion sickness. When the signals the brain is getting through sight and the vestibular system don't match, certain people feel queasy. Consider car sickness. When you're riding in a car and you're watching out the window, the scenery streaming by, your eyes send a signal to your brain indicating a rapid velocity. Your vestibular system on the other hand, indicates that your body is stationary. What's interesting is that rather than working in an isolated fashion, scientists find our senses work collaboratively, through a process called multisensory perception.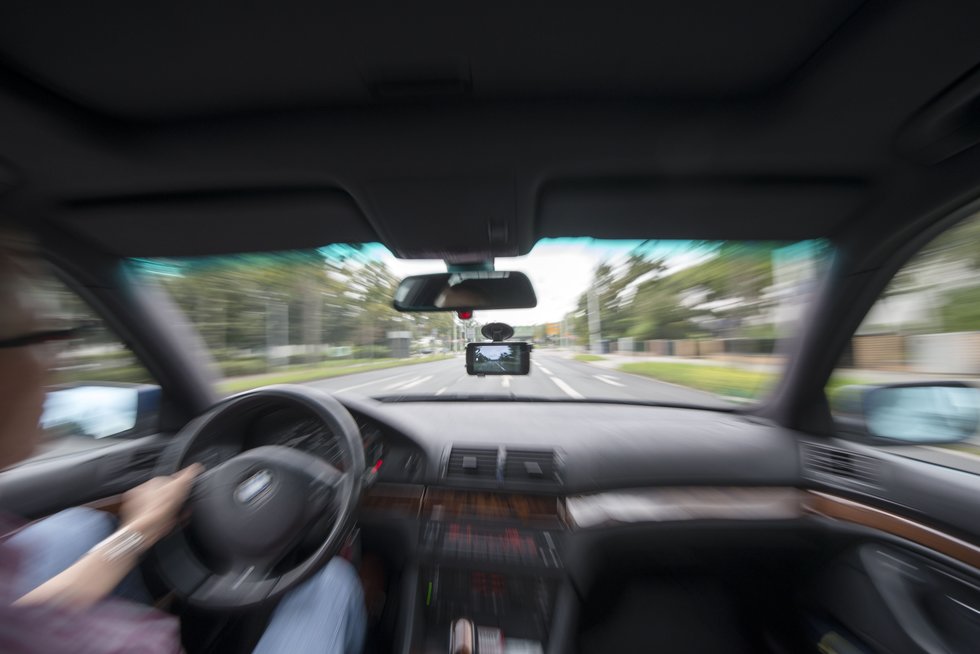 Scientists theorize that motion sickness is when signals from your eyes and the vestibular system are at odds in your brain. The Autobahn. Credit: Getty Images.
Ever thought about how you can tell whether it's hot or cold outside? This sense is known as thermoception. It turns out we detect outside temperature through thermoreceptors in our skin. This allows us to avoid things like getting burned or frostbitten and to avoid environments that are too hot or cold. Other senses include kinaesthesia, a sense of movement, and chronoception, sensing the passage of time.
If you think these are interesting there are some even more fascinating senses found outside of our species. For instance, there's electroception, which is the ability to sense electrical fields. Sharks use this to detect prey. Another is magnetoreception or the ability to detect magnetic fields. Bats use this to navigate. Stranger still, there are certain bird and insect species that sense and steer their flight by polarized light.
Even those senses we humans are familiar with aren't always so straightforward when you dig a little deeper. At least not for everyone. Consider synesthesia, a rare condition where a person experiences a blending of two senses. The most common variety is grapheme-color synesthesia, which is where each particular number or letter corresponds with a certain color or shade. A rare number of savants actually use this ability to make advancements in mathematics or music composition.
To learn more about the science behind our senses, click here:
Swipe right to make the connections that could change your career.
Getty Images
Sponsored
Swipe right. Match. Meet over coffee or set up a call.
No, we aren't talking about Tinder. Introducing Shapr, a free app that helps people with synergistic professional goals and skill sets easily meet and collaborate.
The Canadian professor has an extensive collection posted on his site.
Jordan Peterson with Carl Jung and the cover art of Jaak Panksepp's 'Affective Neuroscience' (Image: Chris Williamson/Getty Images/Big Think)
Personal Growth
Peterson's Great Books list features classics by Orwell, Jung, Huxley, and Dostoevsky.
Categories include literature, neuroscience, religion, and systems analysis.
Having recently left Patreon for "freedom of speech" reasons, Peterson is taking direct donations through Paypal (and Bitcoin).
The controversy around the Torah codes gets a new life.
Michael Drosnin
Surprising Science
Mathematicians claim to see a predictive pattern in the ancient Torah texts.
The code is revealed by a method found with special computer software.
Some events described by reading the code took place after the code was written.
Despite incredible economic growth, it is not necessarily an investor's paradise.
Big think's weekly newsletter.
Get smarter faster from the comfort of your inbox.
See our newsletter privacy policy
here
Most Popular
Most Recent
Big think's weekly newsletter.
Get smarter faster from the comfort of your inbox.
See our newsletter privacy policy
here
© Copyright 2007-2018 & BIG THINK, BIG THINK EDGE,
SMARTER FASTER trademarks owned by The Big Think, Inc. All rights reserved.