Big ideas.
Once a week.
Subscribe to our weekly newsletter.
Scientists have captured chimpanzees performing a bizarre ritual
Primate archaeologists say that chimps are going through their own Stone Age.
23 July, 2017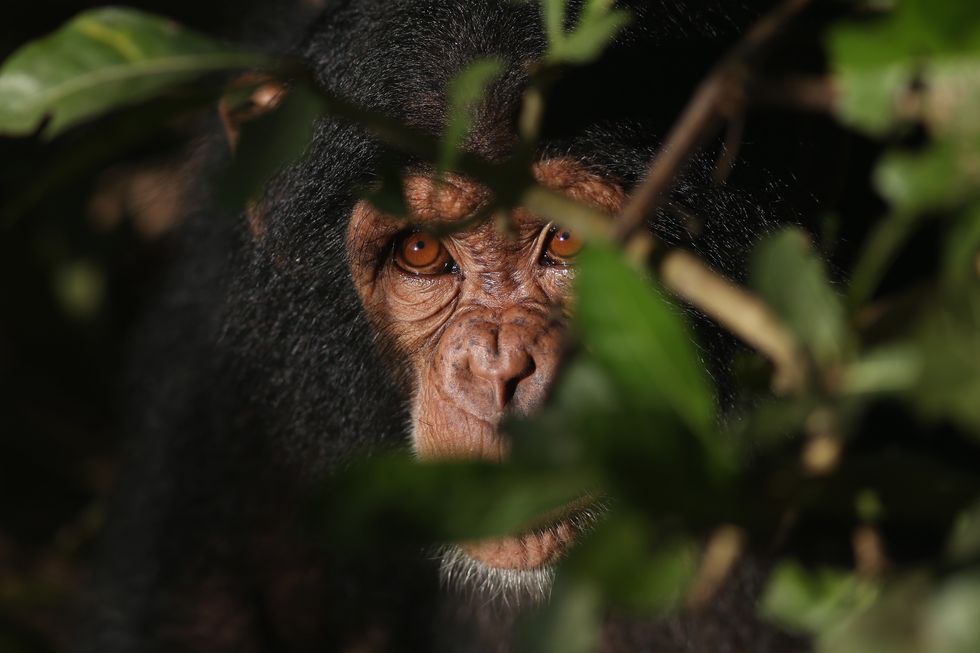 Getty Images.
Chimpanzees in three West African countries—Guinea Bissau, Côte d'Ivoire (the Ivory Coast), and Liberia, have been observed taking part in strange behavior. They store a great number of rocks in the hollows of trees. Then, usually a male, takes one of the rocks, walks a distance away, grunts an utterance, and hurls the rock at the tree, leaving a mark on it. The rock is then placed back in the hollow to be reused in this manner again.
---
No chimps east of these countries have been observed doing this. What's more, there seems to be no reason for it tied to survival. It has nothing to do with acquiring food, mating, or furthering one's status. Researchers say it might be a unique display of male power, marking the border of their troop's territory, or even a spiritual ritual.
A team of 80 international scientists, led by Hjalmar S. Kuhl and Ammie K. Kalan, conducted the study. Kuhl and Kalan hail from the Max Planck Institute in Germany. The team set up camera traps in four remote locations in West Africa, where they caught footage of chimps taking part in this unusual and so far, unexplained behavior. Their findings were published in Scientific Reports, part of the journal Nature.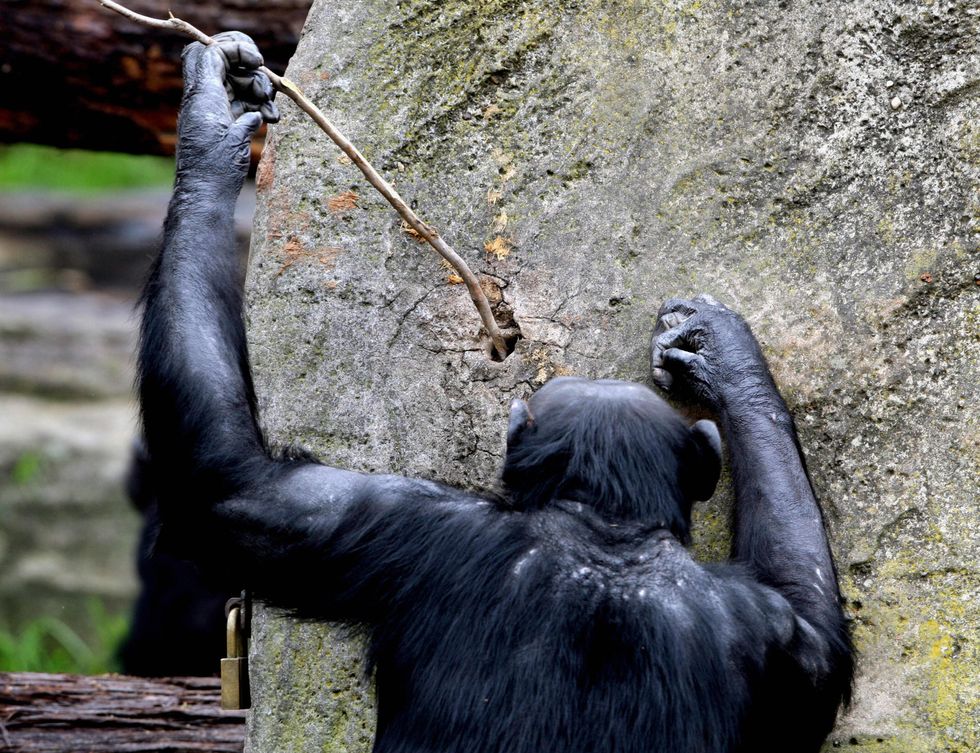 Tool usage among chimps is commonplace. Getty Images.
The authors write, "We found four populations in West Africa where chimpanzees habitually bang and throw rocks against trees, or toss them into tree cavities, resulting in conspicuous stone accumulations at these sites." Chimps have been known to use rocks as tools, to bash open fruits or nuts for instance. Certain groups have even been seen using sticks removed of leaves and sharpened as spears, for hunting.
But they've never been observed taking part in behavior outside of that tied to survival. Over time, researchers found that this so-called ritualistic practice caught on in troops where males had taken part in it, with even a few females doing so. So could it be a spiritual ritual? Researchers on Kuhl and Kalan's team have likened the rock pilings to the types of cairns the indigenous people of these areas make.
Cairns are piles of rocks that serve many purposes. People have been making them since the Stone Age. They can signify where a battle took place or as a memorial, as a marker for a grave site, a demarcation of territory, a signpost on a path, to denote a sacred site, and much more. This discovery transformed these four places from chimpanzee viewing areas to primate archaeological sites.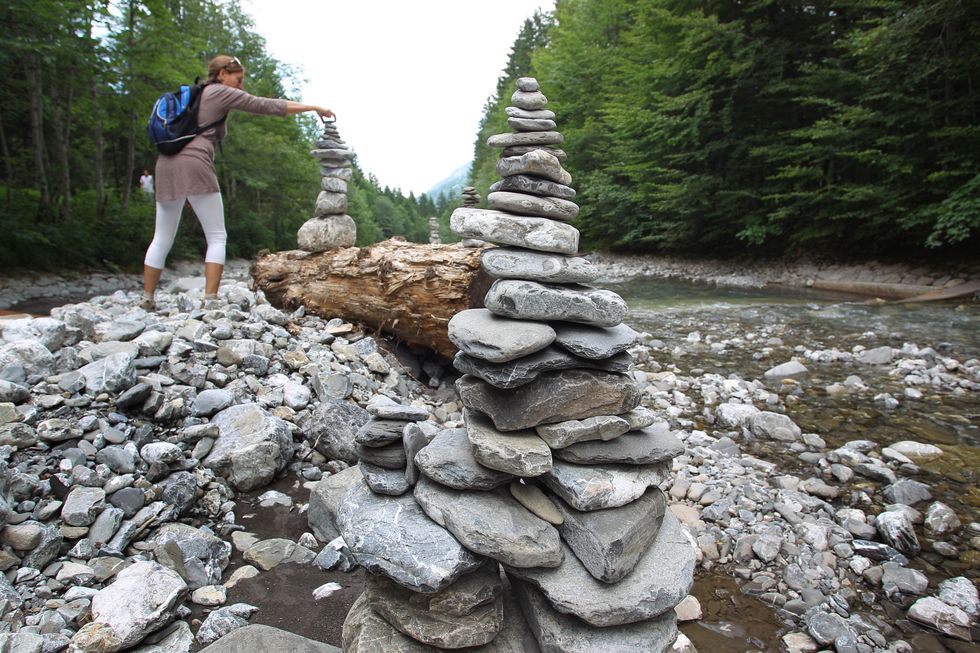 Stone cairns mark a hiking trail in Germany. Getty Images.
Researcher's write:
Stone accumulation shrines at 'sacred' trees are well described for indigenous West African peoples. Superficially, these cairns appear very similar to what has been described here for chimpanzee accumulative stone throwing sites, thus it would be interesting to explore whether there are any parallels between chimpanzee accumulative stone throwing and human cairn building, especially in regions of West Africa where the local environment is similar.
Study co-author Laura Kehoe made a statement that has caused something of an uproar. She mused, "Maybe we found the first evidence of chimpanzees creating a kind of shrine that could indicate sacred trees." It'll take a long time to prove such a thing, should it be true. The first major hurdle, there's great debate in the archaeological community over what counts as a ritual, or even how to define one.
Biological anthropologist Craig Stanford of USC, has studied chimps for a long time out in the field. He told The Atlantic that there's lots of reasons they throw stones. He called the idea of this being a religious ritual "silly." He told The Atlantic, "Ritualized behavior is common in the animal world, and chimpanzees throw stones in many contexts." Others say it may not be so farfetched.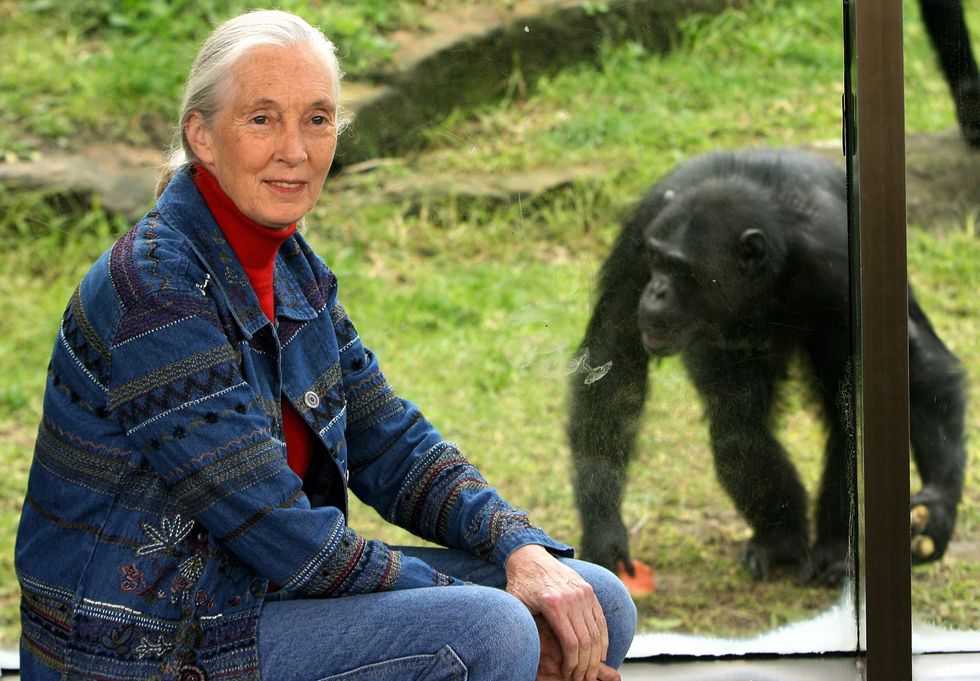 Dr. Jane Goodall studied chimpanzees for 55 years, and often talks of them in terms of the "sacred." Getty Images.
Primate cognitive psychologist Laurie Santos of Yale told Smithsonian Magazine that such behavior, "fits the definition of proto-ritualistic." Yet, she worries that we don't know how to interpret this behavior properly nor the context surrounding it. These great apes have been shown to use creativity and imagination before, both in captivity and the wild. For instance, young female chimps have been known to carry a stick and care for it, as if it were a doll.  
Chimps can have empathy for others and follow rules set by their brethren. But there's no evidence to point to any spiritual beliefs. Do these other humanlike behaviors open up the possibility? The world renowned primatologist Dr. Jane Goodall observed chimpanzees for 55 years in Gombe, Tanzania. She often speaks of them, one of our closest ancestors (along with bonobos), in terms of the sacred.
In her work, she's explained instances where chimps dance near waterfalls or contemplate great storms of wind and rain with fascinated gazes. "Why wouldn't they also have feelings of some kind of spirituality?" she asked. Some scholars, in the small but growing field of primate archaeology, even say that chimps and other tool-using primates are going through their own Stone Age, and have been for quite some time.
To see this "ritual" for yourself, click here: 
A global survey shows the majority of countries favor Android over iPhone.
Strange Maps
When Android was launched soon after Apple's own iPhone, Steve Jobs threatened to "destroy" it.
Ever since, and across the world, the rivalry between both systems has animated users.
Now the results are in: worldwide, consumers clearly prefer one side — and it's not Steve Jobs'.
A woman on her phone in Havana, Cuba. Mobile phones have become ubiquitous the world over — and so has the divide between Android and iPhone users.Credit: Yamil Lage / AFP via Getty Images.
Us versus them: it's the archetypal binary. It makes the world understandable by dividing it into two competing halves: labor against capital, West against East, men against women.
These maps are the first to show the dividing lines between one of the world's more recent binaries: Android vs. Apple. Published by Electronics Hub, they are based on a qualitative analysis of almost 350,000 tweets worldwide that presented positive, neutral, and negative attitudes toward Android and/or Apple.
Steve Jobs wanted to go "thermonuclear"
Feelings between Android and Apple were pretty tribal from the get-go. It was Steve Jobs himself who said, when Google rolled out Android a mere ten months after Apple launched the iPhone, "I'm going to destroy Android, because it's a stolen product. I'm willing to go thermonuclear war on this."
Buying a phone is like picking a side in the eternal feud between the Hatfields and the McCoys. Each choice for automatically comes with an in-built arsenal of arguments against.
If you are an iPhone person, you appreciate the sleekness and simplicity of its design, and you are horrified by the confusing mess that is the Android operating system. If you are an Android aficionado, you pity the iPhone user, a captive of an overly expensive closed ecosystem, designed to extract money from its users.
Even without resorting to those extremes, many of us will recognize which side of the dividing line that we are on. Like the American Civil War, that line runs through families and groups of friends, but that would be a bit confusing to chart geographically. To un-muddle the information, these maps zoom out to state and country level.
If the contest is based on the number of countries, Android wins. In all, 74 of the 142 countries surveyed prefer Android (in green on the map). Only 65 favor Apple (colored grey). That's a 52/48 split, which may not sound like a decisive vote, but it was good enough for Boris Johnson to get Brexit done (after he got breakfast done, of course).
And yes, math-heads: 74 plus 65 is three short of 142. Belarus, Fiji, and Peru (in yellow on the map) could not decide which side to support in the Global Phone War.
What about the United States, home of both the Android and the iPhone? Another victory for the former, albeit a slightly narrower one: 30.16 percent of the tweets about Android were positive versus just 29.03 percent of the ones about Apple.

United States: Texas surrounded!
Credit: Electronics Hub
There can be only one winner per state, though, and that leads to this preponderance of Android logos. Frankly, it's a relief to see a map showing a visceral divide within the United States that is not the coasts versus the heartland.
Apple dominates in 19 states: a solid Midwestern bloc, another of states surrounding Texas, the Dakotas and California, plus North Carolina, New Hampshire, and Rhode Island.
And that's it. The other 32 are the United States of Android. You can drive from Seattle to Miami without straying into iPhone territory. But no stopovers in Dallas or Houston – both are behind enemy lines!
North America: strongly leaning toward Android
Credit: Electronics Hub
Only eight of North America's 21 countries surveyed fall into the Apple category.

The U.S. and Canada lean Android, while Mexico goes for the iPhone.
Central America is divided, but here too Android wins hands down, 5-2.
Europe: Big Five divided
Credit: Electronics Hub
In Europe, Apple wins, with 20 countries preferring the iPhone, 17 going for Android, and Belarus sitting on the fence.

Of Western Europe's Big Five markets, three (UK, Germany, Spain) are pro-Android, and two (France, Italy) are pro-Apple.
Czechia and Slovakia are an Apple island in the Android sea that is Central Europe. Glad to see there is still something the divorcees can agree on.
South America: almost even
Credit: Electronics Hub
In South America, the divide is almost even.

Five countries prefer Android, four Apple, and one is undecided.
In Peru, both Android- and Apple-related tweets were 25 percent positive.
Africa: watch out for Huawei
Credit: Electronics Hub
In Africa, Android wins by 17 countries versus Apple's 15.

There's a solid Android bloc running from South Africa via DR Congo all the way to Ethiopia.
iPhone countries are scattered throughout the north (Algeria), west (Guinea), east (Somalia), and south (Namibia).
Huawei — increasingly popular across the continent — could soon dramatically change the picture in Africa. Currently still running on Android, the Chinese phone manufacturer has just launched its own operating system, called Harmony.
Middle East: Iran vs. Saudi Arabia (again)
Credit: Electronics Hub
In the Middle East and Central Asia, Android wins 8 countries to Apple's 6.

But it's complicated. One Turkish tweeter wondered how it is that iPhones seem more popular in the Asian half of Istanbul, while Android phones prevailed in the European part of the city.
The phone divide matches up with the region's main geopolitical one: Iran prefers Android, Saudi Arabia the iPhone.
Asia-Pacific: Apple on the periphery
Credit: Electronics Hub
Another wafer-thin majority for Android in the Asia-Pacific region: 13 countries versus 12 for Apple — and one abstention (Fiji).

The two giants of the Asian mainland, India and China, are both Android countries. Apple countries are on the periphery.
And if India is Android, its rival Pakistan must be Apple. Same with North and South Korea.
Experts point to the fact that both operating systems are becoming more alike with every new generation as a potential resolution to the conflict. But as any student of human behavior will confirm: smaller differences will only exacerbate the rivalry between both camps.


Maps taken from Electronics Hub, reproduced with kind permission.
Strange Maps #1096
Got a strange map? Let me know at strangemaps@gmail.com.
A new episode of "Your Brain on Money" illuminates the strange world of consumer behavior and explores how brands can wreak havoc on our ability to make rational decisions.
popular
Effective branding can not only change how you feel about a company, it can actually change how your brain is wired.
Our new series "Your Brain on Money," created in partnership with Million Stories, recently explored the surprising ways brands can affect our behavior.
Brands aren't going away. But you can make smarter decisions by slowing down and asking yourself why you're making a particular purchase.
How Apple and Nike have branded your brain | Your Brain on Money | Big Think youtu.be
Brands can manipulate our brains in surprisingly profound ways. They can change how we conceptualize ourselves and how we broadcast our identities out to the social world. They can make us feel emotions that have nothing to do with the functions of their products. And they can even sort us into tribes.
To grasp the power of brands, look to Apple. In the 1990s, the company was struggling to compete with Microsoft over the personal computer market. Despite flirting with bankruptcy in the mid-1990s, Apple turned itself around to eventually become the most valuable company in the world.
That early-stage success wasn't due to superior products.
"People talk about technology, but Apple was a marketing company," John Sculley, a former Apple marketing executive, told The Guardian in 1997. "It was the marketing company of the decade."
So, how exactly does branding make people willing to wait hours in line to buy a $1,000 smartphone, or pay exorbitant prices for a pair of sneakers?
Branding and the brain

For more than a century, brands have capitalized on the fact that effective marketing is much more than simply touting the merits of a product. Some ads have nothing to do with the product at all. In 1871, for example, Pearl Tobacco started advertising their cigarettes through branded posters and trading cards that featured exposed women, a trend that continues to this day.
It's crude, sure. But research shows that it's also remarkably effective, even on monkeys. Why? The answer seems to center on how our brains pay special attention to information from the social world.
"In theory, ads that associate sex or status with specific brands or products activate the brain mechanisms that prioritize social information, and turning on this switch may bias us toward the product," wrote neuroscience professor Michael Platt for Scientific American.
Brands can burrow themselves deep into our subconscious. Through ad campaigns, brands can form a web of associations and memories in our brains. When these connections are robust and positive, it can change our behavior, nudging us to make "no-brainer" purchases when we encounter the brand at the store.
Nike storeThamKC
It's a marketing principle that's related to the work of Daniel Kahneman, a psychologist and economist who won the 2002 Nobel Memorial Prize in Economic Sciences. In his book "Thinking Fast and Slow", Kahneman separates thinking into two broad categories, or systems:

System 1 is fast and automatic, requiring little effort or voluntary control.
System 2 is slow and requires subjective deliberation and logic.
Brands that tap into "system 1" are likely to dominate the competition. After all, it's far easier for us as consumers to automatically reach for a familiar brand than it is to analyze all of the available information and make an informed choice. Still, the most successful brands can have an even deeper impact on our psychology, one that causes us to conceptualize them as something like a family member.
A peculiar relationship with brands
Apple has one of the most loyal customer bases in the world, with its brand loyalty hitting an all-time high earlier this year, according to a SellCell survey of more than 5,000 U.S.-based smartphone users.
Qualitatively, how does that loyalty compare to Samsung users? To find out, Platt and his team conducted a study in which functional magnetic resonance imaging scanned the brains of Samsung and Apple users as they viewed positive, negative, and neutral news about each company. The results revealed stark differences between the two groups, as Platt wrote in "The Leader's Brain":
"Apple users showed empathy for their own brand: The reward-related areas of the brain were activated by good news about Apple, and the pain and negative feeling parts of the brain were activated by bad news. They were neutral about any kind of Samsung news. This is exactly what we see when people empathize with other people—particularly their family and friends—but don't feel the joy and pain of people they don't know."
Meanwhile, Samsung users didn't show any significant pain- or pleasure-related brain activity when they saw good or bad news about the company.
"Interestingly, though, the pain areas were activated by good news about Apple, and the reward areas were activated by bad news about the rival company—some serious schadenfreude, or "reverse empathy," Platt wrote.
The results suggest a fundamental difference between the brands: Apple has formed strong emotional and social connections with consumers, Samsung has not.
Brands and the self
Does having a strong connection with a brand justify paying higher prices for their products? Maybe. You could have a strong connection with Apple or Nike and simultaneously think the quality of their products justifies the price.
But beyond product quality lies identity. People have long used objects and clothing to express themselves and signal their affiliation with groups. From prehistoric seashell jewelry to Air Jordans, the things people wear and associate with signal a lot of information about how they conceptualize themselves.
Since the 1950s, researchers have examined the relationship between self-image and brand preferences. This body of research has generally found that consumers tend to prefer brands whose products fit well with their self-image, a concept known as self-image congruity.
By choosing brands that don't disrupt their self-image, consumers are able not only to express themselves personally, but also broadcast a specific version of themselves into the social world. That might sound self-involved. But on the other hand, humans are social creatures who use information from the social world to make decisions, so it's virtually impossible for us not to make inferences about people based on how they present themselves.
Americus Reed II, a marketing professor at the University of Pennsylvania, told Big Think:
"When I make choices about different brands, I'm choosing to create an identity. When I put that shirt on, when I put that shirt on — those jeans, that hat — someone is going to form an impression about what I'm about. So, if I'm choosing Nike over Under Armour, I'm choosing a kind of different way to express affiliation with sport. The Nike thing is about performance. The Under Armour thing is about the underdog. I have to choose which of these different conceptual pathways is most consistent with where I am in my life."
Making smarter decisions
Brands may have some power over us when we're facing a purchasing decision. So, considering brands aren't going away, what can we do to make better choices? The best strategy might be to slow down and try to avoid making "automatic" purchasing decisions that are characteristic of Kahneman's fast "system 1" mode of thinking.
"I think it's important to always pause and think a little bit about, "Okay, why am I buying this product?" Platt said.
As for getting out of the brand game altogether? Good luck.
"I've heard lots of people push back and say, "I'm not into brands,"" Reed II said. "I take a very different view. In some senses, they're not doing anything different than what someone who affiliates with a brand is doing. They have a brand. It's just an anti-brand brand."
Powerful branding can not only change how you feel about a company, it can actually change how your brain is wired.
Sponsored by Singleton
Powerful branding can not only change how you feel about a company, it can actually change how your brain is wired.
"We love to think of ourselves as rational. That's not how it works," says UPenn professor Americus Reed II about our habits (both conscious and subconscious) of paying more for items based primarily on the brand name. Effective marketing causes the consumer to link brands like Apple and Nike with their own identity, and that strong attachment goes deeper than receipts.
Using MRI, professor and neuroscientist Michael Platt and his team were able to see this at play. When reacting to good or bad news about the brand, Samsung users didn't have positive or negative brain responses, yet they did have "reverse empathy" for bad news about Apple. Meanwhile, Apple users showed a "brain empathy response for Apple that was exactly what you'd see in the way you would respond to somebody in your family."
Scroll down to load more…