Big ideas.
Once a week.
Subscribe to our weekly newsletter.
Researchers Engineer Enforcer Cells That Will Take out Lethal Bacteria
Amoebas one-tenth the width of a human hair may someday help diffuse a bioterror attack.
05 March, 2017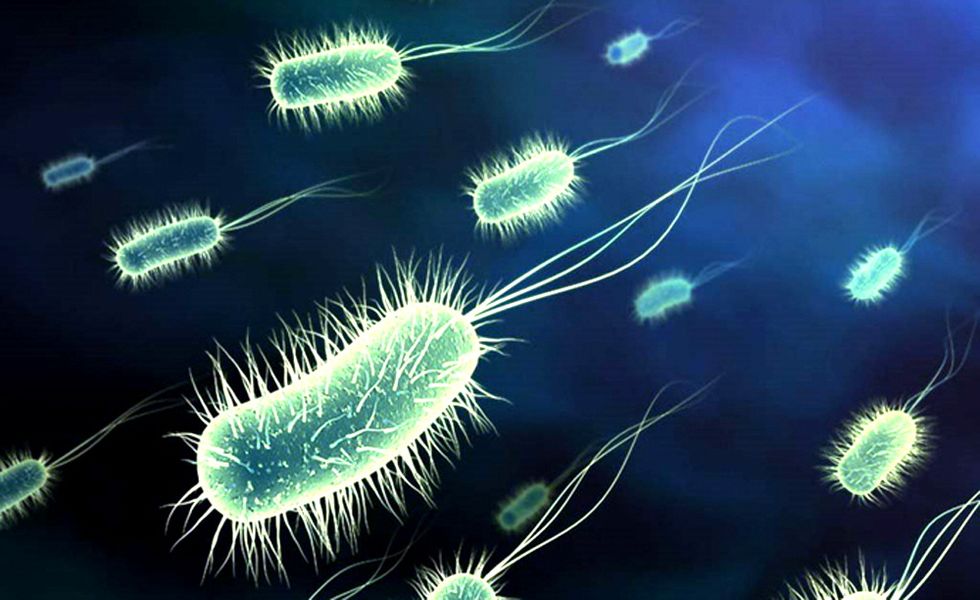 Bacteria racing away from their cellular enforcers.
Bacteria and antibiotics have been in an arms race since the drugs were invented. But for economic reasons, fewer and fewer of these drugs are being developed today, while the fear of antibiotic-resistant bacteria is ever-growing. This, and the potential threat of a bioterror attack, where say an epidemic-causing bacteria is released into the general population, makes the need for countermeasures obvious. Johns Hopkins researchers have come up with a new way to eliminate dangerous bacteria, using beefed up cells who seek out and destroy dangerous pathogens, all on their own.
---
Researchers from the John Hopkins Whiting School of Engineering and the School of Medicine teamed up on this four-year project. They received a grant of $5.7 million, awarded by the federal agency DARPA (Defense Advanced Research Projects Agency). The point of the study is to create a biocontrol system that can send out single-cell enforcers to find and eliminate certain pathogens. Researchers will program amoeba cells to do so, each one micron long, about one-tenth the width of a human hair.
These amoeba are independent and travel on their own surfaces--meaning they can get potentially deadly pathogens wherever they may be. In the event they are needed, they would be emitted through a spray. As a first step, scientists hope to program the cells to go after the bacteria which causes Legionnaire's disease.
It could also be used to target Pseudomonas aeruginosa, a dangerous, potentially deadly, treatment-resistant strain of pneumonia. In another scenario, specially engineered amoeba cells are unleashed by health officials if an outbreak occurs. There are other uses too. They could sterilize instruments, and studying them may even reap benefits for cancer research.
So what's DARPA's interest? These biochemical warriors may someday help dampen down or even counteract a bioterror attack. They could also be used to render contaminated soil harmless. The innovation here is that each cellular soldier is self-directed. It does not depend on an outside human operator. Principal investigator Pablo A. Iglesias likened it to a "self-driving car." Iglesias is a professor of electrical and computer engineering at Johns Hopkins.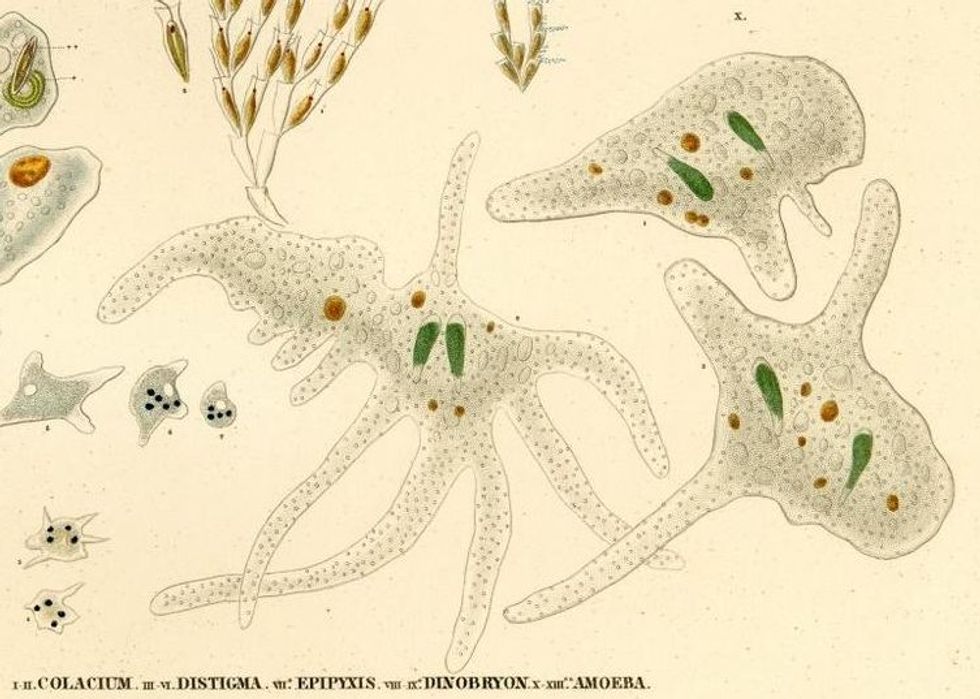 Amoebas. By C.G. Ehrenberg (Die Infusionthierchen, 1830) [Public domain], via Wikimedia Commons
Just as cruise control slows down or speeds up a car, Iglesias said, "In a similar way, the biocontrol systems we're developing must be able to sense where the pathogens are, move their cells toward the bacterial targets, and then engulf them to prevent infections among people who might otherwise be exposed to the harmful microbes."
Iglesias started looking into biocontrol systems 15 years ago. To develop this particular type of synthetic biology, he is teaming up with four colleagues at the school of medicine. Each is a biological chemistry expert. Douglas N. Robinson, a professor of cell biology is on the team. He likened what these amoebas do to bacteria to what humans do when they encounter freshly baked cookies. They seek to gorge themselves unabashedly.
Though the technique has a lot of potential, Iglesias admitted to the Baltimore Sun, that past experiments in the field haven't actually gone very well. "People manage to do things but it takes huge amounts of effort and it's more or less random," he said. "There has to be a lot of iterations before it works." Other experts say, this team's efforts are heartening, particularly due to the growing menace of antibiotic-resistant bacteria.
Researchers are using amoeba cells called Dictyostelium discoideum in their experiments. This species is commonly studied. It can be found in the damp soil of riverbeds. These microbes surround bacteria and devour them. Turns out the bacteria let off a biochemical "scent" that the amoeba, using a specific type of receptor, pick up.
Robinson said that their experiments must adhere to the strictest operating protocols, lest such amoeba escape into the environment and wreak havoc. If this project bears fruit, researchers believe they'll have a new tool to fight infection in hospitals, and protect society against bioterror and ecological disasters. So far, scientists are targeting only pathogens lurking outside the human body. "In this contract, we are not targeting bacteria in human blood," Iglesias said. "But the hope is that the techniques we develop would ultimately be useful for that."
To learn more about synthetic biology, click here: 
Certain water beetles can escape from frogs after being consumed.
Surprising Science
A Japanese scientist shows that some beetles can wiggle out of frog's butts after being eaten whole.
The research suggests the beetle can get out in as little as 7 minutes.
Most of the beetles swallowed in the experiment survived with no complications after being excreted.
In what is perhaps one of the weirdest experiments ever that comes from the category of "why did anyone need to know this?" scientists have proven that the Regimbartia attenuata beetle can climb out of a frog's butt after being eaten.
The research was carried out by Kobe University ecologist Shinji Sugiura. His team found that the majority of beetles swallowed by black-spotted pond frogs (Pelophylax nigromaculatus) used in their experiment managed to escape about 6 hours after and were perfectly fine.
"Here, I report active escape of the aquatic beetle R. attenuata from the vents of five frog species via the digestive tract," writes Sugiura in a new paper, adding "although adult beetles were easily eaten by frogs, 90 percent of swallowed beetles were excreted within six hours after being eaten and, surprisingly, were still alive."
One bug even got out in as little as 7 minutes.

Sugiura also tried putting wax on the legs of some of the beetles, preventing them from moving. These ones were not able to make it out alive, taking from 38 to 150 hours to be digested.
Naturally, as anyone would upon encountering such a story, you're wondering where's the video. Thankfully, the scientists recorded the proceedings:
The Regimbartia attenuata beetle can be found in the tropics, especially as pests in fish hatcheries. It's not the only kind of creature that can survive being swallowed. A recent study showed that snake eels are able to burrow out of the stomachs of fish using their sharp tails, only to become stuck, die, and be mummified in the gut cavity. Scientists are calling the beetle's ability the first documented "active prey escape." Usually, such travelers through the digestive tract have particular adaptations that make it possible for them to withstand extreme pH and lack of oxygen. The researchers think the beetle's trick is in inducing the frog to open a so-called "vent" controlled by the sphincter muscle.
"Individuals were always excreted head first from the frog vent, suggesting that R. attenuata stimulates the hind gut, urging the frog to defecate," explains Sugiura.
For more information, check out the study published in Current Biology.
The design of a classic video game yields insights on how to address global poverty.
Politics & Current Affairs
A new essay compares the power-up system in Mario Kart to feedback loops in real-life systems.
Both try to provide targeted benefits to those who most need them.
While games are simpler than reality, Mario's example makes the real-life cases easier to understand.
Poverty can be a self-sustaining cycle that might require an external influence to break it. A new paper published in Nature Sustainability and written by professor Andrew Bell of Boston University suggests that we could improve global anti-poverty and economic development systems by turning to an idea in a video game about a race car-driving Italian plumber.
A primer on Mario Kart
For those who have not played it, Mario Kart is a racing game starring Super Mario and other characters from the video game franchise that bears his name. Players race around tracks collecting power-ups that can directly help them, such as mushrooms that speed up their karts, or slow down other players, such as heat-seeking turtle shells that momentarily crash other karts.
The game is well known for having a mechanism known as "rubber-banding." Racers in the front of the pack get wimpy power-ups, like banana peels to slip up other karts, while those toward the back get stronger ones, like golden mushrooms that provide extra long speed boosts. The effect of this is that those in the back are pushed towards the center, and those in front don't get any boosts that would make catching them impossible.
If you're in last, you might get the help you need to make a last-minute break for the lead. If you're in first, you have to be on the lookout for these breakouts (and the ever-dreaded blue shells). The game remains competitive and fun.
Rubber-banding: A moral and economic lesson from Mario Kart
In the real world, we see rubber-banding used all the time. Welfare systems tend to provide more aid to those who need it than those who do not. Many of them are financed by progressive taxation, which is heavier on the well-off than the down-and-out. Some research suggests that these do work, as countries with lower levels of income inequality have higher social mobility levels.
It is a little more difficult to use rubber-banding in real life than in a video game, of course. While in the game, it is easy to decide who is doing well and who is not, things can be a little more muddled in reality. Furthermore, while those in a racing game are necessarily antagonistic to each other, real systems often strive to improve conditions for everybody or to reach common goals.
As Bell points out, rubber-banding can also be used to encourage sustainable, growth programs that help the poor other than welfare. They point out projects such as irrigation systems in Pakistan or Payments for Ecosystems Services (PES) schemes in Malawi, which utilize positive feedback loops to both provide aid to the poor and promote stable systems that benefit everyone.
Rubber-banding feedback loops in different systems. Mario Kart (a), irrigation systems in Pakistan (b), and PES operations in Malawi (c) are shown. Links between one better-off (blue) and one worse-off (red) individual are highlighted. Feedback in Mario Kart (a), designed to balance the racers, imprAndrew Bell/ Nature Sustainability
In the Malawi case, farmers were paid to practice conservation agriculture to reduce the amount of sediment from their farms flowing into a river. This immediately benefits hydroelectric producers and their customers but also provides real benefits to farmers in the long run as their soil doesn't erode. By providing an incentive to the farmers to conserve the soil, a virtuous cycle of conservation, soil improvement, and improved yields can begin.
While this loop differs from the rubber-banding in Mario, the game's approach can help illustrate the benefits of rubber-banding in achieving a more equitable world.
The task now, as Bell says in his paper, is to look at problems that exist and find out "what the golden mushroom might be."
Satellite imagery can help better predict volcanic eruptions by monitoring changes in surface temperature near volcanoes.
Credit:
Ammit
via Adobe Stock
Surprising Science
A recent study used data collected by NASA satellites to conduct a statistical analysis of surface temperatures near volcanoes that erupted from 2002 to 2019.
The results showed that surface temperatures near volcanoes gradually increased in the months and years prior to eruptions.
The method was able to detect potential eruptions that were not anticipated by other volcano monitoring methods, such as eruptions in Japan in 2014 and Chile in 2015.
How can modern technology help warn us of impending volcanic eruptions?
One promising answer may lie in satellite imagery. In a recent study published in Nature Geoscience, researchers used infrared data collected by NASA satellites to study the conditions near volcanoes in the months and years before they erupted.
The results revealed a pattern: Prior to eruptions, an unusually large amount of heat had been escaping through soil near volcanoes. This diffusion of subterranean heat — which is a byproduct of "large-scale thermal unrest" — could potentially represent a warning sign of future eruptions.
Conceptual model of large-scale thermal unrestCredit: Girona et al.
For the study, the researchers conducted a statistical analysis of changes in surface temperature near volcanoes, using data collected over 16.5 years by NASA's Terra and Aqua satellites. The results showed that eruptions tended to occur around the time when surface temperatures near the volcanoes peaked.

Eruptions were preceded by "subtle but significant long-term (years), large-scale (tens of square kilometres) increases in their radiant heat flux (up to ~1 °C in median radiant temperature)," the researchers wrote. After eruptions, surface temperatures reliably decreased, though the cool-down period took longer for bigger eruptions.
"Volcanoes can experience thermal unrest for several years before eruption," the researchers wrote. "This thermal unrest is dominated by a large-scale phenomenon operating over extensive areas of volcanic edifices, can be an early indicator of volcanic reactivation, can increase prior to different types of eruption and can be tracked through a statistical analysis of little-processed (that is, radiance or radiant temperature) satellite-based remote sensing data with high temporal resolution."
Temporal variations of target volcanoesCredit: Girona et al.
Although using satellites to monitor thermal unrest wouldn't enable scientists to make hyper-specific eruption predictions (like predicting the exact day), it could significantly improve prediction efforts. Seismologists and volcanologists currently use a range of techniques to forecast eruptions, including monitoring for gas emissions, ground deformation, and changes to nearby water channels, to name a few.

Still, none of these techniques have proven completely reliable, both because of the science and the practical barriers (e.g. funding) standing in the way of large-scale monitoring. In 2014, for example, Japan's Mount Ontake suddenly erupted, killing 63 people. It was the nation's deadliest eruption in nearly a century.
In the study, the researchers found that surface temperatures near Mount Ontake had been increasing in the two years prior to the eruption. To date, no other monitoring method has detected "well-defined" warning signs for the 2014 disaster, the researchers noted.
The researchers hope satellite-based infrared monitoring techniques, combined with existing methods, can improve prediction efforts for volcanic eruptions. Volcanic eruptions have killed about 2,000 people since 2000.
"Our findings can open new horizons to better constrain magma–hydrothermal interaction processes, especially when integrated with other datasets, allowing us to explore the thermal budget of volcanoes and anticipate eruptions that are very difficult to forecast through other geophysical/geochemical methods."
Surprising Science
New research from the University of Granada found that stress could help determine sex.
Scroll down to load more…