Why SpaceX's Falcon Heavy Is Such a Big Deal
SpaceX unveils its most powerful rocket.
08 January, 2018
---
SpaceX has given the world a first look at its most powerful rocket yet - the Falcon Heavy. Not only is this beast the most powerful rocket that the Elon Musk-led SpaceX ever made, it will be "the most powerful operational rocket in the world by a factor of two," according to their site. When it launches with its initial cargo, its destination will be the orbit of Mars, according to Musk. Eventually, the rocket might be the one to carry humans to the Red Planet as well.
Sharing the rocket's photos and video on Twitter and Instagram, SpaceX put the space vehicle's might in perspective, saying it's equal to eighteen 747 aircraft "at full power".
"With more than 5 million pounds of thrust at liftoff — equal to approximately eighteen 747 aircraft at full power — Falcon Heavy will be the most powerful operational rocket in the world by a factor of two," SpaceX reps wrote.
To get that 5 million pounds of thrust and liftoff, the two-stage rocket has 27 first-stage Merlin engines, as states SpaceX.  That's three times as many engines as are on SpaceX's current workhorse rocket - the Falcon 9. 
In fact, the first stage for the Falcon Heavy essentially involves three Falcon 9 cores strapped together. The reusable boosters will get it into orbit, then fly back to Earth and land vertically like other Falcon 9s. The second stage will be powered by just one Merlin engine, same as the Falcon 9.
Here is the Falcon Heavy getting vertical:
The new monster spacecraft will be able to lift into orbit over 54 metric tons (119,000 lbs), which is a "mass equivalent to a 737 jetliner loaded with passengers, crew, luggage and fuel" to continue the airplane comparisons. This capacity is the largest since the Saturn V rocket of the Apollo lunar program, which could carry 310,000 pounds to low-Earth orbit.
What will be the payload on the rocket's maiden journey? As Musk announced cheekily in a December 2017 Instagram post, the rocket will carry none other than the original Tesla Roadster on its test flight. And it will be "playing Space Oddity, on a billion year elliptic Mars orbit," he added.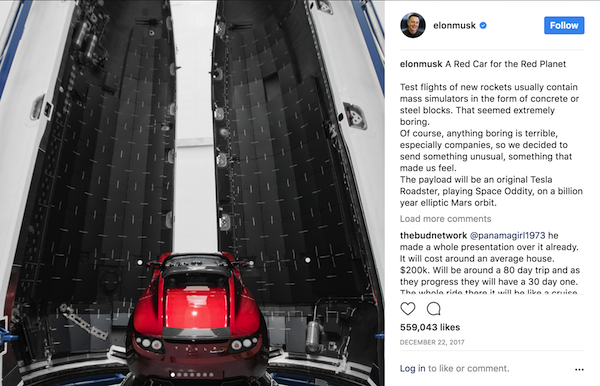 Falcon Heavy is slated to take off from the Kennedy Space Center in Florida later in January 2018, barring delays. You can follow the launch schedule here.
When it comes to the workplace, more diversity means more money.
Shutterstock
Culture & Religion
While the workplace is slowly diversifying, some industries have been slow to change.
A growing body of research is uncovering that workplaces with greater diversity actual perform better. One of the clearest examples of this effect is in venture capitalism, where nearly all venture capitalists are white, male, Harvard graduates.
When VC firms hire more women, their effectiveness and profitability explodes.
It's not what you have, it's what you do with it.
Personal Growth
Buddhism has been applied differently across the planet as it enters new cultures.
The underlying philosophical foundation is applicable to diverse situations, whether religious or secular.
But it is a practice, not a belief, and must be treated as a discipline for retraining consciousness.
The Geminid meteor shower grows more intense with every year, and it's expected to be particularly bright in 2018.
Google
Surprising Science
Look up at the skies from 2 to 7:30 a.m. on December 14 to see the most meteors.
To get the best view, travel away from city lights, avoid looking at your phone and let your eyes adjust to the dark.
Stargazers might also be able to catch a glimpse of a comet making a rare appearance, NASA astronomers say.
Big think's weekly newsletter.
Get smarter faster from the comfort of your inbox.
See our newsletter privacy policy
here
Most Popular
Most Recent
Big think's weekly newsletter.
Get smarter faster from the comfort of your inbox.
See our newsletter privacy policy
here
© Copyright 2007-2018 & BIG THINK, BIG THINK EDGE,
SMARTER FASTER trademarks owned by The Big Think, Inc. All rights reserved.