Is religion dying? A look at shifting demographics.
Studies show which religions are growing fast and which ones may be dying out.
27 April, 2018
---
Religion is still an integral part of many modern societies, influencing laws and people's behavior, as well as the way adherents relate to others in the world. Are religions going away any time soon? Despite what some decry, there is little evidence of that. What is changing is the composition of the world's believers.
Christianity has been the world's largest religion for millennia but its reign might come to an end sometime during the current century, overtaken by Islam. Muslims are the world's largest growing religious group, according to Pew Research, increasing twice as fast as the world population. While the world's population will likely increase by 32% in the ensuing decades, the number of Muslims will possibly grow by 70%, rising from 1.8 billion in 2015 to around 3 billion in 2060. That would make this group 31.1% of the world's population rather than the 24.1% that it is currently.
Is Christianity dying out?
At the moment, Christianity is the religion of about 31% of the people on Earth, reports Pew. But there are telling trends, with the Christians in Europe dying faster than new ones are being born. That's significant because Europe is considered the religion's heartland, even if it is spreading fast in Africa. Between 2010 and 2015, Christian deaths in Europe outnumbered births by nearly six million, with Germany alone accounting for 1.4 million more Christians deceased than born.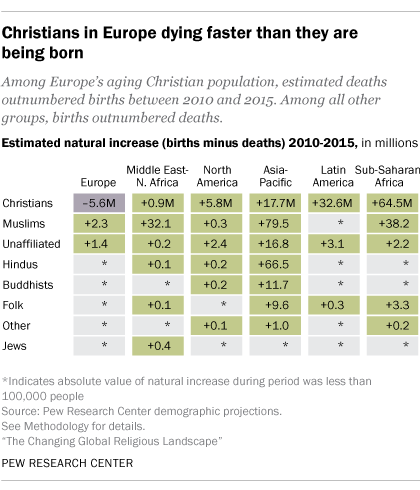 Latin America and Africa saw large increases in new Christians, but worldwide they are not matching the pace of Muslim growth. The reason for that? Muslims have more children than the other seven religious groups studied by Pew. With an average of 2.9 children, Muslim women outpace the Christian average of 2.6 children and the overall non-Muslim average of 2.2.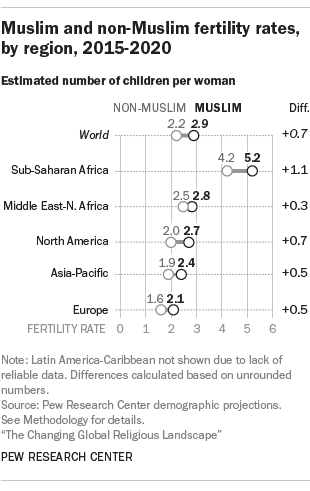 In general, in all the regions that have a large Muslim population, Muslim fertility was found to be greater than non-Muslim fertility. One factor adding to that is Muslims are generally younger, having the youngest median age of 24 in 2015, compared to the median age of non-Muslims, which is 32. Another important reason for such a statistic is that Muslims don't switch religions as much as adherents of other faiths. Changing religions is expected to reduce Christian growth by 72 million by 2060, while it should have little effects on the expansion of Islam.
What about atheists?
Pew Research also estimates that the percentage of religiously unaffiliated people is expected to decline from the current 16% to about 13% even if the overall number of such folks will rise from 1.17 billion in 2015 to 1.2 billion in 2060. In contrast, the number of religious people is expected to grow to 8.1 billion by 2050.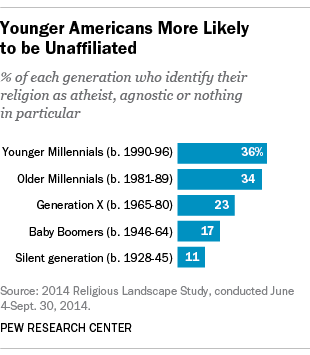 While the number of atheists and agnostics is rising in the U.S. and Europe, the fact that on average non-religious people tend to have fewer children is contributing to the overall decrease in numbers. From 2010 to 2015, religious people have had an average of 2.45 children per woman, while the unaffiliated gave birth to 1.65 children on average.
Other religions
Among other religions, the percentage of Buddhists is expected to decline in the future, reduced by 7%, from 500 million in 2015 to 462 million in 2060. Low fertility rates in countries like China, Thailand, and Japan are responsible for that trend. Interestingly, the adherents of folk religions, which include African traditional religions, Chinese folk religions as well as Native American and Australian Aboriginal religions are likely to rise by 5%, from 418 million worldwide to 441 million.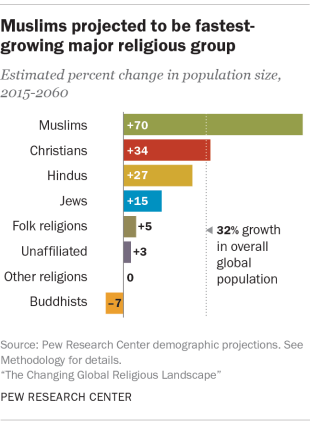 Related Articles Around the Web
From Your Site Articles
What can 3D printing do for medicine? The "sky is the limit," says Northwell Health researcher Dr. Todd Goldstein.
Northwell Health
Sponsored by Northwell Health
Medical professionals are currently using 3D printers to create prosthetics and patient-specific organ models that doctors can use to prepare for surgery.
Eventually, scientists hope to print patient-specific organs that can be transplanted safely into the human body.
Northwell Health, New York State's largest health care provider, is pioneering 3D printing in medicine in three key ways.
New computing theory allows artificial intelligences to store memories.
Credit: Perception and Robotics Group, University of Maryland.
Technology & Innovation
To become autonomous, robots need to perceive the world around them and move at the same time.
Researchers create a theory of hyperdimensional computing to help store robot movement in high-dimensional vectors.
This improvement in perception will allow artificial intelligences to create memories.
If you don't want to know anything about your death, consider this your spoiler warning.
Culture & Religion
For centuries cultures have personified death to give this terrifying mystery a familiar face.
Modern science has demystified death by divulging its biological processes, yet many questions remain.
Studying death is not meant to be a morbid reminder of a cruel fate, but a way to improve the lives of the living.
Riots may ensue as more poor Americans recognize their "miserable" long-term prospects.
Videos
How bad is wealth inequality in the United States? About 1 percent of Americans hold 80 percent of the money.
In the United States, the correlation between the income of parents and the income of their children when they grow up is higher than in any other country in the world.
One of the big underlying reasons for poverty is receiving a crummy education, which in turn leads to crummy jobs. When people recognize their miserable long-term prospects, they are more likely to partake in riots.
Big think's weekly newsletter.
Get smarter faster from the comfort of your inbox.
See our newsletter privacy policy
here
Most Popular
Most Recent
Big think's weekly newsletter.
Get smarter faster from the comfort of your inbox.
See our newsletter privacy policy
here
© Copyright 2007-2019 & BIG THINK, BIG THINK EDGE,
SMARTER FASTER trademarks owned by The Big Think, Inc. All rights reserved.