Religion isn't going anywhere, but the demographics are shifting dramatically
Studies show which religions are growing fast and which ones may be dying out.
27 April, 2018
---
Religion is still an integral part of many modern societies, influencing laws and people's behavior, as well as the way adherents relate to others in the world. Are religions going away any time soon? Despite what some decry, there is little evidence of that. What is changing is the composition of the world's believers.
Christianity has been the world's largest religion for millennia but its reign might come to an end sometime during the current century, overtaken by Islam. Muslims are the world's largest growing religious group, according to Pew Research, increasing twice as fast as the world population. While the world's population will likely increase by 32% in the ensuing decades, the number of Muslims will possibly grow by 70%, rising from 1.8 billion in 2015 to around 3 billion in 2060. That would make this group 31.1% of the world's population rather than the 24.1% that it is currently.
Is Christianity dying out?
At the moment, Christianity is the religion of about 31% of the people on Earth, reports Pew. But there are telling trends, with the Christians in Europe dying faster than new ones are being born. That's significant because Europe is considered the religion's heartland, even if it is spreading fast in Africa. Between 2010 and 2015, Christian deaths in Europe outnumbered births by nearly six million, with Germany alone accounting for 1.4 million more Christians deceased than born.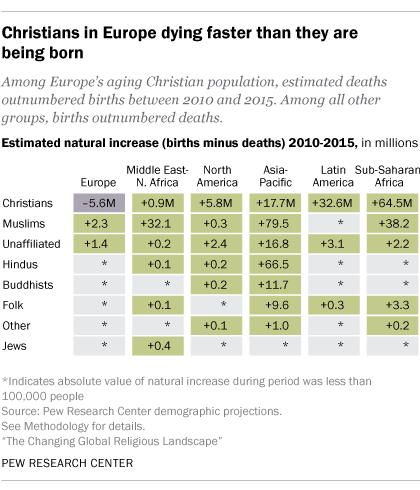 Latin America and Africa saw large increases in new Christians, but worldwide they are not matching the pace of Muslim growth. The reason for that? Muslims have more children than the other seven religious groups studied by Pew. With an average of 2.9 children, Muslim women outpace the Christian average of 2.6 children and the overall non-Muslim average of 2.2.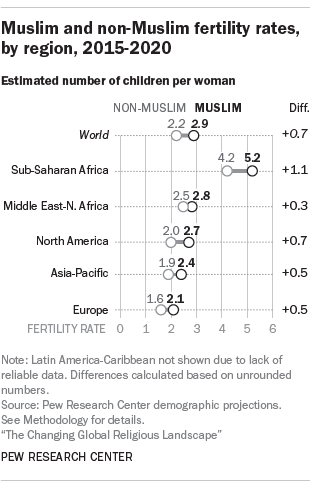 In general, in all the regions that have a large Muslim population, Muslim fertility was found to be greater than non-Muslim fertility. One factor adding to that is Muslims are generally younger, having the youngest median age of 24 in 2015, compared to the median age of non-Muslims, which is 32. Another important reason for such a statistic is that Muslims don't switch religions as much as adherents of other faiths. Changing religions is expected to reduce Christian growth by 72 million by 2060, while it should have little effects on the expansion of Islam.
What about atheists?
Pew Research also estimates that the percentage of religiously unaffiliated people is expected to decline from the current 16% to about 13% even if the overall number of such folks will rise from 1.17 billion in 2015 to 1.2 billion in 2060. In contrast, the number of religious people is expected to grow to 8.1 billion by 2050.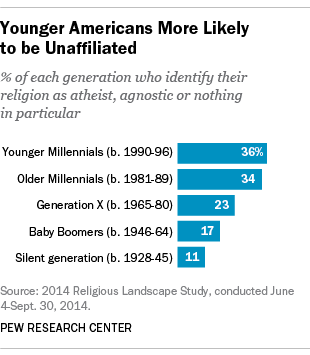 While the number of atheists and agnostics is rising in the U.S. and Europe, the fact that on average non-religious people tend to have fewer children is contributing to the overall decrease in numbers. From 2010 to 2015, religious people have had an average of 2.45 children per woman, while the unaffiliated gave birth to 1.65 children on average.
Other religions
Among other religions, the percentage of Buddhists is expected to decline in the future, reduced by 7%, from 500 million in 2015 to 462 million in 2060. Low fertility rates in countries like China, Thailand, and Japan are responsible for that trend. Interestingly, the adherents of folk religions, which include African traditional religions, Chinese folk religions as well as Native American and Australian Aboriginal religions are likely to rise by 5%, from 418 million worldwide to 441 million.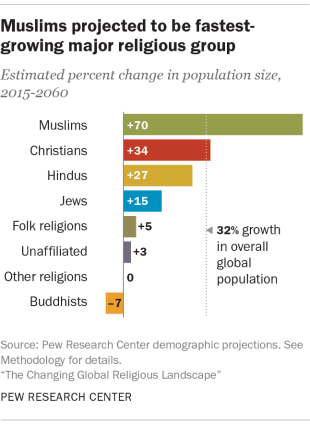 Researchers discover a link between nonverbal synchronization and relationship success.
Pixabay
Sex & Relationships
Scientists say coordinating movements leads to increased intimacy and sexual desire in a couple.
The improved rapport and empathy was also observed in people who didn't know each other.
Non-verbal clues are very important in the development stages of a relationship.
Humans evolved to live in the cold through a number of environmental and genetic factors.
Image source: Wikimedia Commons
Surprising Science
According to some relatively new research, many of our early human cousins preceded Homo sapien migrations north by hundreds of thousands or even millions of years.
Cross-breeding with other ancient hominids gave some subsets of human population the genes to contend and thrive in colder and harsher climates.
Behavioral and dietary changes also helped humans adapt to cold climates.
The comics titan worked for more than half a century to revolutionize and add nuance to the comics industry, and he built a vast community of fans along the way.
(Photo: GABRIEL BOUYS/AFP/Getty Images)
Culture & Religion
Lee died shortly after being rushed to an L.A. hospital. He had been struggling with multiple illnesses over the past year, reports indicate.
Since the 1950s, Lee has been one of the most influential figures in comics, helping to popularize heroes that expressed a level of nuance and self-doubt previously unseen in the industry.
Lee, who's later years were marked by some financial and legal tumult, is survived by his daughter, Joan Celia "J.C." Lee.
Big think's weekly newsletter.
Get smarter faster from the comfort of your inbox.
See our newsletter privacy policy
here
Most Popular
Most Recent
Big think's weekly newsletter.
Get smarter faster from the comfort of your inbox.
See our newsletter privacy policy
here
© Copyright 2007-2018 & BIG THINK, BIG THINK EDGE,
SMARTER FASTER trademarks owned by The Big Think, Inc. All rights reserved.