Big ideas.
Once a week.
Subscribe to our weekly newsletter.
Is religion dying? A look at shifting demographics.
Studies show which religions are growing fast and which ones may be dying out.
27 April, 2018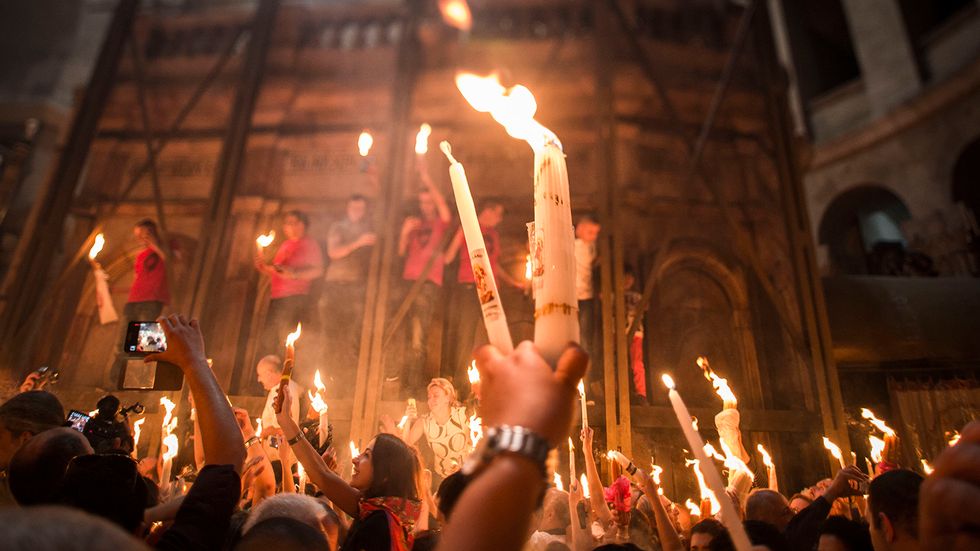 Christian Orthodox worshipers hold candles lit from a flame that emerged from the tomb believed to be of Jesus Christ. (Photo by Ilia Yefimovich/Getty Images)
---
Religion is still an integral part of many modern societies, influencing laws and people's behavior, as well as the way adherents relate to others in the world. Are religions going away any time soon? Despite what some decry, there is little evidence of that. What is changing is the composition of the world's believers.
Christianity has been the world's largest religion for millennia but its reign might come to an end sometime during the current century, overtaken by Islam. Muslims are the world's largest growing religious group, according to Pew Research, increasing twice as fast as the world population. While the world's population will likely increase by 32% in the ensuing decades, the number of Muslims will possibly grow by 70%, rising from 1.8 billion in 2015 to around 3 billion in 2060. That would make this group 31.1% of the world's population rather than the 24.1% that it is currently.
Is Christianity dying out?
At the moment, Christianity is the religion of about 31% of the people on Earth, reports Pew. But there are telling trends, with the Christians in Europe dying faster than new ones are being born. That's significant because Europe is considered the religion's heartland, even if it is spreading fast in Africa. Between 2010 and 2015, Christian deaths in Europe outnumbered births by nearly six million, with Germany alone accounting for 1.4 million more Christians deceased than born.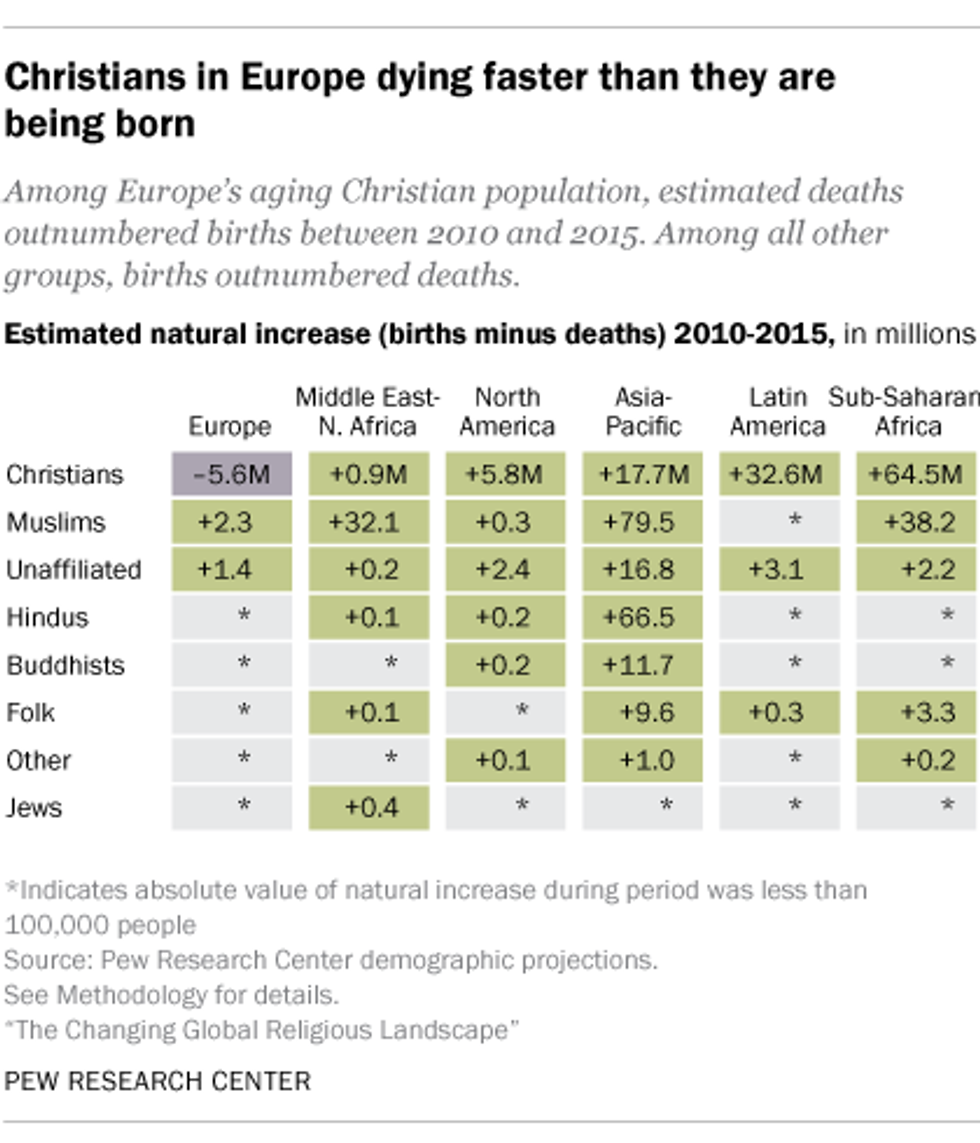 Latin America and Africa saw large increases in new Christians, but worldwide they are not matching the pace of Muslim growth. The reason for that? Muslims have more children than the other seven religious groups studied by Pew. With an average of 2.9 children, Muslim women outpace the Christian average of 2.6 children and the overall non-Muslim average of 2.2.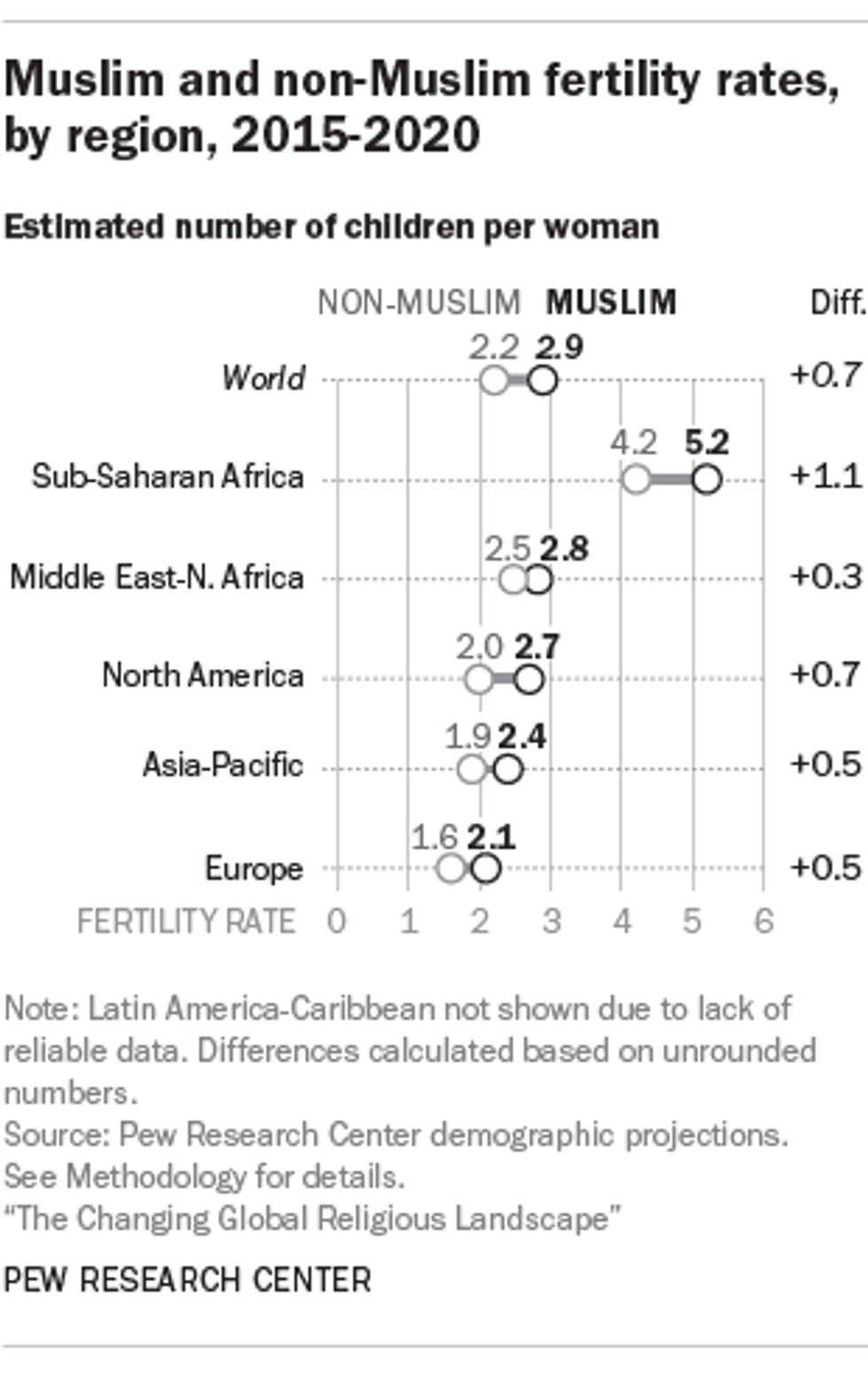 In general, in all the regions that have a large Muslim population, Muslim fertility was found to be greater than non-Muslim fertility. One factor adding to that is Muslims are generally younger, having the youngest median age of 24 in 2015, compared to the median age of non-Muslims, which is 32. Another important reason for such a statistic is that Muslims don't switch religions as much as adherents of other faiths. Changing religions is expected to reduce Christian growth by 72 million by 2060, while it should have little effects on the expansion of Islam.
What about atheists?
Pew Research also estimates that the percentage of religiously unaffiliated people is expected to decline from the current 16% to about 13% even if the overall number of such folks will rise from 1.17 billion in 2015 to 1.2 billion in 2060. In contrast, the number of religious people is expected to grow to 8.1 billion by 2050.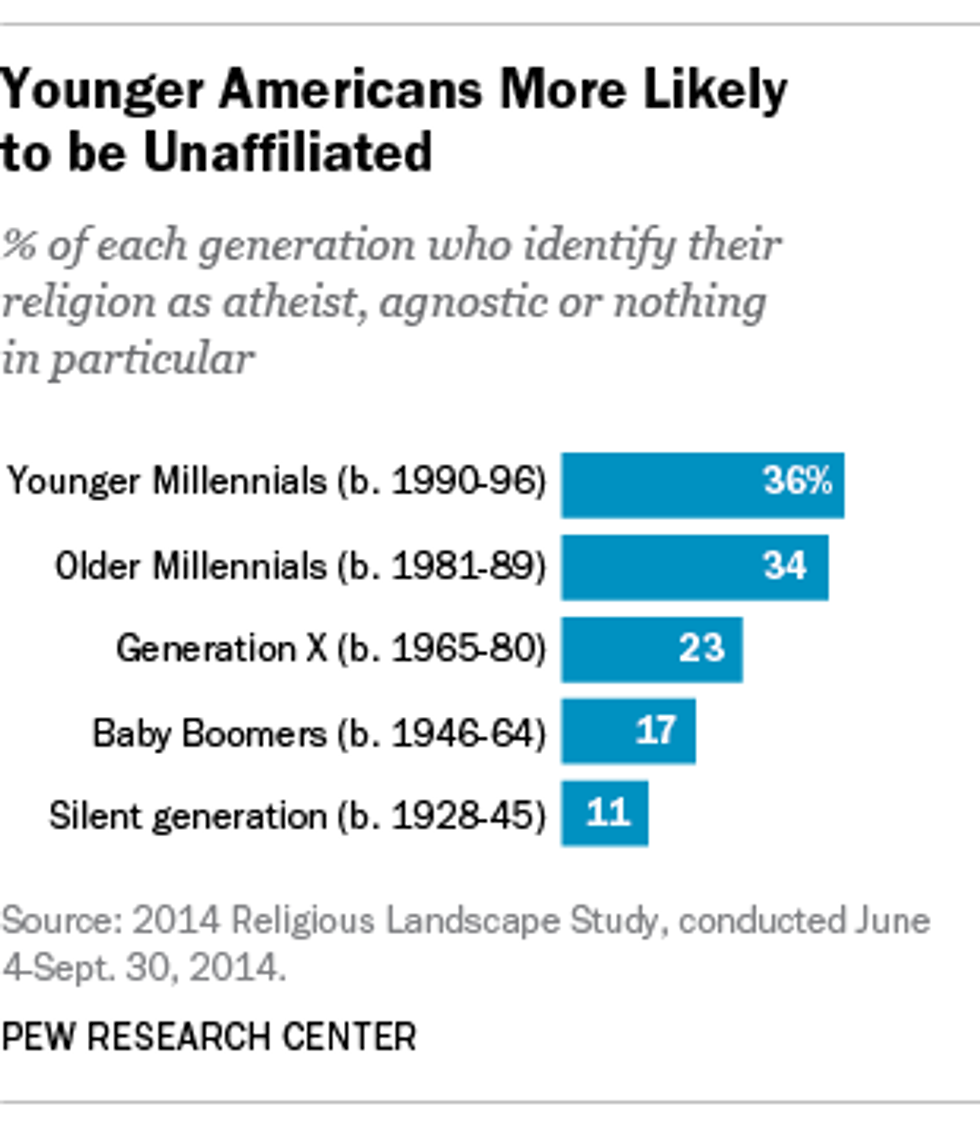 While the number of atheists and agnostics is rising in the U.S. and Europe, the fact that on average non-religious people tend to have fewer children is contributing to the overall decrease in numbers. From 2010 to 2015, religious people have had an average of 2.45 children per woman, while the unaffiliated gave birth to 1.65 children on average.
Other religions
Among other religions, the percentage of Buddhists is expected to decline in the future, reduced by 7%, from 500 million in 2015 to 462 million in 2060. Low fertility rates in countries like China, Thailand, and Japan are responsible for that trend. Interestingly, the adherents of folk religions, which include African traditional religions, Chinese folk religions as well as Native American and Australian Aboriginal religions are likely to rise by 5%, from 418 million worldwide to 441 million.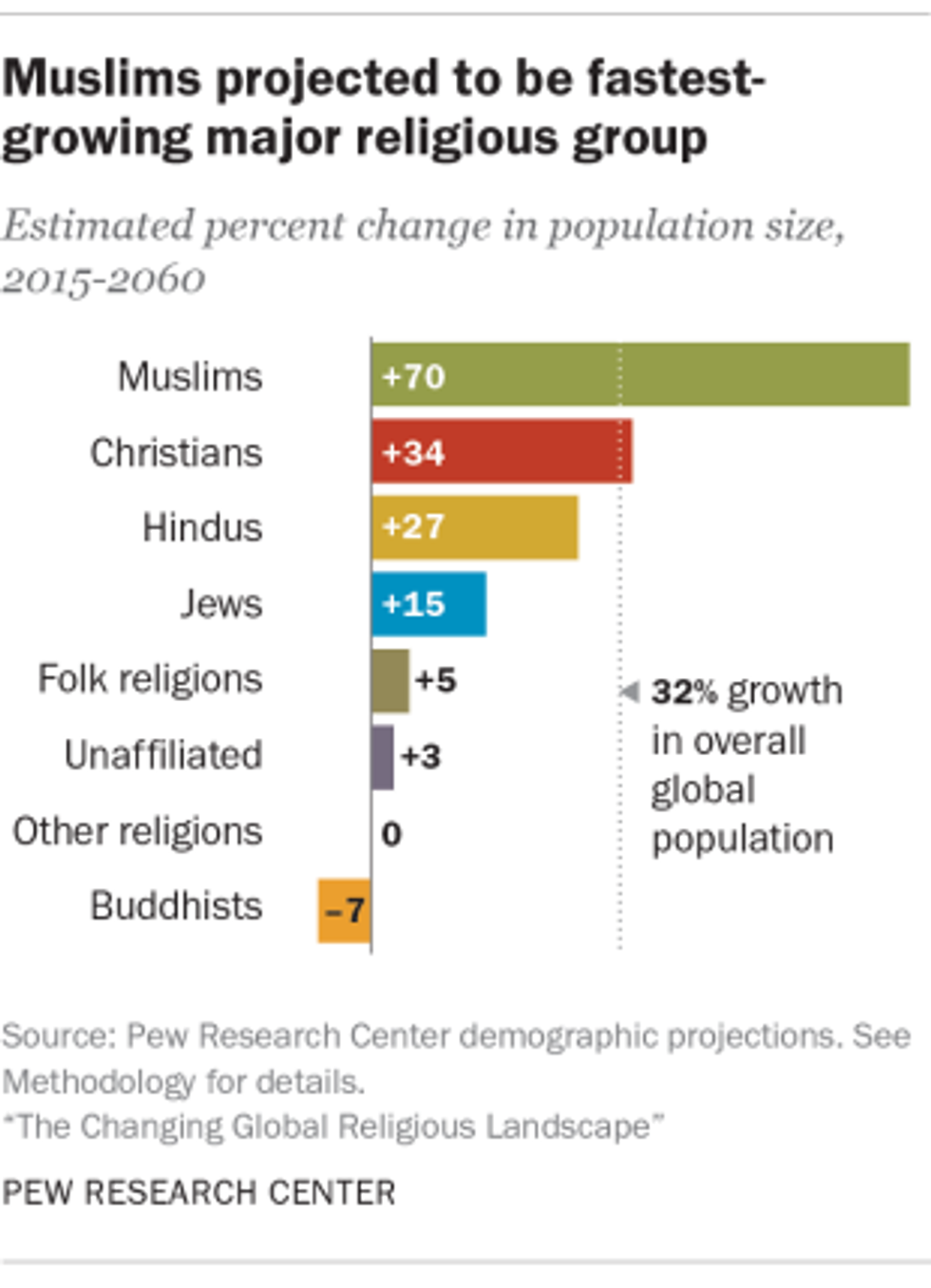 From Your Site Articles
Related Articles Around the Web
Inventions with revolutionary potential made by a mysterious aerospace engineer for the U.S. Navy come to light.
Credit: Getty Images
Surprising Science
U.S. Navy holds patents for enigmatic inventions by aerospace engineer Dr. Salvatore Pais.
Pais came up with technology that can "engineer" reality, devising an ultrafast craft, a fusion reactor, and more.
While mostly theoretical at this point, the inventions could transform energy, space, and military sectors.
The U.S. Navy controls patents for some futuristic and outlandish technologies, some of which, dubbed "the UFO patents," came to light recently. Of particular note are inventions by the somewhat mysterious Dr. Salvatore Cezar Pais, whose tech claims to be able to "engineer reality." His slate of highly-ambitious, borderline sci-fi designs meant for use by the U.S. government range from gravitational wave generators and compact fusion reactors to next-gen hybrid aerospace-underwater crafts with revolutionary propulsion systems, and beyond.
Of course, the existence of patents does not mean these technologies have actually been created, but there is evidence that some demonstrations of operability have been successfully carried out. As investigated and reported by The War Zone, a possible reason why some of the patents may have been taken on by the Navy is that the Chinese military may also be developing similar advanced gadgets.
Among Dr. Pais's patents are designs, approved in 2018, for an aerospace-underwater craft of incredible speed and maneuverability. This cone-shaped vehicle can potentially fly just as well anywhere it may be, whether air, water or space, without leaving any heat signatures. It can achieve this by creating a quantum vacuum around itself with a very dense polarized energy field. This vacuum would allow it to repel any molecule the craft comes in contact with, no matter the medium. Manipulating "quantum field fluctuations in the local vacuum energy state," would help reduce the craft's inertia. The polarized vacuum would dramatically decrease any elemental resistance and lead to "extreme speeds," claims the paper.
Not only that, if the vacuum-creating technology can be engineered, we'd also be able to "engineer the fabric of our reality at the most fundamental level," states the patent. This would lead to major advancements in aerospace propulsion and generating power. Not to mention other reality-changing outcomes that come to mind.
Among Pais's other patents are inventions that stem from similar thinking, outlining pieces of technology necessary to make his creations come to fruition. His paper presented in 2019, titled "Room Temperature Superconducting System for Use on a Hybrid Aerospace Undersea Craft," proposes a system that can achieve superconductivity at room temperatures. This would become "a highly disruptive technology, capable of a total paradigm change in Science and Technology," conveys Pais.
High frequency gravitational wave generator.
Credit: Dr. Salvatore Pais
Another invention devised by Pais is an electromagnetic field generator that could generate "an impenetrable defensive shield to sea and land as well as space-based military and civilian assets." This shield could protect from threats like anti-ship ballistic missiles, cruise missiles that evade radar, coronal mass ejections, military satellites, and even asteroids.
Dr. Pais's ideas center around the phenomenon he dubbed "The Pais Effect". He referred to it in his writings as the "controlled motion of electrically charged matter (from solid to plasma) via accelerated spin and/or accelerated vibration under rapid (yet smooth) acceleration-deceleration-acceleration transients." In less jargon-heavy terms, Pais claims to have figured out how to spin electromagnetic fields in order to contain a fusion reaction – an accomplishment that would lead to a tremendous change in power consumption and an abundance of energy.
According to his bio in a recently published paper on a new Plasma Compression Fusion Device, which could transform energy production, Dr. Pais is a mechanical and aerospace engineer working at the Naval Air Warfare Center Aircraft Division (NAWCAD), which is headquartered in Patuxent River, Maryland. Holding a Ph.D. from Case Western Reserve University in Cleveland, Ohio, Pais was a NASA Research Fellow and worked with Northrop Grumman Aerospace Systems. His current Department of Defense work involves his "advanced knowledge of theory, analysis, and modern experimental and computational methods in aerodynamics, along with an understanding of air-vehicle and missile design, especially in the domain of hypersonic power plant and vehicle design." He also has expert knowledge of electrooptics, emerging quantum technologies (laser power generation in particular), high-energy electromagnetic field generation, and the "breakthrough field of room temperature superconductivity, as related to advanced field propulsion."
Suffice it to say, with such a list of research credentials that would make Nikola Tesla proud, Dr. Pais seems well-positioned to carry out groundbreaking work.
A craft using an inertial mass reduction device.
Credit: Salvatore Pais
The patents won't necessarily lead to these technologies ever seeing the light of day. The research has its share of detractors and nonbelievers among other scientists, who think the amount of energy required for the fields described by Pais and his ideas on electromagnetic propulsions are well beyond the scope of current tech and are nearly impossible. Yet investigators at The War Zone found comments from Navy officials that indicate the inventions are being looked at seriously enough, and some tests are taking place.
If you'd like to read through Pais's patents yourself, check them out here.
Laser Augmented Turbojet Propulsion System
Credit: Dr. Salvatore Pais
If something is "true," it needs to be shown to work in the real world.
Credit
: Gene Gallin via Unsplash
Culture & Religion
Pragmatism is an American philosophical movement that originated as a rebuke to abstract European philosophy.
The pragmatic theory of truth argues that truth and reality only can be understood in their relation to how things work in the real world.
The trouble is that the theory devalues the term "truth," such that it only applies to one particular moment in time. But Charles Sanders Peirce offers a clever way out.
Think of wine. Now take away from this idea every possible property it has. Take away its redness or whiteness, its intoxicating effect, its taste, the slosh it makes, and so on. What are you left with? Nothing. An empty phoneme of the mind. An invisible color. A silent noise. Do this with any concept, and the result is the same.
This is exactly the kind of consideration that led the American Pragmatic movement. The likes of William James, John Dewey, and Charles Sanders Peirce argued that all of our concepts, and the truth of anything, are determined solely by the practical effects they have and how these extend into the real world. The idea of truth, and even of having intelligible thoughts at all, cannot be understood without reference to what that something does or how it behaves in the real world.
Pragmatic theory of truth: a very American idea
Peirce was the first to coin the term Pragmatism as a particular school of American philosophy, and it was a conscious response to the more untethered and arcane metaphysics coming out of Europe. Across the pond, and especially in Germany, philosophers since Immanuel Kant seemed to be locked in a competition to make philosophy as inaccessible and polysyllabic as possible (reaching its apogee in Georg Hegel). Pragmatists wanted to bring philosophy back and make it more relevant.
American Pragmatism gave out an exasperated and down-to-earth plea for philosophy to stop being quite so abstract.
According to Peirce, there was not any truth "out there" in the "real world" that we somehow, magically, could unearth. Instead, truth was defined by how it works in our everyday lives. So, my belief in gravity is true because of its practicality — that is, it works every day. It is true and meaningful precisely because it makes my pen drop, my coffee cup smash, and pole-vaulters come crashing down. Likewise, we know something is hard if it does not scratch easily, or if it helps you break a window, or if it hurts like heck when you hit it with your toe.
In short, we measure things by how they work and what they do. The same goes for truth.
Of course, an immediate objection comes to mind: surely the truth will change from person to person or from time to time. For instance, the Aristotelian model of gravity and the Ptolemaic model of planetary motion worked quite well for millennia. Does that mean these scientifically disproven models were actually true?! William James would argue yes, but Peirce would say no — and he offered a nuanced way out.
The coalescence of inquiry
For Peirce, "truth" could eventually coalesce or converge by the idealized agreement of intelligent inquirers. That is to say, scientists, scholars, and society will one day be so informed about the world that their answers to "what works" will be the only, final, and universal "truth" or "reality." As Peirce wrote, "The real, then, is that which, sooner or later, information and reasoning would finally result in, and which is therefore independent of the vagaries of me and you." And, elsewhere, he says reality is "what may finally come to be known to be in the ideal state of complete information."
For instance, Ptolemy's notion that the sun revolves around the Earth was never true but rather mistaken as true. What is true is defined by the end result of more advanced inquiry, such as that of Copernicus and Galileo. (Of course, we might still be mistaken today.) We cannot know if something is true until this perfected end point has been reached — the point when there are no alternative answers to the question, "What works best?"
Acceptance of error and self-correction
Most commentators today do not think Peirce meant there had to be an actual and future idealized end point where there would be no more debate and disagreement. Rather, Peirce's Pragmatism speaks to two broader and much more widely accepted epistemic virtues: an openness to accept error and the willingness to correct it.
Under Peirce's account, something is true or real insofar as it works within the world. This is not just for everyday experiences like gravity causing us to drop things. He meant that things must also work in the science laboratory as well.
Today, we practice science by presenting a hypothesis, which is then tested in experiments over and over again. Scientists are constantly calibrating the truth of hypotheses and theories based on how they work in the world. And, according to Peirce's Pragmatism, "although the conclusion [of an experiment] at any stage of the investigation may be more or less erroneous, the further application of the same method must correct the error."
So, we will get closer and closer to the truth as society becomes more and more informed. But this also means accepting that future societies will possibly, or even quite likely, correct what we today call truth.
The American way
Pragmatism has a certain intuitive appeal. Truth which is abstracted from how things operate in the real world often makes very little sense. The idea of a world "out there" beyond our minds — a world which is unseen, unknown, and unimaginable — is also unintelligible (as Kant pointed out) if it is not tied, in some way, both to how the world works and to what we humans can interact with.
People like Peirce should be praised for a very American Pragmatism that gave out an exasperated and down-to-earth plea for philosophy to stop being quite so abstract.
Jonny Thomson teaches philosophy in Oxford. He runs a popular Instagram account called Mini Philosophy (@philosophyminis). His first book is Mini Philosophy: A Small Book of Big Ideas.
Scientists do not know what is causing the overabundance of the gas.
Credit: NASA
Surprising Science
A new study looked to understand the source of methane on Saturn's moon Enceladus.
The scientists used computer models with data from the Cassini spacecraft.
The explanation could lie in alien organisms or non-biological processes.
Something is producing an overabundance of methane in the ocean hidden under the ice of Saturn's moon Enceladus. A new study analyzed if the source could be an alien life form or some other explanation.
The study, published in Nature Astronomy, was carried out by scientists at the University of Arizona and Paris Sciences & Lettres University, who looked at composition data from the water plumes erupting on Enceladus.
The particular chemistry, discovered by the Cassini spacecraft which flew through the plumes, suggested a high concentration of molecules that have been linked to hydrothermal vents on the bottom of Earth's oceans. Such vents are potential cradles of life on Earth, according to previous studies. The data from Cassini, which has been studying Saturn after entering its orbit in 2004, revealed the presence of molecular hydrogen (dihydrogen), methane, and carbon dioxide, with the amount of methane presenting a particular interest to the scientists.
"We wanted to know: Could Earthlike microbes that 'eat' the dihydrogen and produce methane explain the surprisingly large amount of methane detected by Cassini?"
shared
one of the study's lead authors Régis Ferrière, an associate professor in the department of Ecology and Evolutionary Biology at the University of Arizona.
Earth's hydrothermal vents feature microorganisms that use dihydrogen for energy, creating methane from carbon dioxide via the process of methanogenesis.

Searching for such microorganisms known as methanogens on the seafloor of Enceladus is not yet feasible. Likely, it would require very sophisticated deep diving operations that will be the objective of future missions.
So, Ferrière's team took a more available approach to pinpointing the origins of the methane, creating mathematical models that attempted to explain the Cassini data. They wanted to calculate the likelihood that particular processes were responsible for producing the amount of methane observed. For example, is the methane more likely the result of biological or non-biological processes?
They found that the data from Cassini was consistent with either microbial activity at hydrothermal vents or processes that have nothing to do with life but could be quite different from what happens on Earth. Intriguingly, models that didn't involve biological entities didn't seem to produce enough of the gas.
"Obviously, we are not concluding that life exists in Enceladus' ocean," Ferrière stated. "Rather, we wanted to understand how likely it would be that Enceladus' hydrothermal vents could be habitable to Earthlike microorganisms. Very likely, the Cassini data tell us, according to our models."

Still, the scientists think future missions are necessary to either prove or discard the "life hypothesis." One explanation for the methane that does not involve biological organisms is that the gas is the result of a chemical breakdown of primordial organic matter within Enceladus' core. This matter could have become a part of Saturn's moon from comets rich in organic materials.
Scroll down to load more…