Is religion dying? A look at shifting demographics.
Studies show which religions are growing fast and which ones may be dying out.
27 April, 2018
---
Religion is still an integral part of many modern societies, influencing laws and people's behavior, as well as the way adherents relate to others in the world. Are religions going away any time soon? Despite what some decry, there is little evidence of that. What is changing is the composition of the world's believers.
Christianity has been the world's largest religion for millennia but its reign might come to an end sometime during the current century, overtaken by Islam. Muslims are the world's largest growing religious group, according to Pew Research, increasing twice as fast as the world population. While the world's population will likely increase by 32% in the ensuing decades, the number of Muslims will possibly grow by 70%, rising from 1.8 billion in 2015 to around 3 billion in 2060. That would make this group 31.1% of the world's population rather than the 24.1% that it is currently.
Is Christianity dying out?
At the moment, Christianity is the religion of about 31% of the people on Earth, reports Pew. But there are telling trends, with the Christians in Europe dying faster than new ones are being born. That's significant because Europe is considered the religion's heartland, even if it is spreading fast in Africa. Between 2010 and 2015, Christian deaths in Europe outnumbered births by nearly six million, with Germany alone accounting for 1.4 million more Christians deceased than born.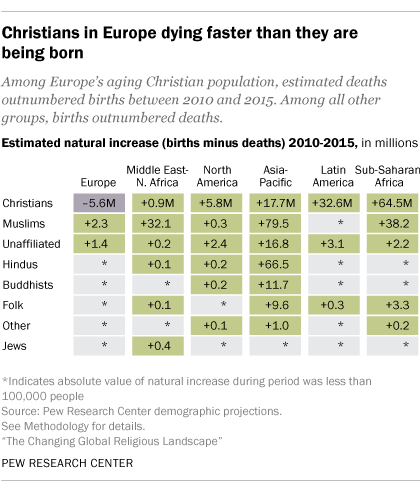 Latin America and Africa saw large increases in new Christians, but worldwide they are not matching the pace of Muslim growth. The reason for that? Muslims have more children than the other seven religious groups studied by Pew. With an average of 2.9 children, Muslim women outpace the Christian average of 2.6 children and the overall non-Muslim average of 2.2.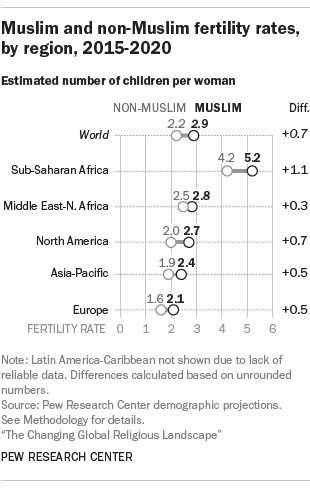 In general, in all the regions that have a large Muslim population, Muslim fertility was found to be greater than non-Muslim fertility. One factor adding to that is Muslims are generally younger, having the youngest median age of 24 in 2015, compared to the median age of non-Muslims, which is 32. Another important reason for such a statistic is that Muslims don't switch religions as much as adherents of other faiths. Changing religions is expected to reduce Christian growth by 72 million by 2060, while it should have little effects on the expansion of Islam.
What about atheists?
Pew Research also estimates that the percentage of religiously unaffiliated people is expected to decline from the current 16% to about 13% even if the overall number of such folks will rise from 1.17 billion in 2015 to 1.2 billion in 2060. In contrast, the number of religious people is expected to grow to 8.1 billion by 2050.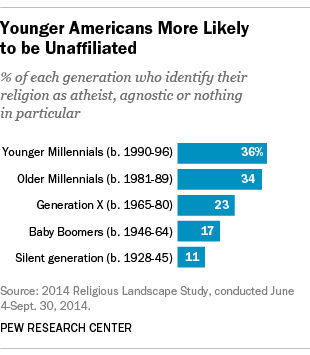 While the number of atheists and agnostics is rising in the U.S. and Europe, the fact that on average non-religious people tend to have fewer children is contributing to the overall decrease in numbers. From 2010 to 2015, religious people have had an average of 2.45 children per woman, while the unaffiliated gave birth to 1.65 children on average.
Other religions
Among other religions, the percentage of Buddhists is expected to decline in the future, reduced by 7%, from 500 million in 2015 to 462 million in 2060. Low fertility rates in countries like China, Thailand, and Japan are responsible for that trend. Interestingly, the adherents of folk religions, which include African traditional religions, Chinese folk religions as well as Native American and Australian Aboriginal religions are likely to rise by 5%, from 418 million worldwide to 441 million.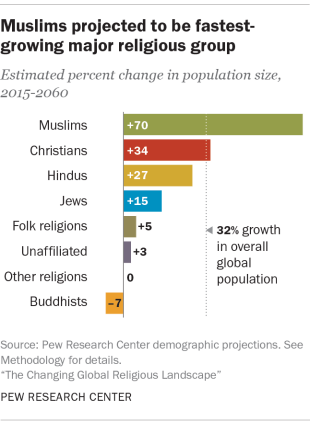 Related Articles Around the Web
From Your Site Articles
Former president of the ACLU Nadine Strossen discusses whether our society should always defend free speech rights, even for groups who would oppose such rights.
Sponsored by Charles Koch Foundation
Former ACLU president Nadine Strossen understands that protecting free speech rights isn't always a straightforward proposition.
In this video, Strossen describes the reasoning behind why the ACLU defended the free speech rights of neo-Nazis in Skokie, Illinois, 1977.
The opinions expressed in this video do not necessarily reflect the views of the Charles Koch Foundation, which encourages the expression of diverse viewpoints within a culture of civil discourse and mutual respect.
When it comes to sniffing out whether a source is credible or not, even journalists can sometimes take the wrong approach.
Sponsored by Charles Koch Foundation
We all think that we're competent consumers of news media, but the research shows that even journalists struggle with identifying fact from fiction.
When judging whether a piece of media is true or not, most of us focus too much on the source itself. Knowledge has a context, and it's important to look at that context when trying to validate a source.
The opinions expressed in this video do not necessarily reflect the views of the Charles Koch Foundation, which encourages the expression of diverse viewpoints within a culture of civil discourse and mutual respect.
Steve Wozniak doesn't know if his phone is listening, but he's minimizing risks.
Photo by Bryan Steffy/Getty Images
Technology & Innovation
Steve Wozniak didn't hold back his feelings about the social media giant when stopped at an airport.
The Apple co-founder admitted that devices spying on his conversations is worrisome.
Wozniak deleted his Facebook account last year, recommending that "most people" should do the same.
A new paradigm for machine vision has just been demonstrated.
Technology & Innovation
Scientists have invented a way for a sheet of glass to perform neural computing.
The glass uses light patterns to identify images without a computer or power.
It's image recognition at the speed of light.