Big ideas.
Once a week.
Subscribe to our weekly newsletter.
The 10 greatest living scientists in the world today
The most influential contemporary scientists and their accomplishments.
26 November, 2017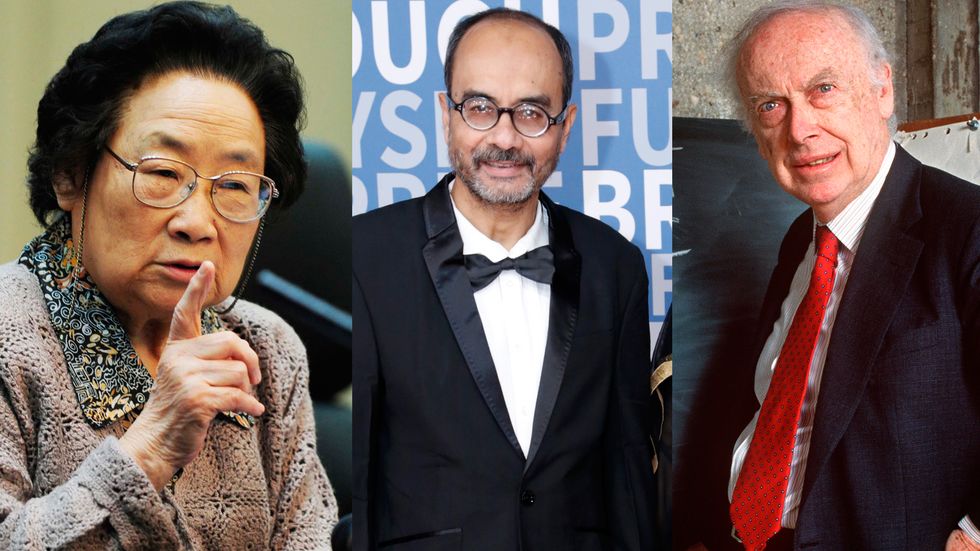 Credit: Getty Images
---
Ranking the world's greatest contemporary scientists may be a no-win proposition, with inevitable questions about how to evaluate one's contribution over another. How does a discovery in one field measure up to a discovery in a different one? And what about Richard Dawkins, where is he on this list? All reasonable questions, but ultimately we need to start the discussion somewhere. So here's a debatable list of top ten scientists from around the world who have made a great impact on our life (but not in order of the magnitude of their achievements because that just might be an unscientific exercise):
1. Timothy Berners-Lee
It would be hard to argue against the guy who invented a little something called "the world wide web" being on this list. Timothy Berners-Lee is a British computer scientist, knighted by the Queen Elizabeth II for his pioneering work. He is especially famous for his proposal to share information by using the technology of hypertext, the cornerstone of the world wide web. Berners-Lee also made the world's first website in 1991.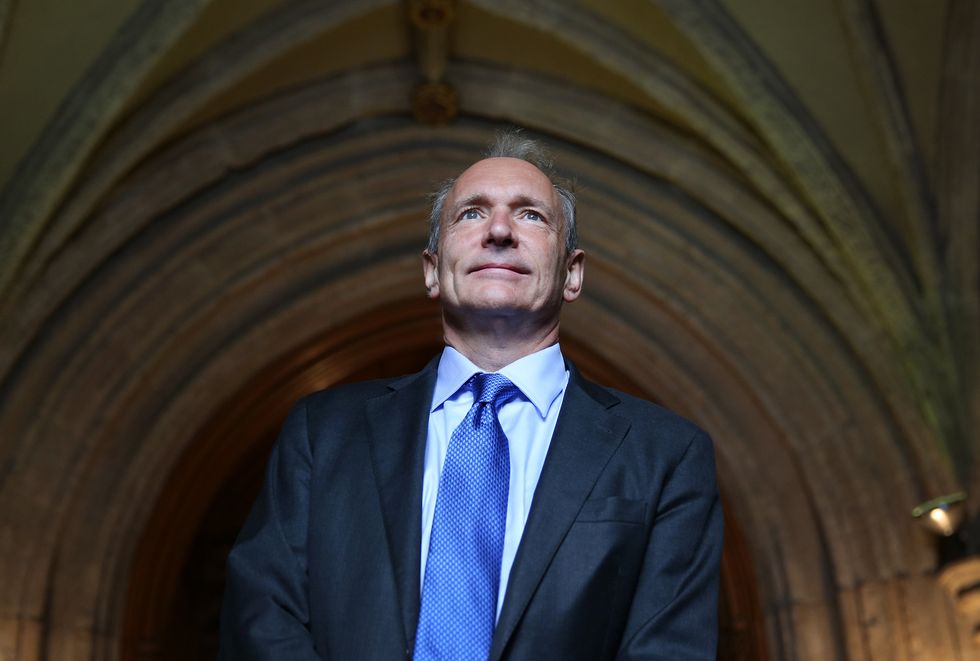 Sir Tim Berners-Lee inventor of the World Wide Web arrives at Guildhall to receive an Honorary Freedom of the City of London award on September 24, 2014 in London, England. (Photo by Peter Macdiarmid/Getty Images)
2. Stephen Hawking (UPDATE: Hawking died on March 14, 2018)
Arguably the world's most famous living scientist, Stephen Hawking is known for his landmark contributions to our understanding of the big bang, black holes, and relativity. He is also renowned for his work as a science popularizer, writing the best-selling book "A Brief History of Time".
The British theoretical physicist and cosmologist, Hawking is acclaimed for his ideas on gravitational singularity theorems in the framework of general relativity, and the theoretical prediction that black holes emit radiation, dubbed "Hawking radiation."
Hawking's remarkable accomplishments are also an inspiration for people living with disabilities as he has suffered paralyzing amyotrophic lateral sclerosis (ALS) from early in his life.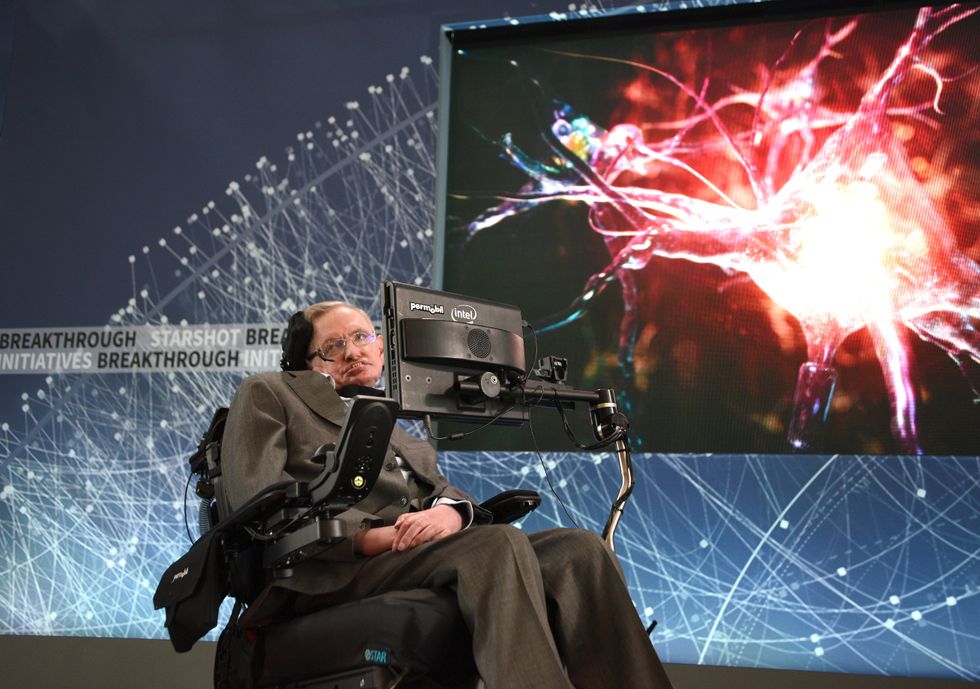 Stephen Hawking and Yuri Milner host press conference to announce Breakthrough Starshot, a new space exploration initiative, at One World Observatory on April 12, 2016 in New York City. (Photo by Bryan Bedder/Getty Images for Breakthrough Prize Foundation)
3. Jane Goodall
Jane Goodall is a British primatologist, known as the world's foremost expert on chimpanzees. She has studied social and family interactions with wild chimps for over 55 years. Her revolutionary work showed that chimpanzees, and not only humans, can learn to make and use tools. She also made pioneering observations on the violent nature of chimpanzees, finding some to hunt and eat smaller monkeys.
Founder of the Jane Goodall Institute, Goodall is a tireless advocate for conservation, biodiversity and other environmental causes.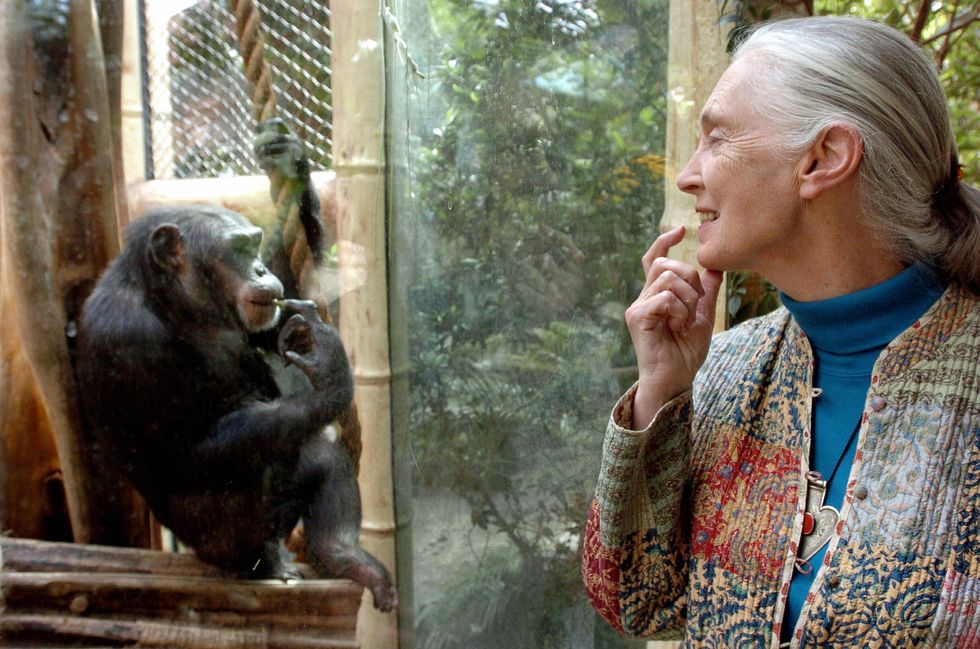 Jane Goodall, the world's foremost authority on chimpanzees, communicates with chimpanzee Nana, 06 June 2004 at the zoo of Magdeburg (eastern Germany). (Photo credit: JENS SCHLUETER/AFP/Getty Images)
4. Alan Guth
An American theoretical physicist and cosmologist, Guth developed the theory of cosmic inflation. Winner of the Fundamental Physics Prize and the Kavli Prize, Guth came up with groundbreaking ideas in inflationary theory, discovering why the cosmos is as large as it is.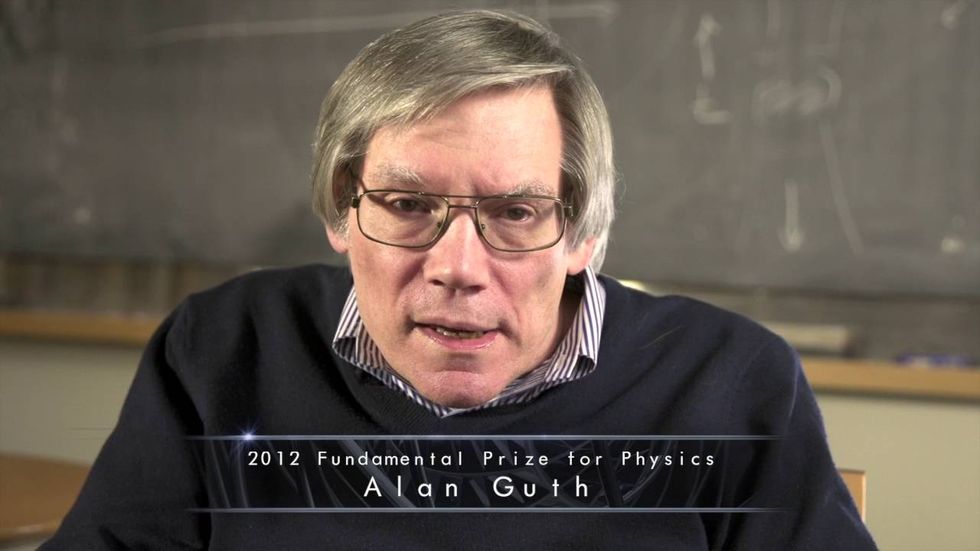 Credit: Breakthrough Prize.
5. Ashoke Sen
An Indian theoretical physicist, Ashoke Sen won numerous international awards for his work including the Fundamental Prize in Physics in 2012. He has made significant contributions in string theory, with field-changing research.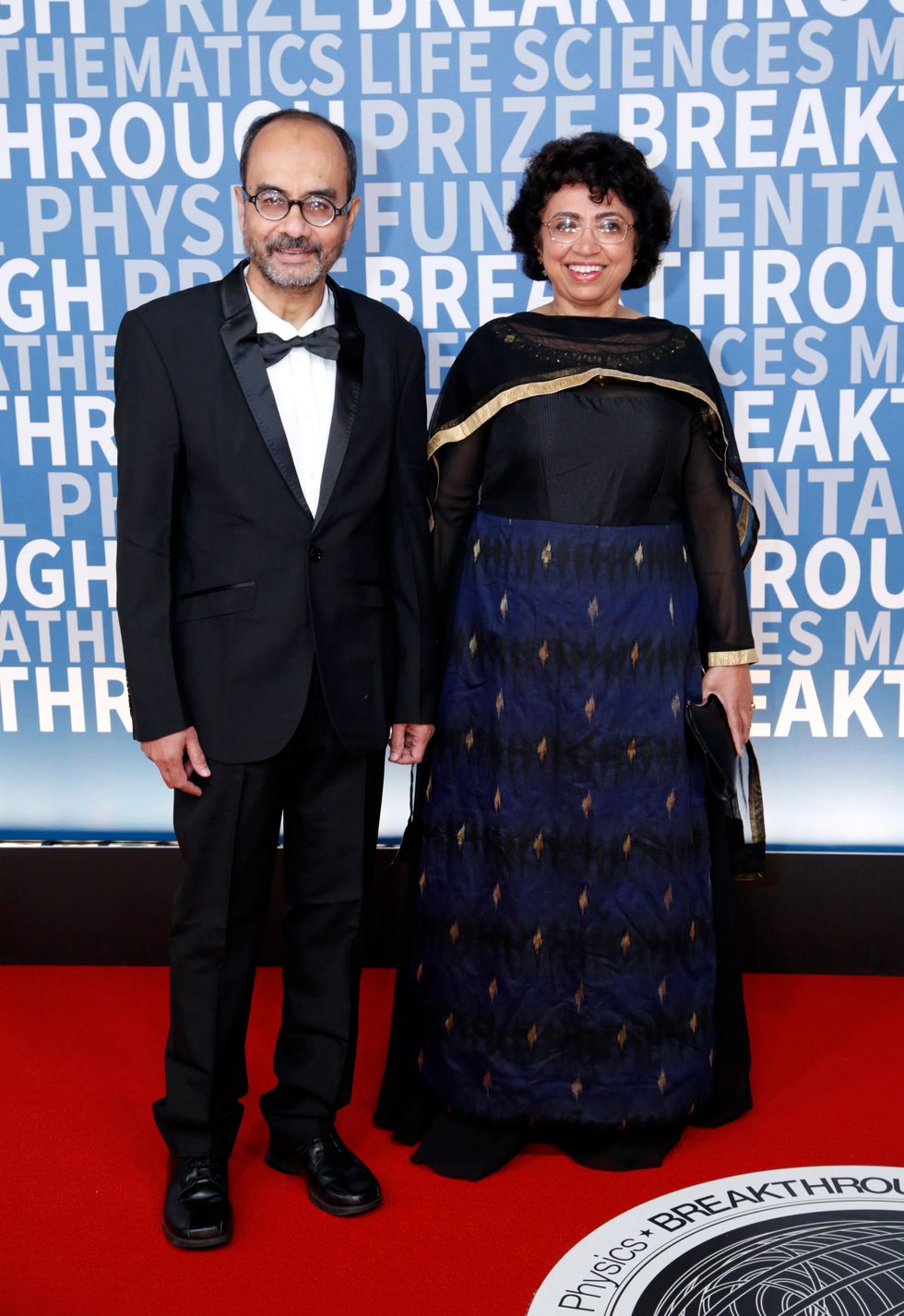 Physicists Ashoke Sen and Sumathi Rao attend the 2017 Breakthrough Prize at NASA Ames Research Center on December 4, 2016 in Mountain View, California. (Photo by Kimberly White/Getty Images for Breakthrough Prize).
Want to learn string theory with Ashoke Sen? Check out this lecture:
6. James Watson
James Watson is an American molecular biologist and geneticist, known as the co-discoverer of the double helix structure of the DNA in 1953 - a fact for which he was awarded a Nobel Prize.
Check out this TED talk with James Watson about how he and his research partner Francis Crick discovered the structure of DNA:
7. Tu Youyou
Tu Youyou became the first Chinese woman to win a Nobel Prize in 2015 for her work in creating an anti-malaria drug that saved millions of lives in Asia and Africa. She relied on traditional Chinese medicine in her discovery of artemisinin and dihydroartemisinin, which have helped significantly improve the health of people living in tropical climates.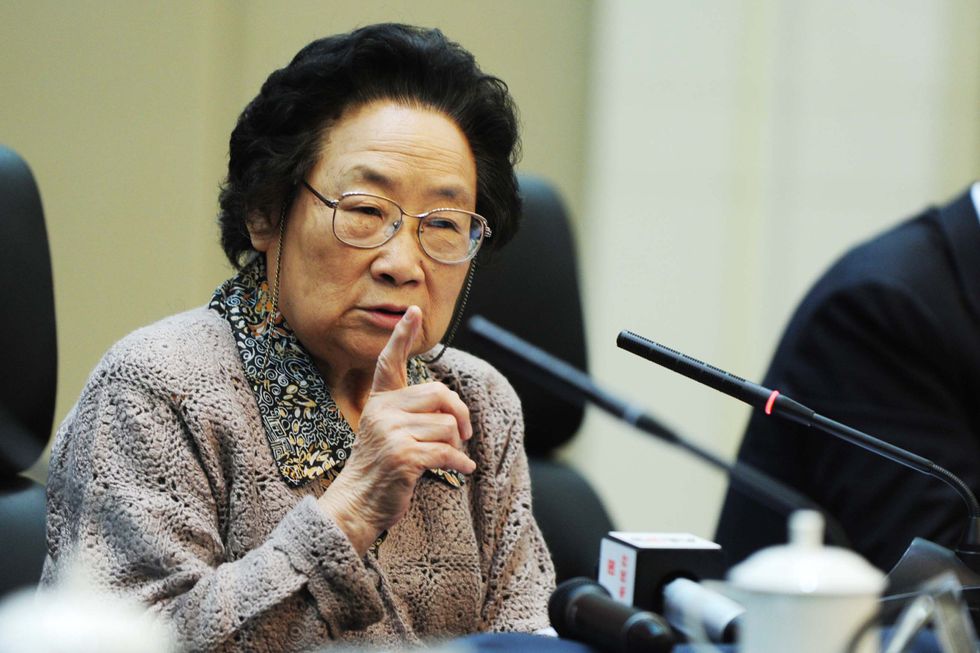 Tu Youyou, the first Chinese woman to win a Nobel prize for medicine, delivers a speech at a symposium organized by China's National Health and Family Planning Commission (NHFPC) and other departments in Beijing on October 8, 2015. (Photo credit: STR/AFP/Getty Images)
8. Noam Chomsky
U.S. linguist and firebrand political activist, Noam Chomsky has influenced the world in many fields. Described as "the father of modern linguistics," Chomsky is also one of the founders of the field of cognitive science. While writing over a 100 books and leading a broad intellectual life, Chomsky is known as an outspoken critic of American foreign policy.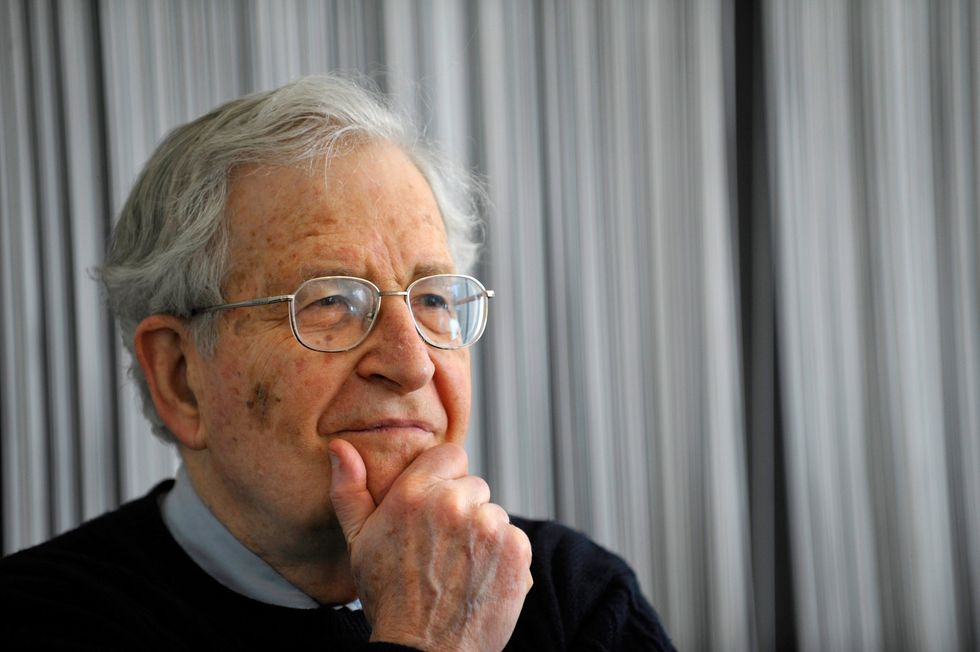 US linguist, philosopher and political activist, Noam Chomsky addresses a press conference in the southern German city of Stuttgart on March 23, 2010. (Photo credit: SASCHA SCHUERMANN/AFP/Getty Images)
9. Shinya Yamanaka
Yamanaka is a Japanese Nobel Prize-winning stem cell researcher. He received the prize in 2012 for his co-discovery that existing cells of the body can be converted to stem cells. He also received the 2013 Breakthrough Prize in Life Sciences, worth $3 million.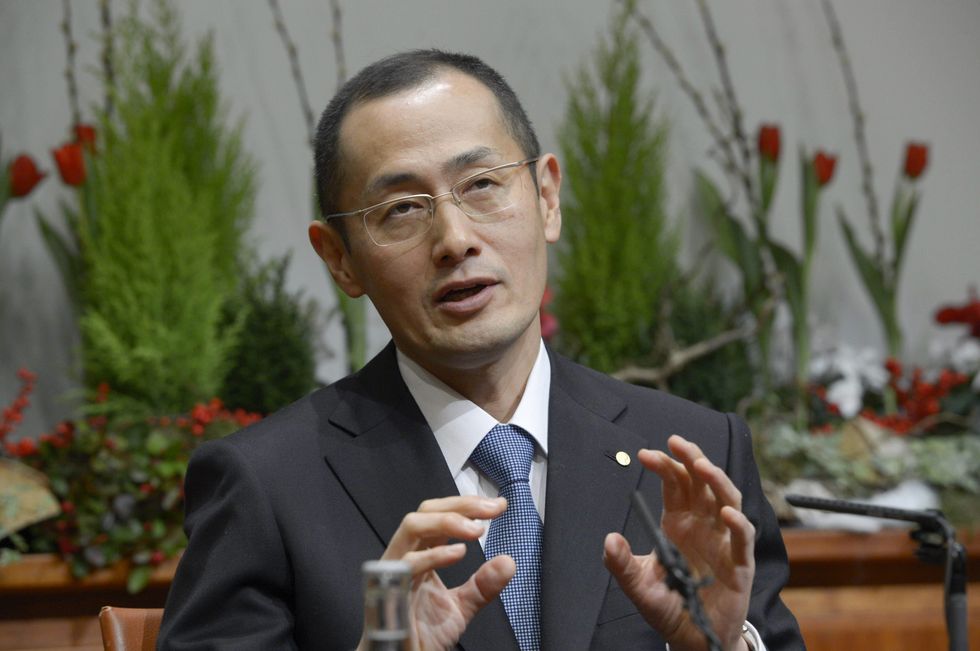 Nobel Prize Medicine laureate Shinya Yamanaka of Japan speaks during a press conference on December 6, 2012 at the Karolinska Institute in Stockholm, Sweden. (Photo credit: BERTIL ENEVAG ERICSON / SCANPIX/AFP/Getty Images)
10. Elizabeth Blackburn
An Australian-American molecular biologist, Blackburn won the Nobel Prize in 2009 for her research on anti-aging, in particular on the benefits of lengthening telomeres - a structure capping and protecting chromosomes. Blackburn co-discovered an enzyme called telomerase that replenishes the telomere.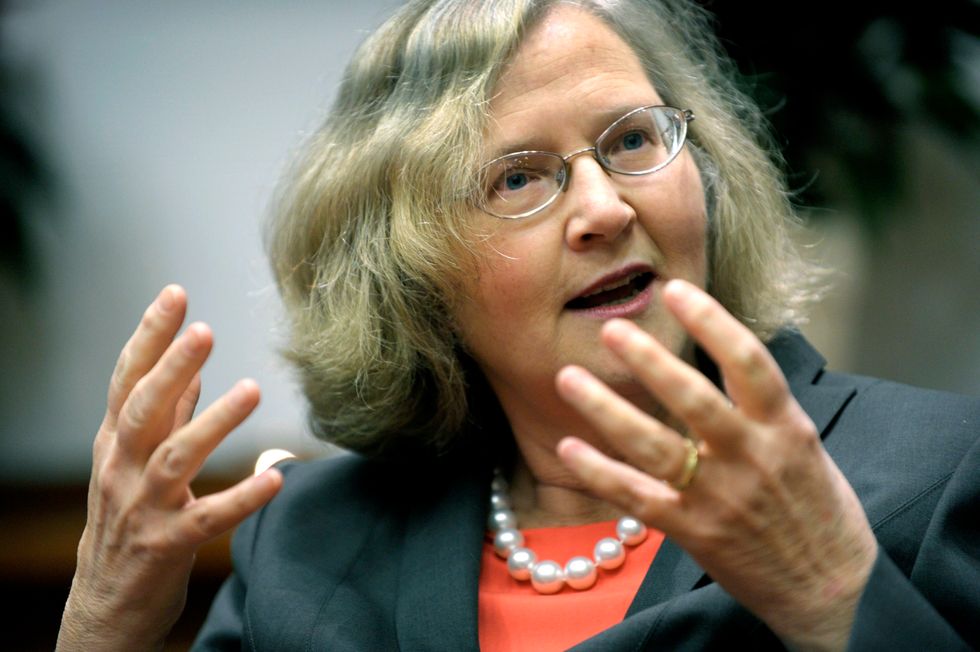 The 2009 Nobel laureate in medicine Elizabeth H. Blackburn of USA speaks during a joint news conference held by the Nobel Foundation at the Karolinska Institute on December 6, 2009, in Stockholm. (Photo credit: HENRIKSSON/AFP/Getty Images)
Want to learn about telomeres from Professor Blackburn? Check out this lecture:
"You dream about these kinds of moments when you're a kid," said lead paleontologist David Schmidt.
Surprising Science
The triceratops skull was first discovered in 2019, but was excavated over the summer of 2020.
It was discovered in the South Dakota Badlands, an area where the Triceratops roamed some 66 million years ago.
Studying dinosaurs helps scientists better understand the evolution of all life on Earth.
How the British obsession with tea triggered wars, led to bizarre espionage, and changed the world — many times.
Credit
: Content Pixie via Unsplash
Culture & Religion
Today, tea is the single most popular drink worldwide, with a global market that outstrips all the nearest rivals combined.
The British Empire went to war over tea, ultimately losing its American colonies and twice beating the Chinese in the "Opium Wars."
The British desire to secure homegrown tea resulted in their sending botanist Robert Fortune on a Hollywood-worthy mission to secure Chinese tea plants and steal horticultural secrets.
After water, tea is the most common drink in the world. It is more popular than coffee, soft drinks, and alcohol combined. 84 percent of Brits enjoy a daily "cuppa," but this is a mere bagatelle against the Turks, who drink on average three to four cups every day. The tea industry is worth $200 billion worldwide and is set to grow by half by 2025.
Tea is such a huge part of many cultures, that it even has origin myths. For instance, one involves the Buddha waking up after falling asleep during his meditation. Disgusted at his lack of self-discipline, he cut off his eyelids and threw them to the ground. These lids then grew into tea plants to help future meditators stay awake.
Tea really matters to a lot of people. And, it mattered so much to the British and their empire that it directed their entire foreign policy. It also inspired one of the most incredible and ridiculous tales of 19th century espionage.
A spot of tea
When the European powers of the 16th century first traded with, then militarily colonized, various East Asian nations, it was impossible not to come across tea. Since the 9th century, the Tang Dynasty of China had already popularized tea across the region. Tea was already firmly entrenched when the Portuguese became the first Europeans to sample it (in 1557), followed by the Dutch, who first shipped a batch back to mainland Europe.
Britain was relatively late to the tea party, not arriving until well into the 17th century. In fact, in Samuel Pepys' 1660 diaries, he makes reference to "a cup of tee (a China drink) of which I had never drunk before." It was only after King Charles II's Portuguese wife popularized it at court that tea became a fashionable societal drink.
After the Brits got going, there was no stopping them. Tea became a huge business. However, since tea was monopolized by the East India Company and the government imposed a whopping 120 percent tax on it, an army of smuggler gangs opened back channels to get tea to the poorer masses. Eventually, in 1784, Prime Minister William Pitt the Younger got wise to the popular cry for tea. To stamp out the black market, he slashed the tax on the leaf to just 12.5 percent. From then on, tea became the everyman's drink — marketed as medicinal, invigorating, and tasty.
A cup, a cup, my kingdom for a cup!
Tea became so important to the British that it even sparked wars across the empire.
Most famously, when the British imposed a three pennies per pound tax on all tea the East India Company exported to America, it led to the outraged destruction of an entire ship's tea cargo. The "Boston Tea Party" was the first major defiant act of the American colonies and led ultimately to ham-fisted and insensitive countermeasures from the London government. These, in turn, sparked the U.S. War of Independence.
Less well known is how Britain went to war with China over tea. Twice.
Credit: Ingo Doerrie via Unsplash
Back then, tea was only being grown and exported from China to British India and then around the empire. As such, it led to a massive trade imbalance, where the largely self-sufficient China only wanted British silver in return for their famous and delicious homegrown tea leaves. This sort of economic policy, known as mercantilism, made Britain really mad.

In retaliation, Britain grew opium and flooded China with the drug. When China (quite understandably) objected to this, Britain sent in the gunboats. The subsequent "Opium Wars" were only ever going to go one way, and when China sued for peace, they were lumped with $20 million worth of reparations — and had to cede Hong Kong to Britain (which only returned in 1997).
The tea spy: on her majesty's secret service
But even these wars did not resolve the trade deficit with China. The attempts to make tea in British India resulted in insipid rubbish, and the British needed the good stuff. So, they turned to a Scottish botanist named Robert Fortune, whose mission was simple: cross the border into China, integrate himself amongst Chinese tea farmers, and smuggle out both their expertise and preferably their tea plants.
Fortune accepted the mission, even though he could not speak a word of Chinese and had barely left his native Britain. (A forefather of 007 he was not.) But not one to let these details get in the way, he shaved his hair, plaited a pigtail that resembled those worn by the Chinese, and then set off on his adventure.
And what an adventure it was. He came under attack by bandits and brigands, his ship was bombarded by pirates, and he had to endure fever, tropical storms, and typhoons. In spite of all this, Fortune not only managed to learn Chinese and travel around the forbidden City of Suzhou and its surrounding tea-farming land, but he also integrated himself into secluded peasant communities. When the skeptical tea farmers challenged Fortune on why he was so tall, he fooled them by claiming that he was a very important state official — all of whom were tall, apparently.
An Indian speciali-tea
Amazingly, Fortune had good fortune and got away with it. Over the course of his three-year mission, he secreted out several shipments of new tea plants to Britain as well as the art of bonsai (previously, a closely held secret). Most of the smuggled tea leaves died from mold and moisture in transit, but Fortune persisted, and eventually the British began to cultivate their own tea plants using Chinese tea farming techniques in their colonial Indian soils.
It was not long until an Indian variant, almost indistinguishable from the stolen Chinese one, began to dominate the market, not least for Britain's huge and growing empire. Within 20 years of Fortune's remarkable mission, the East India Company had more than fifty contractors pumping out tea worldwide.
Today, things have reverted back. China now produces not only substantially more than India (in second place) but more than the top ten countries combined. In total, 40 percent of the world's tea comes from China. But it was British tea — and Robert Fortune's incredible and unlikely mission — which catalyzed the huge global market. Without this overly confident Scottish plant-lover, the world's love of tea might look very different.
Before it fueled Woodstock and the Summer of Love, LSD was brought to America to make spying easier.
Politics & Current Affairs
The CIA's Project MK-Ultra was designed to investigate the potential of drugs for intelligence operations.
LSD was thought to be a truth serum and was used on unwitting citizens.
The full extent of the CIA's unethical human experiments may never be known.
LSD has a long, storied history in America. It is most famously associated with the counterculture of the 1960s, but modern medical science has brought it (and other psychedelics like DMT and psilocybin) into the mainstream as possible therapeutic agents for the treatment of mental illness and addiction.
A slightly less well-known story is when the CIA tried to employ LSD as a tool in spycraft and tested its applications on unwitting Americans and Canadians.
MK-Ultra
The specter of international communism made America paranoid during the 1950s. Communist infiltration was thought to be lurking behind every corner, and the USSR was considered capable of just about anything in its goal of achieving worldwide dominance. It is within this milieu that one can understand why, when faced with instances of soldiers in the Korean War defecting to the North or denouncing war crimes that didn't happen, the U.S. government suddenly became convinced that the commies had developed some form of mind control.
The CIA thought it imperative that similar capacities be achieved by the U.S. If the Reds did not actually have that ability, all the better. So a project dubbed MK-Ultra was started in 1953 with the goal of finding a drug that could be used as a truth serum and a tool of mind control. Many drugs were tested, not just LSD, often on people without their knowledge or consent.
The head of the program, Sidney Gottlieb, thought LSD may be the wonder-drug he was looking for. So, he had the U.S. buy the entire global supply of LSD, at the time only produced by the Swiss company Sandoz, for a cool $240,000. The massive stockpile was immediately put to use.
The CIA set up front organizations to finance research of the drug at a number of universities, including Stanford and MIT, to see how typical test subjects would react to the drug in a clinical setting without making the CIA's interest in the drug known.

Less ethically and less voluntarily, some prisoners in the American penal system were given the drug daily for months on end. The CIA even drugged its own employees, hoping to learn what would happen if an intelligence asset was slipped a drug they knew nothing about. This resulted in at least one death.
And it only got stranger, less voluntary, and more illegal after that.
Operation Midnight Climax (yes, it was really called that)
In one of the more bizarre "experiments" during the project, the CIA had prostitutes in New York and San Francisco bring their clients back to a safehouse where they would be slipped LSD. After the conclusion of business, the prostitutes would ask questions of their clients, who would be tripping, in an attempt to determine how much LSD was required to get men talking. All of this was observed through a one-way glass by CIA operatives with no scientific backgrounds who drank martinis by the pitcher.
The use of the drug in interrogations also was investigated at safehouses in Europe and East Asia. Suspected foreign intelligence assets were given massive doses of LSD before interrogation to cause emotional trauma "at levels that can only be called torture," according to Raffi Khatchadourian. Some subjects were told that their bad trips would never end if they did not talk. Related tests were done to see if an LSD trip would make lies show up more clearly on a polygraph test. The results were inconclusive.
A similar program was going on inside the U.S. Army as well. The Edgewood Arsenal human experiments examined the use of several drugs, including LSD, in warfare and information gathering. As with the CIA, army officers drugged random soldiers to observe their reactions. While plans were drawn up to use the drug on captured Vietcong to aid in interrogations (which would have been a war crime), they were not enacted for reasons unknown.
Other ideas on how to use the powerful psychedelic included drugging foreign leaders the U.S. did not like before they had to give a speech or chair an important meeting. The hope was that the drug would cause erratic behavior, which would then lead to a decline in their popularity or to poor decision-making. Gottlieb even devised a plan to spray a radio station from which Fidel Castro was scheduled to give an address with aerosolized LSD in the hope of achieving similar ends. The plan was never carried out.
The spy who drugged me
In what may be one of the great understatements of the 20th century, the CIA concluded that LSD was too "unpredictable" in its results to be the single super-drug they sought. However, the CIA still thought LSD had its place in spycraft.
For his part, Gottlieb considered the project a failure and concluded that no possible combination of drugs or psychiatric interventions could accomplish the program's goals. He went on to work on other CIA projects and retired in 1973 after he destroyed most of the already spotty records of the program. In retirement, he helped lepers in India, raised goats, and constructed one of the first solar powered homes in the state of Virginia.
However, that was hardly the end of things. Gottlieb forgot to burn the financial records, and in the mid-1970s, the Church Committee of the U.S. Senate investigated the program, though the lack of data meant that very few of the people who were drugged without their consent were ever compensated, and a great deal about the program (and others like it) remain unknown.
Notable recorded and voluntary test subjects of MK-Ultra who were given LSD included the poet Alan Ginsburg, writer Ken Kesey (author of One Flew Over the Cuckoo's Nest), and Grateful Dead lyricist Robert Hunter. All three would later tout the benefits of psychedelics and the broader drug culture in the years that followed their involvement with the program.
Their activities, as well as those of other LSD advocates in the 1960s, would undermine the very vision of American society that the CIA was trying to protect in the first place — using a tool the CIA itself provided. The irony of this was not lost on Beatle John Lennon, who mused, "We must always remember to thank the CIA and the Army for LSD. That's what people forget… They invented LSD to control people and what they did was give us freedom."
While the level of "freedom" LSD provides is debatable, the story of how the counterculture first got a taste of the stuff demonstrates even that freedom comes at a price.
13-8
What was the universe like one-trillionth of a second after the Big Bang? Science has an answer.
Scroll down to load more…