The 10 greatest living scientists in the world today
The most influential contemporary scientists and their accomplishments.
26 November, 2017
---
Ranking the world's greatest contemporary scientists may be a no-win proposition, with inevitable questions about how to evaluate one's contribution over another. How does a discovery in one field measure up to a discovery in a different one? And what about Richard Dawkins, where is he on this list? All reasonable questions, but ultimately we need to start the discussion somewhere. So here's a debatable list of top ten scientists from around the world who have made a great impact on our life (but not in order of the magnitude of their achievements because that just might be an unscientific exercise):
1. Timothy Berners-Lee
It would be hard to argue against the guy who invented a little something called "the world wide web" being on this list. Timothy Berners-Lee is a British computer scientist, knighted by the Queen Elizabeth II for his pioneering work. He is especially famous for his proposal to share information by using the technology of hypertext, the cornerstone of the world wide web. Berners-Lee also made the world's first website in 1991.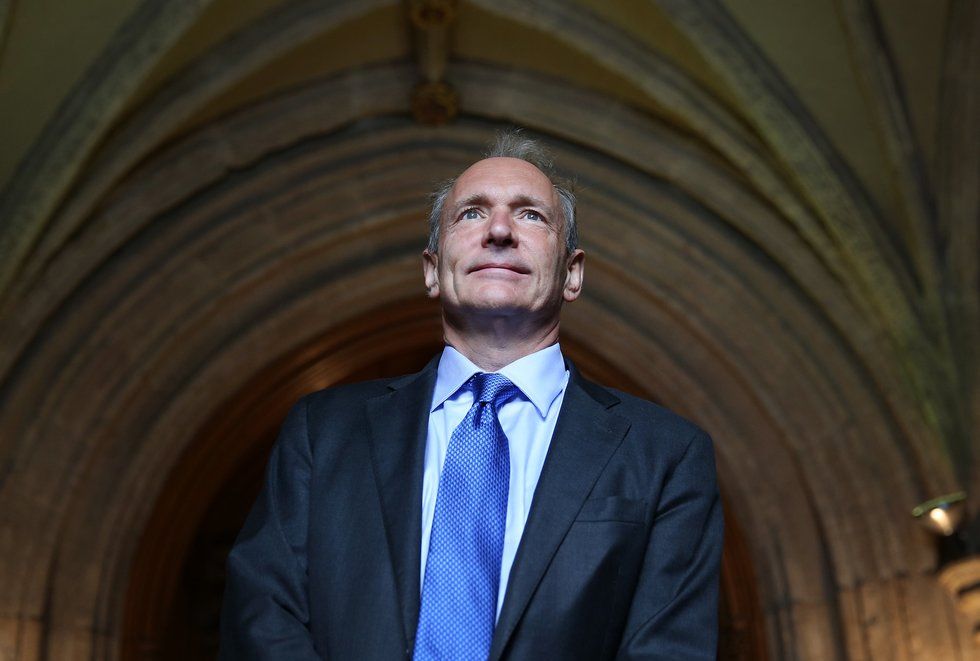 Sir Tim Berners-Lee inventor of the World Wide Web arrives at Guildhall to receive an Honorary Freedom of the City of London award on September 24, 2014 in London, England. (Photo by Peter Macdiarmid/Getty Images)
2. Stephen Hawking (UPDATE: Hawking died on March 14, 2018)
Arguably the world's most famous living scientist, Stephen Hawking is known for his landmark contributions to our understanding of the big bang, black holes, and relativity. He is also renowned for his work as a science popularizer, writing the best-selling book "A Brief History of Time".
The British theoretical physicist and cosmologist, Hawking is acclaimed for his ideas on gravitational singularity theorems in the framework of general relativity, and the theoretical prediction that black holes emit radiation, dubbed "Hawking radiation."
Hawking's remarkable accomplishments are also an inspiration for people living with disabilities as he has suffered paralyzing amyotrophic lateral sclerosis (ALS) from early in his life.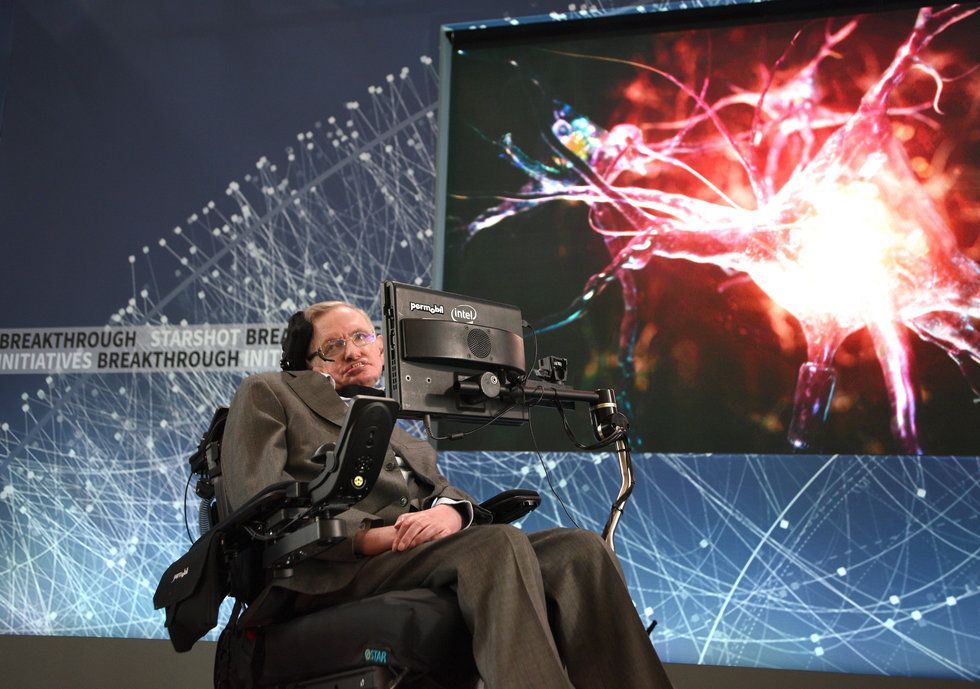 Stephen Hawking and Yuri Milner host press conference to announce Breakthrough Starshot, a new space exploration initiative, at One World Observatory on April 12, 2016 in New York City. (Photo by Bryan Bedder/Getty Images for Breakthrough Prize Foundation)
3. Jane Goodall
Jane Goodall is a British primatologist, known as the world's foremost expert on chimpanzees. She has studied social and family interactions with wild chimps for over 55 years. Her revolutionary work showed that chimpanzees, and not only humans, can learn to make and use tools. She also made pioneering observations on the violent nature of chimpanzees, finding some to hunt and eat smaller monkeys.
Founder of the Jane Goodall Institute, Goodall is a tireless advocate for conservation, biodiversity and other environmental causes.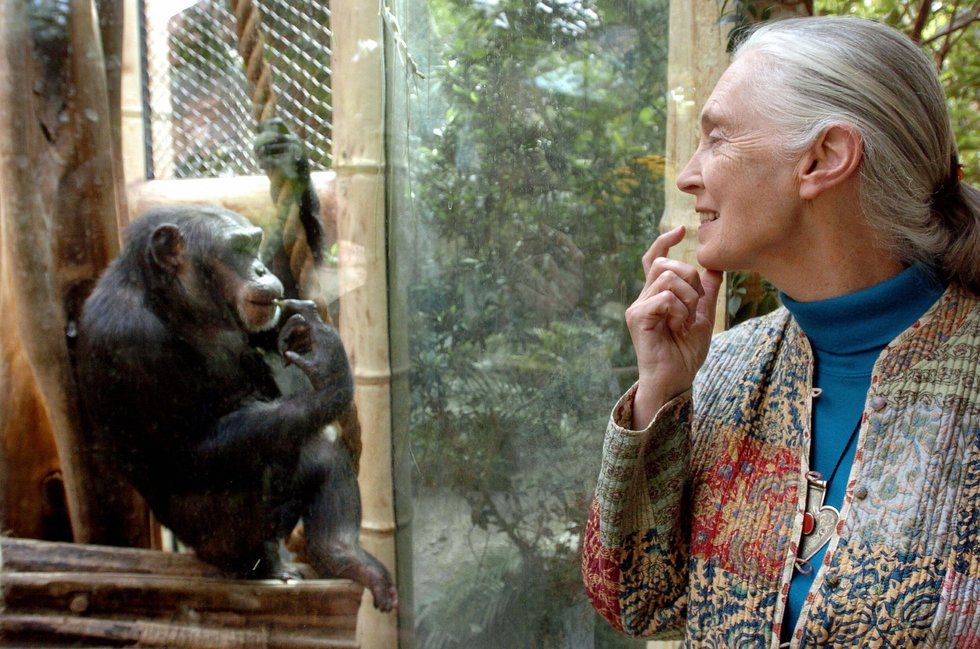 Jane Goodall, the world's foremost authority on chimpanzees, communicates with chimpanzee Nana, 06 June 2004 at the zoo of Magdeburg (eastern Germany). (Photo credit: JENS SCHLUETER/AFP/Getty Images)
4. Alan Guth
An American theoretical physicist and cosmologist, Guth developed the theory of cosmic inflation. Winner of the Fundamental Physics Prize and the Kavli Prize, Guth came up with groundbreaking ideas in inflationary theory, discovering why the cosmos is as large as it is.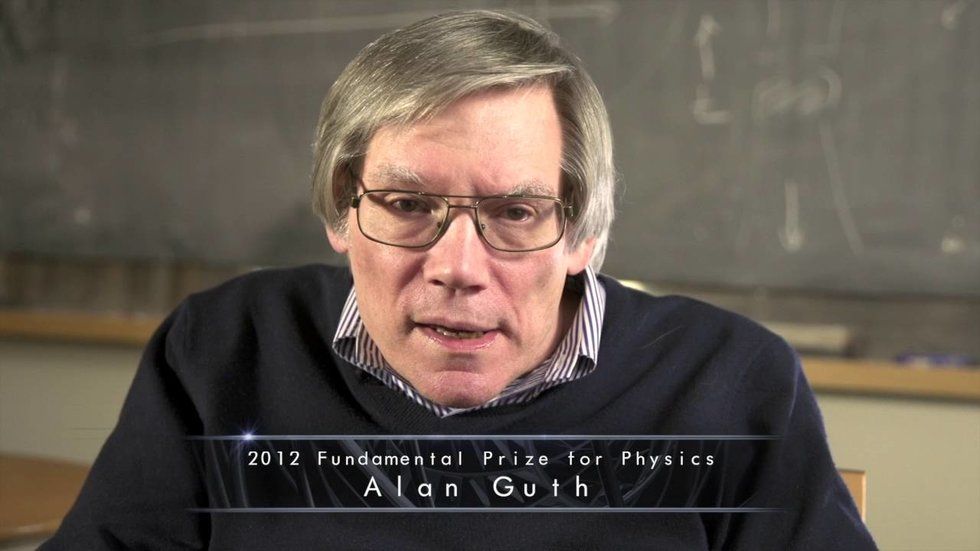 Credit: Breakthrough Prize.
5. Ashoke Sen
An Indian theoretical physicist, Ashoke Sen won numerous international awards for his work including the Fundamental Prize in Physics in 2012. He has made significant contributions in string theory, with field-changing research.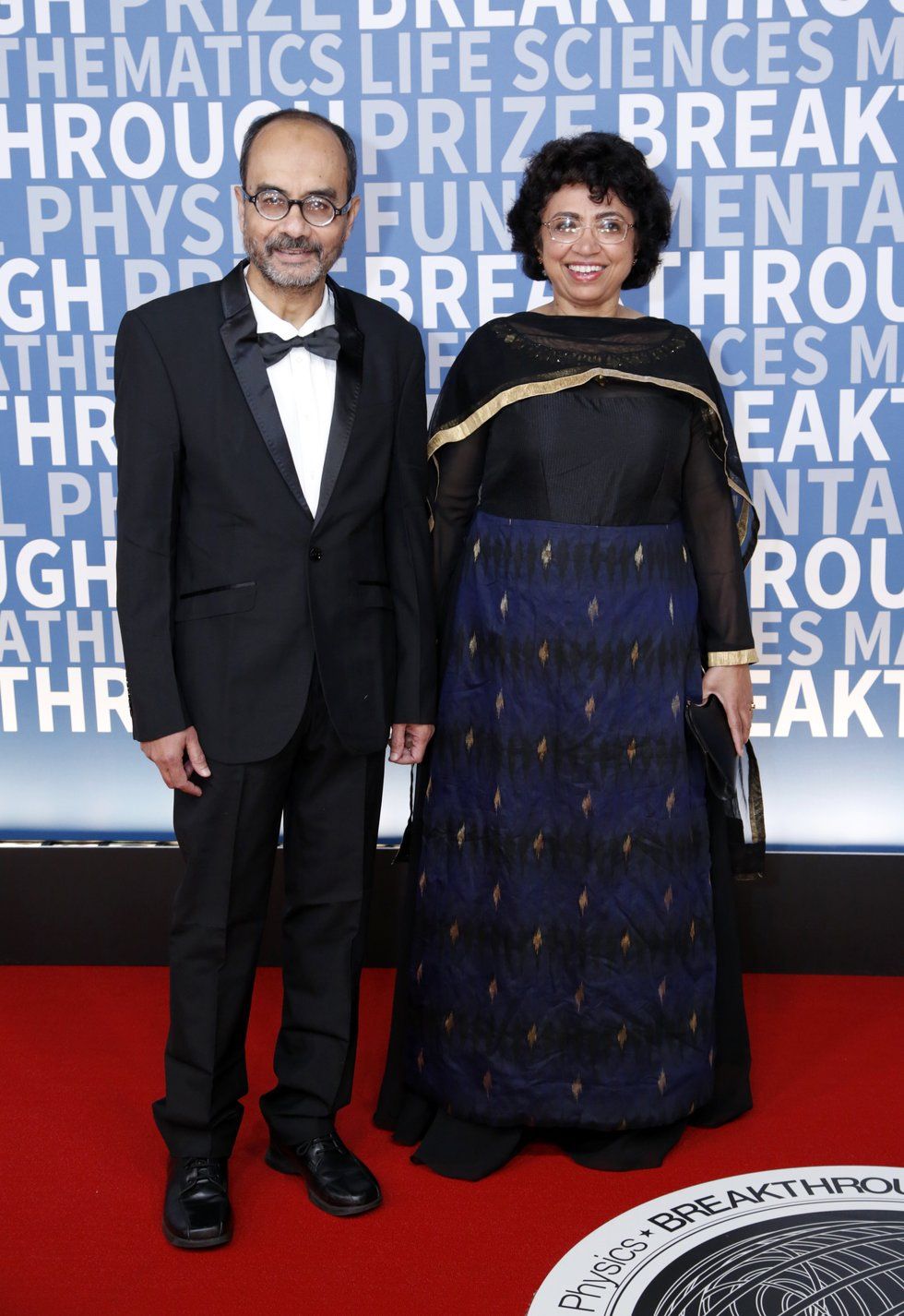 Physicists Ashoke Sen and Sumathi Rao attend the 2017 Breakthrough Prize at NASA Ames Research Center on December 4, 2016 in Mountain View, California. (Photo by Kimberly White/Getty Images for Breakthrough Prize).
Want to learn string theory with Ashoke Sen? Check out this lecture:
6. James Watson
James Watson is an American molecular biologist and geneticist, known as the co-discoverer of the double helix structure of the DNA in 1953 - a fact for which he was awarded a Nobel Prize.
Check out this TED talk with James Watson about how he and his research partner Francis Crick discovered the structure of DNA:
7. Tu Youyou
Tu Youyou became the first Chinese woman to win a Nobel Prize in 2015 for her work in creating an anti-malaria drug that saved millions of lives in Asia and Africa. She relied on traditional Chinese medicine in her discovery of artemisinin and dihydroartemisinin, which have helped significantly improve the health of people living in tropical climates.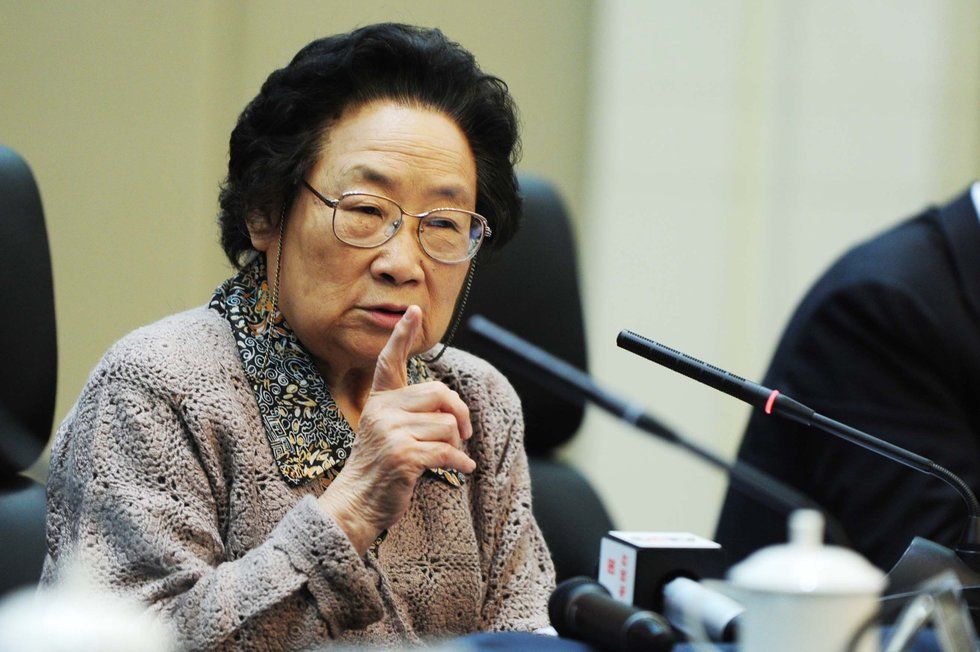 Tu Youyou, the first Chinese woman to win a Nobel prize for medicine, delivers a speech at a symposium organized by China's National Health and Family Planning Commission (NHFPC) and other departments in Beijing on October 8, 2015. (Photo credit: STR/AFP/Getty Images)
8. Noam Chomsky
U.S. linguist and firebrand political activist, Noam Chomsky has influenced the world in many fields. Described as "the father of modern linguistics," Chomsky is also one of the founders of the field of cognitive science. While writing over a 100 books and leading a broad intellectual life, Chomsky is known as an outspoken critic of American foreign policy.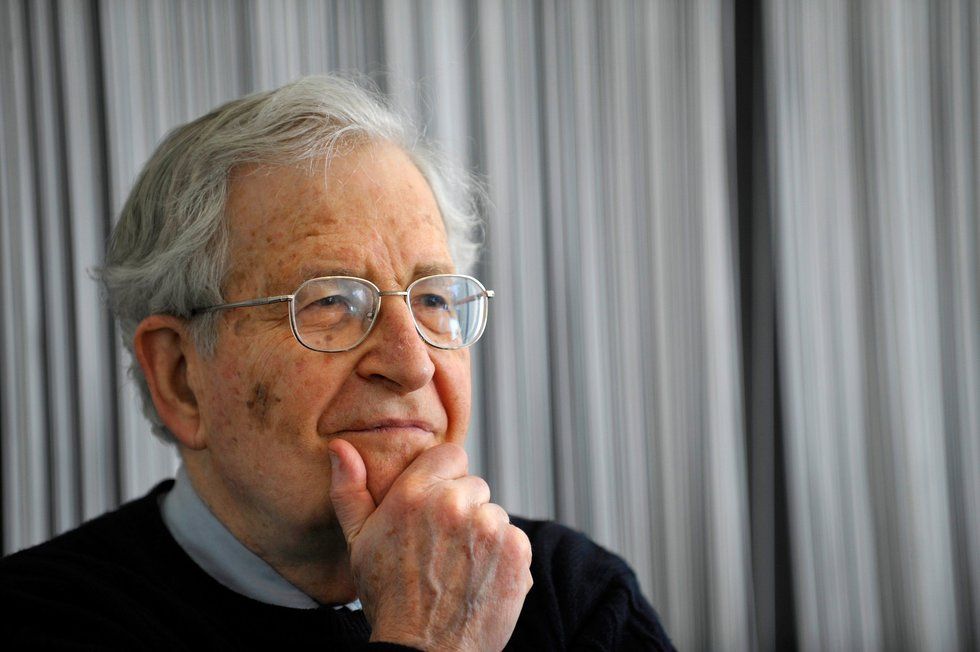 US linguist, philosopher and political activist, Noam Chomsky addresses a press conference in the southern German city of Stuttgart on March 23, 2010. (Photo credit: SASCHA SCHUERMANN/AFP/Getty Images)
9. Shinya Yamanaka
Yamanaka is a Japanese Nobel Prize-winning stem cell researcher. He received the prize in 2012 for his co-discovery that existing cells of the body can be converted to stem cells. He also received the 2013 Breakthrough Prize in Life Sciences, worth $3 million.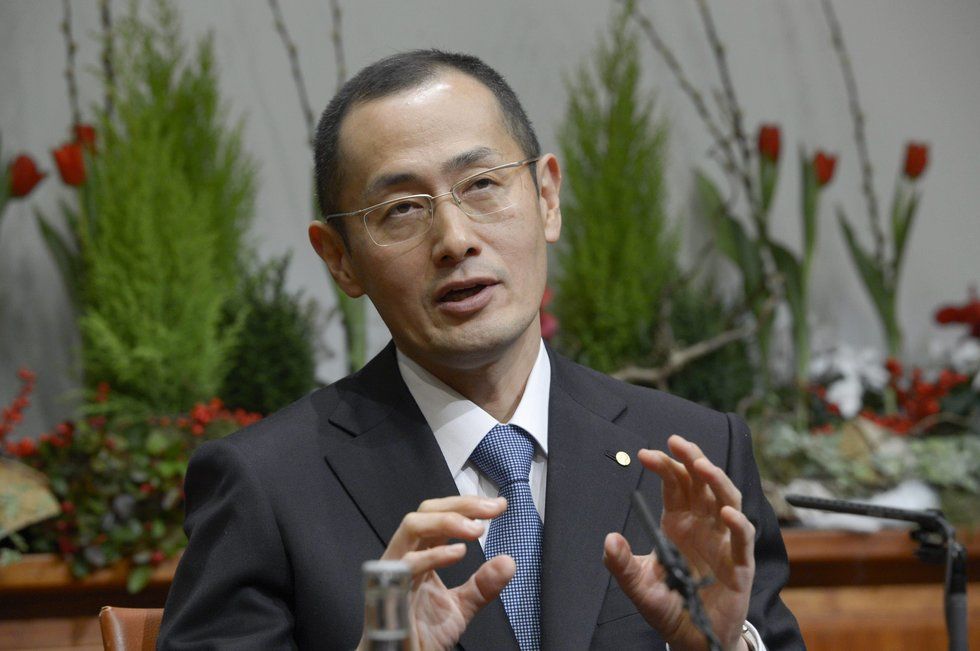 Nobel Prize Medicine laureate Shinya Yamanaka of Japan speaks during a press conference on December 6, 2012 at the Karolinska Institute in Stockholm, Sweden. (Photo credit: BERTIL ENEVAG ERICSON / SCANPIX/AFP/Getty Images)
10. Elizabeth Blackburn
An Australian-American molecular biologist, Blackburn won the Nobel Prize in 2009 for her research on anti-aging, in particular on the benefits of lengthening telomeres - a structure capping and protecting chromosomes. Blackburn co-discovered an enzyme called telomerase that replenishes the telomere.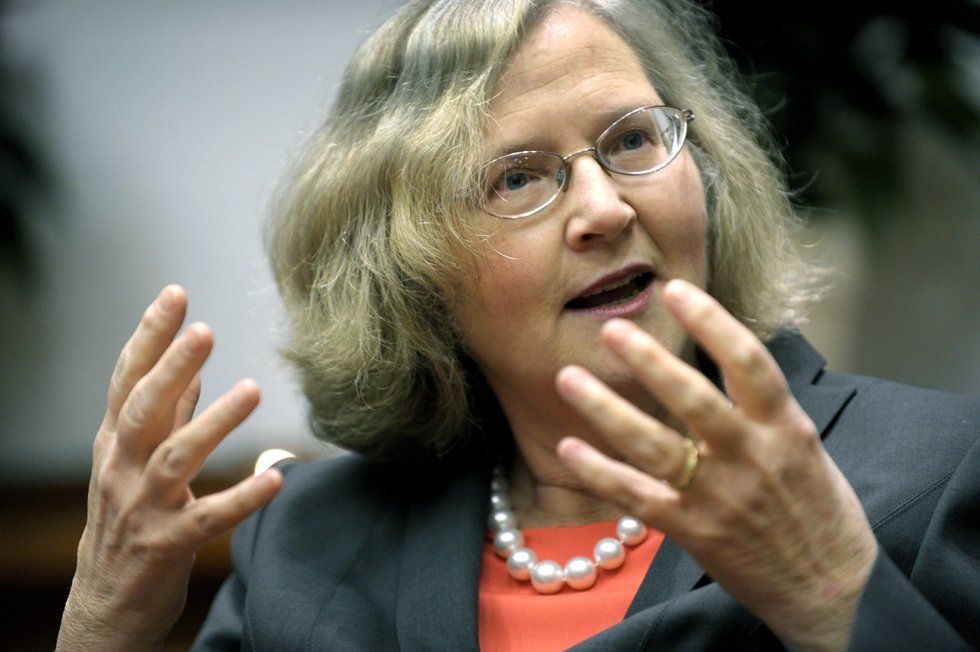 The 2009 Nobel laureate in medicine Elizabeth H. Blackburn of USA speaks during a joint news conference held by the Nobel Foundation at the Karolinska Institute on December 6, 2009, in Stockholm. (Photo credit: HENRIKSSON/AFP/Getty Images)
Want to learn about telomeres from Professor Blackburn? Check out this lecture:
What can 3D printing do for medicine? The "sky is the limit," says Northwell Health researcher Dr. Todd Goldstein.
Northwell Health
Sponsored by Northwell Health
Medical professionals are currently using 3D printers to create prosthetics and patient-specific organ models that doctors can use to prepare for surgery.
Eventually, scientists hope to print patient-specific organs that can be transplanted safely into the human body.
Northwell Health, New York State's largest health care provider, is pioneering 3D printing in medicine in three key ways.
Big Think Edge
Push Past Negative Self-Talk: Give Yourself the Proper Fuel to Attack the World, with David Goggins, Former NAVY SealIf you've ever spent 5 minutes trying to meditate, you know something most people don't realize: that our minds are filled, much of the time, with negative nonsense. Messaging from TV, from the news, from advertising, and from difficult daily interactions pulls us mentally in every direction, insisting that we focus on or worry about this or that. To start from a place of strength and stability, you need to quiet your mind and gain control. For former NAVY Seal David Goggins, this begins with recognizing all the negative self-messaging and committing to quieting the mind. It continues with replacing the negative thoughts with positive ones.
Is this proof of a dramatic shift?
Strange Maps
Map details dramatic shift from CNN to Fox News over 10-year period
Does it show the triumph of "fake news" — or, rather, its defeat?
A closer look at the map's legend allows for more complex analyses
Dramatic and misleading
Image: Reddit / SICResearch
The situation today: CNN pushed back to the edges of the country.
Over the course of no more than a decade, America has radically switched favorites when it comes to cable news networks. As this sequence of maps showing TMAs (Television Market Areas) suggests, CNN is out, Fox News is in.
The maps are certainly dramatic, but also a bit misleading. They nevertheless provide some insight into the state of journalism and the public's attitudes toward the press in the US.
Let's zoom in:
It's 2008, on the eve of the Obama Era. CNN (blue) dominates the cable news landscape across America. Fox News (red) is an upstart (°1996) with a few regional bastions in the South.
By 2010, Fox News has broken out of its southern heartland, colonizing markets in the Midwest and the Northwest — and even northern Maine and southern Alaska.
Two years later, Fox News has lost those two outliers, but has filled up in the middle: it now boasts two large, contiguous blocks in the southeast and northwest, almost touching.
In 2014, Fox News seems past its prime. The northwestern block has shrunk, the southeastern one has fragmented.
Energised by Trump's 2016 presidential campaign, Fox News is back with a vengeance. Not only have Maine and Alaska gone from entirely blue to entirely red, so has most of the rest of the U.S. Fox News has plugged the Nebraska Gap: it's no longer possible to walk from coast to coast across CNN territory.
By 2018, the fortunes from a decade earlier have almost reversed. Fox News rules the roost. CNN clings on to the Pacific Coast, New Mexico, Minnesota and parts of the Northeast — plus a smattering of metropolitan areas in the South and Midwest.
"Frightening map"
Image source: Reddit / SICResearch
This sequence of maps, showing America turning from blue to red, elicited strong reactions on the Reddit forum where it was published last week. For some, the takeover by Fox News illustrates the demise of all that's good and fair about news journalism. Among the comments?
"The end is near."
"The idiocracy grows."
"(It's) like a spreading disease."
"One of the more frightening maps I've seen."
For others, the maps are less about the rise of Fox News, and more about CNN's self-inflicted downward spiral:
"LOL that's what happens when you're fake news!"
"CNN went down the toilet on quality."
"A Minecraft YouTuber could beat CNN's numbers."
"CNN has become more like a high-school production of a news show."
Not a few find fault with both channels, even if not always to the same degree:
"That anybody considers either of those networks good news sources is troubling."
"Both leave you understanding less rather than more."
"This is what happens when you spout bullsh-- for two years straight. People find an alternative — even if it's just different bullsh--."
"CNN is sh-- but it's nowhere close to the outright bullsh-- and baseless propaganda Fox News spews."
"Old people learning to Google"
Image: Google Trends
CNN vs. Fox News search terms (200!-2018)
But what do the maps actually show? Created by SICResearch, they do show a huge evolution, but not of both cable news networks' audience size (i.e. Nielsen ratings). The dramatic shift is one in Google search trends. In other words, it shows how often people type in "CNN" or "Fox News" when surfing the web. And that does not necessarily reflect the relative popularity of both networks. As some commenters suggest:
"I can't remember the last time that I've searched for a news channel on Google. Is it really that difficult for people to type 'cnn.com'?"
"More than anything else, these maps show smart phone proliferation (among older people) more than anything else."
"This is a map of how old people and rural areas have learned to use Google in the last decade."
"This is basically a map of people who don't understand how the internet works, and it's no surprise that it leans conservative."
A visual image as strong as this map sequence looks designed to elicit a vehement response — and its lack of context offers viewers little new information to challenge their preconceptions. Like the news itself, cartography pretends to be objective, but always has an agenda of its own, even if just by the selection of its topics.
The trick is not to despair of maps (or news) but to get a good sense of the parameters that are in play. And, as is often the case (with both maps and news), what's left out is at least as significant as what's actually shown.
One important point: while Fox News is the sole major purveyor of news and opinion with a conservative/right-wing slant, CNN has more competition in the center/left part of the spectrum, notably from MSNBC.
Another: the average age of cable news viewers — whether they watch CNN or Fox News — is in the mid-60s. As a result of a shift in generational habits, TV viewing is down across the board. Younger people are more comfortable with a "cafeteria" approach to their news menu, selecting alternative and online sources for their information.
It should also be noted, however, that Fox News, according to Harvard's Nieman Lab, dominates Facebook when it comes to engagement among news outlets.
CNN, Fox and MSNBC
Image: Google Trends
CNN vs. Fox (without the 'News'; may include searches for actual foxes). See MSNBC (in yellow) for comparison
For the record, here are the Nielsen ratings for average daily viewer total for the three main cable news networks, for 2018 (compared to 2017):

Fox News: 1,425,000 (-5%)
MSNBC: 994,000 (+12%)
CNN: 706,000 (-9%)
And according to this recent overview, the top 50 of the most popular websites in the U.S. includes cnn.com in 28th place, and foxnews.com in... 27th place.
The top 5
, in descending order, consists of google.com, youtube.com, facebook.com, amazon.com and yahoo.com — the latter being the highest-placed website in the News and Media category.
Big Think Edge
Master Execution: How to Get from Point A to Point B in 7 Steps, with Rob Roy, Retired Navy SEALUsing the principles of SEAL training to forge better bosses, former Navy SEAL and founder of the Leadership Under Fire series Rob Roy, a self-described "Hammer", makes people's lives miserable in the hopes of teaching them how to be a tougher—and better—manager. "We offer something that you are not going to get from reading a book," says Roy. "Real leaders inspire, guide and give hope."Anybody can make a decision when everything is in their favor, but what happens in turbulent times? Roy teaches leaders, through intense experiences, that they can walk into any situation and come out ahead. In this lesson, he outlines seven SEAL-tested steps for executing any plan—even under extreme conditions or crisis situations.
Big think's weekly newsletter.
Get smarter faster from the comfort of your inbox.
See our newsletter privacy policy
here
Most Popular
Most Recent
Big think's weekly newsletter.
Get smarter faster from the comfort of your inbox.
See our newsletter privacy policy
here
© Copyright 2007-2019 & BIG THINK, BIG THINK EDGE,
SMARTER FASTER trademarks owned by The Big Think, Inc. All rights reserved.