Top 10 jobs of serial killers and psychopaths
These are the occupations that attract the most serial killers and psychopaths.
14 May, 2018
The recent arrest of the alleged Golden State Killer, Joseph James DeAngelo, was notable not just for the capture of an elusive monster after decades of futile searches, but also for DeAngelo's occupation. The killer—also known as the East Area Rapist, the Original Night Stalker, the Diamond Knot Killer and Visalia Ransacker—managed to avoid getting caught for years while being likely responsible for 12 murders and almost 50 rapes in the 1970s and '80s. How did he not get caught for such a long time? By living and working in plain sight as a police officer.
---
As writes professor Michael Arntfield, who teaches Criminology & English Literature at Western University, there have been other famous killers who had very reputable professions.
Canadian "Colonel" Russell Williams, who got two life sentences for multiple murders, sexual assaults and burglaries, was a commander of a major Air Force Base.
Jeffrey Dahmer raped, killed, and dismembered 17 men and boys. Already a murderer, he worked for a while at a chocolate factory in Milwaukee.
Tom Steeples, who killed several people, was a computer store owner and prominent businessman in Nashville.
Ted Bundy, convicted of ruthlessly killing 30 people while being probably responsible for many more, had a job while already a murderer at Seattle's Suicide Hotline Crisis Center. He followed that up by working on the re-election campaign of the Republican governor of Washington Daniel J. Evans.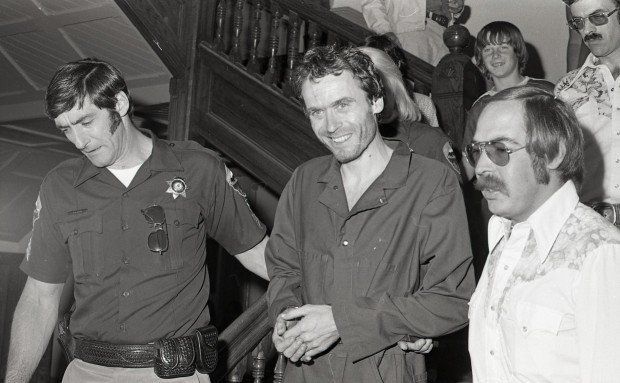 Ted Bundy. 1977. Credit: Glenwood Springs Post Independent via AP.
Taken as a whole, certain patterns emerge in the occupations chosen by serial killers, with some full-time and part-time jobs over-represented, says Arntfield. Of course, just because terrible people had these jobs that doesn't mean everyone associated with them is somehow on the path to becoming a killer. Still, here are the top jobs for serial killers, broken down by their skill level:
TOP 1-4:
- Aircraft machinist/assembler (top skilled serial killer occupation)
- Forestry worker/arborist (top for semi-skilled killers)
- General laborer - mover, landscaper, etc. (top for unskilled)
- Police officer/security official (top for professional/government)
TOP 5-8:
- Shoemaker/repair person (skilled)
- Truck driver (semi-skilled)
- Hotel porter (unskilled)
- Military personnel (professional/government)
TOP 9-12:
- Automobile upholsterer (skilled)
- Warehouse manager (semi-skilled)
- Gas station attendant (unskilled)
- Religious official (professional/government)
What about these jobs appeals to serial killers? Arntfield says sometimes these occupations facilitate opportunities for the killers' desire to kill but ultimately, it's a complex interplay of factors.
"[It's a] combination of mobility, power (whether structural or actual), and the fact many jobs also simultaneously satisfy the underlying paraphilias, or sexual preoccupations, that also fuel killers' crimes," said Arntfield in an interview with IFLScience.

One commonality between some of the jobs is that they provide an access to vulnerable victims, like travelers, sex or shift workers.
What about the popular occupations of the psychopaths? Certainly, not all psychopaths end up as serial killers, but psychopathy is a common feature among serial killers, sex offenders and the most violent criminals.
According to an Oxford University psychologist, the top 10 jobs for psychopaths are:
1. CEO or business executive
2. Lawyer
3. Media personality
4. Salesperson
5. Surgeon
6. Journalist or news anchor
7. Police officer
8. Religious official
9. Chef
10. Miscellaneous civil servant (military, city council, corrections, etc.)
More details about the occupations of various killers can be found in Michael Arntfield's recent book, Murder in Plain English.
As religious diversity increases in the United States, we must learn to channel religious identity into interfaith cooperation.
Sponsored by Charles Koch Foundation
Religious diversity is the norm in American life, and that diversity is only increasing, says Eboo Patel.
Using the most painful moment of his life as a lesson, Eboo Patel explains why it's crucial to be positive and proactive about engaging religious identity towards interfaith cooperation.
The opinions expressed in this video do not necessarily reflect the views of the Charles Koch Foundation, which encourages the expression of diverse viewpoints within a culture of civil discourse and mutual respect.
Two Apollo 11 astronauts question NASA's planetary safety procedures.
Credit: Bettmann, Getty Images.
Surprising Science
Buzz Aldrin and Michael Collins revealed that there were deficiencies in NASA's safety procedures following the Apollo 11 mission.
Moon landing astronauts were quarantined for 21 days.
Earth could be contaminated with lunar bacteria.
Here's why you might eat greenhouse gases in the future.
Technology & Innovation
The company's protein powder, "Solein," is similar in form and taste to wheat flour.
Based on a concept developed by NASA, the product has wide potential as a carbon-neutral source of protein.
The man-made "meat" industry just got even more interesting.
When it comes to sniffing out whether a source is credible or not, even journalists can sometimes take the wrong approach.
Sponsored by Charles Koch Foundation
We all think that we're competent consumers of news media, but the research shows that even journalists struggle with identifying fact from fiction.
When judging whether a piece of media is true or not, most of us focus too much on the source itself. Knowledge has a context, and it's important to look at that context when trying to validate a source.
The opinions expressed in this video do not necessarily reflect the views of the Charles Koch Foundation, which encourages the expression of diverse viewpoints within a culture of civil discourse and mutual respect.