Top 10 jobs of serial killers and psychopaths
These are the occupations that attract the most serial killers and psychopaths.
14 May, 2018
The recent arrest of the alleged Golden State Killer, Joseph James DeAngelo, was notable not just for the capture of an elusive monster after decades of futile searches, but also for DeAngelo's occupation. The killer—also known as the East Area Rapist, the Original Night Stalker, the Diamond Knot Killer and Visalia Ransacker—managed to avoid getting caught for years while being likely responsible for 12 murders and almost 50 rapes in the 1970s and '80s. How did he not get caught for such a long time? By living and working in plain sight as a police officer.
---
As writes professor Michael Arntfield, who teaches Criminology & English Literature at Western University, there have been other famous killers who had very reputable professions.
Canadian "Colonel" Russell Williams, who got two life sentences for multiple murders, sexual assaults and burglaries, was a commander of a major Air Force Base.
Jeffrey Dahmer raped, killed, and dismembered 17 men and boys. Already a murderer, he worked for a while at a chocolate factory in Milwaukee.
Tom Steeples, who killed several people, was a computer store owner and prominent businessman in Nashville.
Ted Bundy, convicted of ruthlessly killing 30 people while being probably responsible for many more, had a job while already a murderer at Seattle's Suicide Hotline Crisis Center. He followed that up by working on the re-election campaign of the Republican governor of Washington Daniel J. Evans.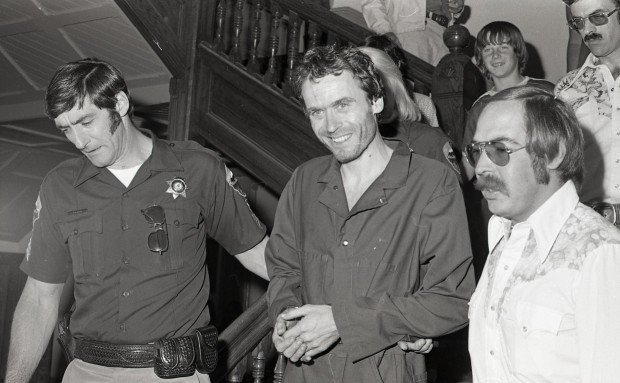 Ted Bundy. 1977. Credit: Glenwood Springs Post Independent via AP.
Taken as a whole, certain patterns emerge in the occupations chosen by serial killers, with some full-time and part-time jobs over-represented, says Arntfield. Of course, just because terrible people had these jobs that doesn't mean everyone associated with them is somehow on the path to becoming a killer. Still, here are the top jobs for serial killers, broken down by their skill level:
TOP 1-4:
- Aircraft machinist/assembler (top skilled serial killer occupation)
- Forestry worker/arborist (top for semi-skilled killers)
- General laborer - mover, landscaper, etc. (top for unskilled)
- Police officer/security official (top for professional/government)
TOP 5-8:
- Shoemaker/repair person (skilled)
- Truck driver (semi-skilled)
- Hotel porter (unskilled)
- Military personnel (professional/government)
TOP 9-12:
- Automobile upholsterer (skilled)
- Warehouse manager (semi-skilled)
- Gas station attendant (unskilled)
- Religious official (professional/government)
What about these jobs appeals to serial killers? Arntfield says sometimes these occupations facilitate opportunities for the killers' desire to kill but ultimately, it's a complex interplay of factors.
"[It's a] combination of mobility, power (whether structural or actual), and the fact many jobs also simultaneously satisfy the underlying paraphilias, or sexual preoccupations, that also fuel killers' crimes," said Arntfield in an interview with IFLScience.

One commonality between some of the jobs is that they provide an access to vulnerable victims, like travelers, sex or shift workers.
What about the popular occupations of the psychopaths? Certainly, not all psychopaths end up as serial killers, but psychopathy is a common feature among serial killers, sex offenders and the most violent criminals.
According to an Oxford University psychologist, the top 10 jobs for psychopaths are:
1. CEO or business executive
2. Lawyer
3. Media personality
4. Salesperson
5. Surgeon
6. Journalist or news anchor
7. Police officer
8. Religious official
9. Chef
10. Miscellaneous civil servant (military, city council, corrections, etc.)
More details about the occupations of various killers can be found in Michael Arntfield's recent book, Murder in Plain English.
Giving our solar system a "slap in the face."
Surprising Science
A stream of galactic debris is hurtling at us, pulling dark matter along with it
It's traveling so quickly it's been described as a hurricane of dark matter
Scientists are excited to set their particle detectors at the onslffaught
The climate change we're witnessing is more dramatic than we might think.
Surprising Science
A lazy buzz phrase – 'Is this the new normal?' – has been doing the rounds as extreme climate events have been piling up over the past year. To which the riposte should be: it's worse than that – we're on the road to even more frequent, more extreme events than we saw this year.
Once again, our circadian rhythm points the way.
Photo: Victor Freitas / Unsplash
Surprising Science
Seven individuals were locked inside a windowless, internetless room for 37 days.
While at rest, they burned 130 more calories at 5 p.m. than at 5 a.m.
Morning time again shown not to be the best time to eat.
Big think's weekly newsletter.
Get smarter faster from the comfort of your inbox.
See our newsletter privacy policy
here
Most Popular
Most Recent
Big think's weekly newsletter.
Get smarter faster from the comfort of your inbox.
See our newsletter privacy policy
here
© Copyright 2007-2018 & BIG THINK, BIG THINK EDGE,
SMARTER FASTER trademarks owned by The Big Think, Inc. All rights reserved.