Teens have one key agenda when using social media
A new study looks at how teens construct their online identities.
26 February, 2018
While confirming what many would consider obvious to anyone who knows a teenager, a new study provides some fascinating details on how teens use social media. 
---
About 92% of all teens go online daily, with 71% of them using Facebook and 52% getting on Instagram. The average amount of time the teens spend on these online activities ranges from two to five hours per day. The recent study from the University of California, Irvine (UCI) tells us that when they are online, teens are concerned with how they present themselves. 
Teens make a real effort to create a favorable internet presence by thinking about how they select the photos, activities, and links that they post on Facebook and Instagram. They want to share content that makes them seem interesting and liked by others. Being attractive to their peers is the main consideration in how young adults makes online decisions.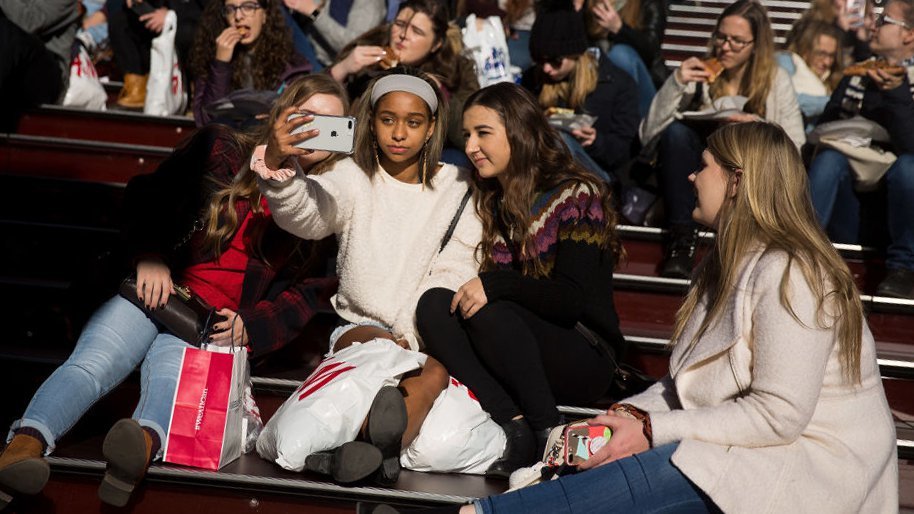 A group of teens takes a photograph with a smartphone in Times Square, December 1, 2017, in New York City. (Photo by Drew Angerer/Getty Images)
The lead author Joanna Yau, a UCI Ph.D. candidate in education, stressed how deliberate the teens are in their posting habits:
"Teenagers aren't just posting carelessly; they're surprisingly thoughtful about what they choose to reveal on social media," said Yau. "Peer approval is important during adolescence, especially in early adolescence, so they're sharing content that they think others will find impressive."
Facebook and Instagram give teens an opportunity to connect with friends but also with people they may not be all that close to, like classmates. Unlike other real-life situations, posting on social media allows you time to select and edit what you will be posting, giving teens the opportunity to carefully consider what image they will be presenting to the world. They spent the effort on picking just the right angle, filter and caption.
For girls, the researchers found, putting together favorable images might involve a prolonged deliberation and getting advice from close friends. Unlike boys, girls also tend to get their friends to comment on and like their posts in order to boost their popularity. They may also be more aware of when the peak social media traffic hours are when likes can be maximized. 
"We found that some teens invested great effort into sharing content on Facebook and Instagram and that what may seem to be an enjoyable activity may actually feel tedious," Yau explained. "Their social rules for online interaction require a higher level of sensitivity than do those for in-person communication. Even interesting and positive posts can be interpreted negatively. For example, sharing about college admissions could come across as pretentious and prideful."
The study involved 51 teens (27 females, 24 males) from Southern California.  
If you're wondering what happens to these teens when they become adults, studies show that the average amount of time American adults spend online is also around five hours. So the social-media-obsessed teen is likely to become a social-media-obsessed adult. 
Read the new study here.
Related Articles
What do we see from watching birds move across the country?
E. Fleischer
Surprising Science
A total of eight billion birds migrate across the U.S. in the fall.
The birds who migrate to the tropics fair better than the birds who winter in the U.S.
Conservationists can arguably use these numbers to encourage the development of better habitats in the U.S., especially if temperatures begin to vary in the south.
The migration of birds — and we didn't even used to know that birds migrated; we assumed they hibernated; the modern understanding of bird migration was established when a white stork landed in a German village with an arrow from Central Africa through its neck in 1822 — draws us in the direction of having an understanding of the world. A bird is here and then travels somewhere else. Where does it go? It's a variation on the poetic refrain from The Catcher in the Rye. Where do the ducks go? How many are out there? What might it encounter along the way?
"In the spring," the lead author Adriaan Dokter noted, "3.5 billion birds cross back into the U.S. from points south, and 2.6 billion birds return to Canada across the northern U.S. border."
In other words: the birds who went three to four times further than the birds staying in the U.S. faired better than the birds who stayed in the U.S. Why?
Part of the answer could be very well be what you might hear from a conservationist — only with numbers to back it up: the U.S. isn't built for birds. As Ken Rosenberg, the other co-author of the study, notes: "Birds wintering in the U.S. may have more habitat disturbances and more buildings to crash into, and they might not be adapted for that."
The other option is that birds lay more offspring in the U.S. than those who fly south for the winter.
What does observing eight billion birds mean in practice? To give myself a counterpoint to those numbers, I drove out to the Joppa Flats Education Center in Northern Massachusetts. The Center is a building that sits at the entrance to the Parker River National Wildlife Refuge and overlooks the Merrimack River, which is what I climbed the stairs up to the observation deck to see.
Once there, I paused. I took a breath. I listened. I looked out into the distance. Tiny flecks Of Bonaparte's Gulls drew small white lines across the length of the river and the wave of the grass toward a nearby city. What appeared to be flecks of double-crested cormorants made their way to the sea. A telescope downstairs enabled me to watch small gull-like birds make their way along the edges of the river, quietly pecking away at food just beneath the surface of the water. This was the experience of watching maybe half a dozen birds over fifteen-to-twenty minutes, which only served to drive home the scale of birds studied.
Explore how alcohol affects your brain, from the first sip at the bar to life-long drinking habits.
(Photo by Angie Garrett/Wikimedia Commons)
Mind & Brain
Alcohol is the world's most popular drug and has been a part of human culture for at least 9,000 years.
Alcohol's effects on the brain range from temporarily limiting mental activity to sustained brain damage, depending on levels consumed and frequency of use.
Understanding how alcohol affects your brain can help you determine what drinking habits are best for you.
If you want to know what makes a Canadian lynx a Canadian lynx a team of DNA sequencers has figured that out.
Surprising Science
A team at UMass Amherst recently sequenced the genome of the Canadian lynx.
It's part of a project intending to sequence the genome of every vertebrate in the world.
Conservationists interested in the Canadian lynx have a new tool to work with.
Artwork: Guillaume le Clerc / Wikimedia Commons
13th-century fantastical depiction of an elephant.
It is easy to see how one can look at 66,000 genomic sequences stored away as being the analogous equivalent of the Svalbard Global Seed Vault. It is a potential tool for future conservationists.
But what are the practicalities of sequencing the genome of a lynx beyond engaging with broad bioethical questions? As the animal's habitat shrinks and Earth warms, the Canadian lynx is demonstrating less genetic diversity. Cross-breeding with bobcats in some portions of the lynx's habitat also represents a challenge to the lynx's genetic makeup. The two themselves are also linked: warming climates could drive Canadian lynxes to cross-breed with bobcats.
John Organ, chief of the U.S. Geological Survey's Cooperative Fish and Wildlife units, said to MassLive that the results of the sequencing "can help us look at land conservation strategies to help maintain lynx on the landscape."
What does DNA have to do with land conservation strategies? Consider the fact that the food found in a landscape, the toxins found in a landscape, or the exposure to drugs can have an impact on genetic activity. That potential change can be transmitted down the generative line. If you know exactly how a lynx's DNA is impacted by something, then the environment they occupy can be fine-tuned to meet the needs of the lynx and any other creature that happens to inhabit that particular portion of the earth.
Given that the Trump administration is considering withdrawing protection for the Canadian lynx, a move that caught scientists by surprise, it is worth having as much information on hand as possible for those who have an interest in preserving the health of this creature—all the way down to the building blocks of a lynx's life.
Big think's weekly newsletter.
Get smarter faster from the comfort of your inbox.
See our newsletter privacy policy
here
Most Popular
Most Recent
Big think's weekly newsletter.
Get smarter faster from the comfort of your inbox.
See our newsletter privacy policy
here
© Copyright 2007-2018 & BIG THINK, BIG THINK EDGE,
SMARTER FASTER trademarks owned by The Big Think, Inc. All rights reserved.