Study finds link between brain damage and religious fundamentalism
A new study finds a connection between brain lesions and the ability of a person to consider other beliefs.
06 May, 2017
Scientists found that damage in a certain part of the brain is linked to an increase in religious fundamentalism. In particular, lesions in the ventromedial prefrontal cortex reduced cognitive flexibility - the ability to challenge our beliefs based on new evidence.
---
The researchers, led by Jordan Grafman of Northwestern University, utilized data gathered from Vietnam War veterans as part of the Vietnam Head Injury Study. They compared levels of religious fundamentalism between 119 vets who had lesions and 30 veterans who didn't. 
The study further confirms that the prefrontal cortex is associated with religious beliefs and is the latest in a number of recent studies that look to find the neurological basis for religion.
"The variation in the nature of religious beliefs are governed by specific brain areas in the anterior parts of the human brain and those brain areas are among the most recently evolved areas of the human brain," said Grafman.
How free these areas are from disease, in particular the part known as the dorsolateral prefrontal cortex, may determine a person's mental openness - necessary to appreciate the "diversity of religious thought." The prefrontal cortex was previously linked to having a cognitive function in spiritual experiences.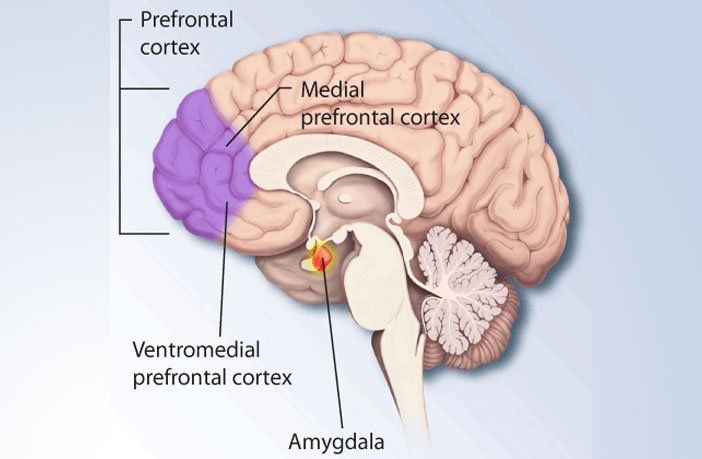 The scientists specify that they are not stating religious people overall are mentally inflexible or that belief is caused by brain damage. There are many cognitive processes involved in forming beliefs. But in some people, the system of "belief revision" may become suppressed due to brain damage. 
The researchers define fundamentalism as a cognitive approach that "embodies adherence to a set of firm religious beliefs advocating unassailable truths about human existence." They write in their paper that the appeal of such a rigid way of thinking is in promoting "coherence and predictability" within a religious group. People in fundamentalist groups tend to value strong commitment to their community, rejection of other beliefs, often combined with science denial and violence. Deliberation becomes victim to conviction.  
The scientists themselves point out the limitations of their study and call for more research into the subject. Grafman notes the fact that the sample was all male American veterans, certainly not representative of all demographic and cultural groups.
This study contributes to a growing body of knowledge about how religious experiences are formed in the brain. 
"We need to understand how distinct religious beliefs are from moral, legal, political, and economic beliefs in their representations in the brain, the nature of conversion from one belief system to another, the difference between belief and agency, and the nature of the depth of knowledge that individuals use to access and report their beliefs," Grafman added.
You can read the study "Biological and cognitive underpinnings of religious fundamentalism" here in the journal Neuropsychologia.
As religious diversity increases in the United States, we must learn to channel religious identity into interfaith cooperation.
Sponsored by Charles Koch Foundation
Religious diversity is the norm in American life, and that diversity is only increasing, says Eboo Patel.
Using the most painful moment of his life as a lesson, Eboo Patel explains why it's crucial to be positive and proactive about engaging religious identity towards interfaith cooperation.
The opinions expressed in this video do not necessarily reflect the views of the Charles Koch Foundation, which encourages the expression of diverse viewpoints within a culture of civil discourse and mutual respect.
Two Apollo 11 astronauts question NASA's planetary safety procedures.
Credit: Bettmann, Getty Images.
Surprising Science
Buzz Aldrin and Michael Collins revealed that there were deficiencies in NASA's safety procedures following the Apollo 11 mission.
Moon landing astronauts were quarantined for 21 days.
Earth could be contaminated with lunar bacteria.
Here's why you might eat greenhouse gases in the future.
Technology & Innovation
The company's protein powder, "Solein," is similar in form and taste to wheat flour.
Based on a concept developed by NASA, the product has wide potential as a carbon-neutral source of protein.
The man-made "meat" industry just got even more interesting.
When it comes to sniffing out whether a source is credible or not, even journalists can sometimes take the wrong approach.
Sponsored by Charles Koch Foundation
We all think that we're competent consumers of news media, but the research shows that even journalists struggle with identifying fact from fiction.
When judging whether a piece of media is true or not, most of us focus too much on the source itself. Knowledge has a context, and it's important to look at that context when trying to validate a source.
The opinions expressed in this video do not necessarily reflect the views of the Charles Koch Foundation, which encourages the expression of diverse viewpoints within a culture of civil discourse and mutual respect.