Study finds link between brain damage and religious fundamentalism
A new study finds a connection between brain lesions and the ability of a person to consider other beliefs.
06 May, 2017
Eyerusalem Solomon of Tacoma Park, Maryland, prays for Pope John Paul II in the Basilica of the National Shrine of the Immaculate Conception March 31, 2005 in Washington, DC. (Photo by Joe Raedle/Getty Images)
Scientists found that damage in a certain part of the brain is linked to an increase in religious fundamentalism. In particular, lesions in the ventromedial prefrontal cortex reduced cognitive flexibility - the ability to challenge our beliefs based on new evidence.
---
The researchers, led by Jordan Grafman of Northwestern University, utilized data gathered from Vietnam War veterans as part of the Vietnam Head Injury Study. They compared levels of religious fundamentalism between 119 vets who had lesions and 30 veterans who didn't.
The study further confirms that the prefrontal cortex is associated with religious beliefs and is the latest in a number of recent studies that look to find the neurological basis for religion.
"The variation in the nature of religious beliefs are governed by specific brain areas in the anterior parts of the human brain and those brain areas are among the most recently evolved areas of the human brain," said Grafman.

How free these areas are from disease, in particular the part known as the dorsolateral prefrontal cortex, may determine a person's mental openness - necessary to appreciate the "diversity of religious thought." The prefrontal cortex was previously linked to having a cognitive function in spiritual experiences.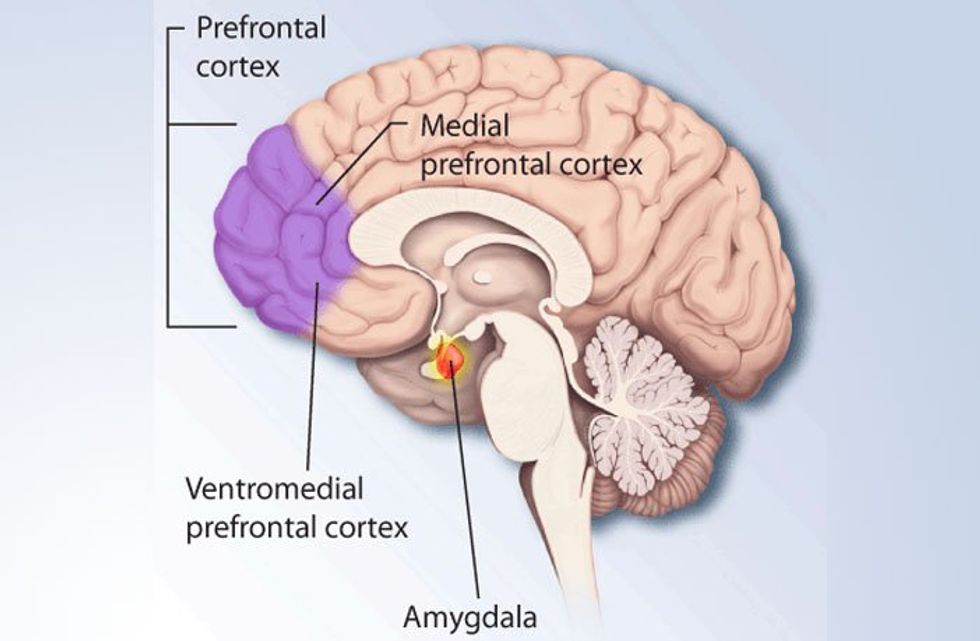 The scientists specify that they are not stating religious people overall are mentally inflexible or that belief is caused by brain damage. There are many cognitive processes involved in forming beliefs. But in some people, the system of "belief revision" may become suppressed due to brain damage.
The researchers define fundamentalism as a cognitive approach that "embodies adherence to a set of firm religious beliefs advocating unassailable truths about human existence." They write in their paper that the appeal of such a rigid way of thinking is in promoting "coherence and predictability" within a religious group. People in fundamentalist groups tend to value strong commitment to their community, rejection of other beliefs, often combined with science denial and violence. Deliberation becomes victim to conviction.
The scientists themselves point out the limitations of their study and call for more research into the subject. Grafman notes the fact that the sample was all male American veterans, certainly not representative of all demographic and cultural groups.
This study contributes to a growing body of knowledge about how religious experiences are formed in the brain.
"We need to understand how distinct religious beliefs are from moral, legal, political, and economic beliefs in their representations in the brain, the nature of conversion from one belief system to another, the difference between belief and agency, and the nature of the depth of knowledge that individuals use to access and report their beliefs," Grafman added.

You can read the study "Biological and cognitive underpinnings of religious fundamentalism" here in the journal Neuropsychologia.
To create wiser adults, add empathy to the school curriculum.
Sponsored by Charles Koch Foundation
Stories are at the heart of learning, writes Cleary Vaughan-Lee, Executive Director for the Global Oneness Project. They have always challenged us to think beyond ourselves, expanding our experience and revealing deep truths.
Vaughan-Lee explains 6 ways that storytelling can foster empathy and deliver powerful learning experiences.
Global Oneness Project is a free library of stories—containing short documentaries, photo essays, and essays—that each contain a companion lesson plan and learning activities for students so they can expand their experience of the world.
Philosophers like to present their works as if everything before it was wrong. Sometimes, they even say they have ended the need for more philosophy. So, what happens when somebody realizes they were mistaken?
Just before I turned 60, I discovered that sharing my story by drawing could be an effective way to both alleviate my symptoms and combat that stigma.
Photo by JJ Ying on Unsplash
Mind & Brain
I've lived much of my life with anxiety and depression, including the negative feelings – shame and self-doubt – that seduced me into believing the stigma around mental illness: that people knew I wasn't good enough; that they would avoid me because I was different or unstable; and that I had to find a way to make them like me.
A joint study by two England universities explores the link between sex and cognitive function with some surprising differences in male and female outcomes in old age.
Mind & Brain
A joint study by the universities of Coventry and Oxford in England has linked sexual activity with higher cognitive abilities in older age.
The results of this study suggest there are significant associations between sexual activity and number sequencing/word recall in men. In women, however, there was a significant association between sexual activity in word recall alone - number sequencing was not impacted.
The differences in testosterone (the male sex hormone) and oxytocin (a predominantly female hormone) may factor into why the male cognitive level changes much more during sexual activity in older age.
Technology & Innovation
Mathematicians studied 100 billion tweets to help computer algorithms better understand our colloquial digital communication.
Scroll down to load more…