Study finds link between brain damage and religious fundamentalism
A new study finds a connection between brain lesions and the ability of a person to consider other beliefs.
06 May, 2017
Scientists found that damage in a certain part of the brain is linked to an increase in religious fundamentalism. In particular, lesions in the ventromedial prefrontal cortex reduced cognitive flexibility - the ability to challenge our beliefs based on new evidence.
---
The researchers, led by Jordan Grafman of Northwestern University, utilized data gathered from Vietnam War veterans as part of the Vietnam Head Injury Study. They compared levels of religious fundamentalism between 119 vets who had lesions and 30 veterans who didn't. 
The study further confirms that the prefrontal cortex is associated with religious beliefs and is the latest in a number of recent studies that look to find the neurological basis for religion.
"The variation in the nature of religious beliefs are governed by specific brain areas in the anterior parts of the human brain and those brain areas are among the most recently evolved areas of the human brain," said Grafman.
How free these areas are from disease, in particular the part known as the dorsolateral prefrontal cortex, may determine a person's mental openness - necessary to appreciate the "diversity of religious thought." The prefrontal cortex was previously linked to having a cognitive function in spiritual experiences.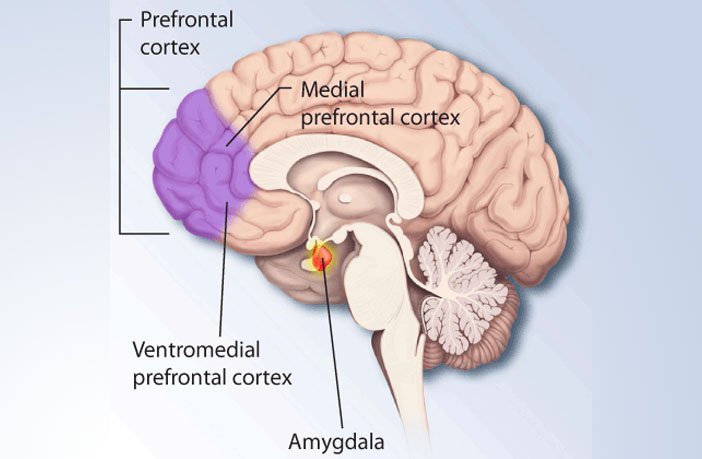 The scientists specify that they are not stating religious people overall are mentally inflexible or that belief is caused by brain damage. There are many cognitive processes involved in forming beliefs. But in some people, the system of "belief revision" may become suppressed due to brain damage. 
The researchers define fundamentalism as a cognitive approach that "embodies adherence to a set of firm religious beliefs advocating unassailable truths about human existence." They write in their paper that the appeal of such a rigid way of thinking is in promoting "coherence and predictability" within a religious group. People in fundamentalist groups tend to value strong commitment to their community, rejection of other beliefs, often combined with science denial and violence. Deliberation becomes victim to conviction.  
The scientists themselves point out the limitations of their study and call for more research into the subject. Grafman notes the fact that the sample was all male American veterans, certainly not representative of all demographic and cultural groups.
This study contributes to a growing body of knowledge about how religious experiences are formed in the brain. 
"We need to understand how distinct religious beliefs are from moral, legal, political, and economic beliefs in their representations in the brain, the nature of conversion from one belief system to another, the difference between belief and agency, and the nature of the depth of knowledge that individuals use to access and report their beliefs," Grafman added.
You can read the study "Biological and cognitive underpinnings of religious fundamentalism" here in the journal Neuropsychologia.
Researchers discover a link between nonverbal synchronization and relationship success.
Pixabay
Sex & Relationships
Scientists say coordinating movements leads to increased intimacy and sexual desire in a couple.
The improved rapport and empathy was also observed in people who didn't know each other.
Non-verbal clues are very important in the development stages of a relationship.
Humans evolved to live in the cold through a number of environmental and genetic factors.
Image source: Wikimedia Commons
Surprising Science
According to some relatively new research, many of our early human cousins preceded Homo sapien migrations north by hundreds of thousands or even millions of years.
Cross-breeding with other ancient hominids gave some subsets of human population the genes to contend and thrive in colder and harsher climates.
Behavioral and dietary changes also helped humans adapt to cold climates.
The comics titan worked for more than half a century to revolutionize and add nuance to the comics industry, and he built a vast community of fans along the way.
(Photo: GABRIEL BOUYS/AFP/Getty Images)
Culture & Religion
Lee died shortly after being rushed to an L.A. hospital. He had been struggling with multiple illnesses over the past year, reports indicate.
Since the 1950s, Lee has been one of the most influential figures in comics, helping to popularize heroes that expressed a level of nuance and self-doubt previously unseen in the industry.
Lee, who's later years were marked by some financial and legal tumult, is survived by his daughter, Joan Celia "J.C." Lee.
Big think's weekly newsletter.
Get smarter faster from the comfort of your inbox.
See our newsletter privacy policy
here
Most Popular
Most Recent
Big think's weekly newsletter.
Get smarter faster from the comfort of your inbox.
See our newsletter privacy policy
here
© Copyright 2007-2018 & BIG THINK, BIG THINK EDGE,
SMARTER FASTER trademarks owned by The Big Think, Inc. All rights reserved.